Sourdough brioche buns can be shaped in many different ways to suit your needs.
You can use these delicious sourdough brioche buns as hamburger rolls, donuts or even long panini.
This dough is just lovely to work with and can be shaped into round or long buns or even braided to make plaited sourdough brioche buns.
It's best to use a stand mixer for this butter rich dough, but kneading it by hand is also possible.
How To Make Sourdough Brioche Buns
This beautiful enriched dough is a pleasure to work with. It contains milk, sugar, eggs and butter so is truly enriched with all the good things! It's very similar to this sourdough brioche loaf recipe.
Here's how to make Sourdough Brioche Buns:
Add milk and sugar to the bowl of your stand mixer and mix until the sugar dissolves.

Now add your sourdough starter, flour and 2 eggs. Mix this into a rough dough. Allow this to sit for around 30 minutes.

Next, add the butter and salt and knead until the dough is smooth and elastic. This shouldn't take too long using the dough hook of your stand mixer. Try not to let the dough get too hot during this time.

Once the dough is pulling away from the bowl, set it aside for bulk fermentation.

Once the dough has risen a bit, you need to shape the dough into buns. It's really up to you how big you make them. I generally work on 50g but you can make them bigger if you want to.

Place the buns onto a baking sheet lined with parchment paper and then cover with plastic wrap.

Allow them to proof so they become nice and puffy.

Brush them with egg wash.

Place them into an oven preheated to 160C for around 15 minutes or until they are golden brown.

Brush them generously with butter once they're out of the oven and allow them to cool slightly before eating.
Shaping Sourdough Brioche Buns
This recipe is super versatile in that you can choose to shape these sourdough brioche buns or rolls in any way you'd like.
They are amazing just as round buns, but they are also able to be braided, which is my favorite way to shape them.
It may look complicated, but they are really easy to do!
You need to divide the dough into 70g portions and divide each portion into three roughly equal pieces.
Roll each small piece into a rope. Take the three pieces and pinch them together and then braid the strands.
Roll the braid around itself to form a round bun.
It takes a little practice, but once you've done a few, you'll get the hang of it.
What Can You Use Sourdough Brioche Buns For?
These sourdough brioche buns are so versatile.
You can vary the weight of your buns to suit what you are going do with them. You can make sliders with around 50g of dough. Larger hamburger buns with 70-80g.
Here are some of the best uses for sourdough brioche rolls:
Love Sourdough Brioche?
Why not try these other sourdough brioche recipes: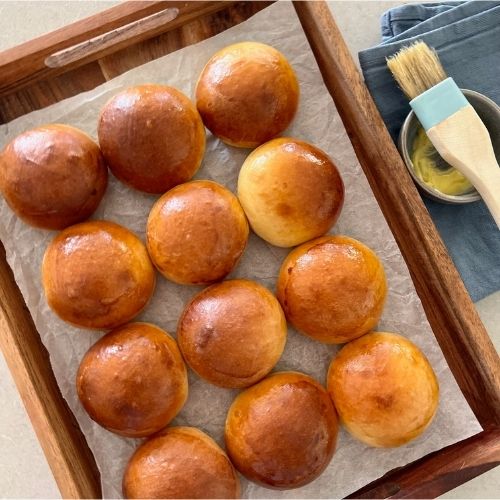 Sourdough Brioche Buns
These buttery sourdough rolls are perfect on their own, even better slathered in butter and jam! You can shape them in so many ways ... perfect for hamburgers and hotdogs!
Ingredients
100

g

Sourdough Starter

fed and bubbly

540

g

Bread Flour

2

Eggs

around 45g each, room temp

120

g

Salted Butter

soft

200

g

Milk

whole milk

50

g

Sugar

10

g

Salt
Toppings
1

Egg

plus 1 tbsp water to use as egg wash

Butter

extra for brushing after baked
Instructions
Warm milk to around 37C (you don't want it to be cold, but not too warm either). Add the milk and sugar to the bowl of your stand mixer and mix until the sugar is dissolved.

Now add the sourdough starter, flour and eggs to the bowl. Mix into a rough dough and let it sit for around 30 minutes.

Once the dough has sat for a little while, add the butter and salt and use the stand mixer to knead it really well. You want the butter to mix all the way through and the dough to become very soft and elastic.

Depending on the type of mixer you use, this could take 3 minutes, it could take 20 minutes.

Once the dough is silky and elastic (it can be slightly sticky but you should be able to pull a window pane). It should be pulling away from the sides of the bowl. Transfer the dough into a large bowl for bulk fermentation. Cover with plastic and set aside.

Once the dough has risen a bit (it doesn't have to double, 50% rise is ok in this instance) you'll need to shape the brioche dough into buns or rolls.

Turn the dough onto the counter and divide into equal portions. I have used 50g portions for these buns, but you can decide to use whatever portion you'd like.

Use the instructions in the post above for shaping (you can make braided buns, round burger buns, hot dog buns etc).

Place the buns onto a baking tray lined with parchment paper and allow them to proof. Cover them with plastic wrap and place them on the counter to get all puffy.

Once the buns are puffy, it's time to bake them.

Preheat the oven to 180C.

While the oven is preheating, mix an egg with 1 tablespoon of water and brush the buns generously with this egg wash.

Bake the buns for around 15 minutes or until they are golden brown. Cooking time will depend on your specific oven (you might need to increase the temp or time accordingly).

Once they are out of the oven, brush them with lashings of butter and allow to cool.
Notes
Bulk Fermentation Time - Please remember that like any sourdough, the bulk fermentation and proofing times will be specific to you. They depend on the strength of your starter and the temperature of your kitchen/home. I do not specify specific times for this reason.
You can find all my best tips for kneading and working with sourdough brioche dough here.
Nutrition
Serving:
50
g
Calories:
284
kcal
Carbohydrates:
39
g
Protein:
8
g
Fat:
10
g
Saturated Fat:
6
g
Polyunsaturated Fat:
1
g
Monounsaturated Fat:
3
g
Trans Fat:
1
g
Cholesterol:
64
mg
Sodium:
418
mg
Potassium:
85
mg
Fiber:
1
g
Sugar:
5
g
Vitamin A:
337
IU
Calcium:
34
mg
Iron:
1
mg