Here are the best sourdough recipes for 4th of July celebrations!
If you are getting ready to celebrate 4th July - but you want to incorporate some sourdough goodness into your celebrations ... these recipes are exactly what you need!
From the best sourdough hamburger buns (that can also be shaped into sourdough hotdog buns) to some deliciously sweet cinnamon sourdough crackers that you can decorate in blue and red - you'll find the perfect sourdough recipe for your 4th of July celebrations right here.
You'll find plenty of ideas to include sourdough in your Independence Day celebrations!
If you don't have an active sourdough starter, you can find out how to make one here.
How To Include Sourdough In Your Independence Day Celebrations
If sourdough is a labor of love in your life, it might be something you want to share with the people you love on the 4th of July.
Including sourdough in the food you eat at Independence Day celebrations is easy with a bit of forward planning.
You can choose to make long fermented sourdough or include sourdough discard in some of the food you make.
You could chose to include sourdough in the food you serve on the day or perhaps make an edible gift for a neighbour or party host.
Speaking of edible gifts to take to a party, these spicy Jalapeño Cheddar crackers are soooo good! Or something less spicy these Pistachio and Cranberry Lavosh might fit the bill.
Here are the best sourdough recipes for 4th of July celebrations.
Sourdough Hot Dog Rolls
Hot dogs are a must when celebrating 4th of July and these sourdough hot dog buns will not disappoint!
They are soft and fluffy with a gorgeous, buttery top. Honestly, you won't be able to stop at just one! These sourdough hot dog buns are light and fluffy, but will not fall apart, no matter what you fill them with.
You could choose to slice them on the side, or across the top, depending on your preference.
The Best Sourdough Hamburger Buns
These quick and easy sourdough hamburger buns can be made in various sizes to suit your needs.
They can also be shaped into hotdog buns - perfect for 4th July celebrations!
You'll fall in love with this recipe - it will become a regular family fave - I promise!
These buns are perfect for filling with grilled meats or fried chicken.
Sourdough Onion Rings
The ultimate burger and hot dog side dish - onion rings! Only these ones are the crispiest, most delicious onion rings you'll ever taste because they're made from sourdough starter (or discard).
Sourdough Discard Monkey Bread
This mouth watering cinnamon pull apart bread is the perfect tear and share, take along dessert for 4th July celebrations! Make it and take it ... and be ready for all the compliments you'll get!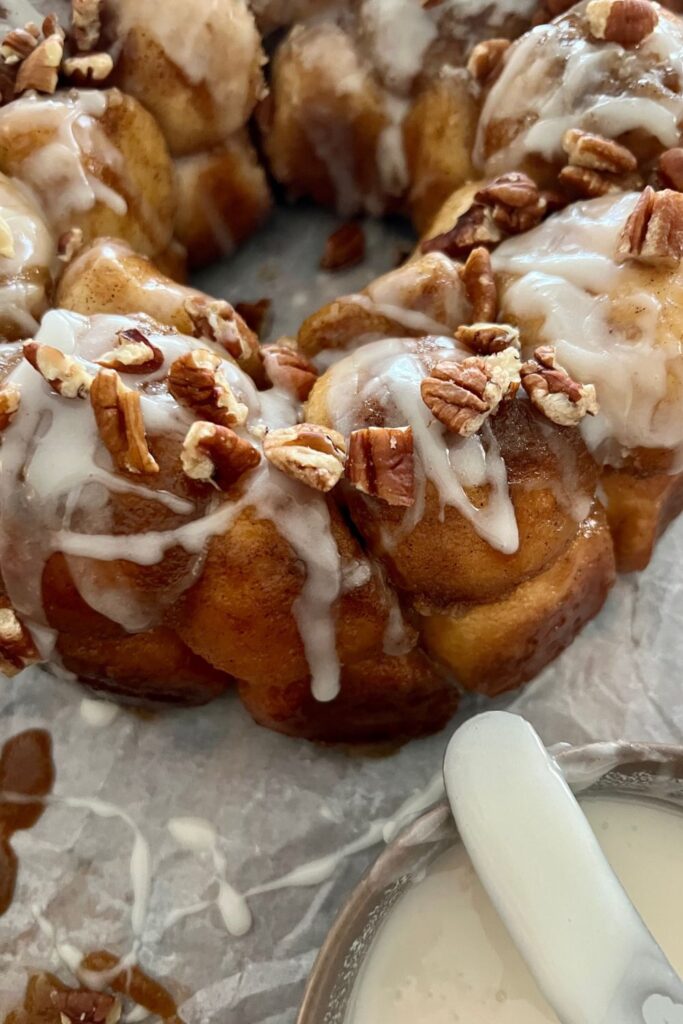 Sourdough Hawaiian Rolls
These sweet and soft sourdough Hawaiian Rolls are the perfect addition to 4th July celebrations.
They can be filled with grilled meat, creamy coleslaw or just served as a tasty side.
You could easily take a batch of these to a 4th July part if you're asked to bring something to share. I bet everyone will ask who made them - they're that good!
You can substitute the pineapple juice for apple juice if you'd prefer.
Sourdough Discard Rolls
Soft and squishy sourdough rolls that can be made into a pull apart or even as individual rolls. You can even brush them with garlic butter or make the best ham and cheese sliders. Too easy!
Sourdough Banana Fritters
These are the ultimate comfort food! And they are so simple to make, yet will wow all your guests! Serve them with delicious hot fudge sauce and vanilla ice cream.
Fluffy Sourdough Cinnamon Rolls
These sourdough cinnamon rolls are an Independence Day staple! Perfect for an easy breakfast if you prep the dough the night before, or a great way to share the love with family and friends.
Garlic Bread Bites
These sourdough garlic bread bites are perfect for any celebration. They make a great platter to take along and share.
You could even make them in a smaller size to make them easier to eat on the go!
Sourdough Cob Loaf
Why not turn your favorite sourdough loaf into a popular cob loaf dip. This would be perfect for a take along to a 4th of July party.
Bake your favorite sourdough loaf as you normally would (a boule works best).
Once it's cool you can hollow it out and fill it with your favorite flavors.
Some suggestions for the best cob loaf dips are:
Spinach & cheese
Salsa & cream cheese
Chilli smoked salmon
Pizza
Baked brie & cranberry
Or why not fill it with this easy whipped ricotta dip (it's a guaranteed crowd pleaser!).
This sourdough discard loaf would also work well for a cob loaf.
This sourdough Pane Di Casa loaf is also a clear winner for a cob loaf - it's quick, crusty and oh so delicious!
Sweet Cinnamon Sourdough Crackers
These delightful sweet cinnamon sourdough crackers can be served on a fruit platter with a cream cheese dip.
You could serve them alongside a mountain of red raspberries and blueberries to keep with the color theme.
They are also perfect to drizzle with white chocolate and then sprinkle with blue and red sprinkles. YUM!
Sourdough English Muffins
Why not bake a batch of Sourdough English Muffins the day before and wake up to hearty bacon and egg breakfast sandwiches for the 4th of July?
English Muffins are really easy to make (most of the time is in the fermentation) but they really do make breakfast special!
Mini Lemon Sourdough Muffins
By thinking outside the box a little, you can create a delightful sourdough dessert for your Independence Day celebration.
This recipe for sourdough lemon muffins can be made using a mini muffin tray - perfect for a dessert platter to feed a crowd.
Top your mini sourdough lemon muffins with a sweet meringue or yummy cream cheese glaze for something special.
If you prefer mini banana sourdough muffins, try these on for size!
Parmesan & Rosemary Sourdough Crackers
These savory sourdough crackers are sooooo delicious - you won't be able to stop at one, and neither will your guests!
Make an extra special addition to your 4th of July charcuterie platter and make a batch (or 2) of these delicious sourdough crackers!
Sourdough Grissini or Bread Sticks
These sourdough bread sticks can be served as they are on a charcuterie board or you could choose to dip the ends in chocolate and decorate with blue and red sprinkles.
They are lots of fun, however you choose to serve them. And a great option for celebrations as you can make them a few days in advance!
Want to save these ideas for later? Pin them to your sourdough board on Pinterest!
Further Reading
If you love these ideas for your 4th of July celebration, you might enjoy these:
Want to build a sourdough timeline to ensure your sourdough is ready to 4th of July celebrations? You'll find all the info you need right here.