Sourdough English muffins are such a lovely little invention.
They are tangy rounds of fermented dough with just enough nooks and crannies to hide butter and jam in.
And they are actually quite easy to make - you just have to be organised to give the dough enough time to ferment.
This recipe uses an active and bubbly sourdough starter, however there is a variation for Sourdough Discard English Muffins further down.
English Muffins made with sourdough starter are fairly easy to put together. You basically mix the dough into a relatively smooth (yet sticky) dough and then leave it overnight to ferment.
If you have a bit more time, you can pop it in the fridge to ferment for up to 3 days. This little trick will ensure you don't over ferment the dough ... and you get that beautiful rounded sourdough tang that is so sought after with sourdough English muffins.
English Muffins Aren't Really English
Here's some trivia for you ... because I just love a bit of history.
English muffins aren't actually English. In fact, they were invented in the US. And in England - they're called American muffins. Crazy right?
These crazy popular leavened muffins were actually invented by an Englishman in the US, New York City to be precise.
If you're interested in more of the history of English Muffins, you can read all the info here.
How To Make Sourdough English Muffins
Making sourdough English muffins is quite simple. The process does take a few days due to the fermentation - but this is a good thing because your sourdough starter will make English muffins that are much easier to digest than store bought ones!
Ideally, you'll need an active sourdough starter, but discard will work (see notes on this further down).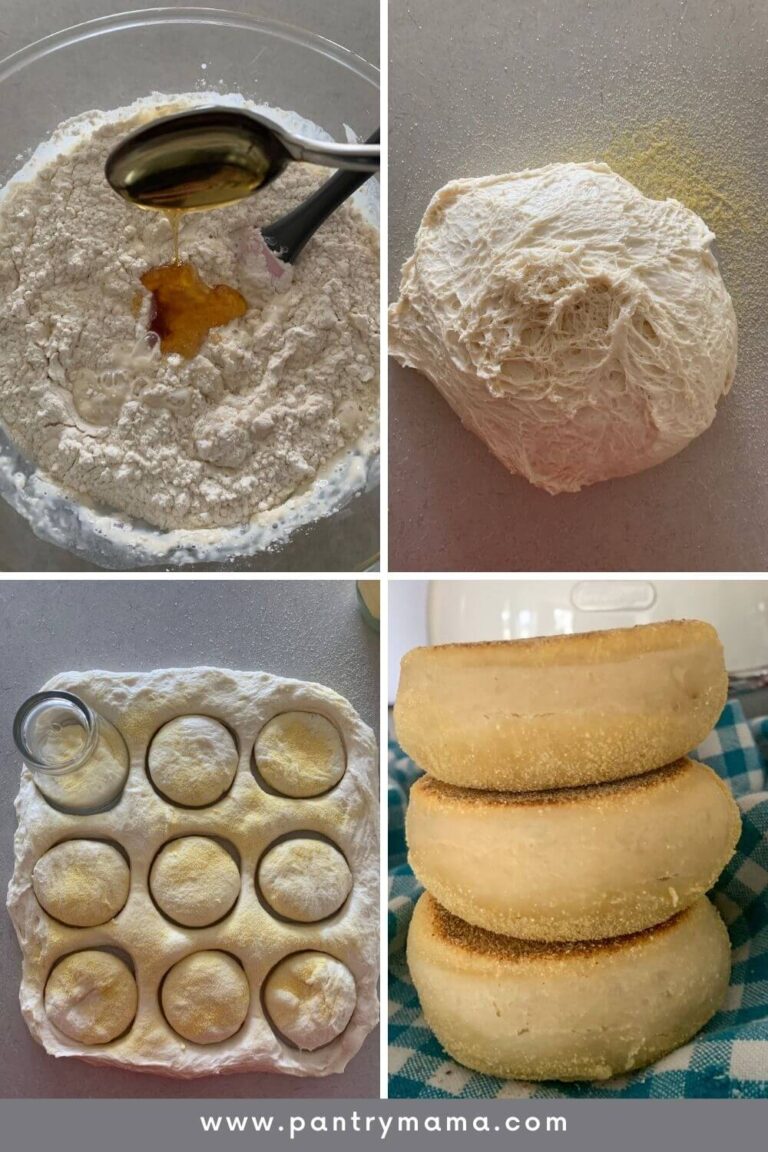 Here's the basic process for making English Muffins with a sourdough starter:
Add flour, milk, honey, salt and sourdough starter to a large glass bowl and mix together to form a sticky dough.

Use wet hands or a dough scraper to gently knead the dough in the bowl. It will be sticky because of the hydration level, but it will form a dough.

Cover the dough and leave it to ferment on the kitchen counter (overnight is ideal as long as it's not too warm).

Once the dough has fermented, work you way around the bowl and bring the dough into a ball using stretch and folds.

Leave the dough to rest for around 30 minutes.

Now sprinkle a generous amount of corn meal onto your kitchen counter and ease the dough out on top of this.

Gently roll the dough out to form a rectangle (you can use your hands if you like).

Use a scone or biscuit cutter to cut rounds of dough out. I used a small glass.

Place the rounds onto a parchment lined tray dusted with cornflour.

Leave them to rise for around an hour (they should be puffy and light).

Heat a skillet or frying pan and dust with corn meal.

Place 4 English Muffins into the skillet at once and cover. Cook on medium heat for around 6 minutes before flipping them and cooking on the other side.

Once they've cooled a little, split them and spread with butter and jam!
Stages of Fermentation for Sourdough English Muffins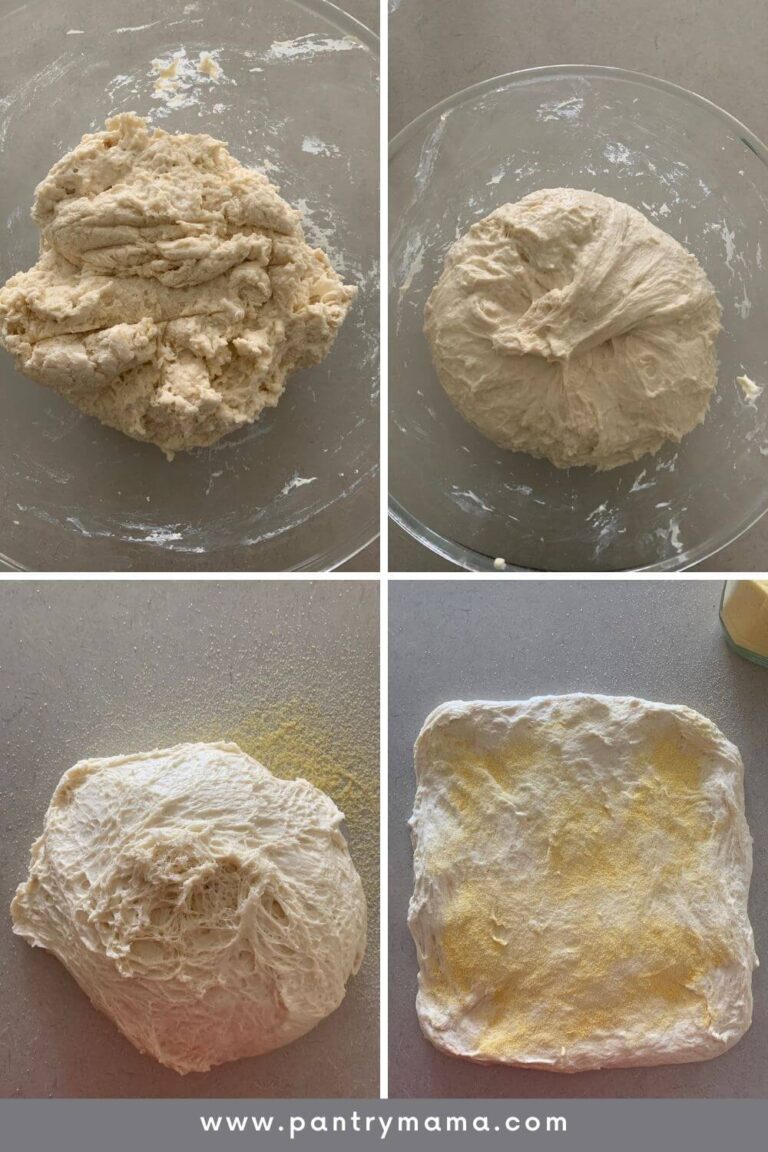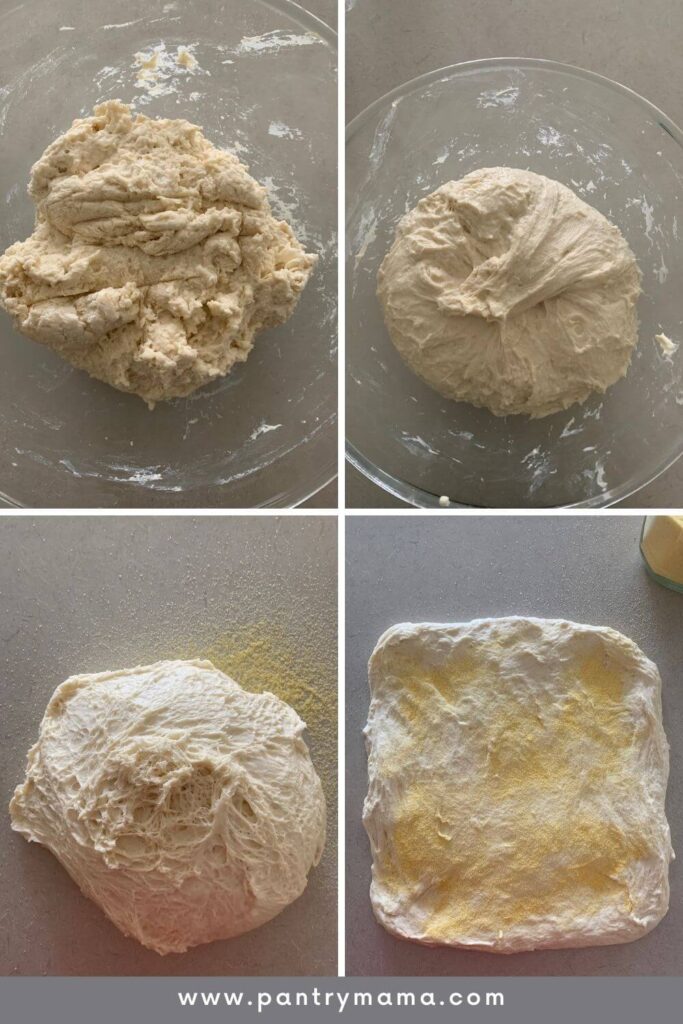 This image shows the dough when it's first mixed to how it looks when you've pulled it together into a ball after fermentation.
You can see that the dough has developed structure and smoothed out.
The bottom left shows the dough turned out onto the kitchen counter. You can see the beautiful gluten strands that have formed during fermentation.
The dough is still a little sticky at this stage, so corn meal is essential to keep it workable and if you have some cornmeal leftover, why not try these sourdough cornbread muffins.
If you are loving fermented breakfast treats, you might also like these overnight sourdough waffles.
The Secret To Good Sourdough English Muffins
Whether you're making sourdough English Muffins, or the regular variety - there's one thing that can make or bread a good muffin. You can't cut them!
Seriously, do not use a knife. To make sure you get maximum nooks and crannies, you need to split them with a fork.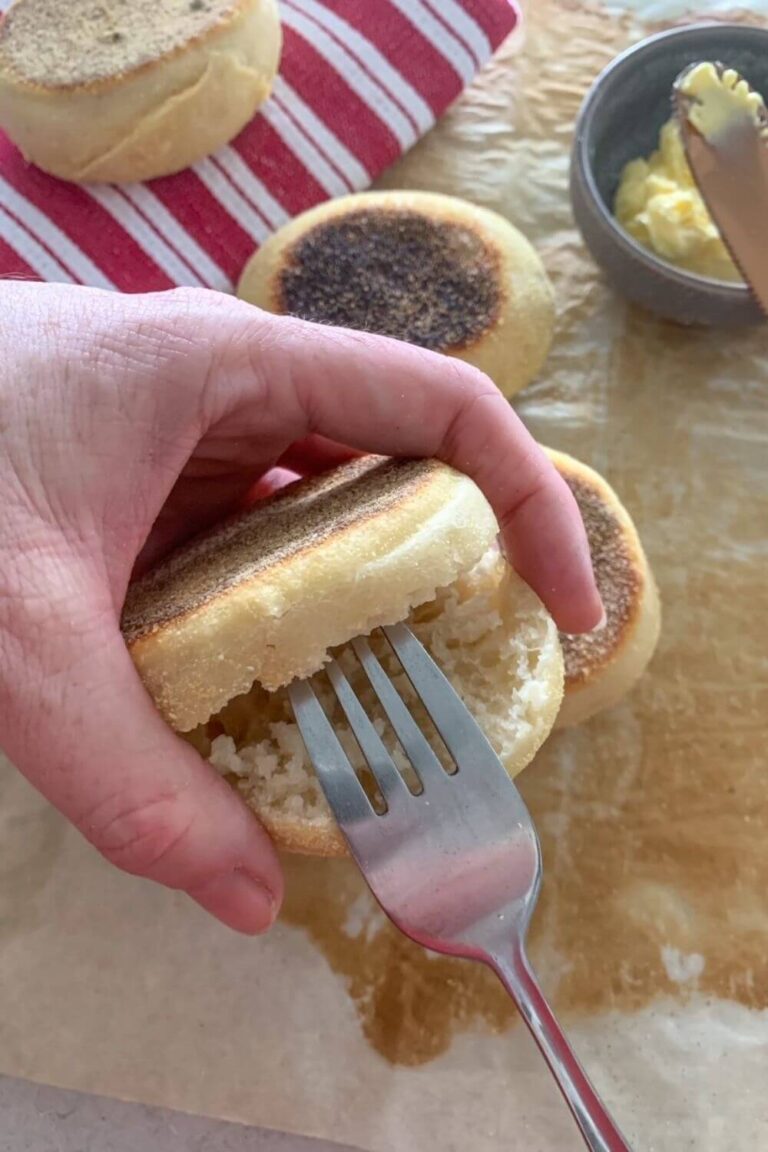 Once they're cool, push a fork into the side of the muffin and keep going around the edge until it splits open.
This is called "fork split" and will ensure that there are lots of "gnarly" bits of dough that go crispy and brown when toasted. Trust me, it's a game changer!
You must ensure that they have cooled though - if you do it when they're too hot, the steam trapped inside will cause a gummy crumb (just like when you cut sourdough bread too soon).
Patience really is a virtue with sourdough!
Sourdough Discard English Muffins
I like to make my English Muffins with active, fed sourdough starter. But if you have lots of discard to use up, you can use the discard instead (as long as it's not too old, up to a week is ok).
If you want to use your discard in this recipe, just use it instead of active starter and add a half teaspoon of commercial yeast to your mixture.
This will ensure that the dough rises enough. This is especially important if you're still building your starter as your discard won't have enough of a yeast colony yet.
Still follow the instructions below, they will work.
You might just find that it rises a bit faster with the commercial yeast, so you won't need to leave them to rise for so long. They will also ferment in the fridge if you use commercial yeast.
If you have a mature starter, I would recommend trying this recipe without commercial yeast. Because of the long ferment time, you might be pleasantly surprised - even with your discard!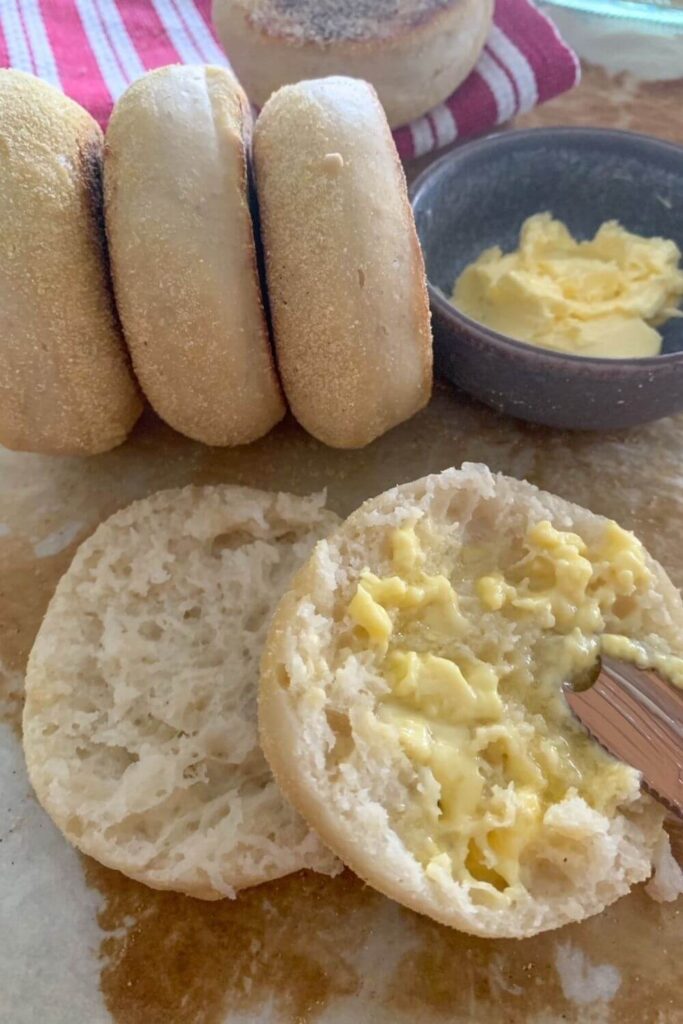 Making Sourdough English Muffins in Hot Weather
If the weather is warmer where you live, you might need to adjust things ever so slightly to ensure that you don't over ferment your dough.
It's not dissimilar to making traditional sourdough bread and making allowances for hotter temperatures.
Sourdough English Muffins are meant to be fermented for a longer period (it's what gives them the most amazing flavor), however if the ambient temperature in your home is over 28C you may need to use your refrigerator.
Once you've mixed the dough, allow it to ferment a little while on the kitchen counter - no more than an hour. Then place the dough into the fridge to ferment. It will take up to 3 days to fully ferment in the fridge.
If you do want to do an overnight ferment on the kitchen counter then you can reduce the amount of starter used. Drop it down to 100g of starter and use cold milk when you mix the dough.
These small tweaks will allow you to ferment the dough longer without over fermentation.
Ideas To Use English Muffins
There are lots of ways to enjoy these delicious sourdough English Muffins. While they are absolutely perfect toasted with lashings of butter, you might also enjoy some of these ideas:
Use them to make bacon and egg breakfast sandwiches. Don't forget the cheese!
Use them instead of burger buns for something different.
Top with your favorite slices of cheese, fresh tomato and lashings of salt and pepper. This might just be one of my favorite lunches.
Use them as mini pizza bases. My boys love making their own pizzas after school and these sourdough English muffins make it a breeze!
Notes & Substitutions for Sourdough English Muffins
A few notes on ingredients and substitutions for sourdough English Muffins:
You can use plain or all purpose flour instead of Bread or Baker's flour if you want to. But you may find that you need to reduce the amount of milk.

If you have buttermilk on hand from making cultured butter or sweet cream butter, you can substitute some of the milk in this recipe with the buttermilk.
You can use plain or all purpose flour to dust them with instead of corn meal, however you won't get the same cooked texture as you would with corn meal. Semolina is a better substitute than corn meal.
You can keep the mixture in the fridge for up to 3 days. Take it out of the fridge for around 30 minutes before you turn the dough out on the kitchen counter. Cut the rounds out and then let them rise before you cook them. It's better to cut them out with cooler dough and then let them warm up.
Once you've cut them out, you can put the tray in the fridge for up to 24 hours. Let them come back to room temp before you cook them.
Cooked English Muffins freeze really well. Store in ziploc bags and defrost and toast as you would like. For easy toasting, don't forget to fork split them before you freeze them.
Want More Recipes?
If you love this recipe, you might be interested in these ideas: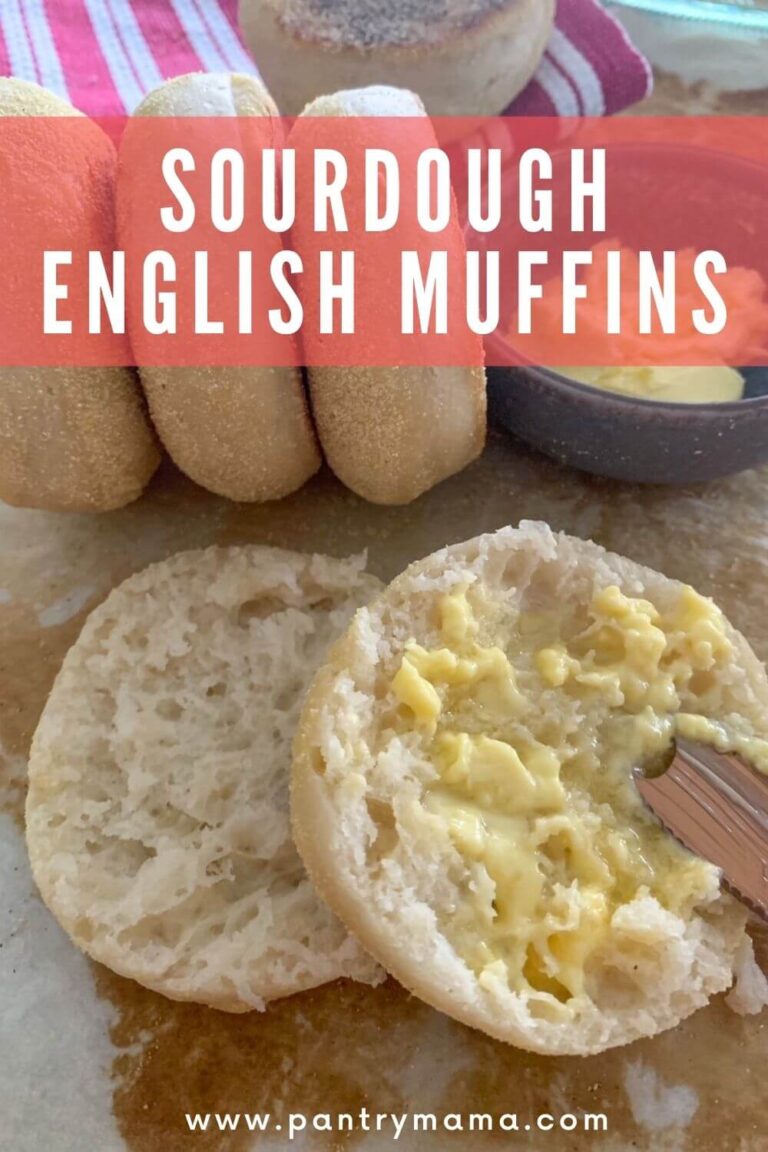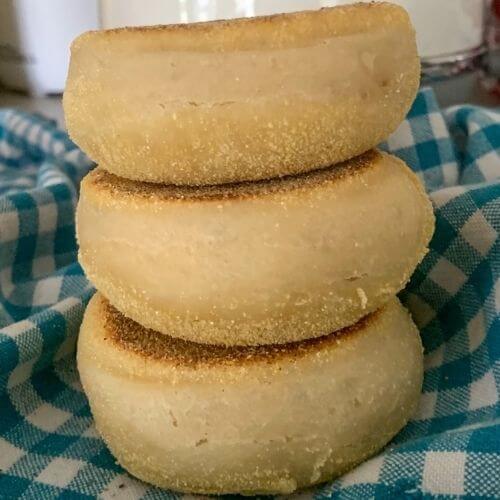 Sourdough English Muffins
Delicious sourdough English Muffins are a breakfast staple. This overnight recipe is so easy, even the kids can do it!
Equipment
Mixing Bowl

Cast Iron Skillet

Biscuit Cutter
Ingredients
200

g

Sourdough Starter 

fed and bubbly (reduce in warmer weather)

500

g

Milk

cold is better for overnight ferment

600

g

Bread Flour

12

g

Salt

20

g

Honey

you can use sugar if you want to

50

g

Cornmeal

for dusting
Instructions
In a large glass bowl, mix together all of the ingredients, including your sourdough starter and bring it together to form a dough. The dough will be quite sticky. Gently knead the dough to bring it together.

It's easy to do by hand in the bowl for less washing up, but if you prefer to do it in a stand mixer that's perfectly fine too.

Once you have a dough formed, cover it in plastic wrap and set aside for around 12 hours to ferment at room temperature (see notes). You want the dough to rise (it doesn't need to double though). It should rise at least half in the bowl and become a smoother, structured dough (see the pics above of my dough). It's important that the dough maintains its gluten structure in order to be shaped into rounds.

Just like traditional sourdough bread, you'll need to watch the dough, rather than the clock.

Once you're happy with the dough, you can wet your hands and gently shape your dough into a rough ball by performing a set of stretch and folds. This will deflate the dough - but don't worry.

Now leave the dough to rest for around 30 minutes.

Dust your work surface with corn meal and then ease the dough out of the bowl. Sprinkle corn meal on the top of the dough too. Depending on how sticky your dough is, you might need to add some extra as you go along so keep it handy.

Gently press the dough into a rectangle using your hands. Using a rolling pin, gently roll your dough to around ½ - ¾ inch thick.

You don't want it too thick or your muffins will be doughy and take too long to cook in the middle. Using a biscuit cutter (or glass or plastic tumbler) gently cut out rounds of your dough and place them on a baking sheet lined with parchment paper and dusted with corn meal. Keep going until you can't cut any more. Then gather up the dough, roll it back out and repeat until you've used all the dough up.

Cover the muffins with a tea towel and leave to rest for around 30 minutes.

Heat a fry pan or skillet on the stove top. You want a medium heat - you don't want to burn the outside and leave the inside raw, so just keep an eye on them and adjust as you need to.

Place 4 - 6 muffins in your skillet, cover with the lid and cook for around 6 minutes on each side. There is no need for oil or butter, the corn meal will protect them from sticking. Turn them over once you see the dough bubbling (they will be puffed up from the heat).

Once they are golden on each side, take off the heat and allow to cool. Repeat the process until all of the muffins are cooked.

Once they are cool, use a fork to split them and enjoy them with butter or toast them for extra golden goodness!
Notes
A few notes on the fermentation times:
It's ok to leave the mixture at room temperature, even though it has milk in it. The good bacteria in your sourdough starter will protect your dough.
If your house is very warm, leave it to ferment at room temp for half the time and then put it in the fridge to avoid it over fermenting. You could also reduce the amount of starter too.
The dough can be kept in the fridge for up to 3 days after the initial fermentation has occurred at room temp.
Nooks & Crannies
To make sure you get the nooks and crannies English Muffins are famous for, make sure you use a fork to split them rather than slicing them with a knife.
Nutrition
Calories:
121
kcal
Carbohydrates:
23
g
Protein:
4
g
Fat:
1
g
Saturated Fat:
1
g
Polyunsaturated Fat:
1
g
Monounsaturated Fat:
1
g
Cholesterol:
2
mg
Sodium:
203
mg
Potassium:
60
mg
Fiber:
1
g
Sugar:
2
g
Vitamin A:
34
IU
Vitamin C:
1
mg
Calcium:
28
mg
Iron:
1
mg