If you're looking for the best sourdough comfort food recipes, then you're in the right place. Whether you're looking for sourdough comfort recipes that remind you of the food that grandma used to make or you're looking for comforting sourdough recipes to create your own family traditions, there's bound to be something here to fit the bill.
From the best sourdough bread to use for grilled cheese sandwiches, sourdough bread bowls for your favorite comforting soup to the best Thanksgiving stuffing for your festive table, grab your sourdough starter and let's get baking!
If you don't have a sourdough starter, you can find instructions for making your own sourdough starter here.
What Is Sourdough Comfort Food?
Comfort Food is defined as "the type of food that people eat when they are sad or worried, often sweet food or food that people ate as a child" (source)
It is food that provides a nostalgic value and that we apply specfiic memories of events, people and places to.
Comfort foods can be specific to certain cultures, geographical locations or eras and are foods that were prepared for a particular reason or event.
Sourdough comfort foods are simply comfort foods that have been adapted to being made with a sourdough starter or sourodugh discard, as opposed to how they may have been made originally.
Some examples of comfort foods that can be made with a portion of your sourdough starter are sourdough biscuits, chicken pot pie made with a sourdough pie crust or chocolate chip cookies made with sourdough discard.
The Best Sourdough Comfort Food Recipes
Warm sourdough bread slathered in butter is in itself a comfort food, right? There's just something about the tangy tones of a good sourdough starter. But that's the best thing about using your sourdough starter in some of the comfort food recipes you love - you can carry that sourdough tang over to lots of things other than just bread.
Sourdough Chocolate Chip Cookies
There's something so comforting about a good chocolate chip cookie. I think it's because we remember eating them as kids. I love a soft centred, chewy chocolate chip cookie with crispy edges ... and this sourdough version delivers every single time!
And if you love sourdough chocolate chip cookies, you might also enjoy these sourdough cowboy cookies.
Sourdough Pumpkin Pie
This sourdough twist on a Thanksgiving classic is possibly the best tasting pumpkin pie you'll ever eat! It uses sourdough starter in both the crust and the filling.
Sourdough Apple Pie
There's something about the smell of apple pie baking in the oven. It's the most comforting aroma ... all that cinnamony, apple goodness. Now imagine that with an added sourdough element. Next level comfort food! This sourdough apple pie uses a sourdough pie crust.
Sourdough Pop Tarts
These iconic toaster pastries are made even better by using sourdough discard! Choose your favorite filling and get baking! I'm in love with brown sugar cinnamon!
Sourdough Sausage Balls
With no bisquick necessary, these sourdough sausage balls use 150g of sourdough discard and will take you back to Grandma's kitchen!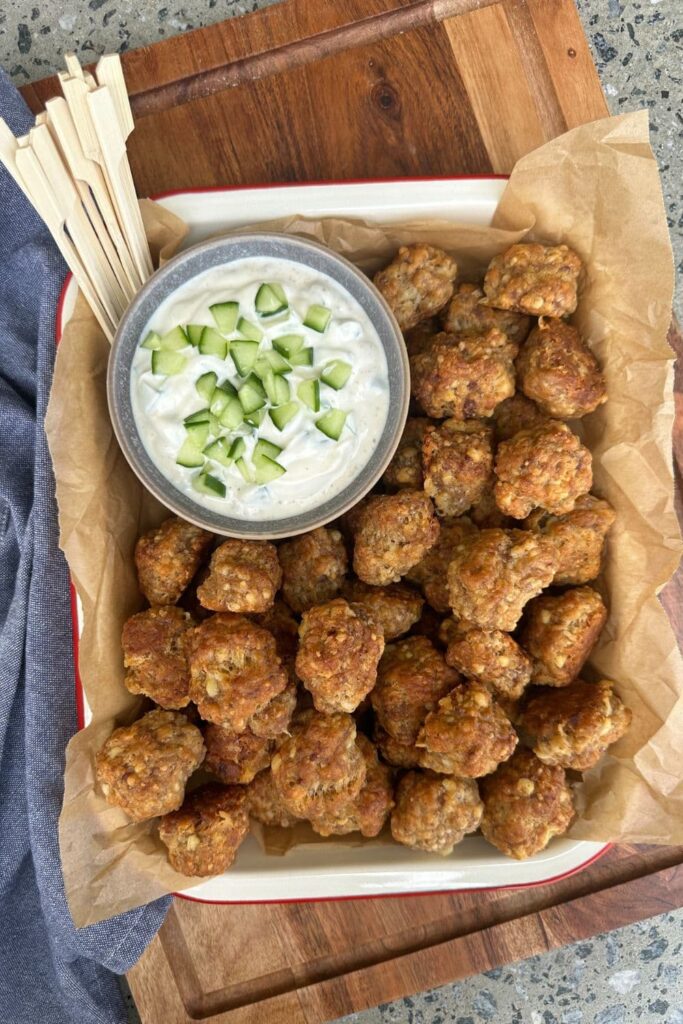 Sourdough Dumplings
Sourdough chicken and dumplings are a tasty version of one of the most popular and well loved comfort foods. These sourdough dumplings can be cooked in any soup or stew you like, but they go especially well with chicken soup!
Sourdough Mac & Cheese
Yes, you read that right ... sourdough mac and cheese made with sourdough discard to thicken the cheese sauce! It's oh so comforting and oh so good!
Sourdough Biscuits
Flaky, buttery and oh so nostalgic, these sourdough biscuits are the definition of sourdough comfort food! You can serve these in so many different ways .. they even make a great topping for fruit cobbler.
Sourdough Chicken Pot Pie
This delicious family favorite is sure to be a winner at your dinner table! There's never any leftovers when I make this comforting sourdough chicken pot pie!
Sourdough Banana Fritters
Sourdough banana fritters are sweet, deep fried and oh so good - they tick all the boxes for the ultimate comfort dessert! Grab that vanilla ice cream and let's get baking!
Sourdough Elephant Ears
If you ever had Elephant Ears at the country fair, then these are going to take you right back there!
Sourdough Mug Cake
Sometimes you just want chocolate cake ... but not a whole chocolate cake. This sourdough discard mug cake is the perfect solution. Top it with a dollop of ice cream for those comfort food emergencies!
If you do want a whole chocolate cake, this sourdough chocolate bundt cake is perfect.
Sourdough Stuffing
Everyone needs a good stuffing recipe for those festive occasions and this one is a comfort food staple!
Sourdough Chocolate Chip Scones
Sourdough Bread Pudding
Sourdough bread pudding always reminds me of the kind my aunt used to make us as kids. It was such a treat! We didn't know it was just a way to use up old bread! If you loved bread pudding as a kid, then you'll love this sourdough version.
Soft Sourdough Dinner Rolls
There's something ultimately comforting about a soft, slightly sweet dinner roll. Maybe it's because they are often a staple at our Thanksgiving and Christmas tables, maybe it's because they just go with everything? Whatever reason you make these soft sourdough dinner rolls for, I'm sure you'll agree they deserve to be on the list of ultimate sourdough comfort food!
Sourdough Rye Bread
This sourdough rye bread is rustic and hearty and full of big sourdough flavor! It works well with other comfort foods like soups, stews and casseroles. It's the perfect sourdough comfort food to create new traditions with your family too!
Oh and did I mention this sourdough rye bread makes the best grilled cheese sandwiches too!
Sourdough Thumbprint Cookies
These nostalgic sourdough thumbprint cookies are just like grandma used to make. With a shortbread style cookies topped with your favorite jam, these are sure to put a smile on your face.