A common problem for many home sourdough bakers is understanding how to tell when sourdough bread is done. There are a few tips and tricks you need to know to ensure that you're pulling perfectly baked, golden brown sourdough bread from your oven every single time you open the oven door.
The main ways to tell whether your sourdough bread is baked through are:
The Knock Test to check doneness of bread
Using an instant-read thermometer to take the internal temperature of the bread
Using Your Sourdough Instincts and Senses
There are pros and cons to each of these techniques for checking when sourdough bread is done and sometimes things are not always as they seem, especially when it comes to oven spring.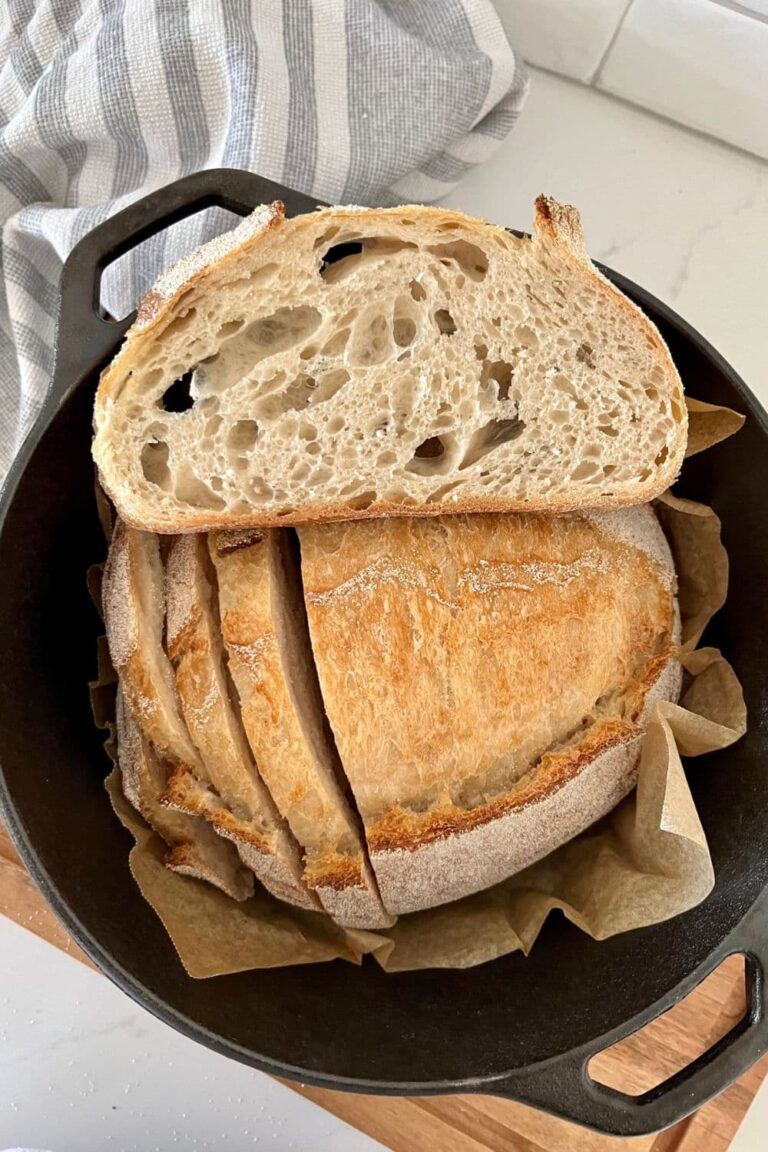 If you are new to the sourdough journey, these resources will help you to achieve sourdough success more quickly:
In my own kitchen, I don't use a thermometer to tell when my sourdough bread is done. I prefer to use my senses and the knock test. After baking thousands of loaves of sourdough in my home kitchen, I can pretty much tell by looking at my bread whether it's done or not. But I am sharing these techniques with you, so that you can learn how to tell when sourdough bread is done, no matter whether you're baking your first loaf of sourdough bread or your 100th loaf of sourdough.
What Happens To Sourdough Bread in the Oven?
When sourdough bread is placed in a hot oven, the yeast suddenly spring into action due to the sudden increase in temperature (this is especially true if your sourdough has been in the fridge for a long cold ferment). The yeast produce carbon dioxide at a much faster rate in the oven and the gas they produce causes your sourdough to rise rapidly.
As the bread bakes, the crust begins to form due to a process called the Maillard reaction. This reaction occurs when the heat causes the natural sugars and amino acids in the bread to undergo a complex chemical reaction, resulting in the formation of a beautiful golden-brown crust. Did you know that a perfectly baked loaf of sourdough actually sings when you remove it from the oven? It's actually the loveliest sound!
Now while this all seems straight forward, problems can arise if your sourdough is under fermented or over fermented before you place it in the oven. This is because under and over fermented bread will not always "puff up" like they are meant to, nor will they take on a lovely golden brown color. This means that when you test for doneness, you won't always get an accurate result.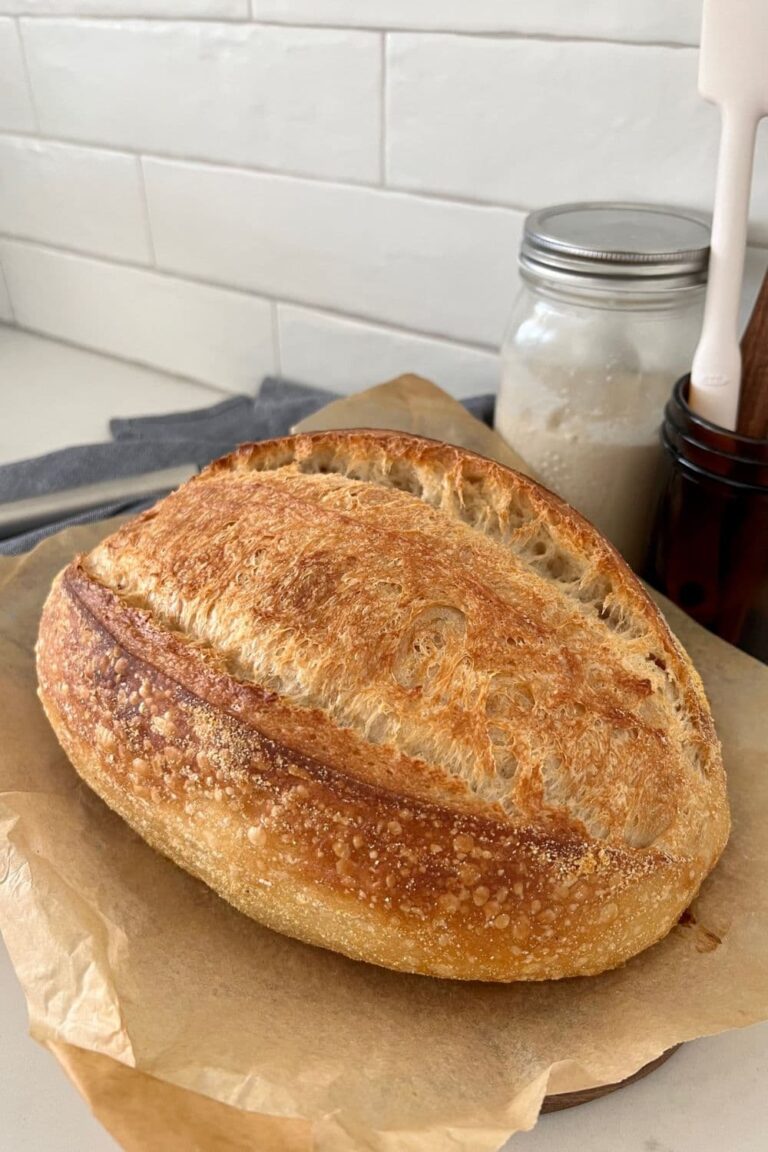 Why Is The Fermentation Process So Important To Sourdough Bread?
The fermentation process is so important to understanding how to tell when sourdough bread is done because under fermented dough will not bake through - which means even if the thermometer says it's done, it will still be gummy inside. Under fermentation is also the cause for sourdough bread crust collapsing after baking.
Baking the perfect loaf of sourdough bread means that you need to get bulk fermentation right before your sourdough loaf hits the oven.
What Does Perfectly Baked Sourdough Even Look Like?
Perfectly baked sourdough that has been cooked to perfection will have:
gorgeous golden brown, blistered crust
a nice round shape with a fat belly
it will feel light when you pick it up and sound hollow when you tap it
it will smell toasty - there's nothing like the smell of freshly baked sourdough bread
the crust will crackle and "sing" for the first 10 minutes out of the oven.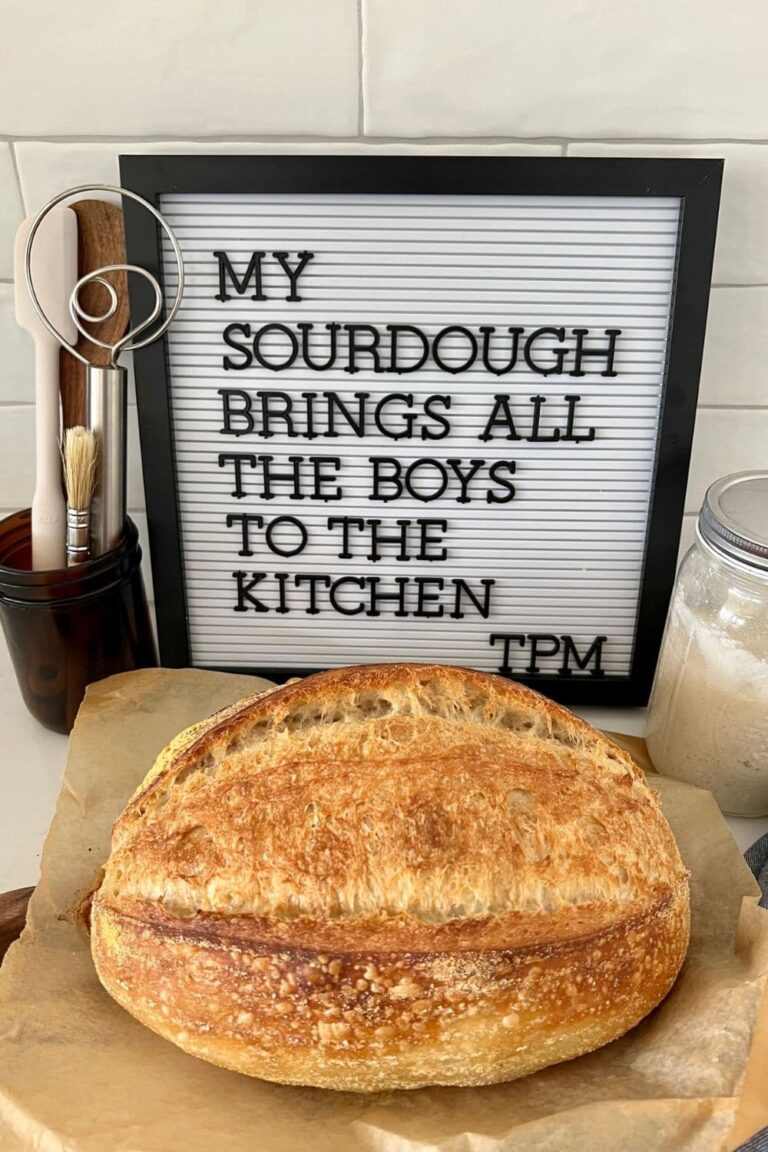 The Knock Test
The knock test is an easy way to tell whether your sourdough bread is cooked through without using a thermometer.
The knock test basically refers to holding your sourdough with one hand (with an heavy duty oven mit on of course) and knocking on the base of the bread with the other. What you want to hear is a hollow sound when you tap it. Your sourdough should also feel light (because a lot of the moisture in the bread evaporated during the baking process.
If your bread does not sound hollow and feels heavy, chances are it's not cooked through properly and you need to leave it in the oven for longer.
The caveat here is that if your sourdough bread is under fermented, it will not sound hollow because it will not cook through completely. The middle will be gummy and no matter how long you leave it in the oven, it won't cook all the way through.
You can read more about how to tell if your sourdough bread is under fermented here.
Using A Thermometer To Tell When Sourdough Bread Is Done
Using an instant-read thermometer is a popular way to tell when your sourdough bread is cooked through. An instant-read thermometer (such as this Lava Tools Javelin Pro) is inserted into the sourdough bread so that the tip goes down to the center of the loaf.
Sourdough bread is cooked through at an interior temperature of 205-210 F or 96 - 98 C. This is the ideal temperature of a loaf made with a lean dough.
Using a thermometer to test when sourdough bread is done will only work if the dough has been perfectly fermented. If the sourdough is under fermented, the thermometer will show it as being cooked through, however the bread will still be gummy inside.
Can You Tell When Sourdough Bread Is Cooked Just By Looking At It?
Yes - you can tell when sourdough bread is cooked through just by looking at it. Maybe not when you bake you first loaf, but as you develop your sourdough instinct, your ability to know when sourdough bread is done will grow and you'll be able to tell whether your sourdough is cooked through just by looking at it.
You can tell sourdough bread is done by looking at (and using your other senses too):
the color of the crust (golden brown and blistered)
the shape of the sourdough loaf (round and puffy)
the sounds the crust makes (the crust will crackle)
how it feels when you pick it up (light and airy)
How Long Should You Bake Sourdough Bread?
An average loaf of sourdough bread with 500g of flour and 350g of water (70% hydration) takes around 45 to 50 minutes to cook through. This assumes you bake the bread in a Dutch Oven with the lid on at 446F / 230C for the first 30 minutes.
This is of course just a guide and some bread will take longer, some will be shorter. This is because each loaf of sourdough bread is somewhat unique depending on the type of flour used, the age of the sourdough starter and where the starter is from, the temperature of your kitchen, the actual temp of the oven (most ovens aren't accurate).
There are just so many factors, so baking time is always a guide - you should always go by what your dough is telling you!
Can You Overcook Sourdough Bread?
Absolutely you can overcook sourdough bread. Just like yeasted bread, sourdough bread can be left in the oven too long.
Overcooked sourdough bread will have a very hard, crunchy crust that is difficult to cut and bit through. The interior of overcooked sourdough bread will be drier than it should be.
How Long Should Sourdough Bread Cool After Baking?
It's best to let your sourdough bread cool for around 4 to 6 hours after baking.
Many people like to tear open their hot bread straight out of the oven - and there's definitely no hard and fast rules around this.
However, allowing your bread to cool adequately to room temperature will ensure that your sourdough has finished baking and that all the steam and moisture leaves your bread. This makes cutting your sourdough so much easier! If you've ever tried to slice hot sourdough bread, you'll know what I'm talking about.
This bread knife will make slicing your cooled sourdough bread really easy!
Frequently Asked Questions
How do you know when sourdough bread is done without a thermometer?
The best way to know when sourdough bread is done without a thermometer is to knock on the bottom of the loaf with your fingers. If the bread sounds hollow, then you know the sourdough is cooked through. The bread should also look golden brown and feel light when you pick it up.
How is baking sourdough bread different to baking a cake?
Baking a cake requires a batter usually made with butter, eggs, sugar, flour and a leavening agent such as baking powder. The batter is generally stable before hitting the oven and requires a stable temperature of around 160 to 180C for the cake to rise. Opening the oven door during the bake time can cause the delicate cake to deflate.

Baking sourdough bread is a much more robust process requiring just flour, water, salt and sourdough starter. Sourdough bread requires fermentation to make the dough rise, as well as a much higher baking temperature to make the dough bloom.
Can I use a toothpick to check whether sourdough bread is cooked through?
Yes you can use a toothpick to check whether your sourdough bread is done, however it's not terribly accurate. You can insert the toothpick into the base of the sourdough. If the toothpick comes out clean, the bread should be cooked through. If you see wet crumbs or dough on the toothpick then the sourdough is not cooked through.