Salt is the smallest measure of ingredients in sourdough bread. But despite this, salt plays a big role in sourdough!
This blog will cover the role or salt in sourdough bread - when you should add it, how much you should add - and even what to do if you forget to add the salt!
You may also be wondering if you should use a special type of salt for your sourdough bread? And whether you can make low sodium sourdough.
You'll find all the answers below.
The Role Of Salt In Sourdough Bread
Why do we add salt to sourdough bread? There are actually quite a few reasons!
salt is mainly for flavor (seriously it doesn't taste great without it)
salt helps to develop the gluten in sourdough (and is actually essential for good oven spring!)
ensures your bread browns in the oven
preserves the bread (along with the amazing wild yeast and bacteria).
Does Salt Kill Yeast in Sourdough?
No, salt does not kill yeast. If it did, your dough wouldn't rise at all!
Salt is an integral part of bread, whether it be sourdough or commercially yeasted breads.
Salt will slow the fermentation down slightly, but not enough to actually affect the rise of your sourdough. It regulates the yeast's activity, ensuring fermentation doesn't happen too quickly.
This is good - slowing the fermentation means that your bread has time to develop flavor.
The salt also prevents the yeast from using up all of the sugars - meaning that there are adequate reducing sugars available when the dough hits the oven. This ensures you get a lovely, brown crust. Forgetting the salt or not using enough can result in a pale, undercooked crust.
Many people say that salt should not be added to sourdough until after autolyse, but this is simply not true.
Salt can be added at autolyse, along with your sourdough starter. It has no ill effect on your dough at all.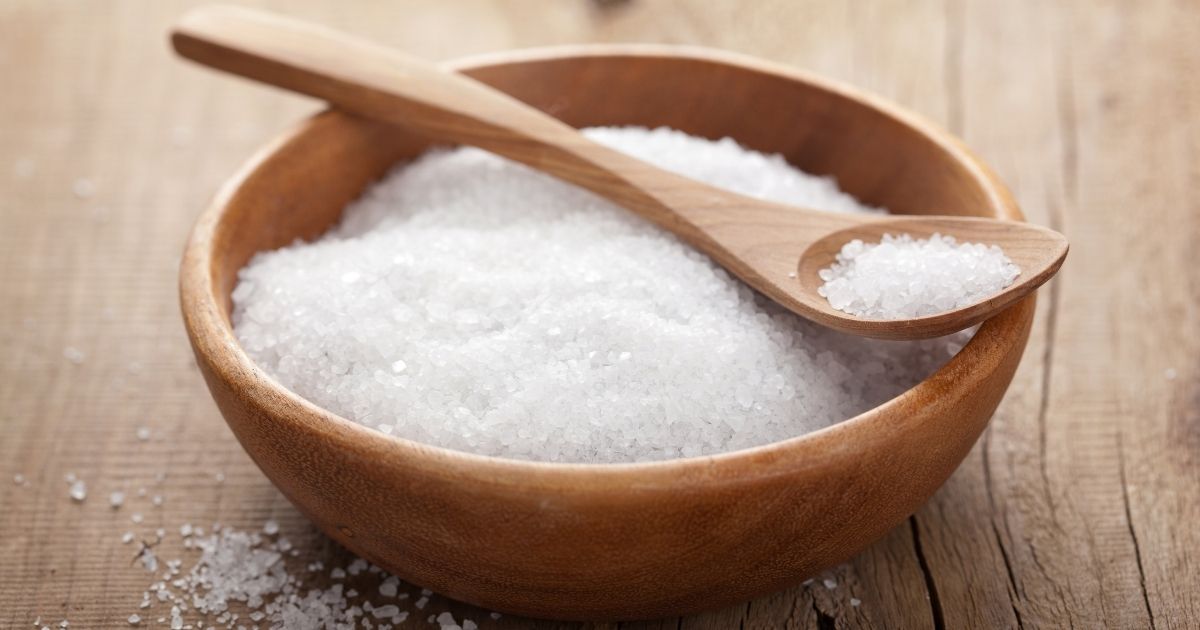 Best Time To Add Salt In Sourdough Bread?
The best time to add salt in sourdough bread is at autolyse, along with the water, sourdough starter and flour. This is called fermentolyse.
If you really do not want to add the salt at autolyse, you can add it afterwards, just before you commence stretching and folding the dough.
You really don't want to delay adding the salt after the stretches and folds as you will not be able to work it into the dough without sacrificing some of the oven spring.
How Much Salt Should You Use in Sourdough?
The amount of salt in sourdough is negotiable, depending on your tastes.
Ideally, you should use between 1 - 2%. You'll find an explanation of how to use baker's percentages in sourdough here.
For example, for a dough with 500g of flour, you could use between 5g and 15g of salt. I suggest 10g of salt in my recipe as I feel that's a nice amount and gives you a great flavor.
However, you could reduce it to 5g if you feel it's too much or increase to 15g if salt is your thang ... and that's me ... I love salt!
Do You Need Special Salt for Sourdough?
You don't necessarily need special salt for sourdough - you can use regular cooking salt that you buy very cheaply from the supermarket.
Some people argue this is not ok - but honestly, use whatever is available to you. That's what making food from scratch is all about!
However, if you really want to bake special sourdough bread, I would argue that you should use special salt!
Spending a little more on artisan salt, you can increase the nutrients in your sourdough.
You could choose to use naturally dried sea salt, fine pink Himalayan salt or a flaked salt like Maldon Sea Salt Flakes.
Maybe you could choose a salt that is local to you.
This will enhance the local flavor of your sourdough, as well as help to reduce the food miles in your bread!
Help! I Forgot The Salt in my Sourdough!
It's the worst feeling ... when you realise you have a beautifully shaped dough ... but you forgot to add the salt!
One of the reasons I choose to add the salt at the beginning of my simple sourdough recipe is because it reduces the chances of you forgetting. You just add the four ingredients altogether at the beginning.
But, what if you still forget? What can you do?
Well, bread without salt is a very acquired taste (and not one that I enjoy at all). Here are a few ways you can try and fix your dough, depending on where in the process you realise you've forgotten it.
If haven't finished your stretches and folds, you can sprinkle the salt over the dough while you perform the remaining stretches and folds. You should be able to work it in over 2 or 3 sets.
If you are already at the bulk ferment stage, you can still try to work it in, but you may reduce the eventual oven spring of your bread by doing it this way. If you are worried about working in course salt, dissolve the salt in a little water before you work it in.
If you've already shaped your dough when you realise you forgot the salt, there's not a lot you can do but I would recommend spraying the surface of the dough with water and sprinkling with salt before you place the dough into your Dutch oven.
If you've completely forgotten until after you baked it, try adding a little extra salt to your butter to make up for the lack of salt in your bread. You could even brush extra salty butter onto the surface of your cooling bread.
What Happens if You Don't Put Salt In Sourdough?
So what will happen to your dough if you forget the salt? There are a few differences to watch out for it you do forget to add the salt.
You might notice the following:
your dough will ferment a bit faster as there's no salt to regulate fermentation
it may actually over ferment more easily
your dough will not be as strong because there's not salt to support gluten strength.
your bread will not taste like the delicious sourdough you're used to!
Does Salt Affect Sourdough Starter?
Salt does not need to be added to sourdough starter.
Salt will not kill your starter (if it did, your sourdough bread would not rise). However, despite this, there's no need to add it to your starter.
If you accidentally add some to your starter, don't stress, just discard and feed as normal. It won't kill your starter, unless you continue to do it. All it will do is slow your starter down.
Self rising flour contains a small amount of salt.
If you feed your sourdough starter with self rising flour, it will not kill it, however, you don't want to do it regularly.
One feed will be fine. Just discard and feed with all purpose flour next time.
Can You Make Low Sodium Sourdough Bread?
Sometimes you may require a lower sodium sourdough bread.
Something to keep in mind is that sodium is actually different than salt.
Salt refers to the chemical compound sodium chloride.
Sodium is a mineral and one of the chemical elements found in salt.
While sodium is essential to our wellbeing, consuming too much sodium can be an issue, particularly if you have medical issues like hypertension, kidney stones or cardiovascular disease.
If you need to make a low sodium sourdough bread, it's a good idea to reduce the level of salt in your sourdough to 1% (which is 5g of salt for 500g of flour).
You can read more about using baker's percentages in sourdough bread here.
This level of salt still gives you the benefits of salt for your dough, but gives you a much lower salt and sodium content overall. This means that for a loaf with 500g of flour and 5g of salt, you'd have very minimal salt and sodium content.
Making your sourdough from scratch allows you to control the amount of salt (and sodium). Homemade sourdough also contains no preservatives or other additives like store bought sourdough. It's a much healthier option.
You'll find my easy to follow sourdough recipe here - it's very easy to adjust the salt to your taste and requirements.
Further Reading
If you enjoyed reading about the role of salt in sourdough bread, you might enjoy these ideas: