A moldy sourdough starter can be the stuff of nightmares - all your hard work gone.
But what can you do to save a moldy sourdough starter? And how can you prevent mold on your sourdough starter in the future?
There are so many opinions when it comes to mold on sourdough starter. But ultimately it comes down to safety - the safety of yourself and your family.
You don't want to put yourself or anyone else at risk.
So knowing how to recognise mold on your sourdough starter and knowing what to do it if does appear is really important.
What Is Mold?
Mold is a fungus. It has thread like filaments called hyphae which can thread all the way through your starter, even if the mold only looks like it's on the surface.
Mold is not a bacteria. It is made up of more than one cell. And in fact, the thread like filaments actually form a mycelium which is defined as a single organism.
When developed on food (like sourdough starter) mold has a discolored and fuzzy appearance.
One of the defining factors of mold is the fuzz.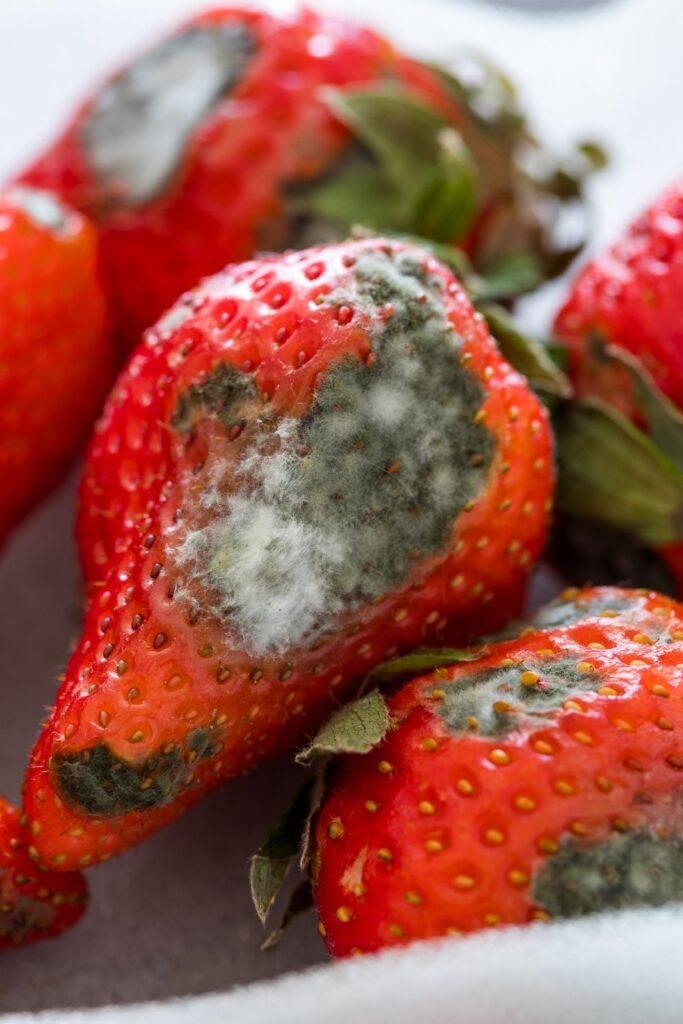 What If My Sourdough Starter Has Mold?
Unfortunately, if you discover mold on your sourdough starter you will need to toss it out.
There is no coming back from mold, no matter what anyone might tell you.
Mold may only appear on the top of your starter, however the spores will be right throughout your starter.
Some people say that you can just scrape the mold off but this is not advisable.
If you see any kind of mold, throw the starter away.
For this reason, you should always have a back up of your sourdough starter - whether you have a jar in the fridge or a dehydrated starter just in case.
If your new starter (less than a few weeks) has gone moldy, it's not a big deal to start again using these instructions.
Alternatively, you could decide to purchase a ready made sourdough starter.
Can Bad Sourdough Starter Make You Sick?
Absolutely! Using moldy sourdough starter is a recipe for disaster.
If there's even a tiny bit of mold on your sourdough starter, you need to toss it.
It cannot be saved and you should not use it.
Consuming mold can cause many illnesses including respiratory illnesses. You don't want to mess with mold!
Obviously you wouldn't consume raw, moldy sourdough starter. But even baking with moldy or bad sourdough starter can make you very sick.
Why Does Mold Occur on Sourdough Starter?
Mold can occur on sourdough starter for a number of reasons.
The trick is that you need to develop the good bacteria - which are quite resistant to mold. The more mature your sourdough starter is, the less likely it is to develop mold (unless you subject it to harsh neglect).
It can occur for a number of reasons including:
it has come from the flour you're using
you haven't fed your starter regularly enough or given it enough food so the "good" bacteria hasn't formed fast enough to prevent the mold.
you've neglected your sourdough starter and left it unfed for a long period of time
the jar or container, stirrer etc used to make or mix the starter is contaminated.
Is It Mold or Is It Hooch?
Many people confuse mold on a sourdough starter with hooch. It really can be a bit confusing and sometimes they can look very similar.
Sourdough starter that is stored in the fridge for a long time can develop a very dark colored hooch that is often mistaken for mold.
Similarly, if left on the counter, some starters can develop darker patches that may look like mold forming. It is actually the very beginnings of hooch.
Oxidation of your starter can also look like mold but is just discoloration caused by exposure to air.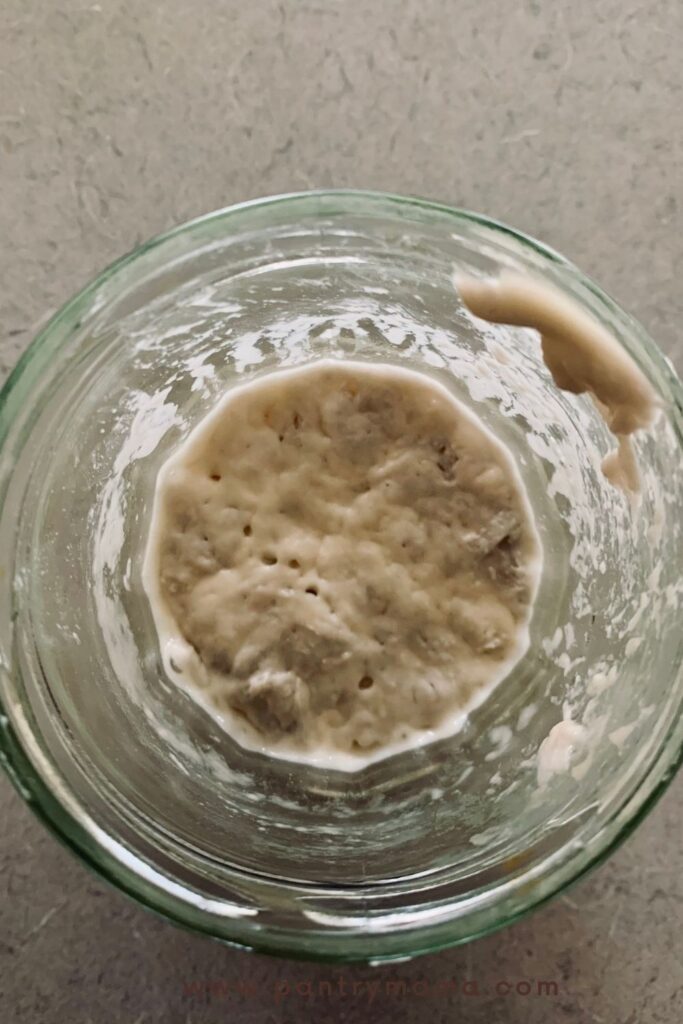 It can be hard to tell the difference between the two if you're not familiar with what to look out for.
If it's mold, it will generally be fuzzy (whether it's green, black or white).
Hooch on the other hand will be liquid or look like a shadow or stain. Hooch (and oxidization)is never fuzzy.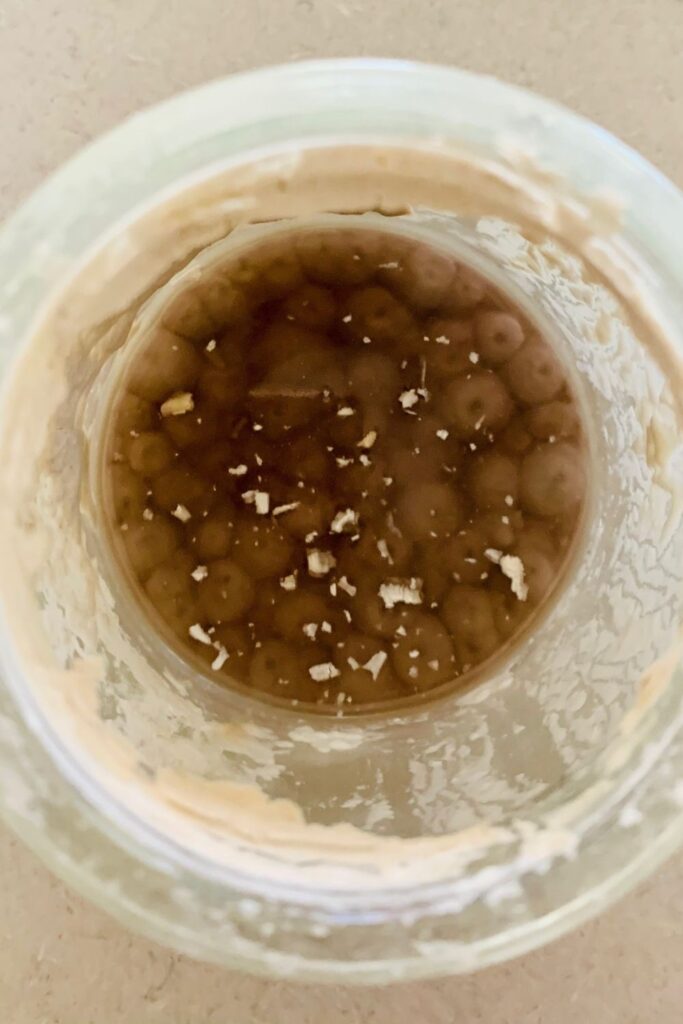 How To Prevent Mold Occurring In A Starter
In some cases, mold is caused by bacteria in the flour you are using. In other cases, it's due to neglect, under feeding or not having good kitchen hygiene.
In any case, here's how to prevent mold in your sourdough starter:
Change Your Flour

Sometimes your flour can contain contaminants out of your control. If your sourdough starter has developed mold, it's a really good idea to change the flour you're using. Open a fresh bag and try again.

Feed Your Starter Regularly

Be sure not to neglect your sourdough starter.

If it's on your counter, it needs to be fed twice a day during the establishment phase. You can feed it less once it's mature, however it's very important to keep an eye on it for any signs of deterioration.

Weigh Your Ingredients

It's really important to weigh your ingredients rather than measure using cups (volume).

Weighing the flour and water for your sourdough starter ensures that the microbiome is adequately fed and will help the good bacteria to defend against any unwanted pathogens.

Clean Everything Thoroughly

Ensuring the jar you make your sourdough starter in is thoroughly cleaned, as well as any implements you use to measure or stir.

Practicing good kitchen hygiene will assist in preventing mold from forming in your starter.
Is Mold Different To Kahm Yeast?
Yes, mold is different to Kahm Yeast.
Kahm yeast is often mistaken for mold, however it is quite different. It isn't actually mold, but instead a free range yeast. It can look like a foamy or powdery white film on your sourdough starter.
It is possible for Kahm Yeast to float on top of hooch.
While it is not desirable in a sourdough starter, unlike mold, a starter affected by Kahm Yeast can be saved. It will give your starter an unpleasant aroma.
If your sourdough starter is affected by Kahm Yeast, you should follow these steps to totally refresh your starter.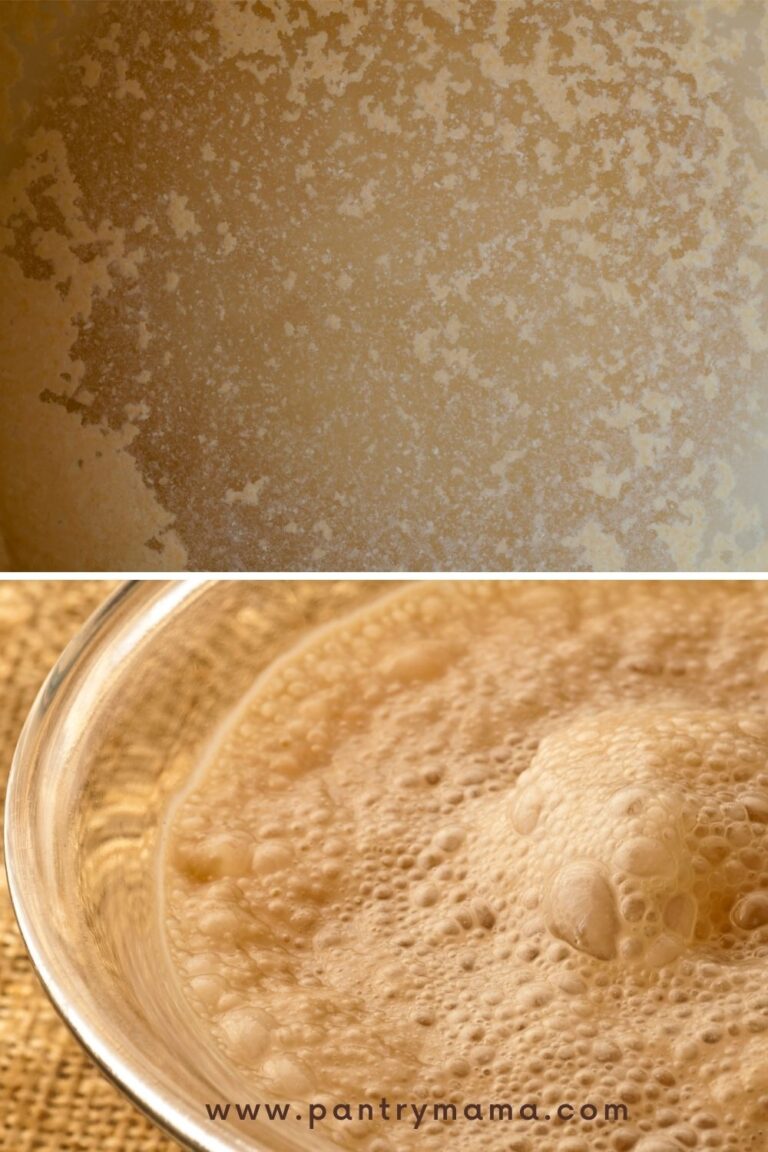 What If There's Pink Streaks In My Sourdough Starter?
Pink or orange streaks in your starter are never a good thing. If your starter develops pink or orange streaks or a film, it must be thrown away.
They may be very faint, but if you are unsure, it's better to be safe than sorry with this one.
The pink streaks are actually not caused by mold, but by a harmful bacteria called Serratia marcescens.
This bacteria is harmful to humans and can cause many illnesses.
Just a caveat to this - sometimes rye flour can cause a slight pink tinge to your sourdough starter. This is very different to the streaks caused by serratia marcescens.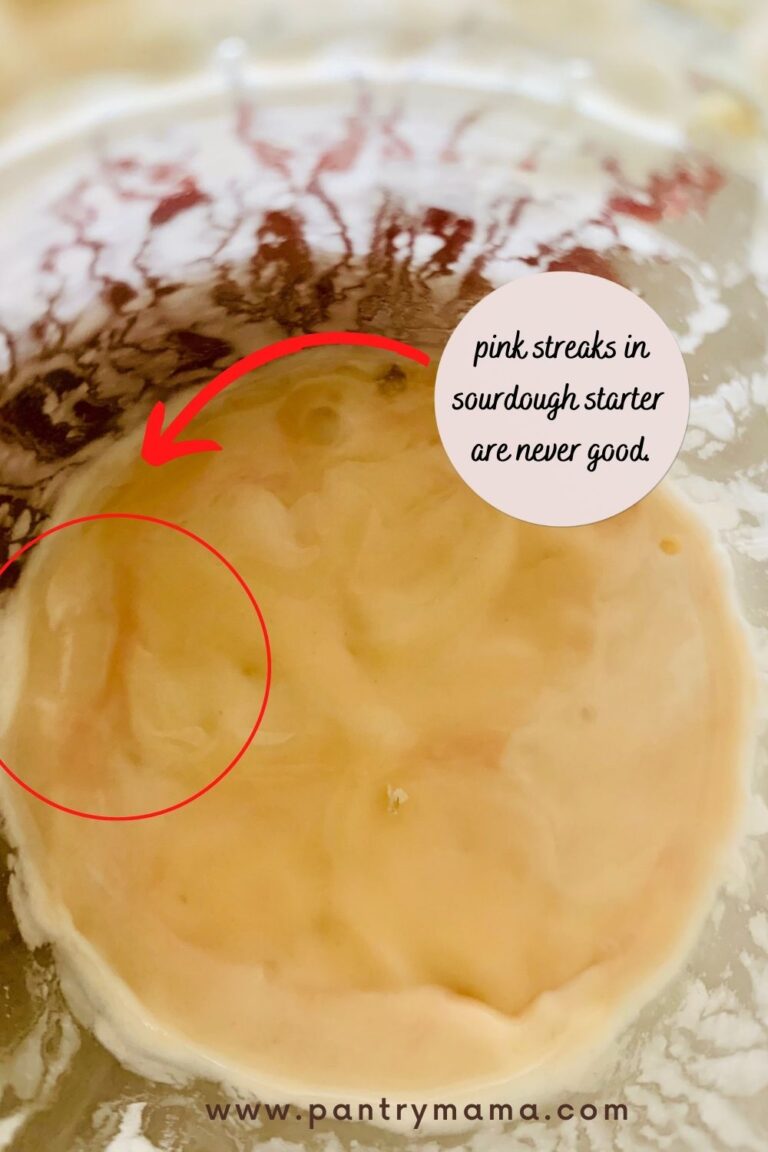 Further Reading
If you found this article about moldy sourdough starters helpful, you might enjoy these: