Banneton care is something that you need to be familiar with as a sourdough baker if you use banneton baskets for proofing your dough.
And while banneton care is important, you also need to understand how to prepare, use, maintain and store your banneton baskets.
These simple rattan bread proofing baskets do not need a lot of specialty maintenance, but a little banneton care goes a long way to ensuring you get longevity from your investment. Conditioning new banneton baskets is essential.
This article aims to help you prepare new bannetons for baking, maintain and care for your baskets and learn how to store them correctly when not in use.
What Is a Banneton Basket & Why Do You Need One?
A banneton basket is a small basket usually made from rattan or wood pulp that is used to hold the shape of sourdough bread. Without a shaping container, sourdough will spread out during the proofing or cold retard stage.
Banneton are purpose built shaping containers for artisanal bread and allow the dough to breathe during the proofing process.
Banneton baskets are responsible for the spiral pattern you often see on sourdough bread. The basket imprints the pattern of its rings onto the dough whilst it's proofing.
Banneton baskets come in many different shapes and sizes - there is sure to be one to suit your sourdough shaping needs.
The most popular banneton baskets are oval and round, but you can buy all sorts of shapes - even triangular!
If you're trying to work out what size banneton you need check out this banneton sizing guide.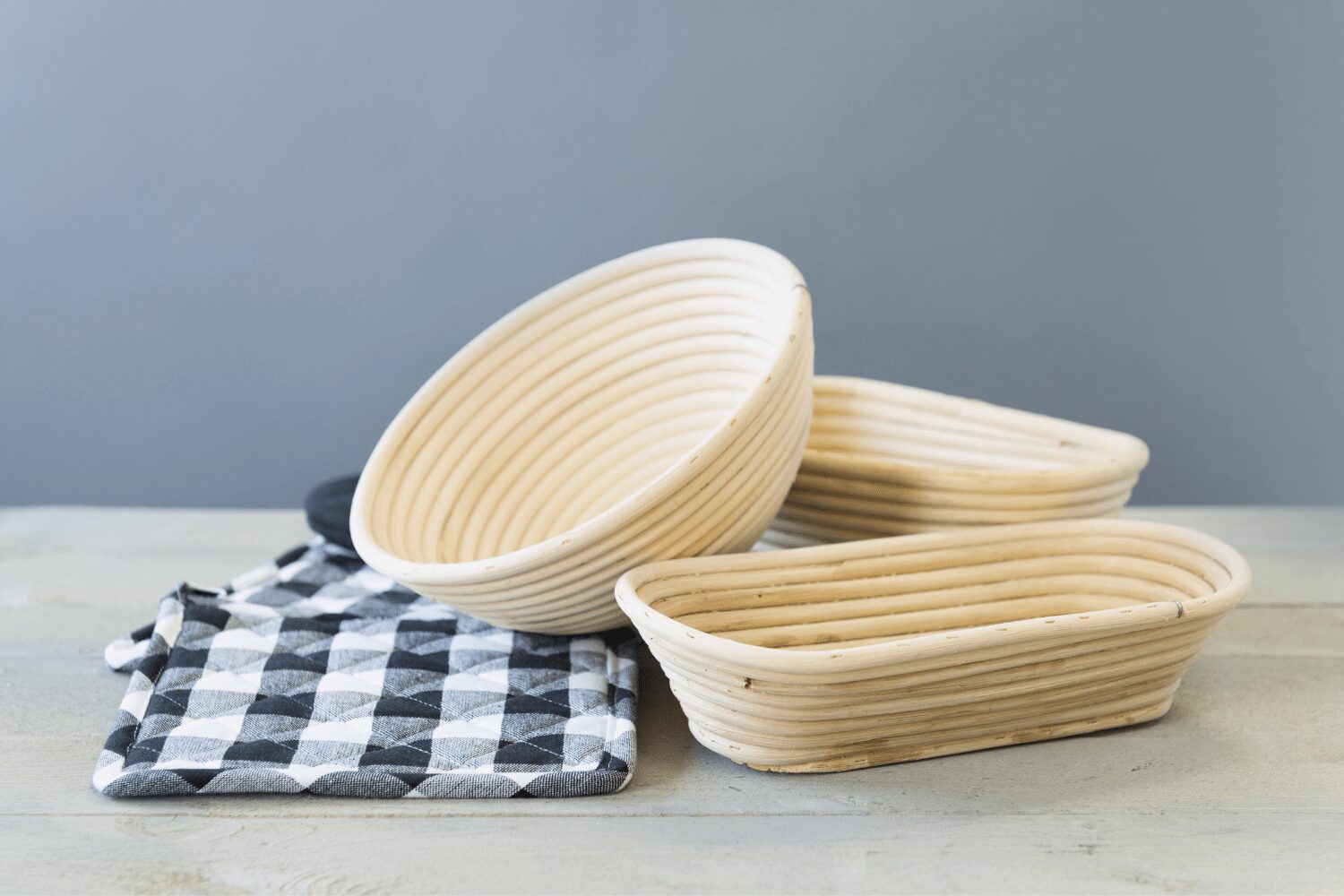 How To Prepare A New Banneton Basket
When you buy a new banneton basket for sourdough shaping, there are a few things that you can do to ensure that you have success right from the start.
Some bannetons do come with a liner (which we will discuss further down) but for this section on preparing a new banneton basket for sourdough, we will not be using the liner.
When you want to use your new banneton, ensure that all the labels are removed. Lightly mist the banneton with water. It's best to use a water atomiser (like this). Now dust the banneton with rice flour and allow it to dry.
You want to get into all the grooves if you can. It doesn't have to be a thick coating though.
Once dry, tap out the excess flour over the bin (so it doesn't make a mess) and now your new banneton basket is ready to hold some shaped dough!
You can find more tips for preventing dough from sticking to your bannetons here.
Do You Need A Banneton Liner?
Most bannetons come with cloth or linen liners. These liners are designed to sit inside the banneton and then the dough sits on top of the liner.
The liner really isn't necessary and it's generally better not to use it.
However, there are always exceptions to rules. The liner is handy if you do not like the spiral pattern on your dough.
The banneton liner will ensure that the dough is smooth when you flip it out. This is important if you like to score intricate designs on your sourdough.
If you are going to use the liner, you need to coat it with rice flour. The easiest way to do this is just to rub the flour all over the liner and coat it. You need to really work the flour into the fabric so that it becomes non stick.
You don't need to wash the liner after each use so long as it's not covered with sticky dough. Just shake it out and allow it to dry thorough before storing it with the banneton.
If it's particularly dirty you can wash it. Wash it separately to clothes to ensure they aren't damaged by flour.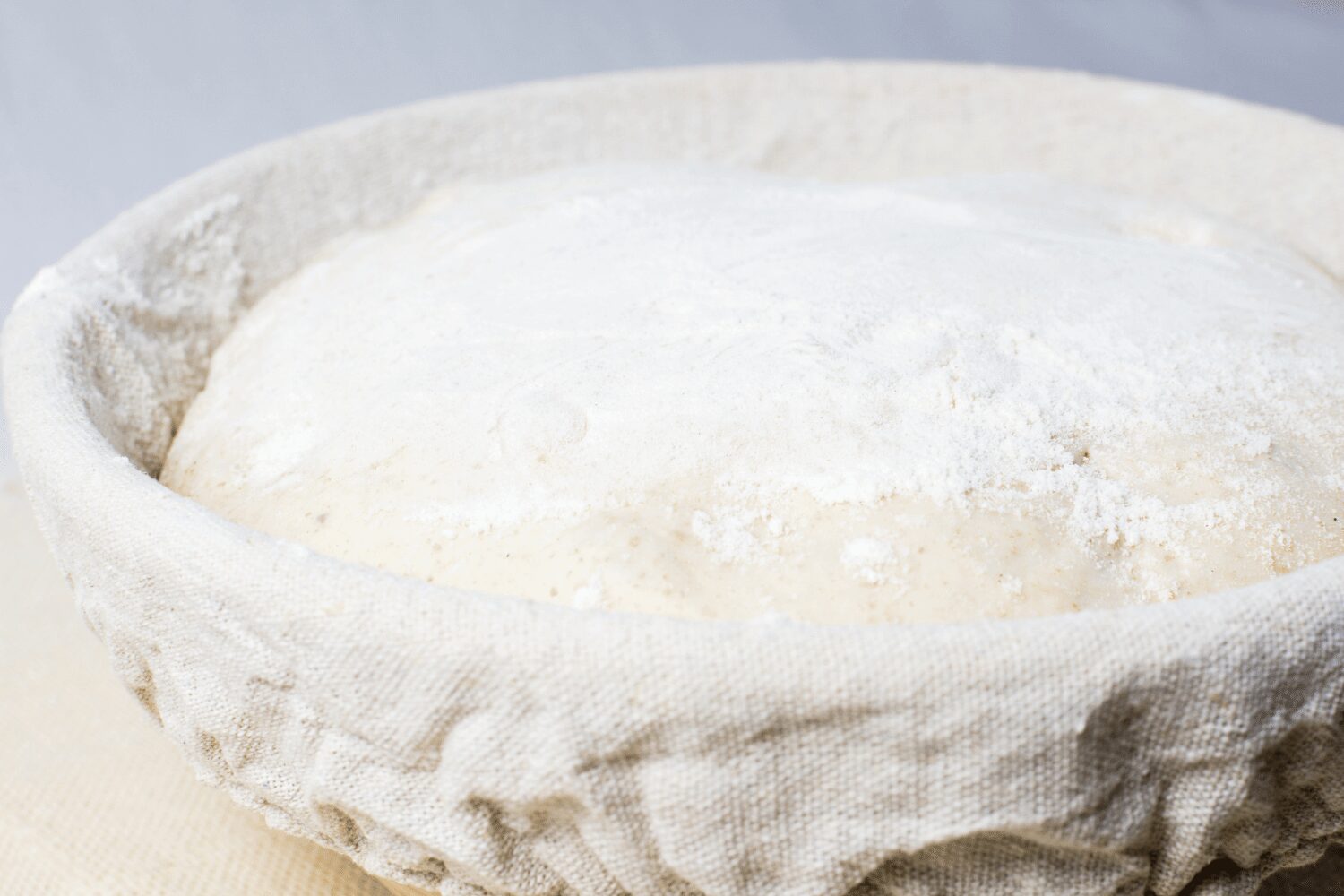 How To Use A Banneton Proofing Basket For Sourdough
Banneton baskets are very easy to use. Once the banneton has been prepped for its first use you can use it to hold your dough.
Simply place the shaped sourdough into the banneton with the seam up (so the "top" of the dough is sitting on the bottom of the banneton).
This means that when you flip the dough out onto parchment paper, the top of the dough will be up.
Once the dough is placed into the banneton, you can sprinkle rice flour around the edges if you feel it needs it. This is a good idea if the dough is sticky. However if it has been shaped correctly you shouldn't need too much rice flour.
The dough is then left to proof - either at room temp or in the fridge, depending on your preference. You can read more about proofing sourdough here.
How To Clean A Banneton Basket
When caring for banneton baskets, it's important to keep them from having too much excess flour.
You don't need to wash them after each use, unless they have sticky dough inside.
Once you've put your sourdough in the oven to bake, it's a good idea to bang the banneton over a bin to release excess flour. You can use a paint brush or other stiff bristle brush to dislodge the flour too.
Once the excess has been removed, simply allow the banneton to air dry before you put it away.
Don't store banneton inside plastic bags as this encourages mold to form, even if you think they are well dried out.
For more tips on cleaning up after sourdough baking, check out this post.
Should You Wash Banneton Baskets With Water?
Generally you don't need to wash your banneton baskets. The cleaning routine above is enough to maintain and care for your banneton.
If you have a heavy build up of flour or you have some sticky dough on it, you can rinse it under cold water and use a stiff bristle brush to clean the excess dough and flour.
Once clean, use a towel to remove excess water from the banneton so it's just damp. Leave somewhere warm, with good air circulation to allow the basket to fully dry out.
How To Store Banneton Proofing Baskets
Banneton baskets are best stored somewhere with good air flow to mitigate the risk of mold. Avoid placing them in plastic bags where moisture can form.
Once dry, I stack mine up and keep them on top of a cupboard near the kitchen. They are in the open air so there is no risk of mold.
What Flour Is Best For Prepping A Banneton Basket
Hands down rice flour is the best flour for dusting your banneton with. It's gluten free, unlike your sourdough, which has lots of gluten.
Rice flour doesn't absorb moisture like bread flour or all purpose flour does, making it a smart choice.
Rice flour is like teflon for sourdough, ensuring that it doesn't stick to the banneton during proofing.
You could use all purpose flour, but because this contains gluten, it can lead to disaster. Dough will stick like glue to the inside of your banneton if it's not prepared correctly.
If you cannot find rice flour or don't want to order online, you could also use semolina.
Alternatives To Banneton Baskets
If you don't have a banneton basket, there are many things you can use instead.
Banneton baskets are optimal (because they are purpose built and allow the dough to breathe).
However, there are other things you can use:
A kitchen colander lined with a cloth
Plastic ricotta baskets are ideal (generally better lined)
Mixing bowls lined with a cloth
I've written a full list of proofing basket alternatives here.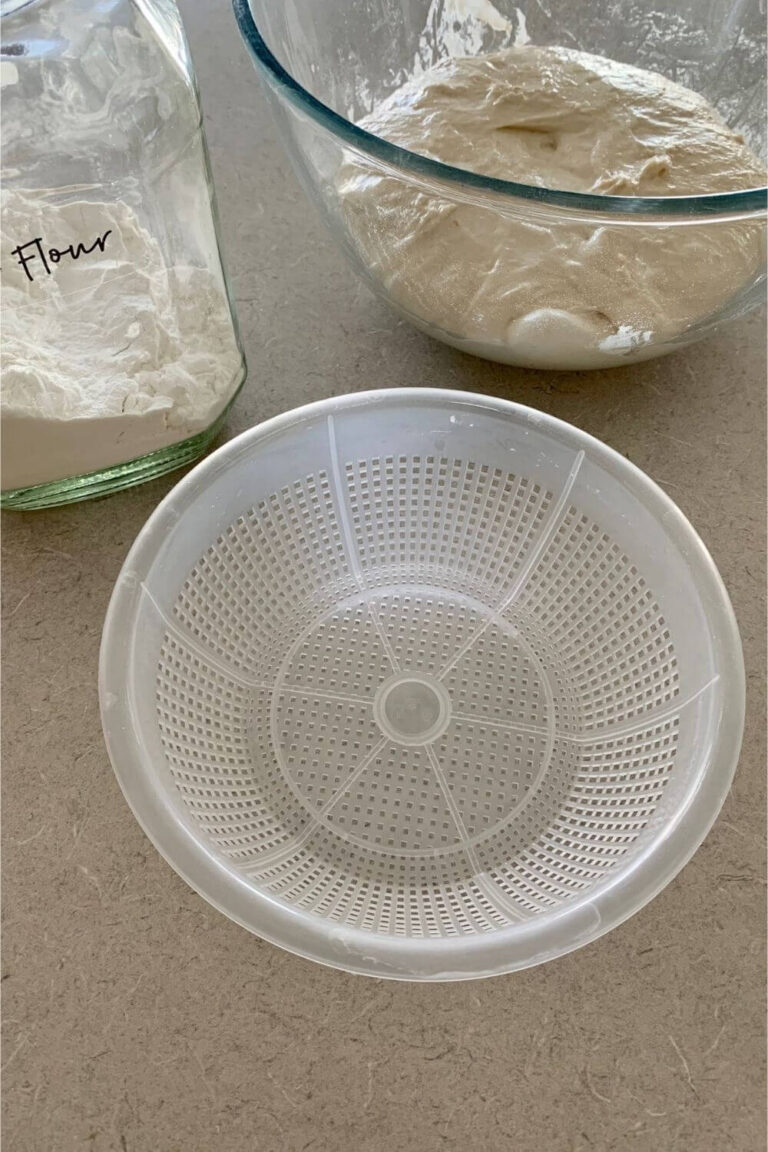 You can basically use anything you have on hand that will allow your sourdough to maintain its shape during proofing.
Just make sure that the container you are going to use fits inside the Dutch Oven you plan to bake in - that way you'll know that your dough will fit.
The best cloth to use to line your shaping container is a thin, 100% cotton. Old pillow cases are ideal! Just cut them to the shape you need.
Make sure you rub the cloth really well with rice flour to make sure the dough does not stick.
Frequently Asked Questions
Can I put my banneton basket in the oven?
No - you should never put your banneton in the oven. They are not suitable to bake in and are purely for allowing the dough to maintain its shape during proofing. People do sometimes place their banneton in a very low oven to dry - however it's not recommended due to the risk of burning.
Do I need to cover the banneton during cold fermentation?
Ideally yes it's better to cover the banneton. You can use a small plastic bag (I even save old bread and produce bags from the grocery store). Or you can use a clear plastic shower cap - this works really well as it allows the banneton to breathe underneath while covering the dough at the top.
What to do if mold occurs?
If your banneton shows signs of mold, the best thing to do is to replace it. Mold spores are fickle and no amount of scrubbing will rid the basket of them. Because of the nature of rattan, you won't be able to all the mold.
Many people say to use bleach on the baskets, however you don't really want to use bleach on something porous that is then going to hold dough.
Replace the banneton and store the new one somewhere free from humidity.
Why is rice flour best for dusting sourdough bannetons?
Rice flour is the best choice for dusting bannetons for sourdough because it's gluten free and doesn't absorb moisture in the same way that all purpose or bread flour does. If you don't have rice flour, you could use corn meal, semolina or other gluten free flour.
Do you oil a proofing basket?
No there is no need to oil a proofing basket. It will actually make the dough stick to the basket rather than stopping it.
Further Reading
If you enjoyed this article about banneton care, you might enjoy these: