Ever wondered about pizza dough vs bread dough? The fact is, there are differences between pizza dough and bread dough - but there are also plenty of similarities too!
Understanding the differences between bread dough and pizza dough will help you understand how to handle each of these doughs, as well as when you might be able to swap them out.
In short, basic bread dough and pizza dough are identical in their ingredients - flour, water, salt, possibly oil and a leavening agent. It's the ratios or formula of these ingredients that makes pizza dough and bread dough different from each other. Bread dough tends to have a higher water to flour ratio than pizza dough.
In essence, pizza dough and bread dough differ in:
Ingredients
Moisture Content
Gluten
Kneading Process
Fermentation
Cooking Method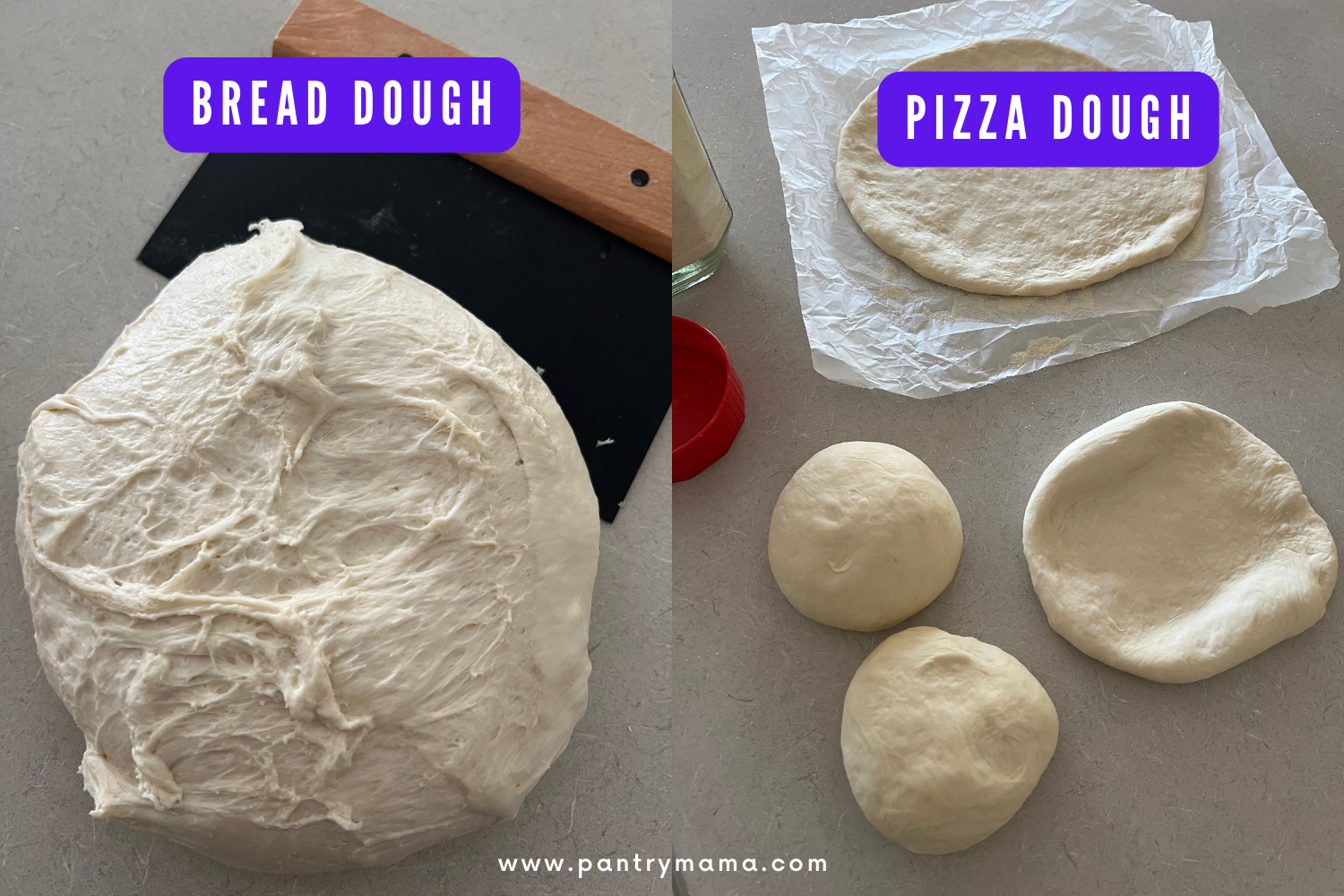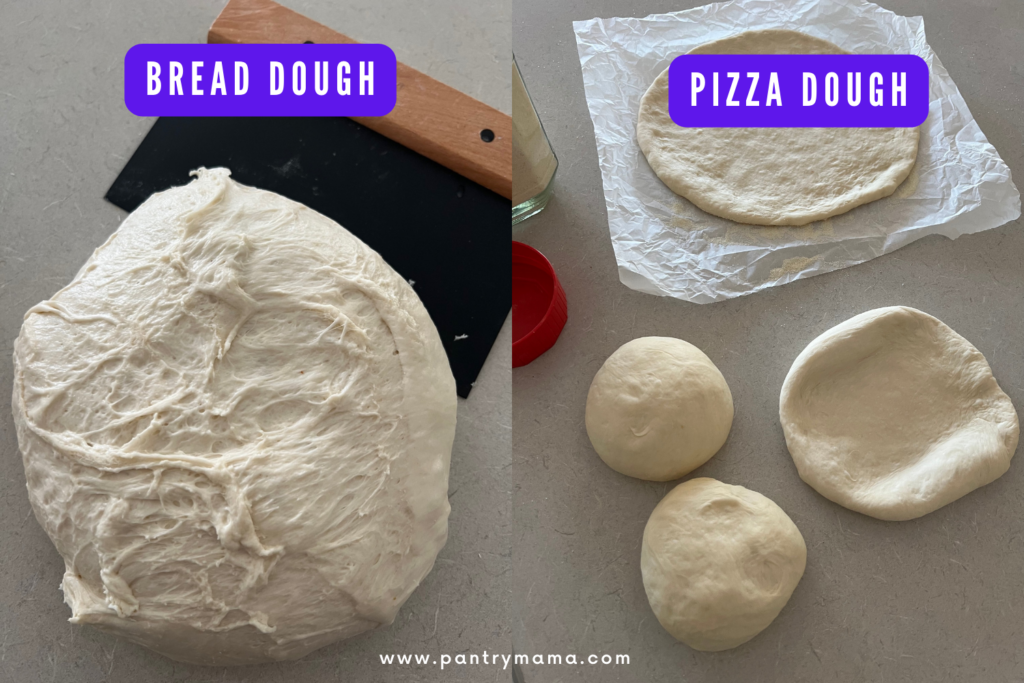 I've also included some alternative uses for each of these dough towards the end of this post! Pizza dough is not just good for making pizza crust! And vice versa ... there's so much more to bread dough than meets the eye too.
I mostly write about sourdough bread and how to get the most out of your sourdough starter, so I mostly work with sourdough pizza dough and sourdough bread dough. In essence, pizza is pizza, bread is bread, whether or not you choose to use commercial yeast or sourdough starter as a leavening agent.
So the differences and similarities remain the same. In this post I will talk about sourdough pizza but also pizza made with active dry yeast.
Looking for the best pizza dough recipe? This sourdough discard pizza dough recipe is just delicious and will allow you create a crispy crust homemade pizza dough with a bubbly, chewy crumb.
Let's expand on the difference between bread dough and pizza dough now.
Bread Dough vs Pizza Dough
Ingredients
The ingredients of bread dough and pizza dough can be exactly the same - that is, you can make pizza bases from just bread flour, water, salt and oil plus leavening (whether you choose commercial yeast or sourdough starter). You can make bread from the same ingredients.
However, more often than not, bread dough includes more ingredients than pizza dough. Bread can include eggs, butter, cream, milk, a pinch of sugar and a myriad of other ingredients.
Pizza is topped with the flavors, rather than adding them into the dough itself. Overall, pizza dough has a lower fat content - but this does not take into account what's on top of your pizza.
You can check out the best flour for pizza dough here and the best flour for bread sourdough here.
Moisture Content
Bread dough has a higher moisture content than pizza dough. This is because bread dough uses more water-to-flour ratio. The oil in pizza dough is not included in the hydration calculation. While the hydration level of pizza dough is usually between 50% and 70%, it's not uncommon for bread doughs to reach about 90% hydration. So generally, pizza dough will contain less water than a bread dough recipe.
For example, this sourdough pizza crust recipe is 63% in hydration as opposed to this sourdough bread recipe which is 71% hydration. Similar ingredients, but a very different result.
And if sourdough isn't your thing, then you can also compare this regular pizza crust recipe which is 65% hydration and this basic white bread recipe which is 75% hydration.
Gluten
One of the main differences between pizza dough and bread dough are the gluten levels required for the different types of dough. Pizza requires a higher level of gluten since the dough needs to be very extensible and stretchy. Bread dough, while requiring excellent gluten development, doesn't need to be as stretchy or extensible because it has a different outcome.
The main difference is that pizza dough is often made with a higher protein flour (bread flour is perfect). Bread dough can also be made with bread flour (of course) but some types of bread dough are better made with a lower protein flour like all purpose flour. Soft dinner rolls for example can be made with a lower protein flour than traditional pizza dough.
Kneading Process
The kneading process of bread can be quite different. The kneading process for both bread and pizza is to agitate the dough and create the strongest gluten network possible.
Both bread and pizza require a strong gluten network, however, pizza is generally touted as having more gluten than bread because it is generally kneaded more vigorously and requires more extensibility.
For great pizza, you ideally want a chewier crust than perhaps a softer sandwich style bread. For bread like sourdough or artisan bread, a chewy crust is more desirable.
Fermentation
Both bread dough and pizza dough require a rising time or fermentation at room temperature to allow the dough to rise. The label that is given to this stage of your dough development may well depend on whether you are using commercial yeast or sourdough yeast. If you are using a sourdough starter, the rise time is generally referred to as fermentation.
The difference between the doughs here is that pizza will generally require a shorter rise or fermentation period to bread dough - unless of course you're using a sourdough pizza recipe which will then need a longer fermentation time to allow the wild yeast to rise your dough.
Cooking Method
The cooking methods for bread dough vs pizza dough can be quite different, depending on the type of pizza or bread you're making.
Generally, pizza is baked at high temperature on a pizza stone. It doesn't require a tin or pan (however you can use one if you want to).
Bread is baked at a lower temperature in a loaf tin or cast iron pot (Dutch Oven), however sourdough and artisan breads can be baked on a hot stone, depending on the type of crust you are trying to achieve.
Bread often requires some steam or humidity to create the best crust. Pizza does not require this because it is baked on a stone at high heat. The higher temperature needed to achieve a crispy pizza base precludes it from requiring steam.
Can You Swap Pizza Dough and Bread Dough?
Yes ... and no! I guess the answer to this is, it really depends on the ingredients in the dough. For example, you couldn't make a pizza out of a brioche dough and similarly, you can't make brioche bread from pizza dough.
A lean bread dough (that is devoid of fat and dairy) is most likely the best dough to interchange with pizza dough. And vice versa, a pizza dough with just olive oil added could potentially be baked into a loaf of bread.
It will also depend on what type of pizza crust you are trying to achieve with the type of dough you are using. Thin crust pizzas are different to those with a thicker crust. You might need to use different types of flour to achieve these results.
Bread dough is more likely to be good for a deep pan pizza but may not be good for a thin, New York style pizza.
Other Uses for Pizza Dough (Use Leftover Pizza Dough)
So you've got a pizza dough mixed up (sourdough or yeasted) but you don't want pizza. What else could you do with it? Here are some suggestions of what to do with your pizza dough:
Focaccia Dough - this is especially good if you've let your pizza dough go a bit too far! This is a great guide for making focaccia bread.

Cheese Sticks - cheese sticks are really easy to make from pizza dough. You can just sprinkle your dough with cheese, cut it into strips, twist and bake! They're delicious dipped into marinara or tomato sauce.

Sourdough Pizza Rolls - roll your leftover pizza dough up with your fave toppings and create these delicious sourdough pizza rolls!

Seasoned Flat Bread - quickly use your leftover pizza dough by flattening into rounds, topping with olive oil and baking with your fave seasonings (see the photo below).

Calzone - Calzone is made by wrapping delicious ingredients inside of pizza dough. One of the best calzones I ever ate was a seafood marinara calzone in Italy! So good!!

Pizza Pocket - these are a favorite of my boys! We wrap bacon, cheese, pizza sauce and pineapple into small chunks of dough and bake them for a grab and go snack! You might enjoy this recipe for sourdough pizza pockets with pepperoni!
Alternative Uses for Bread Dough
Got a batch of bread dough mixed up (sourdough or yeasted) but now you feel like something different? Here are some suggestions of what to do with your bread dough by adding a few extra ingredients:
I hope you've enjoyed reading about the differences and similarities between bread dough and pizza dough. While they are very similar in ingredients and they each have their specific purpose, the can be used interchangeably in most circumstances. In their simplest form, regular bread dough and most pizza recipes are just a basic dough recipe without too many major differences.
If you want to make your own pizza dough, I highly recommend this easy pizza dough recipe using a sourdough starter. You might also enjoy this simple sourdough sandwich bread recipe which makes a delicious loaf (similar to "grocery store" white bread.
Frequently Asked Questions
Can I use frozen bread dough for pizza?
Absolutely. You can use most basic frozen bread doughs to make an easy, yeasted pizza base. You just need to thaw it, shape and stretch it, top it and bake like regular pizza.
Is pizza yeast different to regular yeast?
Generally pizza yeast is the same as regular yeast. If the box you have is labelled as pizza yeast, it may contain some additives that make it rise the dough faster, but not always.
Can pizza be made with unleavened dough?
Generally, pizza is made using some kind of yeast, starter or poolish. Pizza requires a rise to give it that lovely chewy crumb. However, you can make pizza with unleavened dough or flat bread, it just won't have the same type of texture as you are used to. You can also make pizza using leftover Naan Bread, homemade tortillas or even a focaccia bread pizza.
Share the love on Pinterest!