There is something about fluffy sourdough cinnamon rolls ... something seriously addicting that is!
These easy sourdough cinnamon rolls are delightfully soft and fluffy inside with swirls of cinnamon butter tickling your tastebuds!
You can choose to ice them with cream cheese frosting or leave them as they are. Which ever way you choose to eat these fluffy sourdough cinnamon rolls, it's safe to say you will enjoy them!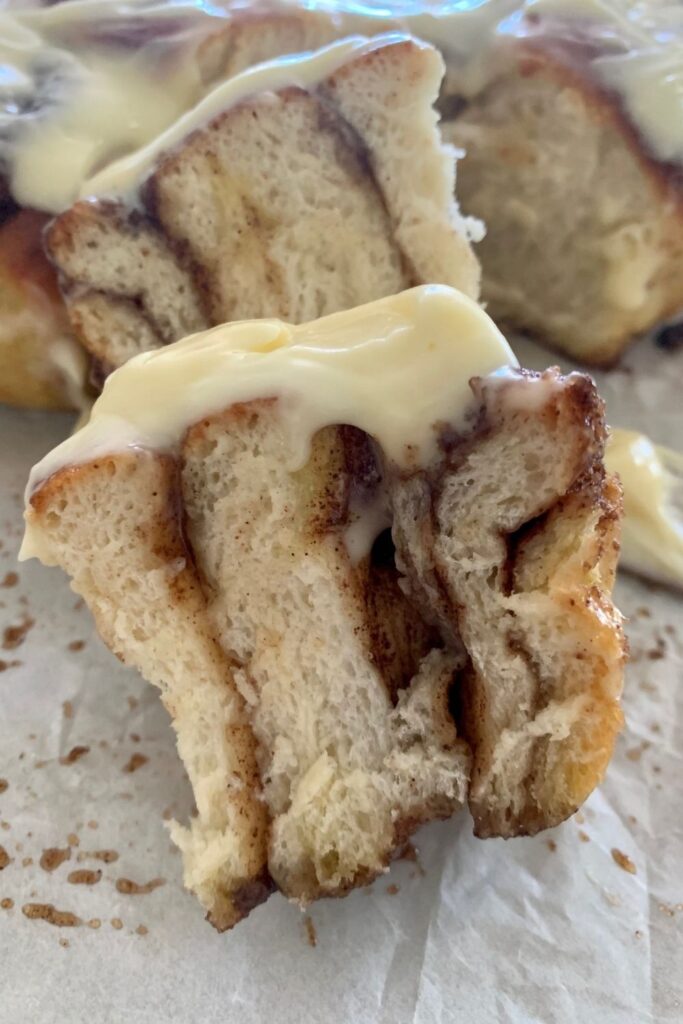 If you're looking for something a little different, these Sourdough Gingerbread Rolls might be just the ticket! You can also add the filling of these cinnamon rolls to this Sourdough Chocolate Star Bread. And if you really love cinnamon, why not try sourdough cinnamon raisin bread, sourdough snickerdoodle cookies, carrot cake sourdough muffins or sourdough discard monkey bread or some of these other fall inspired sourdough recipes.
How To Make Fluffy Sourdough Cinnamon Rolls
These easy sourdough cinnamon rolls are a cinch to make. Seriously, you might think that they're fiddly, but really they are quite simple.
There are quite a few steps, but if you just take your time, the actual hands on part isn't too bad.
Plus, you will be rewarded quite sweetly for your efforts!
I find it easiest to use a stand mixer to make the dough. It keeps things simple and you'll have the dough done in next to no time.
Here's how to make Fluffy Sourdough Cinnamon Rolls:
Add warm milk and sugar to the stand mixer bowl. Beat until the sugar has dissolved.

Now add flour, sourdough starter, vanilla and egg to the bowl and knead to a rough dough. Allow this dough to rest for around 30 minutes.

Knead in the butter using your stand mixer.

Now allow the dough to bulk ferment.

When the dough is ready, roll it out into a rectangle and spread with the cinnamon butter filling.

Roll into a log and cut into 12 rolls.

Arrange the rolls in a cast iron skillet or baking tray and allow them get all nice and puffy. Line the skillet with baking paper to make it easier to lift the rolls out in one piece once baked.

Bake until golden and bubbling!

Allow the rolls to cool before smothering them in cream cheese frosting!
Baking Timeline for Sourdough Cinnamon Rolls
You can easily make these fluffy sourdough cinnamon rolls fit into your schedule.

Maybe you want to have them ready at a certain time for a special occasion.
These delicious sweet sourdough rolls are perfect for Christmas morning breakfast! Here's how to have them ready for a leisurely breakfast!
Baking Timeline for Fluffy Sourdough Cinnamon Rolls
| | |
| --- | --- |
| Time | Process |
| 8.00am | Mix and knead dough for sourdough cinnamon rolls. |
| 9.00am | Cover dough and allow to bulk ferment. |
| 5.30pm | Roll out dough, spread filling and roll. Cut into individual rolls and place into cast iron skillet. |
| 6.00pm | Allow rolls to sit for around an hour before covering in plastic wrap and placing into fridge for the night. |
| 6.30am | Take rolls out of the fridge and allow them to come to room temperature. |
| 8.00am | Bake sourdough cinnamon rolls for 20 mins (make frosting while they're baking). |
| 8.20am | Allow rolls to cool for around 30 minutes. |
| 9.00am | Smother in vanilla frosting and enjoy! |
Sourdough Discard Cinnamon Rolls
If you are needing these sourdough cinnamon rolls in a hurry or you want to use up some sourdough discard, you can add some commercial yeast.
Using yeast isn't a bad thing - you just won't get the fermented tang that you get from using only sourdough starter.
If you're going to use discard and yeast, add up to 7g of yeast to the milk and sugar when you first mix it. Add the discard instead of "sourdough starter" (even though they are really the same thing).
Your dough will rise quite fast once you add yeast so you'll need to keep an eye on it.
To slow things down, you could do the second rise in the fridge, since commercial yeast will keep on rising even in colder temperatures.
This is also a good way to put the scrolls on hold if you wanted to bake them the next day or you just run out of time to bake them on the same day.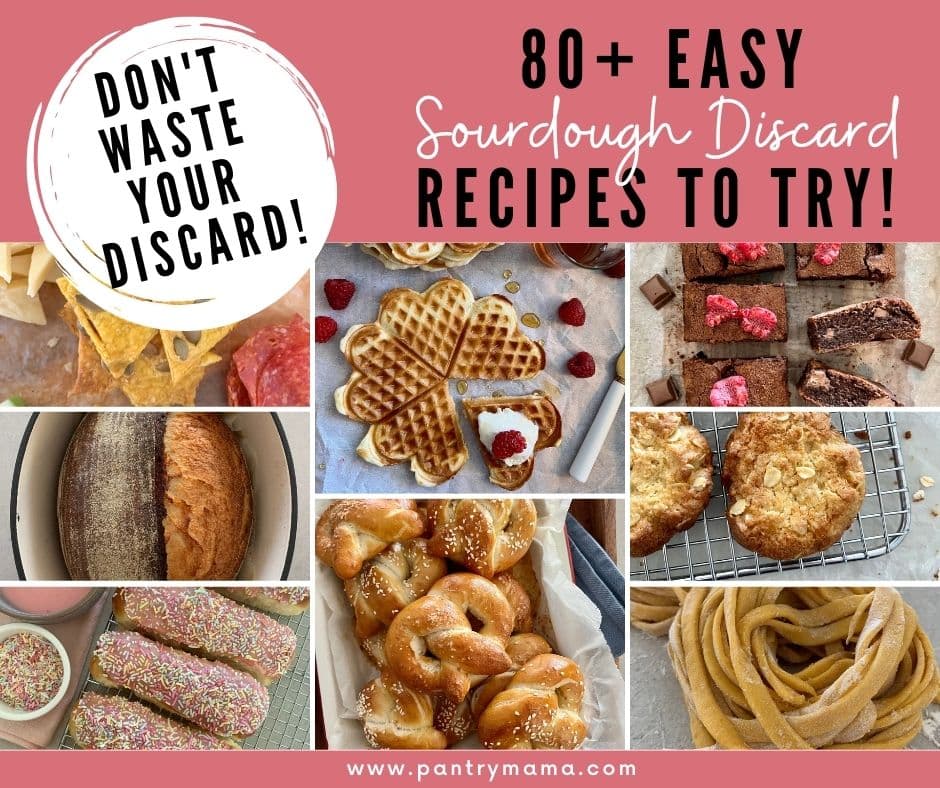 Best Tips For Fluffy Sourdough Cinnamon Rolls
To ensure you get the fluffiest, softest sourdough cinnamon rolls, there are a few things you'll need to do:
Make sure that you're using a strong, happy sourdough starter. This will ensure that your dough rises and all the little yeastie beasties give you the softest risen dough.

Warming the milk and sugar before you start will give your dough a nice kick start and ensure that the dough rises nicely.

Using a mix of white and brown sugar in the filling gives such a lovely result - you'll get a delicious swirl of cinnamon sugar and the bottoms of the rolls will be sticky and caramelised.

Make sure you give yourself enough dough to roll up into a log. You want to roll the dough as tightly as you can to ensure that you get as many cinnamon sugar ribbons through the dough as you can.

Use dental floss to cut the rolls. Seriously! It works! Use a ruler/dough scraper to measure where you want to cut each of the rolls and then pop the dental floss under the log and use it to cut through each roll for perfect cuts every single time! It will stop you squashing the delicate rolls by trying to cut them with a knife.

Ensure that the dough is puffy and full before baking - if it isn't, you'll get under proofed, gummy rolls.
Perfect Cream Cheese Frosting for Sourdough Cinnamon Rolls
I absolutely love cream cheese frosting. Seriously, I could eat a whole bowl of it on top of my cinnamon rolls!
But I also don't like it super sweet, go figure!
So it can be hard to get it just right!
If you want to, you can increase the amount of sugar in the frosting (if you like it super sweet). The recipe makes quite a bit, so you can decide how much frosting to add!
If there's leftovers, I also like to add it to these sourdough pumpkin cinnamon rolls or even these sourdough cinnamon muffins. It's also delicious spread on this sourdough discard banana bread.
These fluffy sourdough cinnamon rolls would also work with a glaze if you'd prefer.
Or even just a dusting of powdered sugar if you're not a huge frosting fan.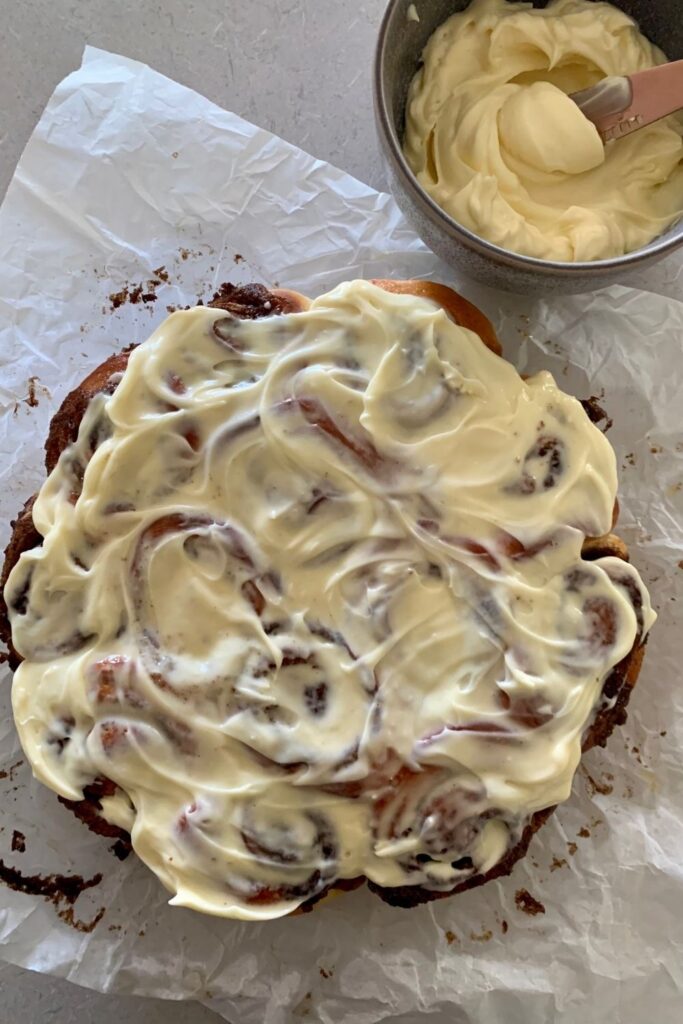 Frequently Asked Questions
Should cinnamon rolls touch when baking?
This is really personal preference. If you want individual buns then it's better to not allow them to touch when rising or baking (so space them out more). I find that they rise and bake better when they're touching. You get a lovely fluffy roll with a gooey, glazed bottom!
Why are my sourdough cinnamon rolls tough?
The number one reason that cinnamon rolls come out tough is using too much flour. Avoid adding more flour to the dough, even if you feel that it's sticky. And definitely don't use any flour during shaping. This enriched dough should be silky and elastic - it shouldn't be sticky.
Should you use white sugar or brown sugar for sourdough cinnamon rolls?
This is really personal preference. I find that white sugar in the dough will give you the fluffiest rolls possible. I then add white sugar and brown sugar to the filling.
How do you make sourdough cinnamon rolls rise higher?
You need to use bread flour rather than all purpose flour. Bread flour contains a higher protein and gluten content which will give you lofty cinnamon rolls.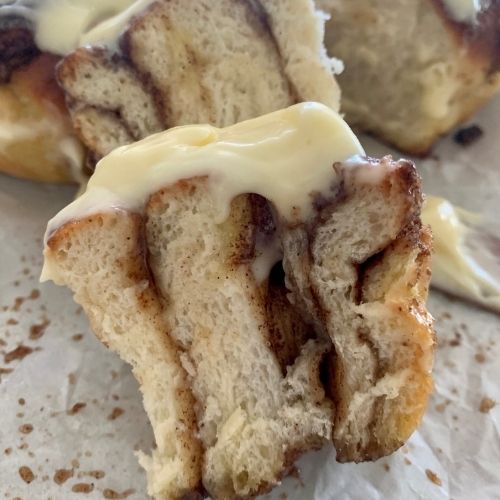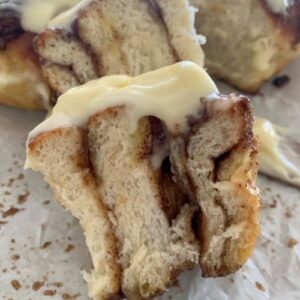 Fluffy Sourdough Cinnamon Rolls
The fluffiest and easiest sourdough cinnamon rolls around ... plus an option to use sourdough discard. It doesn't get any better than this!
Equipment
Stand Mixer

Rolling Pin

Cast Iron Pan
Ingredients
Dough
500

g

Bread Flour

100

g

Sourdough Starter

Fed and bubbly

200

g

Milk

Warm (37C)

7

g

Salt

1

Egg

(approx. 45g)

80

g

Sugar

Caster/Fine Sugar

50

g

Butter

Room Temp

5

g

Vanilla Extract
Cinnamon Butter Filling
100

g

Butter

Cold

100

g

White Sugar

Caster/Fine

100

g

Brown Sugar

Light or Dark

15

g

Cinnamon

ground
Vanilla Cream Cheese Frosting
125

g

Cream Cheese

Block - not spreadable

25

g

Butter

Cold

100

g

Powdered Sugar

5

g

Vanilla Extract

1

pinch

Salt
Instructions
To make the dough
Warm the milk to around 37C. Add the warm milk and sugar to the bowl of your stand mixer and mix until the sugar has thoroughly dissolved.

You can just warm the milk in the microwave before putting into your stand mixer bowl. You just don't want cold milk in your dough as it will take forever to rise!

Now add your sourdough starter, egg, vanilla, salt and flour and use your stand mixer to knead into a rough dough. This shouldn't take too long (around 2 to 3 minutes). Leave the dough to rest in the stand mixer bowl for around 30 minutes.

Add the butter and knead into the dough until the dough is smooth and fairly elastic. You may need to increase the speed of your stand mixer to allow the butter to be incorporated (see notes below).

Transfer to the dough to a bowl and allow to ferment. You want the dough to rise a little (around 30%) and feel soft to the touch. This needs to happen at room temp - not in the fridge.

Once the dough has finished bulk ferment, you will need to fill and shape the cinnamon rolls.
Rolling and Filling the Dough
Before you roll out the dough you need to make the filling. Add brown sugar, white sugar, cinnamon and butter to a stand mixer and mix until it resembles wet sand. Set aside while you roll out the dough.

Turn the dough out on to the counter. It shouldn't be sticky and be easy the handle. Do not use flour when rolling out the dough.

Gently roll the dough out into a rectangle. 60cm x 30cm is a good size to aim for. It doesn't have to be perfect, but the bigger you an get it, to more perfect cinnamon sugar swirls you will get.

Spread the filling all over the dough, leaving a 10cm gap on one of the long edges. You need to leave a gap so that dough will stick to itself when you roll it.

Once the filling is spread, roll the dough into a log, starting on the opposite long edge to the gap you've left.

Roll the dough into a tight log, using the unfilled dough to seal the log. You can spray a little water on the part where the dough joins if you want to - but the dough should stick to itself without it.

Lay the log out with the seam underneath.

Cut the log into approximately 12 pieces (you can measure and divide by 12 if you want them to look even - or just go freehand if you're not too fussed). Using dental floss to cut them will help you keep their shape and give the cinnamon rolls a flat surface.

Place the rolls into a cast iron skillet lined with baking paper (I've used a 12" skillet). Face all the seams inwards so that they don't unravel. If you don't have a cast iron skillet, a baking tray or casserole dish is perfectly fine. They don't have to touch as they will once the dough is puffy.
Second Rise
Cover the skillet containing the rolls with a tea towel or plastic wrap and allow the dough to rise. The dough is enriched, so it will take a little longer than normal (especially since we are dealing with sourdough).

Once the dough is puffy, you can bake them straight away - or see baking timeline above to extend the second rise and hold them in the fridge overnight.
Baking
Once the rolls are puffy and have taken up the room in the skillet, it's time to bake them. Preheat your oven to 180C/356F.

Bake rolls for 20 minutes at 180C/356F. Keep an eye on them though as they will burn easily due to the sugar.

Once they're finished baking, leave them to cool in the skillet for around 30 minutes before taking them out.

Once they're out of the oven, you can brush them with butter to give them a nice glaze. You can leave them unbuttered if you prefer. The butter will give them a nice shine.
Vanilla Cream Cheese Frosting
Add cream cheese, butter, powdered sugar, vanilla and salt to your stand mixer. Beat the frosting until it's thick and glossy. Store in the fridge until ready to use.

Once the rolls have cooled a little (I leave it about 30 minutes) smother them in the vanilla cream cheese frosting. You can use a vanilla glaze or even just dust them in icing sugar if you prefer.
Notes
Thermomix - You can easily use a thermomix to make this recipe. Utilise the dough/knead function to  mix and knead the dough.
Adding Butter - butter is the last ingredient to add to the dough before it's left to bulk ferment. You may need to increase the speed of your mixer to get the butter to incorporate. It's best to add it in 10g increments. The dough may look greasy/slimy at first but persevere, it will incorporate if you give it enough time. The dough behaves much like brioche in this respect.
Nutrition
Calories:
440
kcal
Carbohydrates:
66
g
Protein:
7
g
Fat:
17
g
Saturated Fat:
10
g
Polyunsaturated Fat:
1
g
Monounsaturated Fat:
4
g
Trans Fat:
1
g
Cholesterol:
58
mg
Sodium:
382
mg
Potassium:
103
mg
Fiber:
2
g
Sugar:
33
g
Vitamin A:
553
IU
Vitamin C:
1
mg
Calcium:
59
mg
Iron:
1
mg