Sourdough cinnamon muffins are simple yet incredibly tasty.
Using 200g of sourdough starter, these easy to make muffins can be made using humble pantry staples. Perfect for easy snacks or even a weekend breakfast.
Everything can be found in the pantry or fridge - you can even use UHT milk if you need to. The perfect recipe for these uncertain times.
There is something so homely and comforting about cinnamon. These muffins even have a hint of nutmeg, which adds to their aroma.
The almond meal (which is totally optional) adds both moisture to the interior and crunch to the exterior. If you prefer to leave it out, increase the all purpose flour by 30g.
How To Make Sourdough Cinnamon Muffins
These sourdough muffins are very easy to make. They are so quick and easy, you can make them in under 30 minutes!
I've been known to make these for a quick breakfast treat (they work so well with a hot cup of coffee). And oh did you know you can roll them in butter and cinnamon sugar to make them taste like a donut?
The basic process for making sourdough cinnamon muffins is:
Preheat your oven.

Mix the sourdough starter, eggs, oil and vanilla together in a bowl. Make sure you mix them together really well and that the eggs are well beaten.

Mix the flour, baking powder, salt, cinnamon, nutmeg, almond meal and sugar in a separate bowl.

Now pour the liquid ingredients into the dry ingredients.

Use a spatula and mix them until they are just combined – do not over mix!!

Spoon the muffin batter into a greased 12 hole muffin tin.

Bake until golden.

Cool on a wire rack.
If you love all things cinnamon, you should try these sourdough cinnamon rolls and these sourdough gingerbread cookies or sourdough gingerbread muffins.
Ingredient & Baking Notes
While these sourdough muffins are super easy, there are a few things to note to ensure you have a successful bake. No one likes to waste ingredients, right?
You can make these sourdough muffins with cinnamon using sourdough discard or fed sourdough starter. It's totally up to you and what you have on hand.
The almond meal is optional. I love the moisture it adds to the interior and crunch it gives the exterior. But if you need them to be nut free, or you just don't have it on hand, add an extra 30g of AP flour to the batter.
If you would like to add extras to the muffins, like some dried fruit or chocolate, add these to the dry ingredients before you pour the liquid in. If you'd like to make apple cinnamon sourdough muffins - you'll find a recipe here.
To make these like a cinnamon donut, dip warm muffins into melted butter and then into a bowl of cinnamon sugar. Don't say I didn't warn you though, you'll need to make a second batch!
For extra decadence, make a batch of cinnamon bun glaze and drizzle over warm muffins (seriously, quicker and easier than making cinnamon buns!).
How To Store Sourdough Discard?
Sourdough discard is unfed sourdough starter. Because it's unfed, it really shouldn't be stored on the kitchen counter. 24 hours would be ok, but anything after that you are risking mold and contamination.
Store sourdough discard in the frige.
You can have a "discard jar" that you add to. But you want to use it within 2 weeks. Unfed sourdough starter will develop hooch and become very sour.
While it can still be used, if you are putting it into discard recipes, like these sourdough cinnamon muffins for example, it will add a very strong, sour flavor which may not be pleasant.
For sourdough muffins - and other sourdough discard recipes - using discard that's not too sour is preferable.
Discard is essential to building a thriving starter - but it's not as wasteful as you might think. You can read more about why here.
Freezing and Storing Sourdough Muffins
These muffins should be stored in an airtight container for up to 3 days.
I like to place some paper towel on the bottom of an air tight plastic container and then place the muffins on top of this.
They freeze really well. I place them into a ziploc bag and then into the freezer. I just take out what I need for lunch boxes etc and they defrost easily.
You can also warm them slightly in the microwave too.
Further Reading
If you love this recipe, you might like to try these ideas: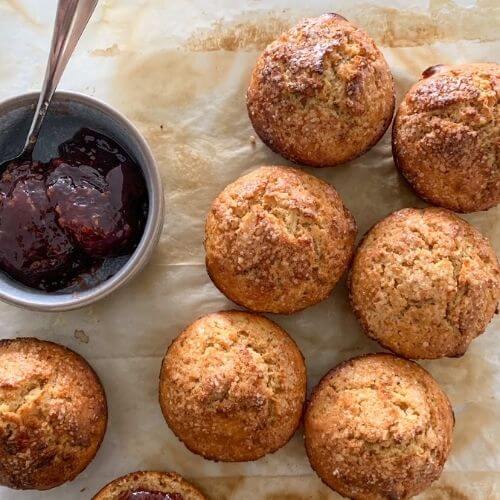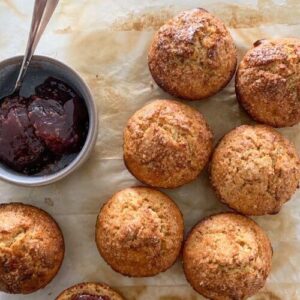 Sourdough Cinnamon Muffins
These simple to make sourdough cinnamon muffins make a delicious snack any time of the day. Delicious crisp exterior and tender crumb are the secret to these successful muffins.
Equipment
Mixing Bowl

Digital Scales

12 Hole Muffin Tin
Ingredients
200

g

Sourdough Starter

Discard or Active Starter

150

g

All Purpose Flour

70

g

Sugar

2

Eggs

6

g

Baking Powder

(1 tsp)

50

g

Vegetable Oil

Light flavor

50

g

Milk

8

g

Cinnamon

Ground (2 tsp)

5

g

Salt

(1 tsp)

5

g

Vanilla Extract

30

g

Almond Meal

can substitute extra 30g of AP flour

2

g

Nutmeg

Ground (half tsp)
Instructions
Preheat oven to 180C/350F and grease a 12 hole muffin tin with butter.

Mix the sourdough starter, 2 eggs, milk, vanilla extract and oil in a bowl. Whisk together until well combined. It's ok if the oil sits on the top, it will combine once it is poured into the dry ingredients.

In a separate bowl mix together all purpose flour, almond meal, salt, baking powder, cinnamon, nutmeg and sugar.

Now pour the liquid ingredient mixture into the dry ingredients. Gently fold together until just mixed - don't over mix or the muffins will be tough.

Spoon mixture into greased muffin tin. This recipe will fill a 12 hole muffin (each hole around ¾ full).

Bake at 180C/350F for approximately 15 minutes or until muffins are golden brown.
Notes
The almond meal is optional. I love the moisture it adds to the interior and crunch it gives the exterior. But if you need them to be nut free, or you just don't have it on hand, add an extra 30g of AP flour to the batter.
Nutrition
Calories:
239
kcal
Carbohydrates:
25
g
Protein:
4
g
Fat:
15
g
Saturated Fat:
9
g
Trans Fat:
1
g
Cholesterol:
33
mg
Sodium:
244
mg
Potassium:
39
mg
Fiber:
2
g
Sugar:
10
g
Vitamin A:
109
IU
Vitamin C:
1
mg
Calcium:
53
mg
Iron:
1
mg