You're going to loves this collection of easy sourdough muffin recipes! There's sure to be a flavor to suit your tastes - from sweet chocolate chunks, hearty Morning Glory muffins full of the good stuff and even some savory muffins, perfect for light lunches.
Muffins are such a great way to utilise extra sourdough starter or sourdough discard. They create a no waste way to use your starter for something a little different to sourdough bread.
And with 18+ easy sourdough muffin recipes to choose from, you're sure to find something that you and your family will love baking and eating.
If you're after even more recipes, check out this collection of 70+ sourdough discard recipes, or perhaps this collection of overnight sourdough recipes or 10+ sourdough cookie recipes are more your style.
Why You'll Love Making Sourdough Muffins
Sourdough muffins offer so many benefits. Here are some of the reasons I love making sourdough muffins - and I just know you will too! They are versatile, create no waste, quick and convenient, portable and provide perfect portions!
Versatility - muffins offer incredible versatility when it comes to flavors and ingredients. From sweet to savory, you can create a wide variety of muffin flavors by simply adjusting the ingredients and spices.

Whether you prefer classic flavors like blueberry or chocolate chip, or adventurous combinations like zucchini with cheese and chives, easy sourdough muffin recipes can cater to everyone's taste preferences.

No Waste - using sourdough discard to create tasty muffins means you're not throwing away your discard and therefore reducing food waste. Just remember that you should not use the discard from your sourdough starter until it's at least 7 days olf.
Quick and Convenient - Muffins are a perfect option for a quick and convenient breakfast or snack. Unlike other baked goods that require longer baking times, muffins typically bake in a relatively short period. This means you can whip up a batch of muffins in no time and enjoy freshly baked treats in the morning or throughout the day.

I love being able to make a fresh batch of muffins before school, so I know my kids are eating healthily throughout the day when I'm not there.

Portability - Muffins are incredibly portable, making them ideal for on-the-go consumption. Whether you're packing a lunchbox, going on a road trip, or simply need a snack to take to work or school, muffins are easy to grab and enjoy wherever you are. They retain their moistness and flavor even when stored, making them a practical choice for busy lifestyles.

Perfect Portions - Muffins are individually portioned, allowing for easy serving and portion control. This makes them an excellent choice for events, gatherings, or when you want to control your calorie intake.
So with that in mind, grab your sourdough starter or discard and let's bake some easy sourdough muffin recipes!
Active Sourdough Starter or Sourdough Discard?
Many people ask whether you should use active sourdough starter or sourdough discard when making sourdough muffin recipes. The truth is, you can use either with success.
The only caveat here is that you want to make sure you're using "fresh" discard - that is discard that hasn't been sitting in the fridge for too long. This is because if your discard is too old, it will have a strong sour flavor that will overpower the flavor of the muffin.
If you're wanting to read more about sourdough starter and sourdough discard, these resources will be helpful:
18+ Easy Sourdough Muffin Recipes
Sourdough Strawberry Muffins
Delicious sourdough strawberry muffins made with 200g of sourdough discard and bejewelled with 200g of fresh strawberries. These sweet muffins make a hearty snack or breakfast on the go.
Lemon Sourdough Muffins
Bursting with zesty lemon flavor, these muffins are a refreshing treat perfect for brightening up any morning or afternoon snack. This sourdough muffin recipe is one of the most popular recipes on The Pantry Mama website!
Pumpkin Sourdough Muffins
Fall in love with the warm spices and cozy aroma of pumpkin in these moist and flavorful sourdough pumpkin muffins, ideal for embracing the autumn season. These sourdough pumpkin muffins are served with an optional glaze.
Sourdough Oatmeal Raisin Muffins
These delicious sourdough oatmeal raisin muffins make the perfect breakfast on the go, full of hearty rolled oats and sweet raisins. They are made even more delicious with the sweet aroma of orange zest - yum!
Apple & Cinnamon Sourdough Muffins
Combining the crispness of apples with the aromatic allure of cinnamon, these muffins are a delightful ode to classic flavors. They are perfect for school lunch boxes too (I love that they add some fibre to my kids food without them realising it!!).
Carrot Cake Sourdough Muffins
Inspired by the classic dessert, these muffins capture the essence of carrot cake with a tangy sourdough twist, topped with a luscious cream cheese frosting.
Chocolate Chunk Sourdough Muffins
Indulge your sweet tooth with these decadent muffins, studded with chunks of rich chocolate that melt into delightful pockets of gooey goodness.
Raspberry & Orange Sourdough Muffins
Tangy raspberries and citrusy orange come together in a harmonious union, creating a burst of vibrant flavors in every bite. The color of the raspberries and orange zest is so inviting too!
Jumbo Granola Sourdough Muffins
Packed with wholesome goodness, these jumbo-sized muffins feature a delightful crunch of granola and a moist, tender crumb. You can even use your own sourdough granola to make them!
Sourdough Cheese Muffins
You just have to try these deliciously savory cheese sourdough muffins baked in garlic butter and full of flavor!
Morning Glory Sourdough Muffins
Start your day off right with these hearty muffins loaded with carrots, apple, coconut, raisins and pecans creating an easy sourdough muffin that's not only delicious but nutritious too!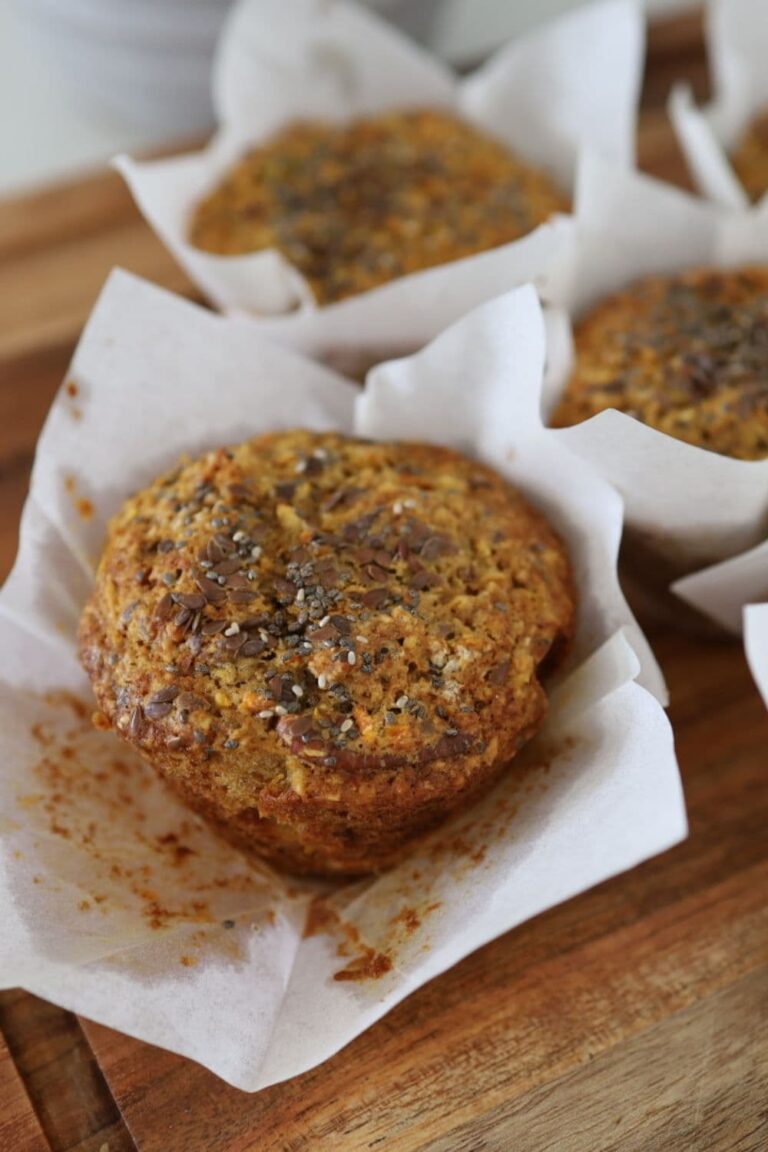 Gingerbread Sourdough Muffins
Embark on a nostalgic journey with the warm and spicy notes of gingerbread, capturing the essence of holiday cheer in every bite.
Zucchini Sourdough Muffins with Cheese and Chives
Get ready for a savory twist as zucchini, cheese, and chives combine to create savory muffins that are perfect for any time of day. I love serving these for brunch with a dish of whipped herb butter or cultured butter. So good!
Sourdough Cornbread Muffins
These simple sourdough cornbread muffins are super easy to make and taste amazing served with your favorite casserole or spread with whipped honey cinnamon butter.
Banana Sourdough Muffins
Experience the natural sweetness and moist texture of bananas in these delightful muffins that are a great way to use up ripe bananas. If you are wanting to use up even more bananas, you could also bake this sourdough banana bread into muffins too!
Overnight Blueberry Sourdough Muffins
Prepare these muffins the night before for a hassle-free breakfast, and wake up to the burst of juicy blueberries nestled within a tangy sourdough batter.
Cinnamon Sourdough Muffins
Infused with the comforting essence of cinnamon, these muffins offer a delightful blend of sweetness and warmth that will leave you craving more.
Sourdough English Muffins
These sourdough English Muffins aren't technically a quick recipe, but they are fairly simple to pull together ... and still muffins! Having a stash of these in the freezer is a great way to pull together a simple breakfast on a busy morning.
Sourdough Popovers
Ok so these are definitely not muffins, however I have included them in this post of easy sourdough muffin recipes because they act along the same principle and can be a super quick and easy recipe to pull together and fill hungry tummies! Serve with butter and jam for an easy snack.
With this diverse selection of sourdough muffin recipes, you'll have an endless array of treats to enjoy for breakfast, brunch, or a delightful snack. So, dust off your apron, preheat that oven and grab your sourdough starter. Happy baking!
Ooooh and I nearly forgot ... for an extra special treat when you make your next batch of muffins, why not make some homemade butter to slather on them?
Frequently Asked Questions