Have you ever wondered how long can I keep sourdough discard in the fridge?
It's a question every sourdough baker has pondered at some stage in their sourdough journey.
The simple answer is, you can keep sourdough discard in the fridge indefinitely, however the quality and flavor of the discard will change and even deteriorate over time.
This blog will take you through the ins and outs of storing and using sourdough discard safely, as well as the factors you need to consider when saving sourdough discard.
What Is Sourdough Discard?
Sourdough discard is unfed starter. It's the portion of the starter you remove before you feed your sourdough starter.
You should toss the sourdough discard from your starter for at least the first 7 days. In this early period, the discard will contain bad bacteria which can potentially be unsafe for you to consume.
After about 7 days, your starter should have started to rise and bubble. After this, you can start using and keeping the discard if you wish. In fact you can add sourdough discard to any recipe you like.
Just like your sourdough starter, the discard will become better as your starter matures.
You can read the most frequently asked questions about sourdough discard here.
How To Store Sourdough Discard?
The best way to store sourdough discard is in the fridge. Place it into a labelled glass jar with the lid screwed on tight. You can also freeze your sourdough discard to be used at a later date.
As long as your fridge is 3C or colder, the discard will basically be put to sleep, so it will still ferment - but very, very slowly.
You really don't want to store sourdough discard on the counter, unless you are planning to bake with it that day.
Your sourdough starter can also be stored in the fridge using these instructions.
How Long Can I Keep Sourdough Discard In The Fridge?
The time that your discard will survive in the fridge depends very much on the maturity of your sourdough starter.
If your sourdough starter is mature, then your discard will survive in the fridge pretty much indefinitely. You would treat it like an old starter - you could revive it if you wanted to.
If your starter is still young (less than 6 months old) then it won't last as long in the fridge as the yeast and bacteria colonies aren't well established just yet.
However, despite the age of your starter, it's much better to store discard in the fridge, rather than the counter where it is still actively fermenting.
It will become very sour and acidic after just a few days on the counter. As it is basically unfed sourdough starter, left unfed it will deteriorate and eventually be taken over by harmful bacteria a mold.
Stored in the fridge, sourdough discard will go to sleep and last a lot longer.
My advice is to use discard within one week. This is because after a week, it will start to taste very sour and become very acidic.
You probably don't want to use old sourdough discard in a sweet discard recipe as it will produce a sour tasting product.
Can I Add Discard From Different Days To The Same Jar?
Yes, you can add different batches of sourdough discard to the same jar.
Ideally, you should use the discard within a week or 2, however, if you are adding fresh discard each day, it will lengthen the amount of time you can store it for.
Can I Use Sourdough Discard Straight From The Fridge?
Yes you can use sourdough discard straight from the fridge, you don't need to let it come to room temperature if you don't want to.
If you are using it straight from the fridge it may be a little stiff or thick, so you'll need to ensure you mix it really well.
How Do You Know if Sourdough Discard Is Bad?
Sourdough discard will potentially smell acidic and even like acetone if it's a few days old. While it will smell different to a fed, active starter, it won't smell unpleasant.
The discard should be fine in the fridge, however if it is displaying signs of mold or any pink or orange tinges then it has gone bad and needs to be tossed.
Can I Use Old Sourdough Discard?
You can use old sourdough discard if it's been stored in the fridge, however, you really want to use it up within a week - 2 weeks max.
It's better to use "fresh" discard in a sweet sourdough discard recipe. Use older discards in more savory recipes.
Great recipes to use fresh sourdough discard:
The best recipes for older sourdough discard:
Fresher discard won't be as acidic and will taste much better.
Did you know that you can use active sourdough starter in discard recipes.
In fact, I often feed my starter extra flour and water, just so I can make crackers or fritters with fresh starter.
Why Do Some People Say They Don't Discard?
It's true. You'll see many people declare that they don't discard in their sourdough process.
However - they aren't giving you the whole picture. They actually do discard!
You cannot build a thriving starter without discarding. It just will not work. You can read full write up on why you must discard sourdough starter here.
Once the starter is mature, you use a portion of it in a bake - taking this portion out of the jar is discarding. It's making room in the jar for you to then feed the starter and get it ready for next time.
So when someone says, oh I don't discard - they actually do - they are just baking with it because it's active starter!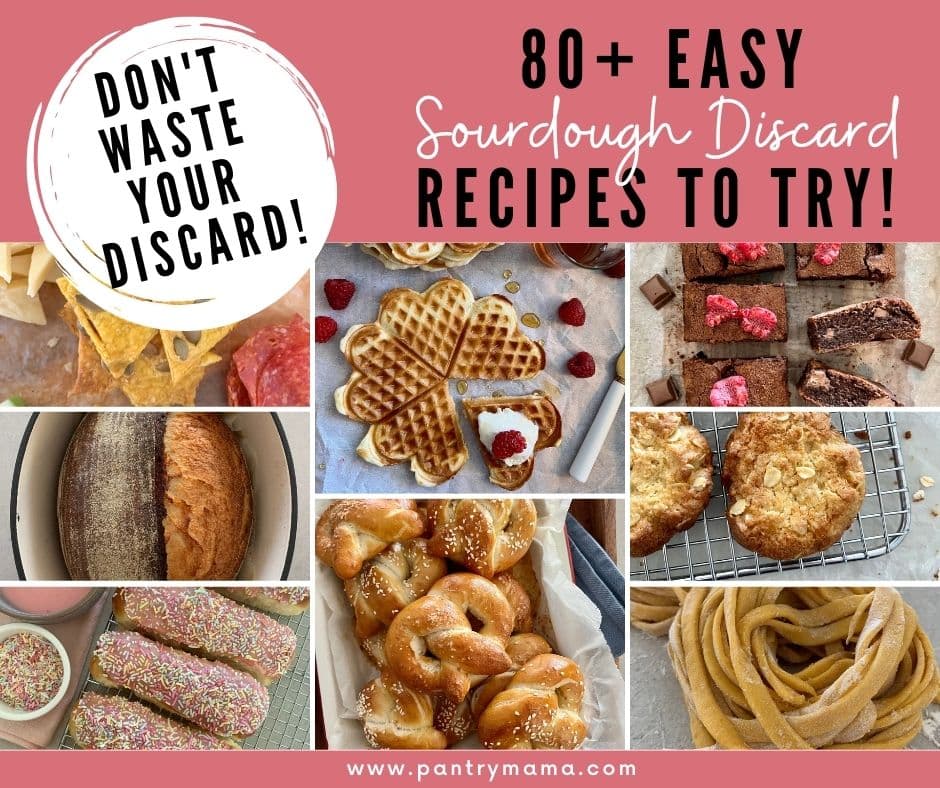 Can You Use Discard To Make A New Sourdough Starter?
Absolutely you can! Remembering that sourdough discard is essentially unfed sourdough starter.
If something happens to your sourdough starter (like it goes moldy or you break the jar it's in) you can absolutely use some discard from the fridge to start a new one.
You would just need to take 50g of discard and feed this with 50g of flour and 50g of water and keep doing this until it is bubbling and doubling.
Further Reading
If you found this article on storing sourdough discard helpful, you might enjoy these articles: