This sourdough crackers recipe with jalapeño cheddar is the best things since sliced sourdough. Seriously. These sourdough crackers are that good!
Crunchy, crispy morsels with just the right amount of salty, spicy goodness.
These sourdough discard crackers with jalapeño and cheese are on high rotation around here - and everyone that's tried them loves them!
How To Make Sourdough Crackers Recipe with Jalapeño Cheddar
Sourdough crackers recipes are generally very easy to pull together. And this one is no exception.
It's basically measure, mix, roll and bake! You'll be done in less than one hour - and you'll use 200g of sourdough discard.
Although, this sourdough crackers recipe is so addictive, you might find yourself feeding your starter just to make them!
Here's how to make sourdough crackers with jalapeño cheddar:
Add sourdough discard, flour, salt, butter, honey, cheese and jalapeños to a mixing bowl.
Bring the ingredients together until it forms a smooth, pliable dough. You might need to work the dough around the bowl to ensure all the flour is incorporated.
Roll out the dough to a thin layer.
Top with olive oil and salt.
Using Pickled Jalapeños or Fresh Jalapeños
This recipe is based on using pickled jalapeños, simply because they are something that most people would have on hand.
I find them the easiest to cook with because of their texture. But also because it's easy to know how spicy they will be.
You could use fresh jalapeños, but you may need to adjust the amount you use, depending on how spicy they are.
It's a good idea to blot pickled jalapeños with a paper towel before dicing them, just to make sure they aren't too wet.
Cutting Sourdough Crackers with Jalapeño & Cheese
When it comes to cutting these sourdough crackers, a cracker roller will make the task very easy.
You'll be able to cut a few trays for crackers in just seconds - and they'll look neat and tidy too.
There's absolutely nothing wrong with hand cut or rustic crackers. If you don't have one of these, you can simply use a knife or even a small cookie cutter. You'll also have to pierce each cracker with a skewer or the tines of a fork.
But if you are looking for a useful tool – and you make a lot of crackers – I highly recommend this one.
Further Reading
If you love this sourdough crackers recipe, you might like to check out these: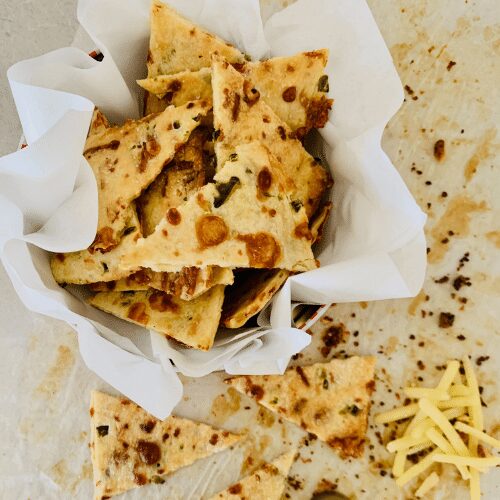 Sourdough Discard Crackers with Jalapeño Cheddar
These simple sourdough crackers use a lot of discard - and taste amazing! They are the perfect accompaniment to a cheese platter or a quick snack on the go.
Equipment
Digital Scales

Mixing Bowl

Rolling Pin

Cracker Roller

Baking Trays
Ingredients
200

g

Sourdough Discard

unfed sourdough starter

130

g

All Purpose Flour

70

g

Cheddar Cheese

shredded

40

g

Pickled Jalapeños

diced & blotted of excess moisture

20

g

Honey

5

g

Salt

30

g

Butter

soft

20

g

Olive Oil

for brushing

10

g

Sea Salt

for topping
Instructions
Preheat oven to 350F/180C.

Add sourdough discard, flour, soft butter, salt, shredded cheese, honey and diced jalapeños to a mixing bowl and bring the ingredients together to form a pliable dough (see notes).

Divide the dough into two portions (this makes it easier to roll).

Place each ball onto a piece of parchment paper and flatten out with your hands into a rough rectangle.

Now roll out to a thin sheet of dough using a rolling pin. You want it around 1/16" or 1.5mm thick.

The dough should not be sticky at all and easy to roll - however see notes below for some troubleshooting if your dough is sticky.

Use a cracker roller to perforate dough. If you don't have a cracker roller you can use a cookie cutter or knife to cut into crackers and then pierce each one with the tines of a fork.

Place each parchment paper with dough on top onto a baking sheet. This recipe will generally need two baking trays.

Brush dough with olive oil and sprinkle with salt.

Bake at 350F/180C for around 25 minutes or until crackers are golden and crisp.

Let the crackers cool on a rack before breaking into individual pieces.
Notes
Notes on Discard - 
This recipe is based on a sourdough discard from a 100% hydration sourdough starter.
Notes on Cheese - 
You can substitute parmesan cheese if you'd prefer or do a mixture of cheddar and parmesan. A good vintage cheddar works really well for these crackers.
Notes on Mixing Dough - 
This dough is easy to mix in a bowl with a dough scraper or your hands. I find it easiest to use a dough scraper until the dough has just come together. I then use my hands to knead the dough in the bowl until all the ingredients are combined. Don't add additional liquid - just keep kneading til it comes together. It's not a sticky dough - it should be soft and pliable.
Notes on Rolling Dough - 
The dough shouldn't be sticky and is easy to roll out using a rolling pin without it sticking. However, if you are working in a warmer climate or your dough is sticky for whatever reason, you can place the dough into the fridge before rolling it out. Alternatively, you can place the dough between two sheets of parchment paper to stop it sticking to the rolling pin.
Nutrition
Calories:
20
kcal
Carbohydrates:
2
g
Protein:
1
g
Fat:
1
g
Saturated Fat:
1
g
Trans Fat:
1
g
Cholesterol:
2
mg
Sodium:
108
mg
Potassium:
4
mg
Fiber:
1
g
Sugar:
1
g
Vitamin A:
24
IU
Vitamin C:
1
mg
Calcium:
9
mg
Iron:
1
mg