These sweet sourdough crackers with cinnamon sugar are made from sourdough discard or unfed sourdough starter.
Most sourdough crackers recipes are savory - but this one will delight the sweet tooths.
The great thing about this sweet sourdough crackers recipe is you can make the crackers as sweet as you want to - if they are for the kids, you could decrease the sugar very easily.
Looking for other cinnamon sourdough recipes? These fluffy sourdough cinnamon rolls, sourdough snickerdoodle cookies, cinnamon raisin sourdough bagels and cinnamon sourdough muffins might just fit the bill!
How To Make Sweet Sourdough Crackers
Making these sweet sourdough crackers with cinnamon sugar could not be easier!
They will utilise 220g of sourdough discard. You could easily double the recipe though if you want to use more.
Here's how to make sweet sourdough crackers with cinnamon sugar.
Add sourdough discard, flour, salt, butter, vanilla extract and sugar to a mixing bowl.
Bring the ingredients together until it forms a smooth, pliable dough. You might need to work the dough around the bowl to ensure all the flour is incorporated.
Roll out the dough to a thin layer. You might need to place it in the fridge if it becomes sticky.
Top with olive oil and cinnamon sugar.
You can control the sugar in this recipe. You could decrease the sugar by only sprinkling cinnamon before baking, rather than sugar and cinnamon.
If you want to create a truly decadent cracker, why not substitute this whipped honey cinnamon butter for regular butter - it's sooooooo good!
Using A Cracker Roller
Using a cracker roller will make cutting these crackers much easier. You'll be able to cut a few trays of crackers in just seconds.
You can buy a cracker roller like the one in the photo here.
There's absolutely nothing wrong with hand cut or rustic crackers. If you don't have one of these, you can simply use a knife or even a small cookie cutter. You'll also have to pierce each cracker with a skewer or the tines of a fork.
How To Serve Sweet Sourdough Crackers
These sourdough crackers can be used in so many ways! Here are all the ways that we've used them ... so far! Feel free to leave a comment and tell us how you've eaten them.
Serve with cream cheese dip and fruit for an afternoon snack.
Serve in a hot fudge sundae as wafers.
Drizzle with milk and white chocolate and use to top cup cakes or an ice cream sundae.
Serve with a dish of nutella and fresh raspberries (this would have to be my absolute favorite).
Sneak a handful to go with a cup of tea after the kids go to bed (actually this is my favorite come to think of it!!!).
Further Reading
If you love this cracker recipe, you'll love these recipes: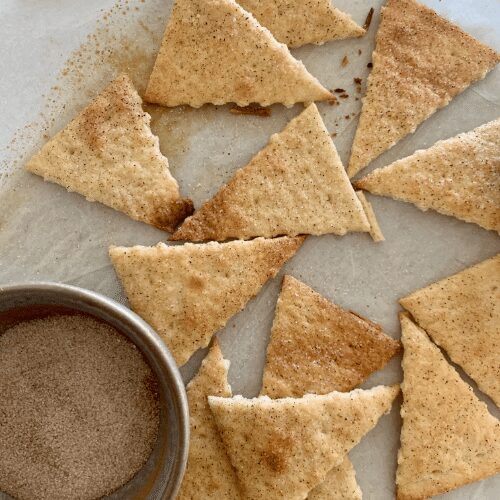 Sweet Sourdough Crackers with Cinnamon Sugar
Sweet Sourdough Crackers with Cinnamon Sugar are a unique way to use your discard - delicious with a cup of tea or even better served with vanilla ice cream!
Equipment
Digital Scales

Mixing Bowl

Rolling Pin

Cracker Roller

Baking Trays
Ingredients
For the Crackers
220

g

Sourdough Discard

unfed sourdough starter

160

g

All Purpose Flour

5

g

Salt

50

g

Butter

soft

40

g

Sugar

5

g

Vanilla

Extract
For the Topping
20

g

Olive Oil

for brushing

1

g

Cinnamon

20

g

Vanilla Sugar
Instructions
Preheat oven to 350F/180C.

Add sourdough discard, flour, soft butter, sugar, salt and vanilla to a mixing bowl and bring the ingredients together to form a pliable dough (see notes).

Divide the dough into two portions (this makes it easier to roll).

Place each ball onto a piece of parchment paper and flatten out with your hands into a rough rectangle.

Now roll out to a thin sheet of dough using a rolling pin. You want it around 1/16" or 1.5mm thick. The thinner the better for this cracker recipe.

The dough should not be sticky at all and easy to roll - however see notes below for some troubleshooting if your dough is sticky.

Use a cracker roller to perforate dough. If you don't have a cracker roller you can use a cookie cutter or knife to cut into crackers and then pierce each one with the tines of a fork.

Place each parchment paper with dough on top onto a baking sheet. This recipe will generally need two baking trays.

Brush dough with olive oil and sprinkle liberally with cinnamon and vanilla sugar - you can use as much or as little as you want.

Bake at 350F/180C for around 25 minutes or until crackers are golden and crisp.

Let the crackers cool on a rack before breaking into individual pieces.
Notes
Notes on Discard - 
This recipe is based on a sourdough discard from a 100% hydration sourdough starter.
Notes on Mixing Dough - 
This dough is easy to mix in a bowl with a dough scraper or your hands. I find it easiest to use a dough scraper until the dough has just come together. I then use my hands to knead the dough in the bowl until all the ingredients are combined. Don't add additional liquid - just keep kneading til it comes together. It's not a sticky dough - it should be soft and pliable.
Notes on Rolling Dough - 
The dough shouldn't be sticky and is easy to roll out using a rolling pin without it sticking. However, if you are working in a warmer climate or your dough is sticky for whatever reason, you can place the dough into the fridge before rolling it out. Alternatively, you can place the dough between two sheets of parchment paper to stop it sticking to the rolling pin.
Because the dough has quite a bit of butter, it will melt quickly, so putting it in the fridge is the easiest way to combat this.
Notes on Sugar
You can control the sugar in this recipe. If you want to decrease the sugar, only sprinkle cinnamon rather than cinnamon sugar.
Nutrition
Calories:
23
kcal
Carbohydrates:
3
g
Protein:
1
g
Fat:
1
g
Saturated Fat:
1
g
Trans Fat:
1
g
Cholesterol:
2
mg
Sodium:
38
mg
Potassium:
3
mg
Fiber:
1
g
Sugar:
1
g
Vitamin A:
21
IU
Vitamin C:
1
mg
Calcium:
1
mg
Iron:
1
mg