This Sourdough Discard Crackers Recipe is so simple, you'll wonder why you haven't made them before.
An easy and delicious way to use up your sourdough discard ... or you might love them so much you'll find yourself feeding your starter extra. Just so you can make another batch.
Don't say I didn't warn you!
Need a vegan version? Try these vegan sourdough crackers. Or maybe these sourdough fruit and seed crackers are more your style.
Using Sourdough Discard To Make Crackers
As probably already know, you must discard your starter before you feed it. Discarding helps your starter to thrive and stops it from becoming too acidic (you can read more about this here).
It's advisable not to use your discard until at least day 7. Before this, the bacteria in your starter is fighting a battle of good vs evil.
And you don't want to ingest the bad bacteria.
Using your discard once your starter is over 7 days old makes it much less wasteful. Plus when you can make it taste as good as these sourdough discard crackers, why would you throw it away?
You'll get the best results from this recipe if your starter is 100% hydration. If it's less hydrated, you might find you need to add some water to the dough.
How to Make Sourdough Discard Crackers Recipe with Parmesan + Rosemary
This sourdough discard crackers recipe doesn't get any easier. It's a cinch to mix by hand too (although you could use a stand mixer if you want to).
It uses 220g of sourdough discard.
Here's how to make sourdough discard crackers with rosemary + parmesan:
Add sourdough discard, flour, salt, butter and cheese to a mixing bowl.
Bring the ingredients together until it forms a smooth, pliable dough. You might need to work the dough around the bowl to ensure all the flour is incorporated.
Roll out the dough to a thin layer.
Top with olive oil, rosemary and salt.
Sourdough Discard Crackers Using a Cracker Roller
The easiest and fastest way to get professional looking crackers is to use a cracker rolling tool.
Honestly, I had no idea how good this was til I actually used it. You will have 2 trays of crackers cut in a matter of seconds!
It not only cuts the crackers, but pricks them too - so you don't have to use a skewer or a fork.
There's absolutely nothing wrong with hand cut or rustic crackers. If you don't have one of these, you can simply use a knife or even a small cookie cutter. You'll also have to pierce each cracker with a skewer or the tines of a fork.
But if you are looking for a useful tool - and you make a lot of crackers - I highly recommend this one. It will allow you cut large and small square crackers in seconds.
Storing & Freezing Sourdough Crackers
There are a few things you can do to store your crackers or even prolong the baking timeline for sourdough crackers.
You can place the rolled dough into the fridge for up to 12 hours before baking. This is handy if you want to prepare them in advance.
You can store sourdough starter crackers in an air tight container or tin for 3 days. Any longer and they can lose their crunch. You could pop them in the oven for a few minutes to refresh them.
I prefer to store them in glass jars with tight fitting lids. I love reusing old coffee jars for this purpose. These are the same jars that I built my sourdough starter in!
You can freeze baked crackers. Make sure they are completely cool before placing into a ziploc bag. They will freeze for around 2 months without losing any of their texture.
Other Sourdough Cracker Flavors to Try
If you want to try some different flavors - you could try these suggestions:
Sesame + Olive Oil - add 20g of black sesame seeds to the dough and top with 20g of white sesame seeds instead of rosemary.

Everything Bagel Seasoning - instead of the rosemary and salt, top these crackers with a few spoons of homemade Everything Bagel seasoning.
Seeded Sourdough Discard Crackers - find the recipe for these here.
Cheddar + Pepper - substitute the parmesan cheese with cheddar and use black or pink pepper instead of rosemary.
You'll find all the best sourdough cracker recipes in one place here.
Tips for Burnt Crackers
If you find you have some burned crackers or ones that are a little hard to use - don't throw them away.
Pop them into a food processor and turn them into bread crumbs! Because they have yummy rosemary and parmesan in the them they will be the most amazing bread crumbs ever!
Use these bread crumbs for breading chicken or fish (you can mix them in with other plain bread crumbs too). They also make a delicious topping on cheesy bakes like lasagne and tuna mornay.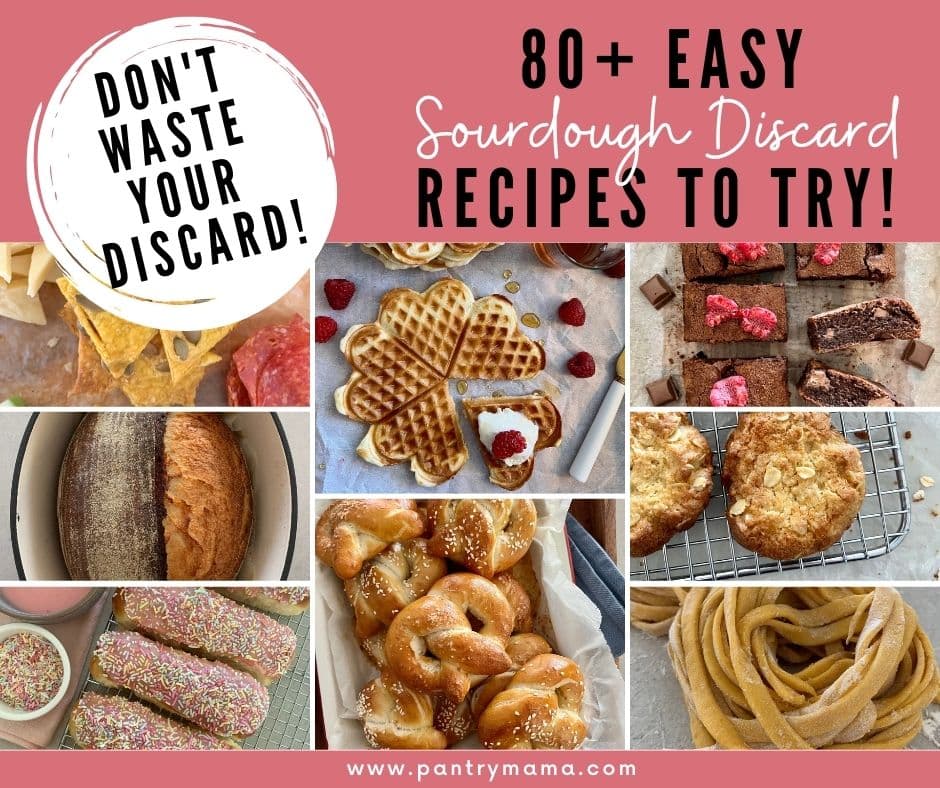 Further Reading
If you love this sourdough discard crackers recipe, you will love these ideas: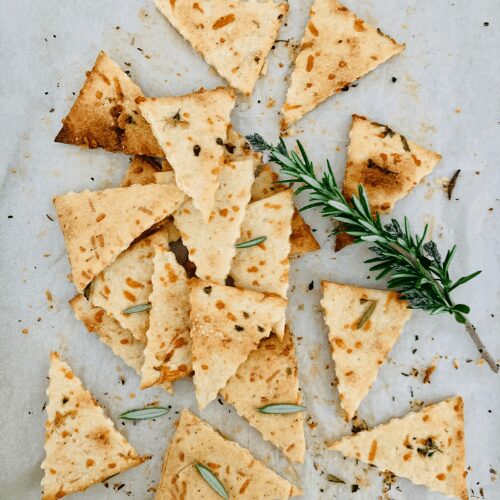 Sourdough Discard Crackers with Rosemary + Parmesan Cheese
These simple sourdough crackers use a lot of discard - and taste amazing! They are the perfect accompaniment to a cheese platter or a quick snack on the go.
Equipment
Digital Scales

Mixing Bowl

Rolling Pin

Cracker Roller

Baking Trays
Ingredients
220

g

Sourdough Discard

unfed sourdough starter

80

g

All Purpose Flour

50

g

Whole Wheat Flour

5

g

Salt

30

g

Butter

soft

30

g

Parmesan Cheese

shredded

20

g

Olive Oil

for brushing

10

g

Sea Salt

for topping

Fresh Rosemary
Instructions
Preheat oven to 350F/180C.

Add sourdough discard, flour, soft butter, salt and parmesan to a mixing bowl and bring the ingredients together to form a pliable dough (see notes).

Divide the dough into two portions (this makes it easier to roll).

Place each ball onto a piece of parchment paper and flatten out with your hands into a rough rectangle.

Sprinkle on the rosemary and push it into the dough gently.

Now roll out to a thin sheet of dough using a rolling pin. You want it around 1/16" or 1.5mm thick. The thinner you can get it the better because thick crackers won't cook properly and won't crisp up in the oven.

The dough should not be sticky at all and easy to roll - however see notes below for some troubleshooting if your dough is sticky.

Use a cracker roller to perforate dough. If you don't have a cracker roller you can use a cookie cutter or knife to cut into crackers and then pierce each one with the tines of a fork.

Place each parchment paper with dough on top onto a baking sheet. This recipe will generally need two baking trays.

Brush dough with olive oil and sprinkle with salt.

Bake at 350F/180C for around 25 minutes or until crackers are golden and crisp.

Let the crackers cool on a rack before breaking into individual pieces.
Notes
Notes on Discard - 
This recipe is based on a sourdough discard from a 100% hydration sourdough starter.
Notes on Cheese - 
You can substitute cheddar cheese if you'd prefer. If you want a cheesier cracker, add up to 50g.
Notes on Mixing Dough - 
This dough is easy to mix in a bowl with a dough scraper or your hands. I find it easiest to use a dough scraper until the dough has just come together. I then use my hands to knead the dough in the bowl until all the ingredients are combined. Don't add additional liquid - just keep kneading til it comes together. It's not a sticky dough - it should be soft and pliable.
Notes on Rolling Dough - 
The dough shouldn't be sticky and is easy to roll out using a rolling pin without it sticking. However, if you are working in a warmer climate or your dough is sticky for whatever reason, you can place the dough into the fridge before rolling it out. Alternatively, you can place the dough between two sheets of parchment paper to stop it sticking to the rolling pin.
Nutrition
Serving:
100
g
Calories:
16
kcal
Carbohydrates:
2
g
Protein:
0.4
g
Fat:
1
g
Saturated Fat:
0.4
g
Polyunsaturated Fat:
0.1
g
Monounsaturated Fat:
0.4
g
Trans Fat:
0.02
g
Cholesterol:
1
mg
Sodium:
108
mg
Potassium:
5
mg
Fiber:
0.1
g
Sugar:
0.01
g
Vitamin A:
16
IU
Calcium:
7
mg
Iron:
0.1
mg