Let's explore some alternatives to parchment paper for sourdough bread. Perhaps you're wanting to save money from buying parchment paper or maybe you're looking for a more eco friendly alternative?
Whatever your reason for wanting to branch out from parchment paper, there is sure to be an alternative that suits your needs.
Good quality parchment paper is incredibly effective when it comes to baking sourdough bread.
It allows you to transfer your proofed dough from the bench and into a hot Dutch Oven. Typically you would tip your sourdough out of your banneton and onto the parchment paper and then use that to transfer the dough.
The parchment paper stays in the Dutch Oven throughout the bake and you can then use it to lift the baked dough out of the pot once it's finished baking.
What is Parchment Paper?
First things first, let's take a look at what parchment paper is. Parchment paper is a type of brown or white paper that is often used for baking. It's crunchy and can can screwed up into a ball and then flattened back out.
Depending on where you are from, it could be referred to as parchment paper or baking paper. They are both essentially the same thing.
This paper has lots of different uses, but it really became popular due to the fact that it is non-stick.
As well as being non-stick, parchment paper is also resistant to heat, humidity and grease.
Parchment paper is also sometimes referred to as vegetable parchment, but it is not made using vegetables.
Instead, parchment paper is usually made using either cotton, flax, or the fibers from a fir tree. It is similar to paper in terms of thickness, but it feels completely different, and this is because parchment paper is often coated.
It is this coating that gives the paper non-stick properties.
You will often find that more expensive baking paper feels thicker and more "slippery". Cheaper versions will tear more easily and not be as resistant to heat.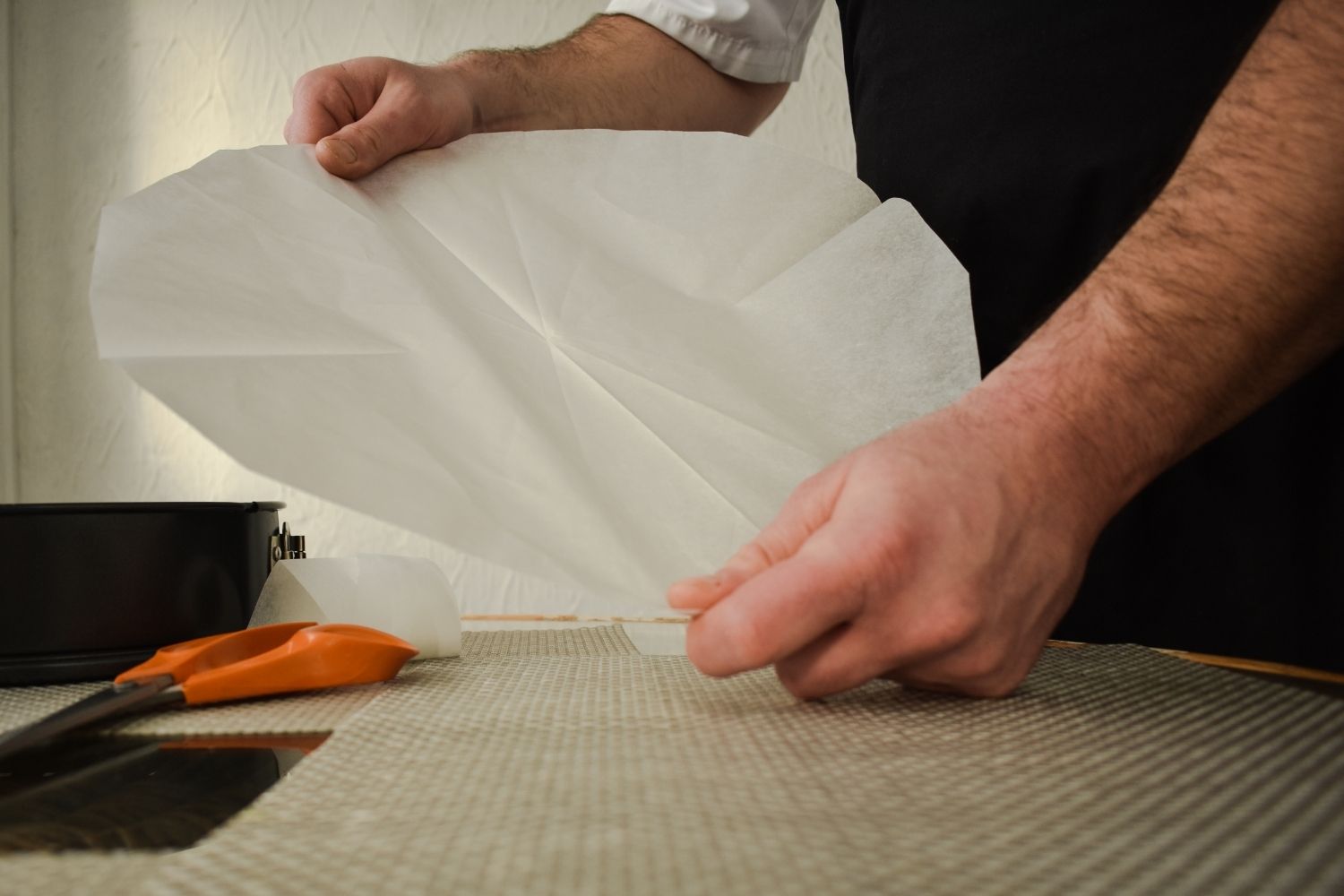 Why Might You Need an Alternative to Parchment Paper?
There are lots of different reasons why you might choose to use an alternative to parchment paper.
Maybe you've run out and need a solution to enable you to bake your bread without it. Maybe you're looking for a more cost effective solution because you want to bake sourdough on a budget or something that is less wasteful.
Many people say they reuse their parchment paper for multiple bakes. This can work, however as sourdough is baked at extremely high temperatures, it's not always an option.
Often parchment paper will burn and become brittle at high temperatures which means that it cannot be reused.
Whatever your reasons for looking for an alternative to baking paper for sourdough bread, there's sure to be a solution that suits your needs and budget.
Best Alternatives to Parchment Paper When Baking Sourdough Bread
The best alternatives to parchment paper when baking sourdough bread are:
Silicone Bread Sling for Dutch Oven
Bakers Peel with Floured Surface
Using a Bakers Cloche
Compostable + Eco Friendly Parchment Paper.
What's NOT recommended to replace parchment paper when baking sourdough bread:
Aluminium Foil
Oiling or buttering a Dutch Oven
Greaseproof or Waxed Paper
Bread Sling for Dutch Oven
Often referred to as a silpat mat or silicone baking mat, a bread sling is a non stick baking mat with long handles.
It's made to fit inside the Dutch Oven. The long handles allow you to transfer your sourdough into a hot Dutch Oven with minimal fuss.
It's always better to buy the sling already in this shape rather than cutting a bigger silpat baking mat down in size. This is because some baking mats contain fibreglass which is released when you cut the sealed edges.
These bread slings work very well to allow you to transfer your sourdough into your Dutch Oven. The mat stays in the Dutch Oven while you bake your bread. You can then use the handles to remove the bread from the hot pot when it's done.
You can choose to flip the handles in on top of your bread or leave them hanging out. However you will not be able to seal the Dutch Oven lid if the handles are hanging out of the pot, which will allow steam to escape. This can be detrimental to your sourdough and sacrifice some oven spring.
A word of warning - the bread sling will be very hot when the bread is baked so you will need a good pair of oven gloves to handle it.
Bakers Peel + Flour
A really economical way to avoid parchment paper altogether is to use a bakers peel and some flour to ensure your bread slides off.
A bakers peel is usually made from wood (but can also be metal). It is floured and then the bread is placed on top. The peel is used to position the bread onto a hot baking stone inside the oven.
You might be familiar with this process in making pizza - it's essentially the same when making bread. This stone and peel set are perfect for baking sourdough without parchment paper.
How To Use A Bakers Peel for Sourdough Bread
You sprinkle lots of flour onto the peel and then tip your dough out of the banneton onto the peel. The flour allows you to slide the bread onto the hot stone in the oven.
Here's an easy way to get your dough from the banneton onto the peel:
Sprinkle the base of your dough (at the top of the banneton) liberally with flour.
Place the peel onto the banneton with one hand placed on the peel holding it steady.
Using your other hand, flip the peel over so that the banneton is sitting on top.
When you lift up the banneton, the dough will be positioned onto the peel with plenty of flour underneath to ensure it slides off in the oven.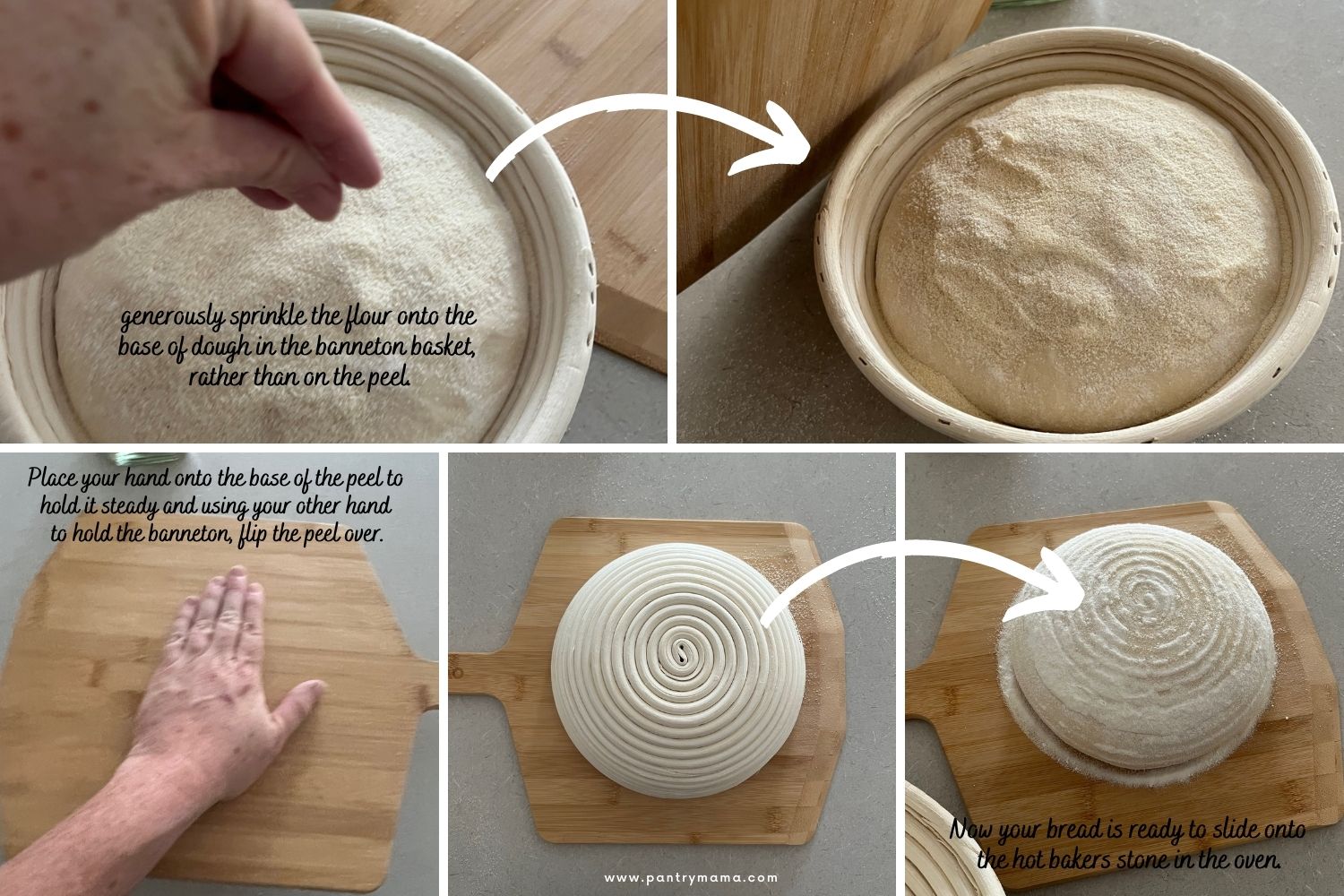 Alternatively, you could use a steel plate in the oven instead of a stone.
The downside to using this method in avoiding parchment paper is that it's not conducive to using a Dutch Oven. You will need to bake your sourdough without a Dutch oven.
If you are using a peel to transfer your bread to the oven, it's recommend to use a baking stone in the oven. You do not want to put the bread directly onto the oven racks as it will more than likely collapse and stick.
I've written a guide to baking bread on a baking stone here.
Use A Baking Cloche
Another alternative to using parchment paper when baking sourdough bread is to use a cloche or an inverted Dutch Oven.
A cloche (or inverted Dutch Oven) has a flat base and the lid fits over the top. The flat base means that it's easier to flip the bread onto the base, before placing the lid on, even when the cloche has been preheated.
The Emile Henry Baking Cloche is probably the most well known in this category.
You can put some cornmeal or semolina on the base to stop the sourdough or bread from sticking. This eliminates the need for parchment paper.
You could choose a cloche, but there are also Dutch Ovens and cast iron bakers that use a similar design where the base is lower and covered by a larger lid.
Compost Friendly Parchment Paper
If your main motivation for reducing your use of parchment paper in sourdough baking is environmental, perhaps choosing a more eco friendly parchment paper would help.
If you do want the convenience of parchment paper, but like the idea of reducing waste, then this is a good solution.
You could choose a parchment paper that is easily compostable in your backyard compost pile.
Eco friendly parchment paper is generally unbleached and uses silicone to coat the paper rather than Quilon.
It is still non stick and grease proof. The biggest difference is the color, which is a light brown color because it has not been bleached white.
Can You Use Oil or Butter Instead of Parchment Paper?
While oil or butter may work just fine in other baking applications, it's not really recommended for sourdough.
While it won't really affect the actual bread itself, if you're using butter or oil in a cast iron or enamel pot there's a big risk that the bread will actually stick to the pot.
It's not a pretty sight to behold ... and not a mess you want to clean up. Not to mention losing your bread.
So, while you can use oil or butter instead of parchment paper for sourdough, I don't recommend it. Save the oil and butter for your dough, rather than under it.
The only exception to this is when baking sandwich dough in a pullman loaf tin. It's fine to place the dough into a buttered or oiled tin (providing the tin is non stick). This sourdough focaccia can also be baked using just olive oil in a cast iron skillet.
Can You Use Aluminium Foil Instead of Parchment Paper?
Aluminium foil might seem like a good alternative to parchment paper when baking sourdough bread. However, aluminium foil lacks the non-stick properties that parchment paper offers.
This means that when you use it to bake, there is a small risk that your bake will become stuck to the parchment paper. And honestly, it's not a risk you want to take.
For this reason, I would not recommend aluminium foil as an alternative to parchment paper in this instance.
Want More Info?
If you'd love to read more about baking sourdough bread, check out these informative articles: