If you're looking for the best equipment for baking sourdough bread then you're in the right place. These are actual products that I use every day, in my own kitchen, every time I bake delicious sourdough bread. These sourdough bread tools are tried and tested by me across thousands of loaves of sourdough bread and sourdough recipes.
Of course sourdough baking is possible with very limited tools if you're on a budget (check out my budget sourdough bread baking guide here), but having some specific baking tools can really help you on your sourdough journey.
The right sourdough baking tools can increase your chances of better oven spring, a crispy crust and more consistent results overall.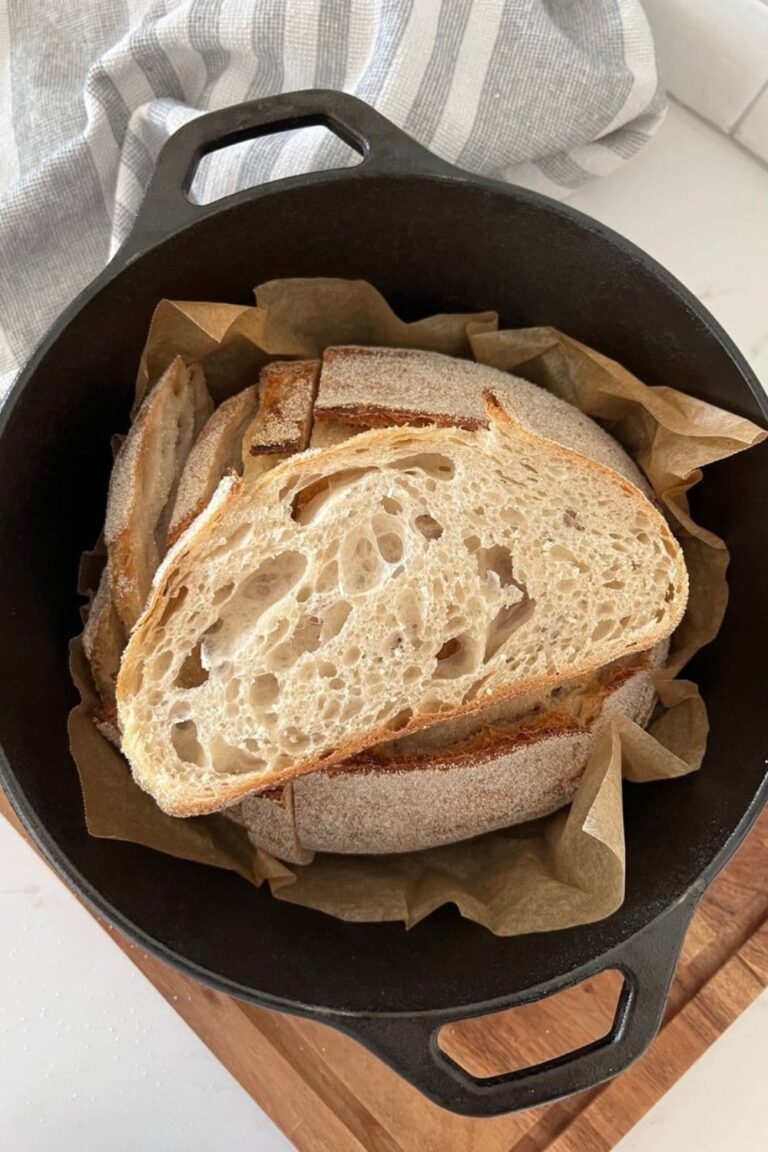 Remember, the most important thing you'll need to make the best sourdough bread is your own sourdough starter - you can find instructions for making a sourdough starter here, or if you're looking to buy a starter, you can read my guide to buying a sourdough starter here.
If you're in a hurry, this is the equipment I recommend for baking sourdough bread, including my favorite tools:
You might not want to buy everything straight away, but having just a few of these can really help move your sourdough baking forward. I've added more details on each piece of equipment in the post below, as well as added a few other things that you might like to buy as your journey goes on.
So let's learn about the best equipment for baking sourdough bread.
Best Equipment for Baking Sourdough Bread
Digital Food Scale
A scale is probably one of the most important pieces of equipment you can buy for your sourdough journey. It ensures that you're measuring your ingredients accurately and giving your sourdough starter the right amounts of flour and water (and most importantly never starving it).
I use the KD-8000 scale - you can purchase it from Amazon here. I love how easy it is to use, it's accuracy ... and the fact that it doesn't turn off half way through a recipe (how frustrating is that). It never skips a beat!
I also love that it is both battery powered and can be plugged in at the wall. I prefer running it on batteries so I can use it anywhere, rather than being tied to a power outlet.
You can read more about the best baking scale for sourdough bread here, as well as why weighing your ingredients is so important in sourdough bread.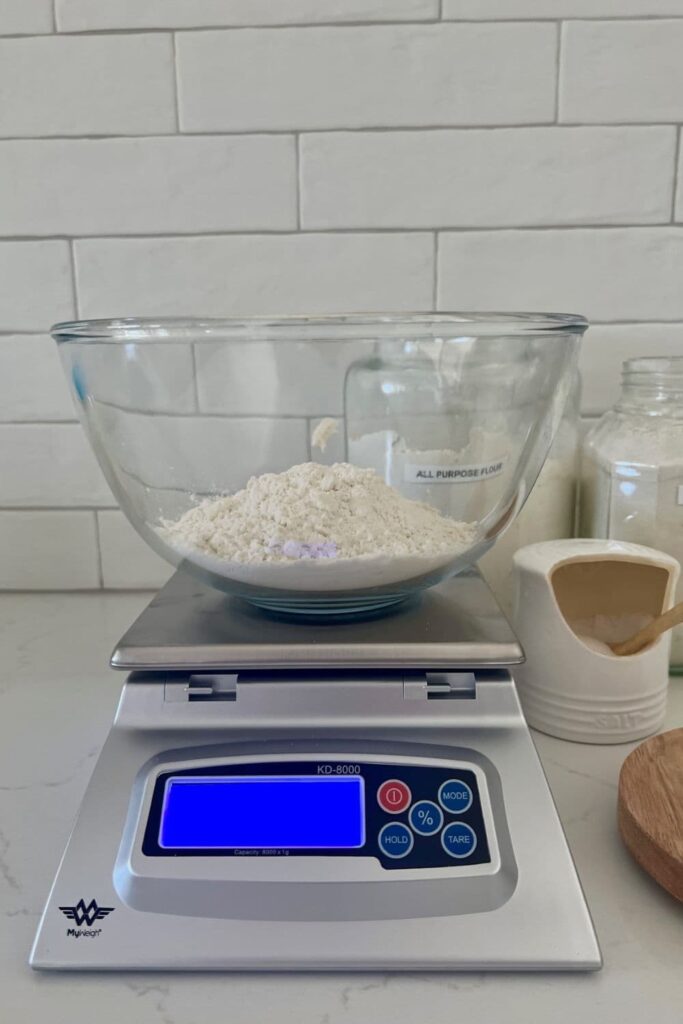 Glass Jar for Sourdough Starter
The best jar for sourdough starter is a glass jar with a wide mouth. I use a a 16oz/490ml Ball Jar. I also love using a plastic lid, rather than a metal lid as they don't rust. I use these plastic lids without the seal in.
I've written a full guide to the best container for sourdough starter here.
Jar Spatula
Now this might seem like a funny thing to recommend, but since I bought a few of these Oxo Jar Spatulas, I have used them for so many things - not just sourdough - but all sorts of little jobs in the kitchen.
But for sourdough, they are amazing for mixing the dough (I actually like them better than a Danish Dough Whisk). They're also great for mixing sourdough starter, sourdough chocolate brownies and even sourdough bread in the beginning stages.
And they're so easy to clean which is really important when it comes to sourdough and the sticky messes that it sometimes creates (see my sourdough cleaning tips here)!
You'll often see one of these white OXO Jar Spatulas in my recipe process photos because I really do use them for everything!
Dough Scraper / Bench Knife
This is another one of those little must haves that won't break the bank. It's super handy for easing sticky dough out of the bowl without tearing it. You can get silicone versions or flexible plastic scrapers.
Over the last few years, I've moved from using a silicone scraper to a plastic scraper as I find it more flexible and eases the dough out of the bowl more easily.
You can see my green plastic dough scraper in the photo below (and you can buy a similar one here).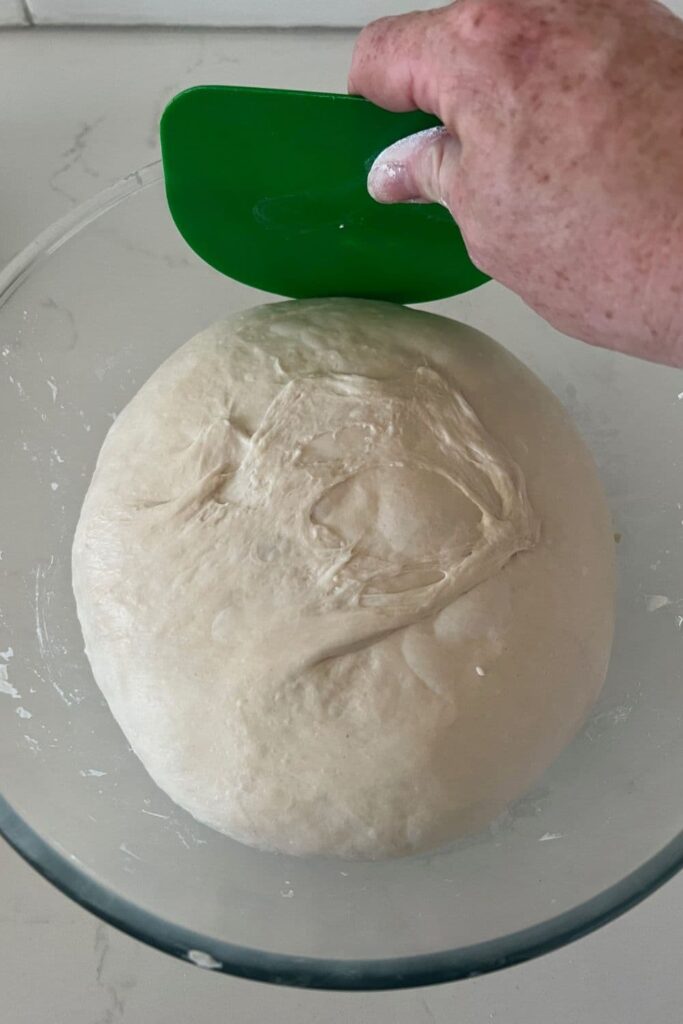 The black dough scraper with the wooden handle is also really handy - however, I don't use this to shape the dough at all, I much prefer using my hands! I use this metal dough scraper for cutting dough into equal size portions (like when I make sourdough hot dog rolls or sourdough hamburger buns) and also for cleaning any dried on mess on the my counter tops.
You can buy a metal dough scraper here.
Cambro Containers
Cambro containers are a really easy way to see when your dough is doubling during bulk fermentation. I've written a whole post about how to use cambro containers for sourdough baking here.
Cambro containers are also a handy piece of sourdough baking equipment if you're making a few different doughs - they stack easily to save space.
Cambro containers are also useful for storing other foods in your kitchen, so can be a versatile investment for sourdough bread baking.
Elastic Food Covers (Shower Caps)
Just like the jar spatula, an elastic food cover might seem insignificant, but these little gems save me so much time (and waste). I use these to cover sourdough while it's in bulk fermentation, in the banneton in cold fermentation and also for covering dough that's resting on the counter before shaping (like sourdough pizza dough).
I find that I reuse the same elastic food cover over and over. If it gets sticky dough on it, I just hang it outside and allow the dough to dry and then the dried dough just peels off and I can keep on using it.
You can purchase a pack of elastic food covers here.
Banneton Basket or Proofing Basket
When talking about the best equipment for baking sourdough bread, it is absolutely necessary to mention bannetons. I own a lot of different sizes and shapes, which I use to make various loaves.
You can definitely use alternatives to banneton baskets, however, they are definitely purpose built and will give you the best shape to your dough. You can see from the photo below that my bannetons are very well used and "seasoned".
The banneton you need and use will depend on the size of Dutch Oven you're using, as well as the weight of the dough you're wanting to support. You can read my guide to buying the right sized banneton for sourdough here and if you're wanting to know how to look after your bannetons, check out this guide to banneton prep, care and maintenance here.
Brod & Taylor Proofer
While this bread proofer is not considered an essential sourdough baking tool, it is extremely helpful in making sure that bulk fermentation occurs in a timely matter. I invested in this bread proofer around 6 months ago and it's become a really useful part of my sourdough baking toolkit.
It's really handy to keep your sourdough starter warm in (mine absolutely loves it) and also if you're wanting to proof bread dough at a consistent temperature. Perhaps the only thing I don't like about it is that it's quite small so I can't use my glass bowls in there as I can only fit one at a time (this is where the Cambro Containers can be handy).
I highly recommend this Brod & Taylor Bread Proofer if you are having trouble with your bulk fermentation and or you're cooking sourdough in a cold climate. You can purchase the Brod and Taylor Bread Proofer here.
Alternatively, you could use your oven - I've added notes about how I use my oven for proofing here.
Parchment Paper
I don't recommend a specific brand of parchment paper however I will say buy the "better" brands because they will perform better at a higher heat. I find cheap, no name paper tends to burn and crumble at high heat, whereas the more expensive stuff tends to stand up to it. Some parchment papers can even be used a few times before you have to dispose of them.
You could also use a silicone sling as an alternative to parchment paper, however I prefer to use the paper as I find it much easier for my baking needs.
Parchment paper ensures my dough doesn't stick to the bottom of the Dutch Oven, but it also helps me transfer my sourdough into a hot Dutch Oven with no dramas.
Bread Lame or Razor Blades
A bread lame is a fancy razor blade used to score sourdough bread. I like using a lame with a curved blade for basic sourdough scoring. You can buy the bread lame I use here.
If I'm doing more intricate scoring, I simply use a razor blade that I hold in my fingers. This is not for everyone, but it works for me.
If you prefer a razor with a handle, you can purchase something like this.
High Heat Oven Safe Gloves
A pair of high heat oven safe gloves are really handy. For a long time, I used dish towels to lift my Dutch Ovens in and out of the oven, but since swapping to actual gloves, I don't think I could go back!
I use these gloves every single day, for so many other cooking applications (I even use them for our smoker and wood fired oven) and they are awesome!
You can purchase high heat oven gloves here.
Dutch Ovens
I have always used a Dutch Oven to bake sourdough bread, and even after testing many open baking scenarios, I still prefer baking sourdough bread in a Dutch Oven.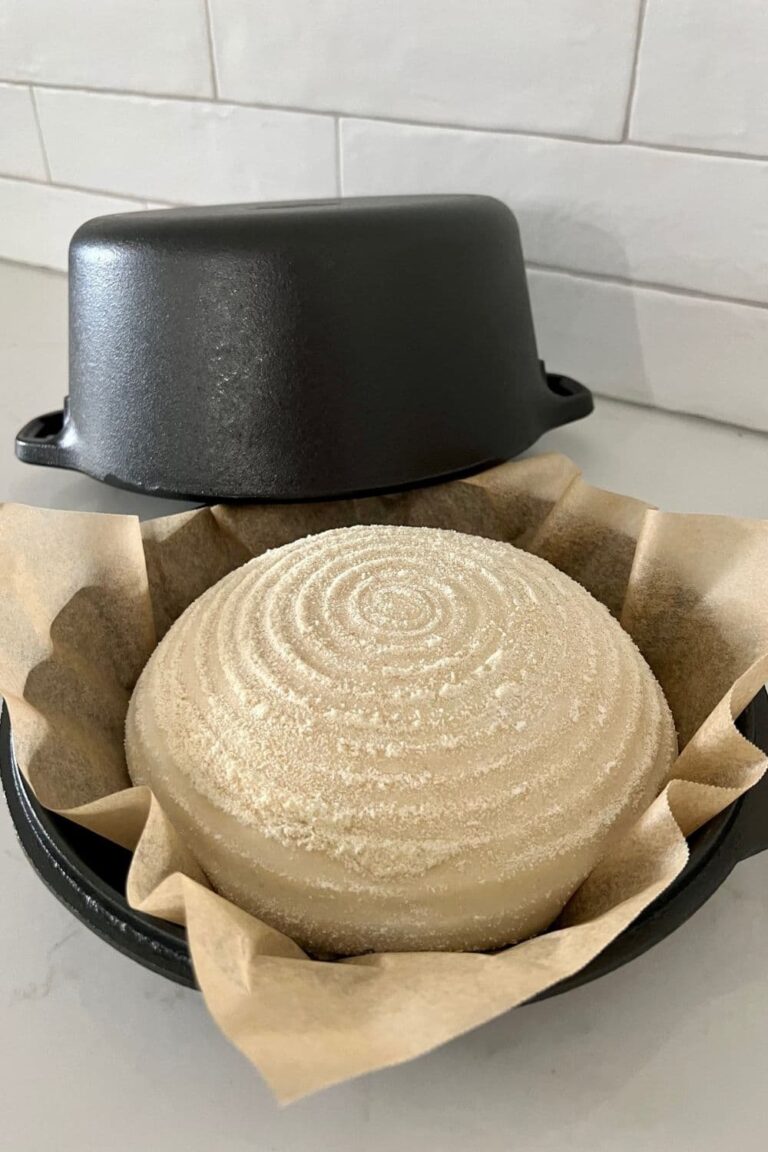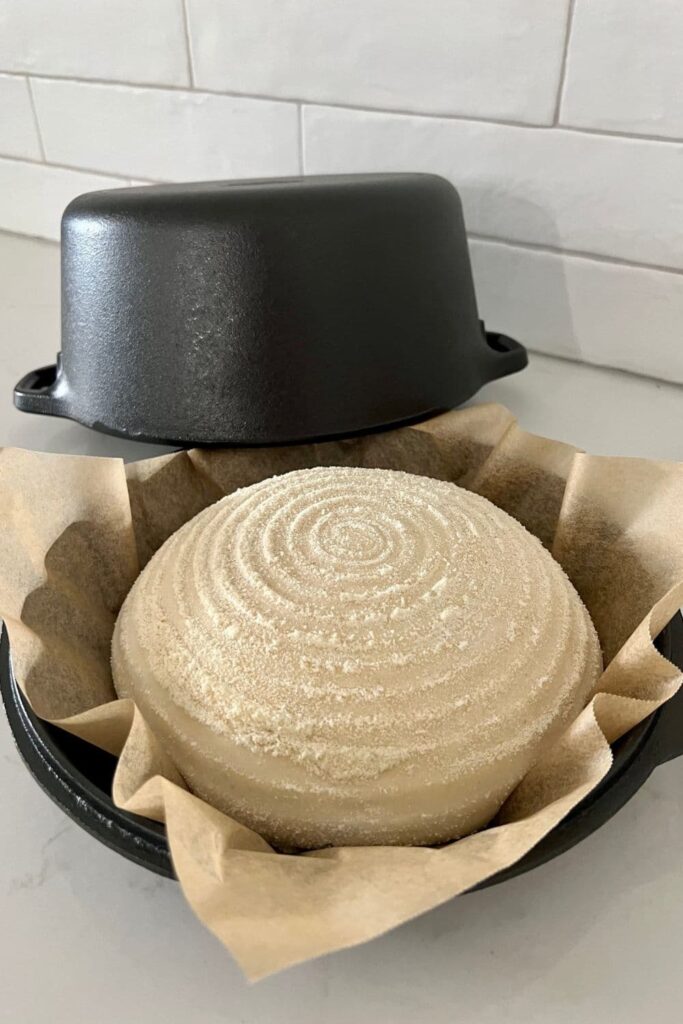 I specifically use a round and oval Dutch Oven, but I also have a cast iron bread baking pan with a lid which can be useful too. The specific sized Dutch Ovens I use and recommend are:
I have written a guide to the best Dutch Oven for Sourdough Bread here, which goes through each size Dutch Oven in more detail.
Serrated Bread Knife
While a bread knife isn't essential for baking sourdough bread, a good bread knife certainly makes it easier to slice.
I have used this Mercer 10" knife for quite a while now. You can see my full review of this knife and what it can do here.
Equipment I Don't Use For Sourdough Baking
Now you may have noticed that I haven't included a Danish Dough Whisk and a Digital Thermometer in my list of the sourdough baking equipment that I use.
I do recognise that these tools are very handy for some people but I don't use them in my sourdough bread baking routine (although I do have a dough whisk in my draw and have tested it extensively across lots of applications). In fact, you might notice a Dough Whisk in some of my recipe photos, as I did use it a lot before discovering this Jar Spatula!
You can read about why I don't use an internal thermometer to check whether my sourdough loaves are done here.