Sourdough starter béchamel sauce uses sourdough starter to thicken the sauce, rather than flour alone.
This is a great way to use up sourdough discard or unfed sourdough starter. Alternatively you could also use fed sourdough starter.
Reduce food waste and create a deliciously versatile sauce using sourdough discard. This sourdough béchamel is super simple, with just 3 ingredients.
There are many variations and extra ingredients you can add to this béchamel sauce thickened with sourdough starter - like cheese and nutmeg (you'll find full instructions in the recipe at the end). You might even like to make sourdough mac and cheese or see how you can use it in these sourdough dinner ideas.
What Is Béchamel Sauce?
Béchemel sauce is traditionally made using a roux of flour and butter, which you then add milk to. You need to vigorously whisk the sauce over heat until it thickens.
The flour is the thickening agent in traditional béchemel sauce.
Many people think that béchamel sauce is French, however it is an Italian sauce. The Italians call bèchamel "Besciamella". It's most commonly known as the sauce that sits on top of a lasagne.
It is however used as a binding agent in many other vegetable and pasta dishes too. It also takes a grilled cheese to the next level.
How To Thicken Sauces With Sourdough Starter
Sourdough starter can be used to thicken many sauces. You can substitute sourdough starter into any sauce that uses flour as a thickener, like gravy or even pepper sauce.
Sourdough starter is just flour and water, so you can substitute this for the flour. The little bit of water in the sourdough starter doesn't affect the flavor or texture of the sauce at all.
Using sourdough starter actually adds a nice depth of flavor to the béchamel sauce (as long as the starter isn't too sour).
Should You Use Discard or Fed Starter
Now sourdough discard and sourdough starter are the same thing - one is just fed. So you can use either. If you need further clarification, visit this comprehensive sourdough glossary.
Using discard in this white sauce is a great way to reduce food waste and add some flavor. But fed starter works just as well too. Use whatever you have on hand.
If I've made sourdough during the day and have some starter left, I often toss it in to the pan with my white sauce. Because I bake every single day I always have some starter on hand.
How To Make Béchamel Sauce with Sourdough Starter
Béchamel or white sauce is basically made of flour, butter and milk. The flour thickens the sauce. So by adding sourdough starter, you are replacing the regular amount of flour in the sauce.
There is of course water in sourdough starter, but as you are going to add milk anyway, it's not an issue.
Depending on what you are going to use your sourdough starter bechemel for, you can add egg and cheese to the sauce too. I add these when I'm using it to top lasange.
Here's how to make white sauce with sourdough starter:
Mix together sourdough starter and soft butter to form a thick paste.
Add 100g of milk to the saucepan and whisk over a low heat.
Once the milk has thickened, add another 100g of milk, continuing to whisk.
Once the sauce has thickened and there are no lumps, add the remaining 200g of milk.
Continue to whisk over low heat until the sauce is silky smooth and coats the back of a spoon.
Tips For Thickening Sauce With Sourdough Starter
While it's pretty easy to use sourdough starter in a bèchamel or white sauce, you might find these tips handy. They will also help if you're using sourdough starter to thicken other sauces too.
If using sourdough discard, try not to use discard that's too old. If the discard you're using is more than a week old, you might find that it's too tangy and will ruin your sauce.
If you do use discard that's a little sour and you find your sauce is a bit too tangy, try adding a touch of honey to soften the flavor.
If using sourdough discard from the fridge, bring it to room temperature before mixing with the butter.
Make sure the butter is soft when you add it to the saucepan. Traditional béchamel requires melted butter but you can just use softened butter for this version. It doesn't make a difference (as long as the milk is warm).
Don't use cold milk when making sourdough starter béchemel sauce. Warm the milk in the microwave before adding it.
Never add all the milk at once, do it gradually as set out in the recipe below.
How to Use Sourdough Starter Béchemel Sauce
This white sauce thickened with sourdough starter is so versatile and can be used for so many different things!
Here are a few ideas for making it work in your kitchen:
Use this sourdough bechemel sauce to top homemade lasagne. Add shredded cheese to the sauce before pouring over fresh lasagne - YUM!!
Keep the sourdough béchemel sauce in a jar in the fridge and add to your next grilled cheese sandwich. It add such a delicious flavor, you'll wonder why you never thought of it.
Use whipped herb butter in place of plain salted butter when you make the bechemel sauce. It adds a delicious herby flavor.
Substitute homemade sourdough bechemel sauce for condensed soup next time you make a casserole. So much better for you and you know what's in it.
Add white sauce made with sourdough starter to your next pizza base instead of, or along with, the pizza sauce.
Add some crushed peppercorns and worcestershire sauce for a delicious pepper sauce - perfect for topping steak or chicken.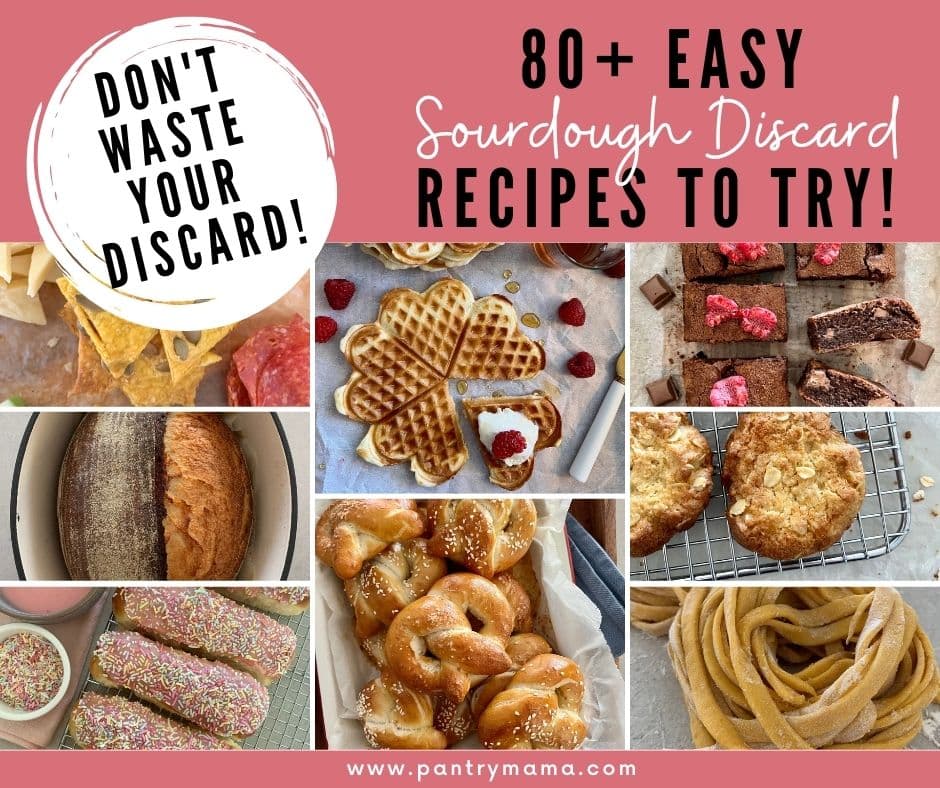 Further Reading
If you love this sourdough discard recipe, you might like to try some of these recipes:
These garlic bread bites make the perfect accompaniment to lasagne made with sourdough béchamel sauce!
If you'd like to try sourdough béchamel sauce with whipped herb butter, you'll find the recipe here.
Want to make your own sourdough pasta? You'll find an easy recipe here.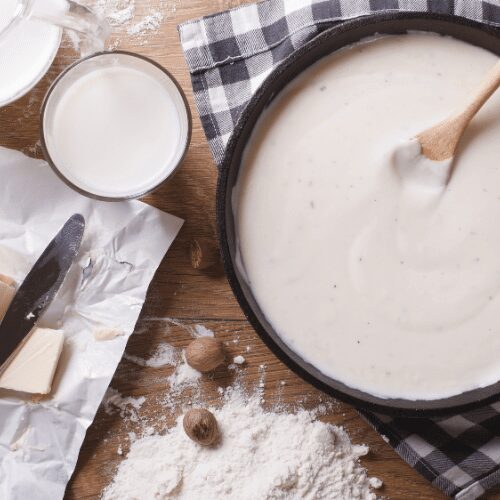 Sourdough Starter Bechemel Sauce (White Sauce)
Sourdough starter can be used to thicken Béchemel or White Sauce to make lasagne and pasta bake. It's super simple and adds depth of flavor while reducing food waste.
Equipment
Saucepan

Digital Scale

Whisk or Fork
Ingredients
100

g

Sourdough Starter

30

g

Butter

softened at room temp

400

g

Milk

warm
Optional Ingredients
pinch

Nutmeg

ground

1

Egg

room temp

100

g

Cheese

shredded (think mozzarella, parmesan, cheddar)

Salt and White Pepper

to taste
Instructions
Traditional Saucepan Method
Add the sourdough starter (or discard) and butter to the saucepan. Whisk together until they form a thick paste (roux).

Place the pan on a low heat and gently cook the roux.

Now add 100g of warm milk. Whisk continuously until the milk starts to thicken. It should be smooth without too many lumps.

Keep whisking and add 100g more milk.

Once the sauces starts to thicken again, add the remaining 200g of milk.

Keep whisking until the sauce is silky smooth and thickened. Add nutmeg, salt and white pepper if desired.

If you'd like add some cheese, add it once the sauce is cooked. Whisk vigorously until the cheese has melted through the sauce.
Thermomix Instructions
Add sourdough starter, milk and butter to the jug.

Add the egg now too if you are using.

Set Thermomix at speed 4 - 90C - 7 minutes (make sure you have the measuring cup in place).

Once the sauce is cooked, add cheese if desired and season with nutmeg, salt and pepper.
Notes
Whisk or fork?
You can choose either method to make this sauce - it works just as well in a saucepan. If you have a whisk, it will make it much easier to get it smooth and silky. However, a fork is perfectly fine - and in fact that's all I used when I made it in the saucepan.
Notes on using egg
Egg is not a traditional ingredient in bechemel sauce, but it does add some extra protein and will make the sauce brown up nicely on top of a lasagne. If you're using egg, add it at the beginning with the sourdough starter and butter.
Nutrition
Calories:
1016
kcal
Carbohydrates:
40
g
Protein:
46
g
Fat:
75
g
Saturated Fat:
45
g
Trans Fat:
1
g
Cholesterol:
373
mg
Sodium:
1071
mg
Potassium:
694
mg
Fiber:
1
g
Sugar:
21
g
Vitamin A:
2637
IU
Calcium:
1205
mg
Iron:
2
mg