Homemade sourdough pasta is one of the simplest, yet tastiest ways to enjoy your sourdough starter.
With a subtle tangy sourdough flavor, sourdough pasta is incredibly simple to make - using just 3 ingredients.
You can use this sourdough pasta recipe to make any type of pasta - from fettucine and papardelle to spaghetti or lasagne sheets. It's also perfect for ravioli!
You don't need any specialised equipment, however a stand mixer and pasta machine do make it easier.
You can mix the dough by hand and cut it with a knife if you prefer. I've included instructions for doing it both ways.
This recipe is also suitable for making in a Thermomix and can be loads of fun to make with kids (you'll find my full guide for sourdough baking with kids here)!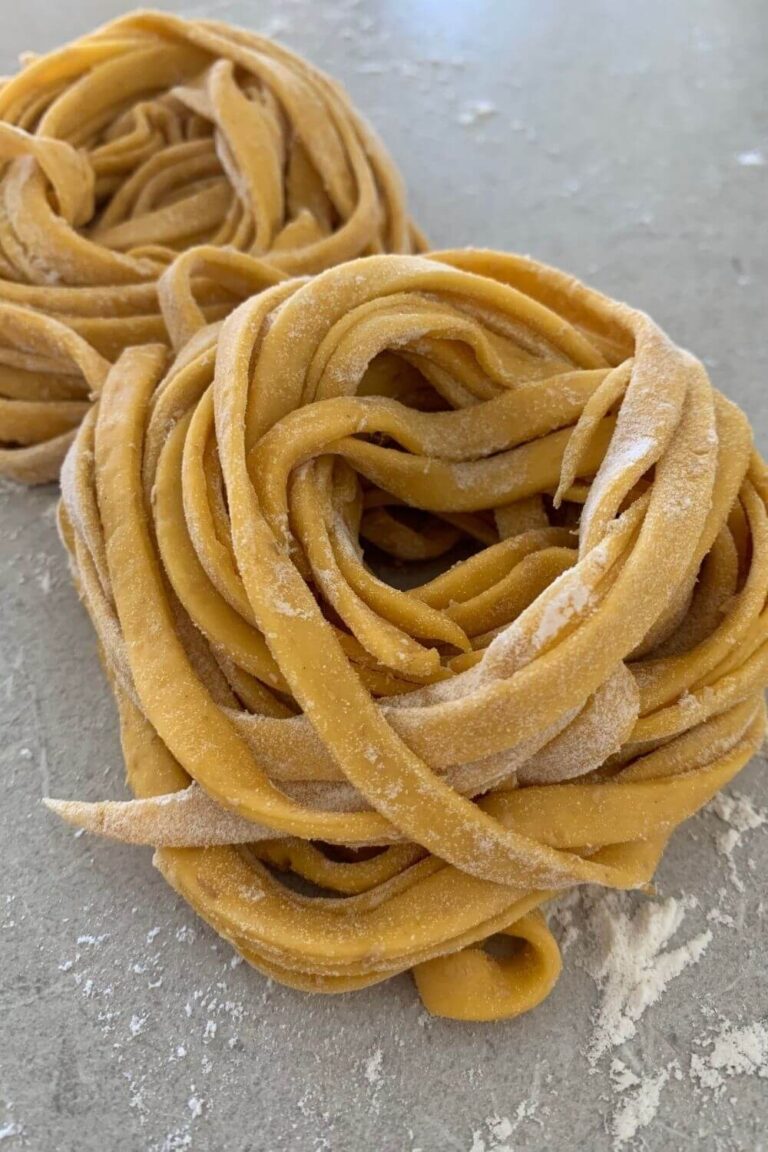 Benefits of Sourdough Pasta
Sourdough pasta is not only a great way to use up some sourdough discard, it also has other benefits.
You can use active, bubbly sourdough starter to make this pasta too.
Because you are replacing some of the regular flour in the pasta dough with sourdough starter (whether you use discard or active) you will be getting some of the benefits of a fermented pasta dough.
To truly have a fermented pasta dough, leave the dough covered in the fridge overnight before rolling out and cutting.
My experience with sourdough pasta is that it doesn't leave me feeling bloated and over full. It's lighter and much easier to digest than store bought pasta.
Another thing I love is that it cooks much faster than store bought pasta - there's no waiting around for 11 minutes! Sourdough pasta can be done in as little in 2 minutes (depending on how thick you cut it).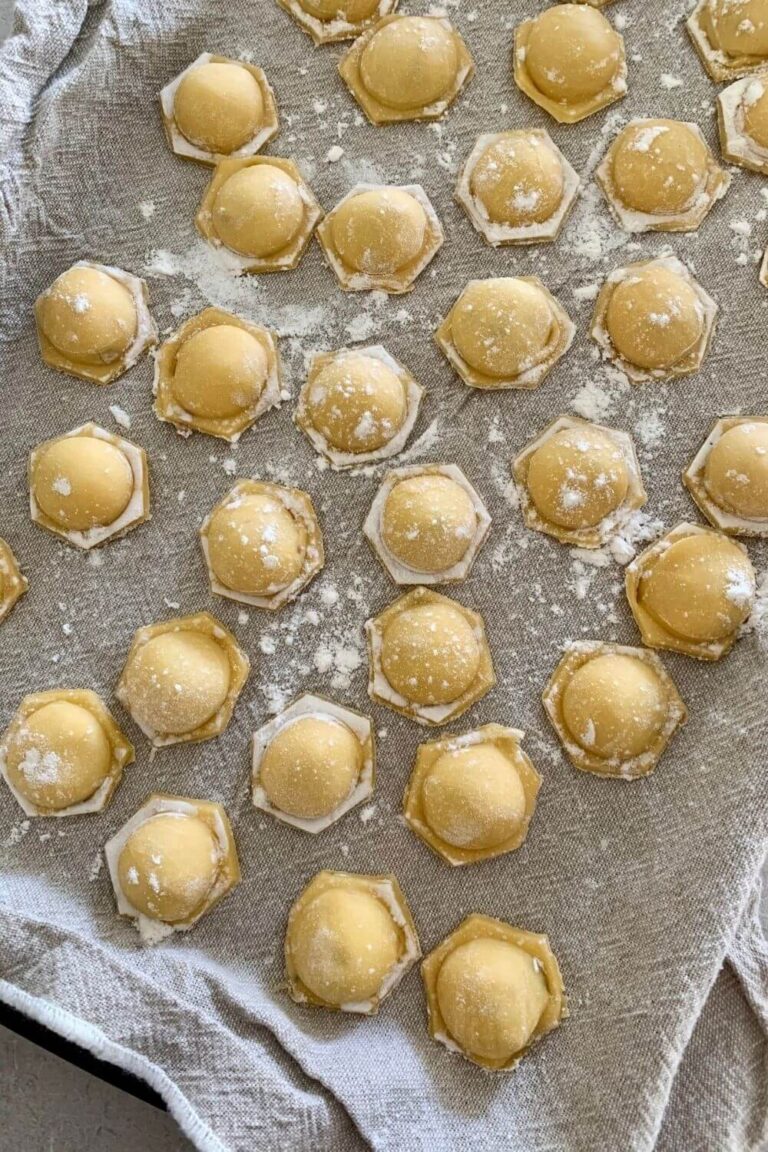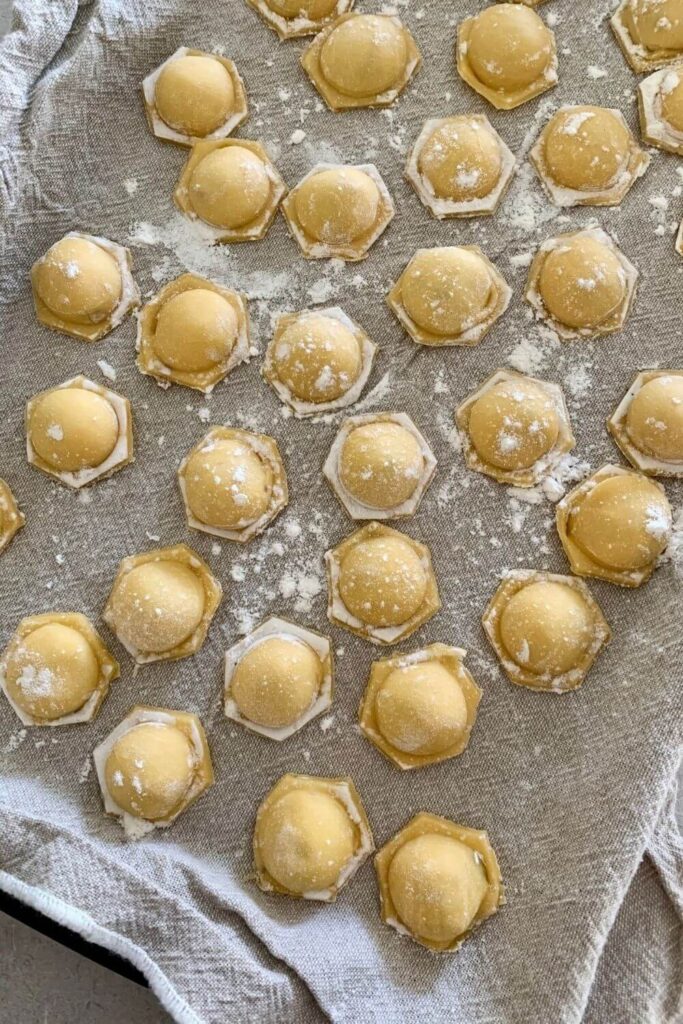 How To Make Sourdough Pasta
Making sourdough pasta could not be easier. You can mix the dough by hand (afterall, pasta was made long before modern mixers, right).
But if you do have a stand mixer or Thermomix, you can most certainly utilise these to make the job much easier.
The dough needs to be kneaded very well, so if you are going to do it by hand, you need to really get your muscles working.
Here's the process for making sourdough pasta dough:
Measure out the three ingredients - sourdough starter, flour and eggs.
Add the ingredients to your stand mixer bowl and use the dough hook to bring it together into a dough.
If you are using a Thermomix, knead the dough for around 3 minutes or until it clumps together.
Turn the dough out on to a floured surface and work it into a ball.
Place into a bowl covered with cling wrap and let it rest for 30 minutes.
If you want to ferment the dough overnight, place it into the fridge.
If you are going to cut it after the 30 minute rest, leave it on the kitchen counter.
The color of your sourdough pasta dough will depend on the eggs you use. I use pasture raised eggs from my farm so the pasta dough is quite dark in color. It cooks up lighter, but it does looks more yellow in these photos.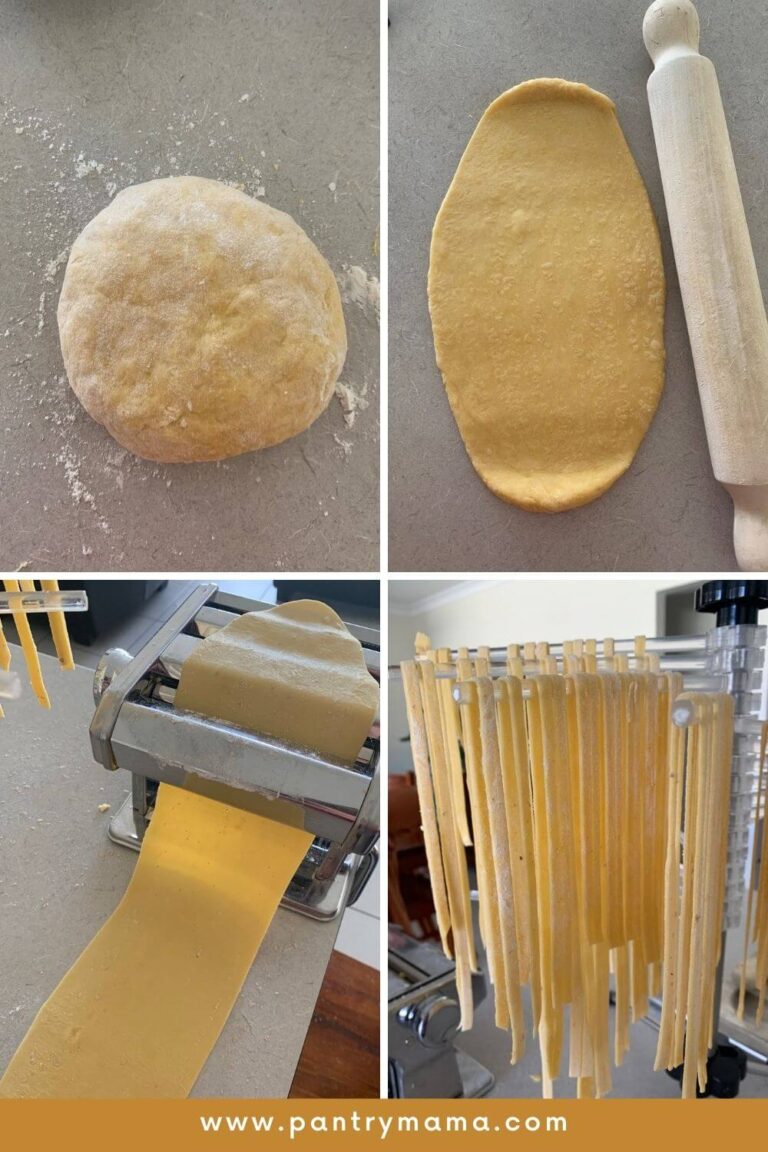 Tips for Rolling and Cutting Sourdough Pasta by Hand
You can definitely roll and cut this sourdough pasta by hand.
The trick is to use flour to ensure that the dough is not sticky.
A cool surface is good to stop the dough from getting too soft and tearing.
Simply roll the dough out to your desired thickness using a rolling pin. It can be easier to divide the dough into 4 pieces and roll each piece separately.
This will enable you to get it nice and thin.
To cut into noodles, sprinkle the surface of the dough with flour and gently roll it up. Using a sharp knife, cut the pasta to the desired thickness. Gently unravel the noodles and toss in flour to stop them sticking together.
You can hang them up to dry or just leave them on the counter. Let them dry for around 30 minutes before cooking.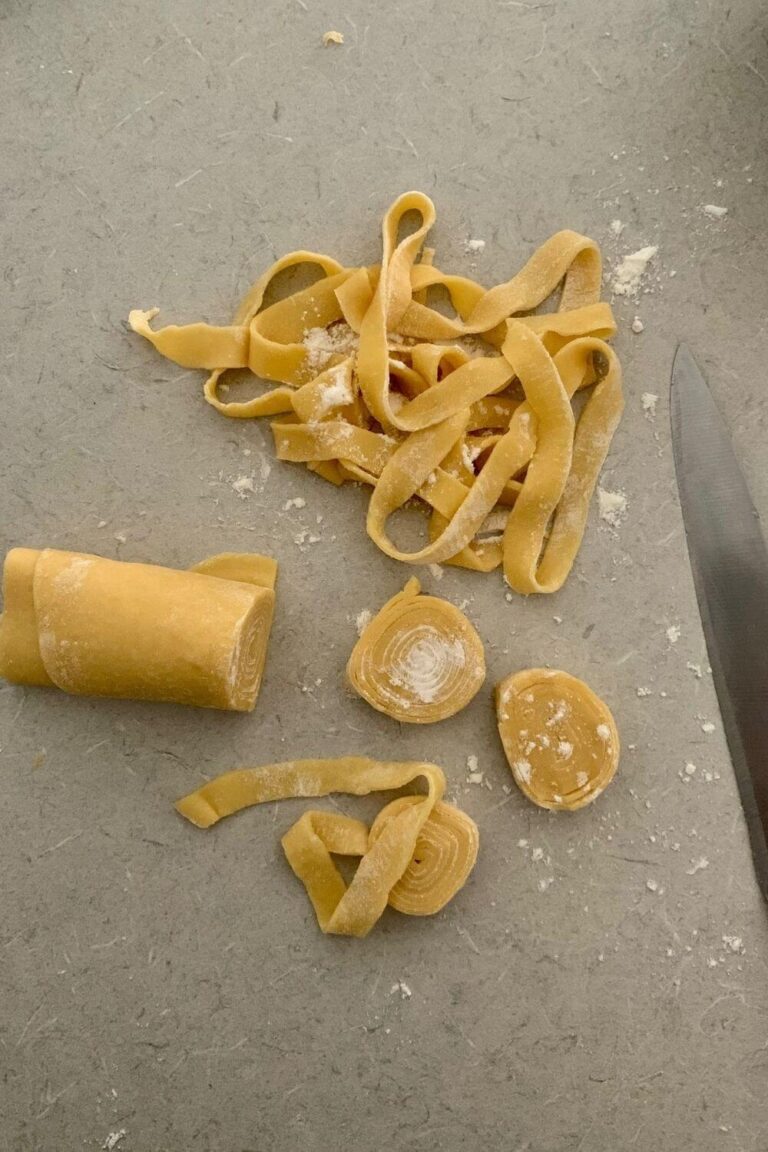 How To Use a Pasta Machine for Sourdough Pasta
I find that a pasta machine is a really easy way to get uniform pasta. It makes it quick and easy to get the pasta dough nice and thin and is also lots of fun for my kids to get involved in.
Most of the time, I don't even need a rolling pin to start the dough off, I just feed balls into the machine and they come out flat!
A few tips to getting the most from your pasta machine:
Use plenty of flour on the dough before you feed it into the machine. This ensures that the dough will not tear or get stuck.
If you are making very long sheets or pasta or noodles, it can help to have a second pair of hands to help you feed the dough through the machine and catch the noodles. Otherwise, the extra length can make it a little hard to handle on your own.
Start the pasta machine at the thicker setting and work down. This will give you better quality pasta at the end.
For really good pasta, laminate the dough as you go along. So roll it out and then when you feed it back through the machine, fold the dough over itself so it creates layers.
Be careful when cleaning your pasta machine. Don't use your fingers to loosen dried on pasta underneath. Speaking from experience, the edges of the metal can be really sharp!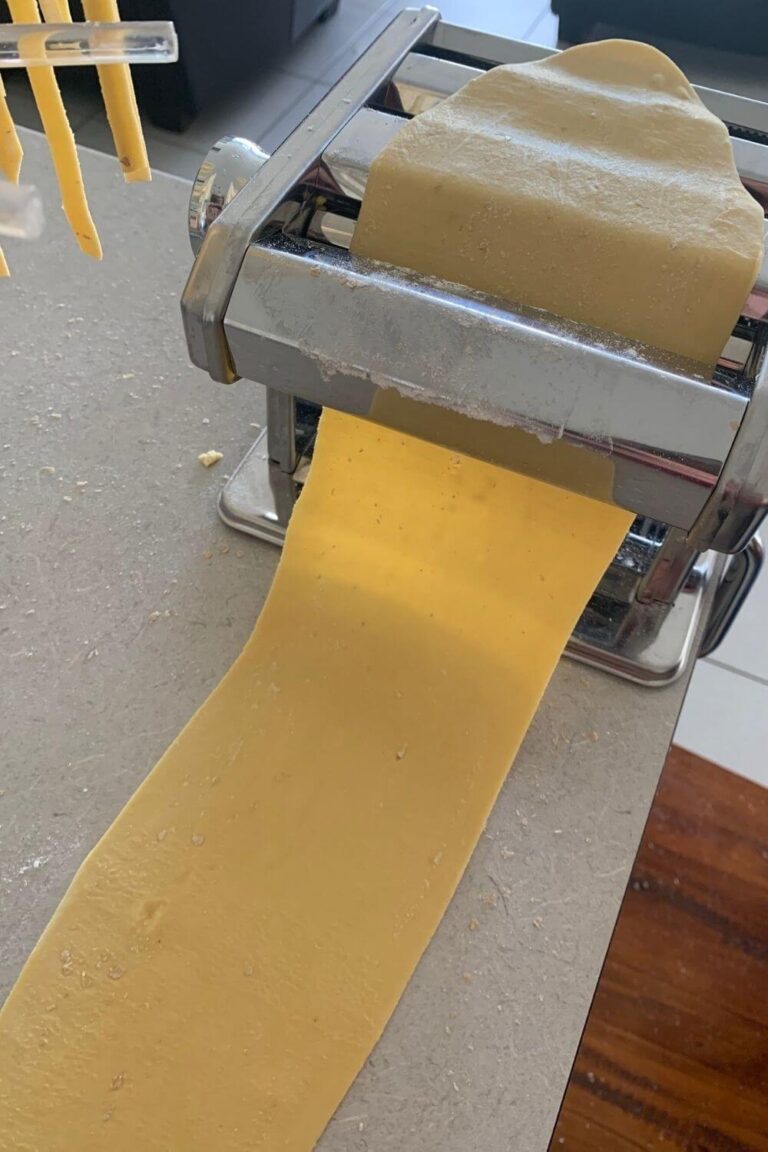 Sourdough Pasta in Any Shape
You can use sourdough pasta dough to make any shape pasta you can think of!
If you have a pasta machine, you will be able to easily cut thin spaghetti and noodles, fettucine and lasagne sheets.
You will also be able to roll the pasta dough thin enough to make ravioli and tortellini. I use a Russian Pelmeni (little dumpling) cutter to make the cutest sourdough ravioli! You can find the Pelmeni cutter I use here.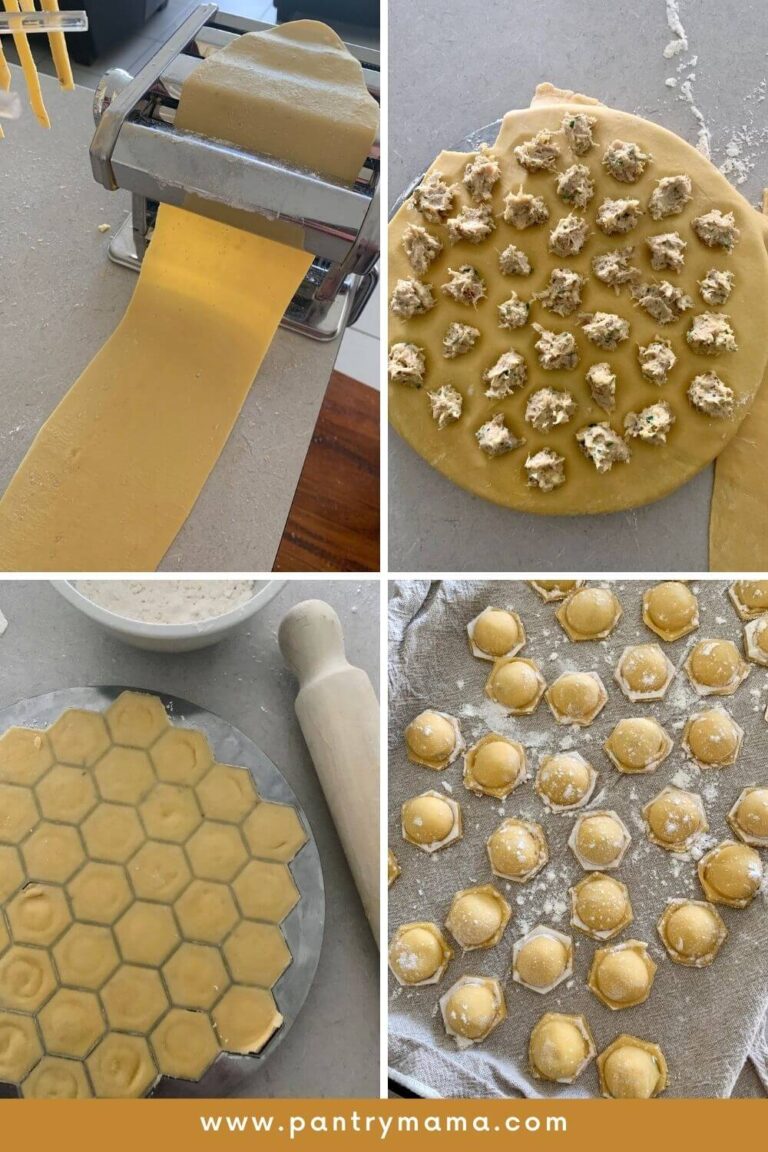 If you are using a mold like this, I roll a long sheet of pasta through the machine and then cut it in half. I join them together so that they form a wide piece of pasta dough and use the rolling pin to flatten the join.
If you are using a rolling pin and cutting by hand, fettucine and papardelle are the easiest shapes to cut.
Flavor Variations for Sourdough Pasta
While plain sourdough pasta is absolutely delicious in its simplicity. However, if you want to try something a little more adventurous, why not try these ideas:
Add some finely chopped fresh chives or thyme to dough for a fresh, herby twist.
You can make pink pasta by adding a little beetroot juice, green pasta by adding a little spinach juice.
Add some saffron to the dough for a deeper yellow color.
Why not add some delicate flowers from fresh herbs. Rosemary and chive flowers make beautiful additions, as do torn up nasturtium flowers and basil blossoms.
Making Thermomix Sourdough Pasta
The Thermomix makes it super easy to pull this sourdough pasta dough together. It's how I make my dough (unless my kids want to knead it by hand).
You can add all the ingredients to the bowl, then simply set the Thermomix to knead function for 3 minutes. The dough will clump together.
You can tip it onto a floured surface and bring it together into a ball before letting it rest.
For more Thermomix sourdough recipes, head here.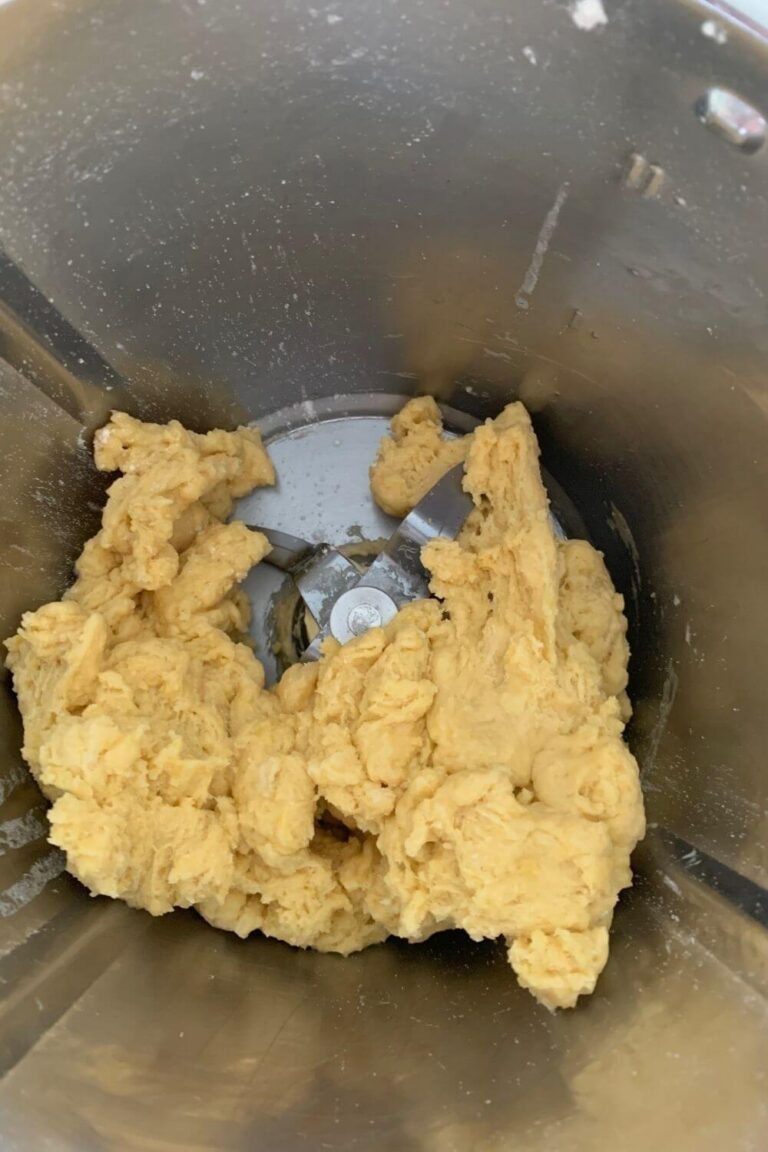 How to Cook Sourdough Pasta
Fresh sourdough pasta is super easy to cook. You'll need a big pot of boiling water that's been salted. Pop the fresh pasta into the boiling water for just a few minutes.
It takes a lot less time than dried, store bought pasta.
Once the pasta has risen to the surface it's generally cooked to perfection. Test a piece to be sure before removing from the water.
I never actually drain the pasta - I use tongs to remove it from the boiling water and put it into the pan of sauce - that way you toss in some of the pasta water, which is essential for a good pasta sauce!
How To Store and Freeze
Homemade sourdough pasta can be stored dry or frozen.
If you are going to use it the same day that you make it, you can leave it hanging on the pasta hanging rack until you want to cook it.
To freeze sourdough pasta dough, let the pasta dry for at least an hour before you place it into a ziploc bag and freeze. Try to ensure there isn't too much air in the bag when you seal it.
You can also store fresh pasta in the fridge for up to 2 days. Let it dry for around an hour and then place into a ziploc bag into the fridge. If you need to store it longer than this, place it into the freezer to inhibit bacteria growth.
While it can be dried out completely, the dough does have raw egg so storing in the fridge or freezer would be preferable than just storing it in the pantry in a dried state.
Equipment for Making Sourdough Pasta
You can make this pasta using a rolling pin and a knife. I have done it this way many times.
If you do find you like to make it often though, these things can be a good investment. They will give you a better quality finish and save you time too.
I invested in these because I make sourdough pasta a few times a week and the kids like to get involved too!
Pasta Machine - This pasta machine is so much fun to use and allows you to make super fine spaghetti, fettucine, lasagne and ravioli dough with ease.
Pasta Hanger - This pasta hanger is a great investment. It allows you to dry 3 batches of pasta or noodles at a time. I love that it can be stored away compact. It allows me to dry the pasta up on the counter away from little fingers (for the most part haha).
Pelmeni Cutter/Mold - This fun Pelmeni mold allows you to make hexagonal filled pasta shapes. You can easily make up to 37 at a time. You just roll over it with a rolling pin and then pop them out.
Ravioli Stamps & Cutters - this set of ravioli stamps can make pasta making lots of fun!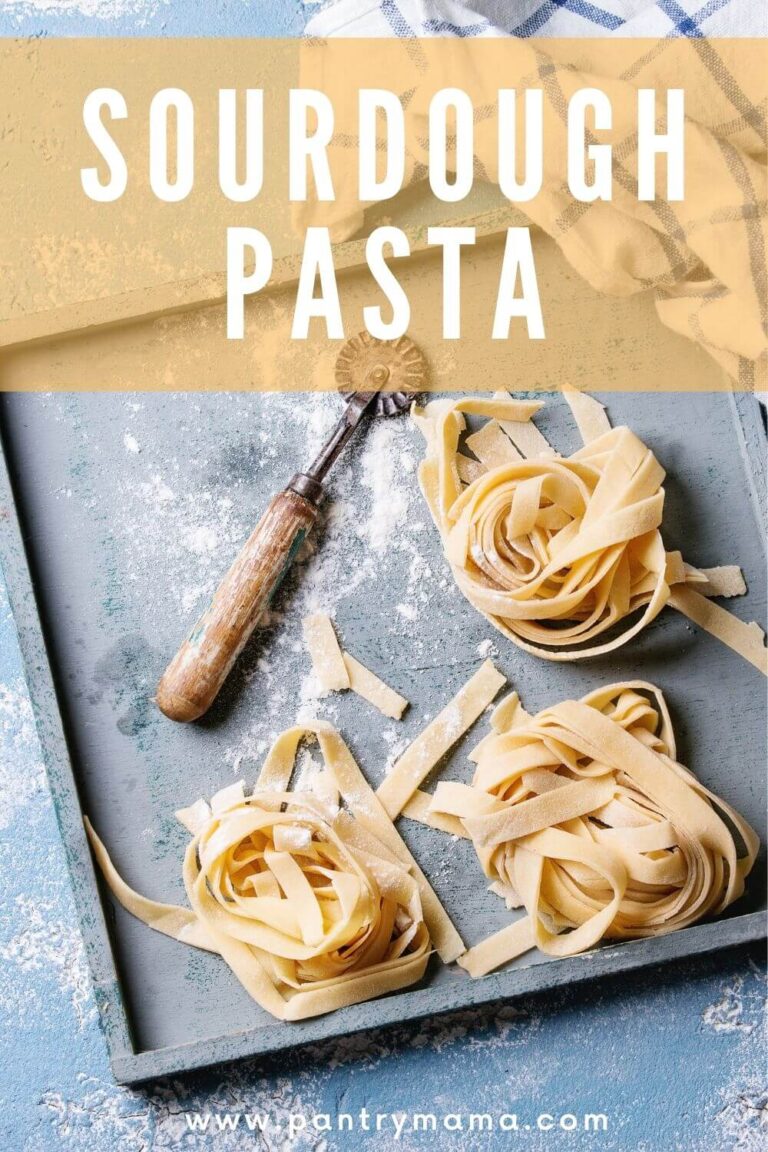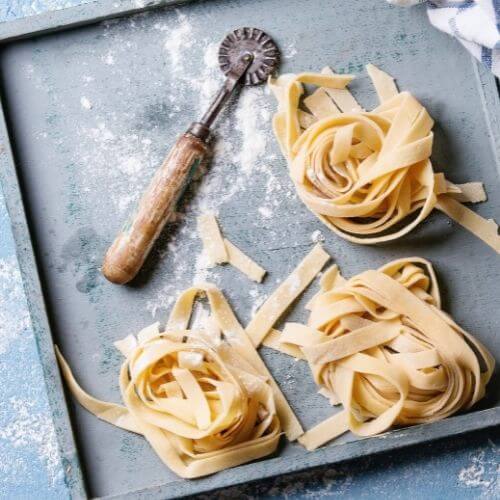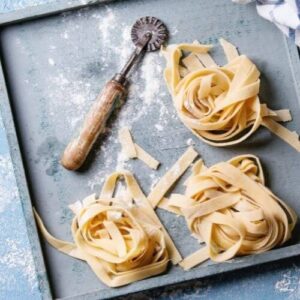 Sourdough Pasta
Is there anything more homely than homemade pasta? This recipe uses fresh eggs and your sourdough starter to make the best pasta you've ever tasted!
Equipment
Rolling Pin

Pasta Machine

Pasta Hanger
Ingredients
100

g

Sourdough Starter

Can be discard or active starter

250

g

Bread Flour

All purpose is fine too

2

Eggs
Instructions
You can make this pasta dough by hand or in a stand mixer or Thermomix.
Making Pasta by Hand
On a clean counter top, pour out 250g of flour, making a well in the centre.

Crack the eggs into the centre of flour and then pour the sourdough starter on top of the eggs.

Using a fork, gently beat the eggs and the sourdough starter together, gradually bringing in some of the flour.

Once the flour, eggs and sourdough starter are roughly combined into a shaggy dough, knead the pasta by hand until it forms a smooth dough. If the dough is sticky, add a little more flour until you achieve the right consistency.

Set the dough aside for 30 minutes (or overnight if you want it to be slow fermented pasta).
Making Pasta in a Stand Mixer or Thermomix
Add the flour, eggs and sourdough starter to the bowl.

For Thermomix, use the knead function for 3 minutes until the dough is clumping together.

For a stand mixer, use the dough hook and knead the dough on low speed (not more than 2) until the dough forms a smooth ball.

Turn the dough out on to the counter and gently knead it into a ball.

Set the dough aside for 30 minutes (or overnight if you want it to be slow fermented pasta).
Rolling & Cutting Sourdough Pasta
Once the dough has rested for 30 minutes - or overnight - it's time to roll, cut and hang the pasta. If you've had the pasta dough in the fridge, let it come to room temperature as it will be easier to roll.

You can use a rolling pin or a pasta machine (you'll find detailed instructions for both in the post above).

Use plenty of flour on the surface of the dough to stop the dough sticking to either the rolling pin or pasta machine.

Once the dough is cut to the desired shape/length, hang the pasta on a pasta hanger for at least 30 minutes to dry.
Nutrition
Calories:
1119
kcal
Carbohydrates:
201
g
Protein:
44
g
Fat:
13
g
Saturated Fat:
3
g
Polyunsaturated Fat:
4
g
Monounsaturated Fat:
4
g
Trans Fat:
1
g
Cholesterol:
327
mg
Sodium:
131
mg
Potassium:
371
mg
Fiber:
7
g
Sugar:
1
g
Vitamin A:
480
IU
Calcium:
87
mg
Iron:
4
mg