Welcome to the biggest list of sourdough discard recipes on the internet!
I've put together 80+ sweet and savory sourdough discard recipes for you to try - and the list is growing, so be sure to check back in case I've added some new ones.
If you've ever looked at your sourdough discard and wondered "can I use this to make something else?" then you've come to the right place!
These easy to follow sourdough discard recipes can often be made in just a few hours, rather than over several days like regular sourdough.
Sourdough discard recipes can be made quickly because they do not ferment the additional flour like a "true sourdough" recipe would. There however times when you use the sourdough discard without any additional flour.
It's for this reason that sourdough discard recipes are often not suitable for those with gluten sensitivities, even though they may be able to tolerate sourdough bread.
So let's get into things!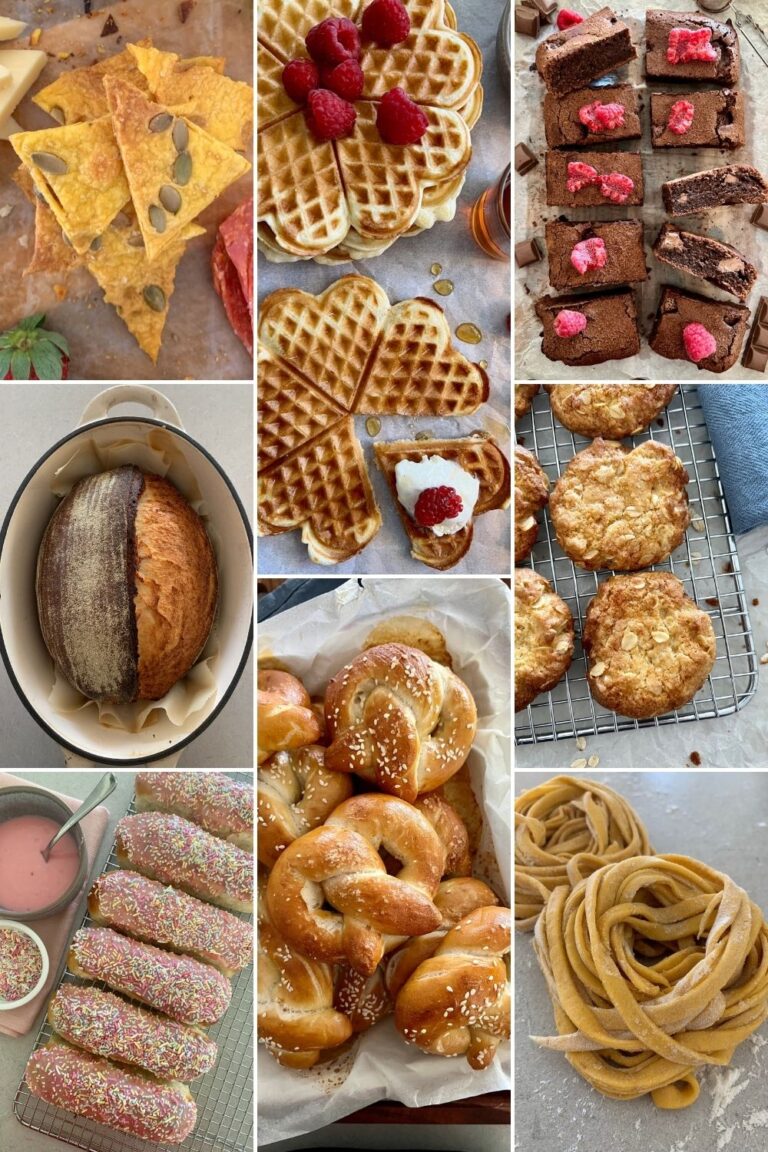 What is Sourdough Discard?
Sourdough discard is the portion of unfed starter you remove before you feed your sourdough starter.
It's essential to discard a portion of your starter before each feed for many reasons. The most important reasons are ensuring that your starter doesn't grow exponentially and also making sure it does not become too acidic.
You can read more about why you must discard sourdough starter in this guide, as well as the differences between sourdough starter and sourdough discard here.
What to do with Sourdough Discard?
Sourdough discard can be utilised, rather than it being thrown away completely. Using your discard is a great way to ensure you're not wasting flour and keeping your sourdough within budget.
The only caveat to this is your starter must be at least 7 days old before you can start using the discard. You can read more about why here.
You can really use sourdough discard in any recipe that contains some flour and some liquid. Sourdough discard is essentially half flour and half water (as long as you feed it 1:1:1. You'll find my guide on how to add sourdough discard to any recipe here.
It works best in recipes like quick breads, fritters, cookies and most types of dough based recipes. It's also a great way to batter fish and chicken and thicken sauces.
It really is fun to experiment with using your sourdough discard in your favorite recipes. It adds a new depth of flavor and texture to lots of different family favorites.
You can even use sourdough discard in the garden or feed it to your backyard chickens!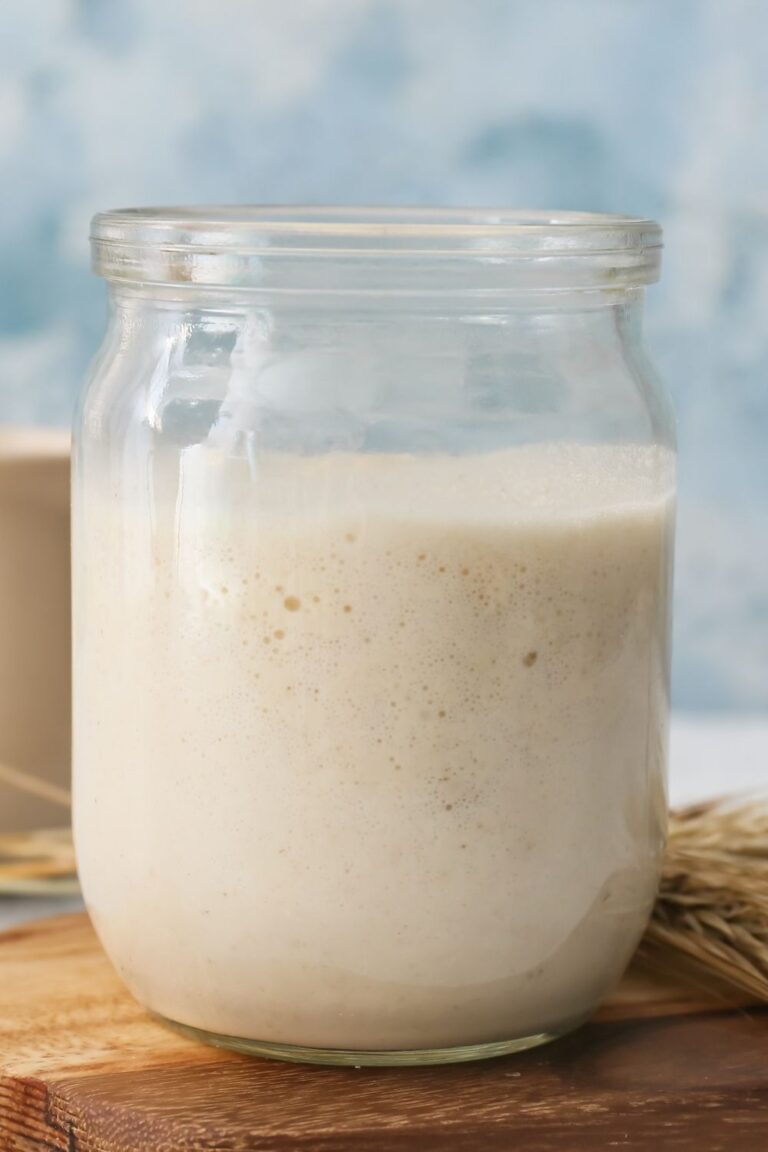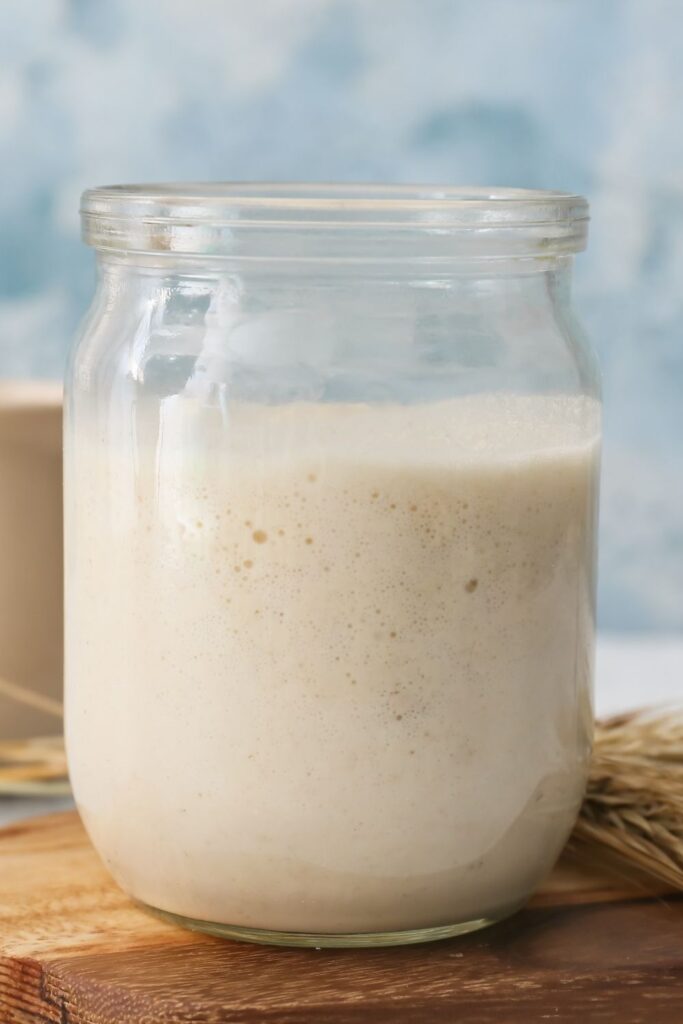 How Long Does Discard Last?
There are many answers to this question and a lot of it depends on your individual sourdough starter and feeding regime.
Sourdough discard is unfed sourdough starter, so it doesn't have a refreshment of flour and water to feed off. If you leave this on the counter indefinitely, it will eventually go moldy.
Sourdough starter is best stored in the fridge where it will be good for around 2 weeks.
What's The Difference Between Sourdough Discard and Sourdough Starter
The only difference between sourdough discard and sourdough starter is that sourdough discard is unfed.
Sourdough discard is technically sourdough starter, however if you are using it in a recipe, you may need an additional leavening agent such as yeast or baking powder to ensure the dough or cake rises.
Biggest List of Sourdough Discard Recipes Ever!
I've put together the internet's biggest list of sourdough discard recipes with 68 in total!
You'll find the recipes divided into sweet and savory.
To make life easier, I've first added a "title only list" so you can easily see the recipes in alphabetical order.
Following this, I've created the expanded list with a full description and photo. To read the recipe, you can simply click on the "check out this recipe" button and it will take you to the full recipe write up.
If there is a sourdough discard recipe you'd love to see added, make sure you let me know!
Biggest List of Sourdough Discard Recipes in Alphabetical Order:
You can pin this list for later!
Sweet Sourdough Discard Recipes
Easy Sourdough Discard Banana Bread
This super easy, one bowl sourdough discard banana bread is a cinch to pull together. It makes a tasty banana bread that's perfect for morning tea, breakfast or even a sneaky midnight snack!
It features a secret ingredient that gives a glossy, unique finish to this "must make" sourdough banana bread.
Sourdough Discard Applesauce Cake
If you love fall flavors, then you're going to love the aroma and flavor of this sourdough discard apple cake - bringing together applesauce, sourdough discard and all the best spices (cinnamon, nutmeg and ginger). Topped with a sweet yogurt glaze, it's the perfect sweet treat for any occasion.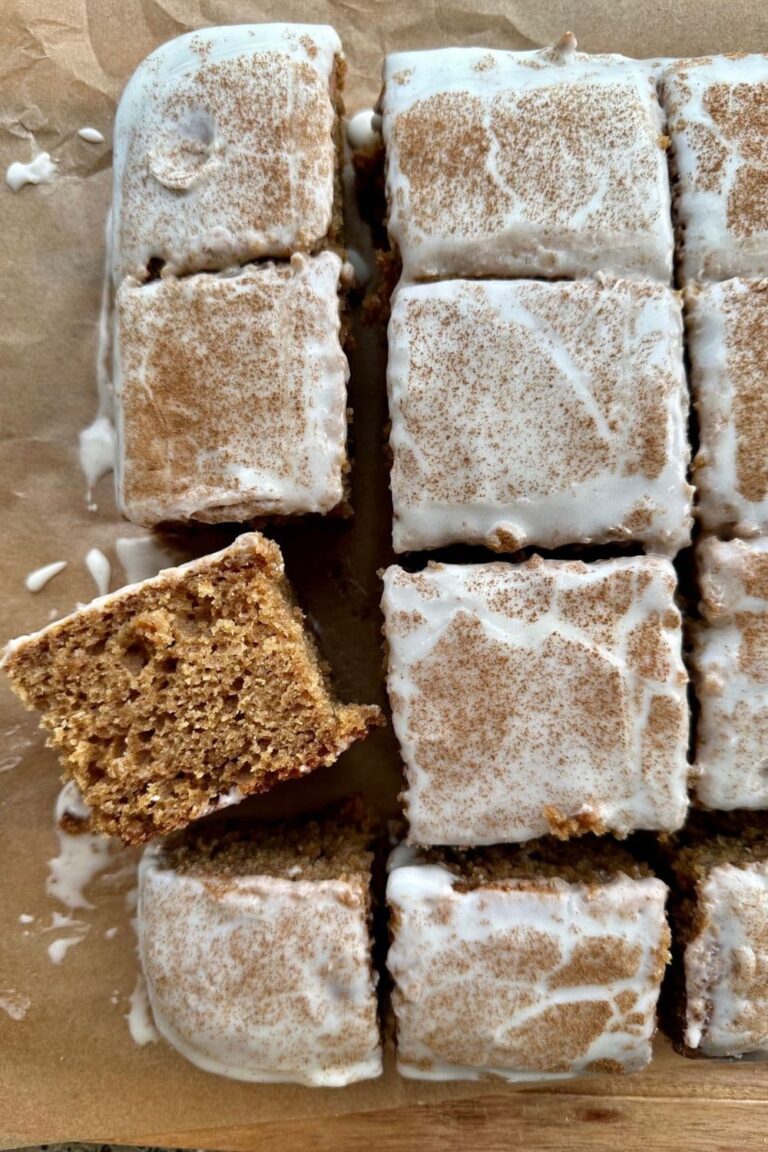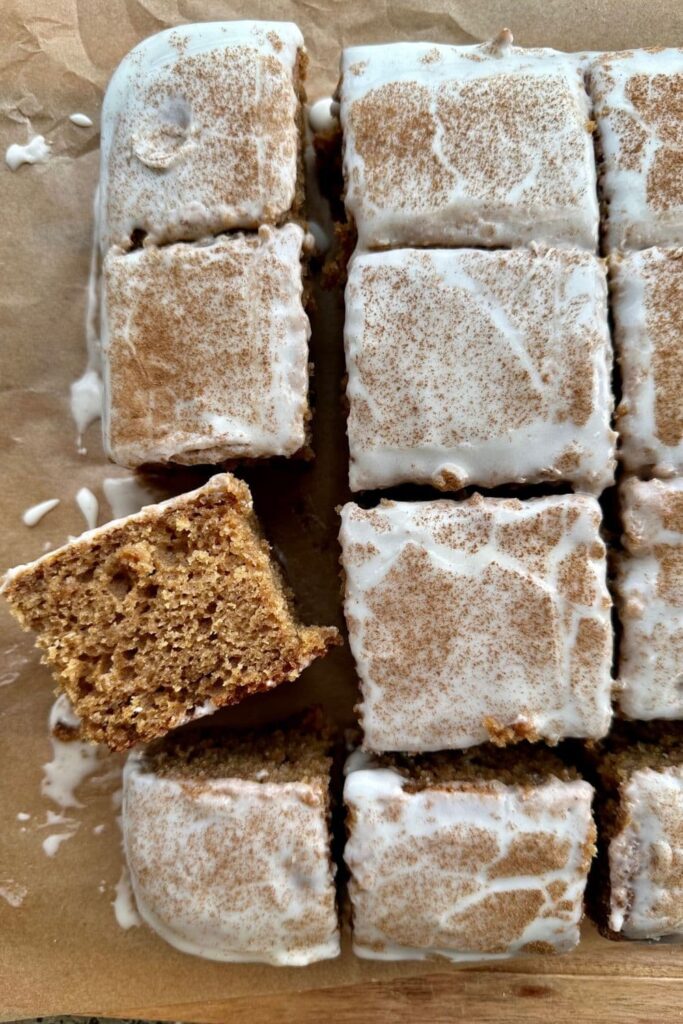 Sourdough Sugar Cookies
These simple sourdough sugar cookies can be baked and decorated for any occasion. They're perfect for Christmas, Valentines or Easter ... or anything you can think of! The dough can be fermented for up to 48 hours, or used after just an hour in the fridge.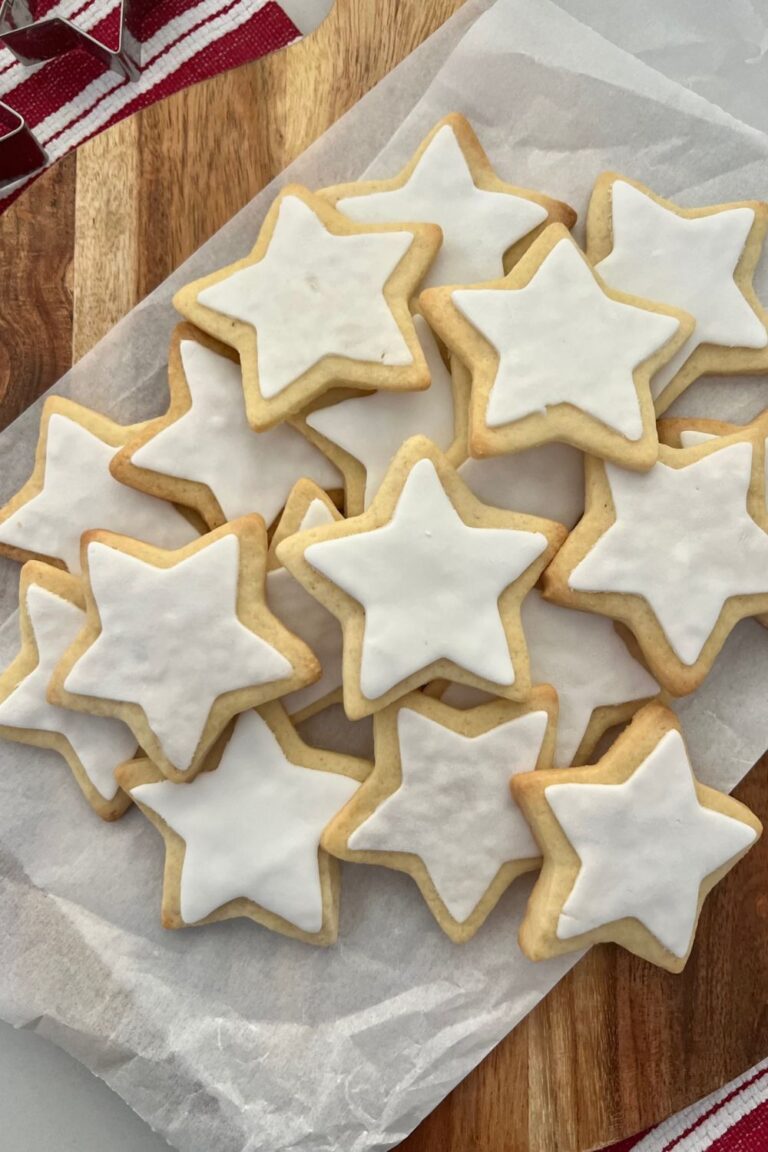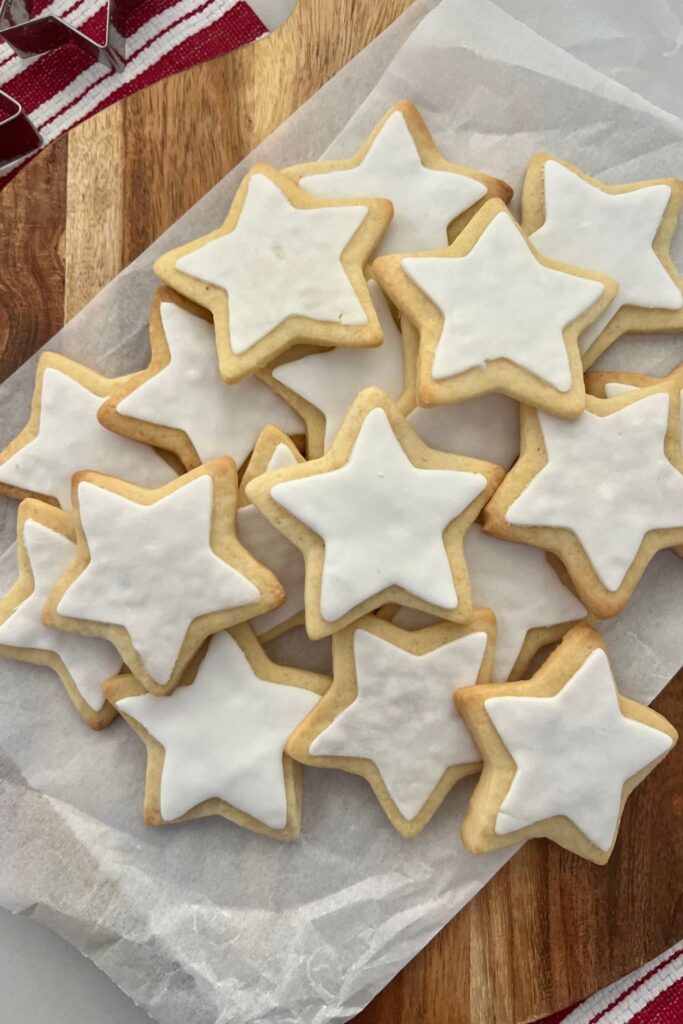 Sourdough Anzac Biscuits
Anzac biscuits are synonymous with Australian culture. They have a rich history that lives on, even today. Filled with the goodness of rolled oats, coconut and brown sugar, they make a fantastic snack at any time of day!
These are a great recipe to introduce your kids to baking with sourdough discard.
Sourdough Discard Waffles
You can choose whether to make "no wait" discard waffles, or if you have more time, you could choose to ferment the batter overnight.
Both of these sourdough discard waffle recipes utilise sourdough discard.
Sourdough Gingerbread Discard Recipes
If you love all the flavors of gingerbread, you're going to love making these sourdough gingerbread muffins and sourdough gingerbread cookies with your discard.
Fluffy Sourdough Cinnamon Rolls
You just can't beat a good cinnamon rolls recipe ... unless it's a sourdough cinnamon roll recipe! This recipe allows you to use your sourdough discard to create the loveliest, fluffiest sourdough cinnamon rolls you've ever tasted!
Baked Sourdough Discard Donuts
If you love donuts, you're going to love these baked sourdough donuts. You can easily use sourdough discard for these ones with a little yeast to give them plenty of rise!
You can choose to glaze them or ice them or simply dust them in cinnamon sugar! However you choose to enjoy them, one thing's for sure - you'll be coming back for seconds!
Sourdough Chocolate Chip Scones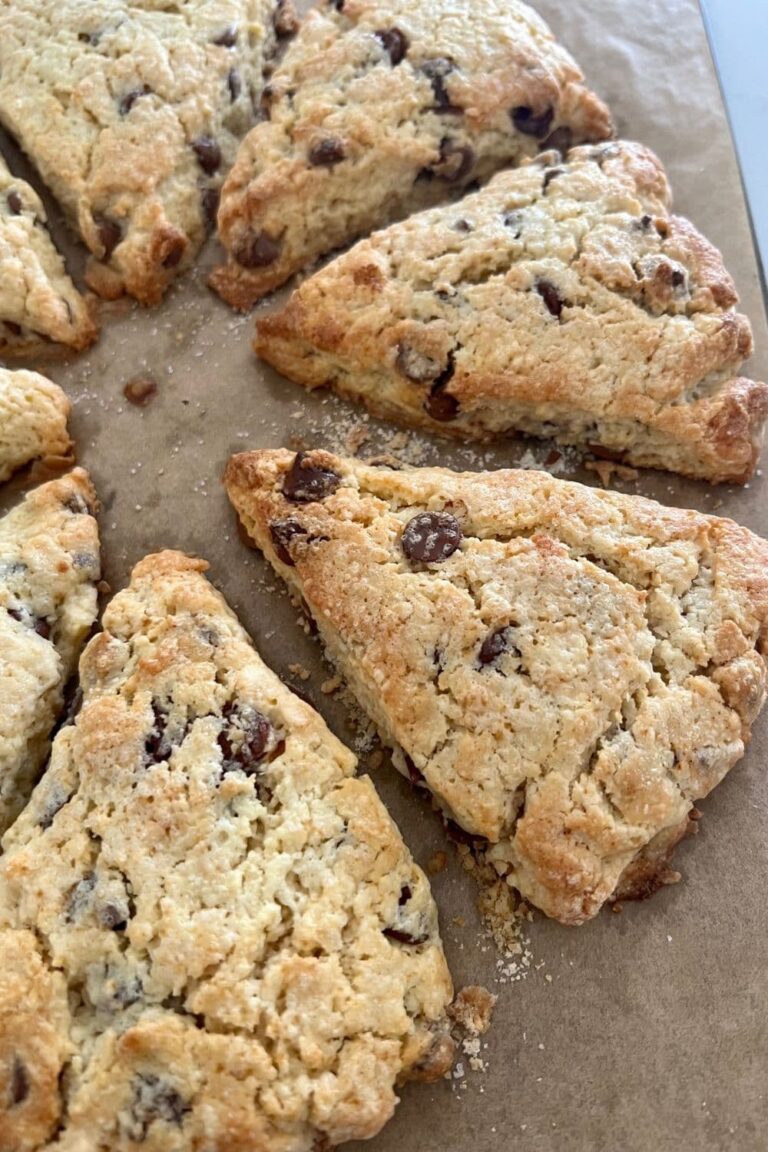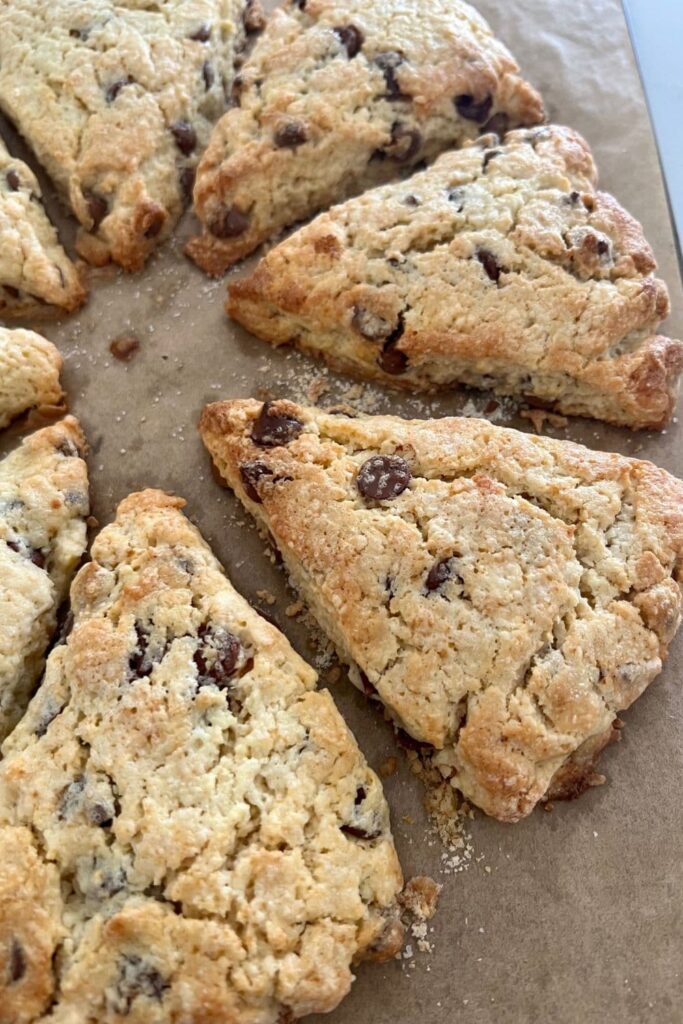 Sourdough Discard Granola
Easily one of the most loved (and visited) sourdough discard recipes on The Pantry Mama site! This recipe can be changed to suit your own personal preferences.
This easy granola can be made in minutes! You can be enjoying all the crunch and delicious flavors of this breakfast treat without breaking a sweat! I've also including lots of different flavor variations too!
The weekend is a great time to make a few batches of this easy sourdough granola so you can not only enjoy a weekend treat, but keep the granola goodness going all week!
It makes a lovely gift in a glass jar and is loved by everyone that tries it!
Sourdough Discard Chocolate Brownies & Blondies
One of the most decadent ways to use up your sourdough discard, these chocolate brownies are super rich and all round delicious!
Pair them with tart raspberries or your favorite vanilla icecream for a sourdough dessert made in chocolate heaven.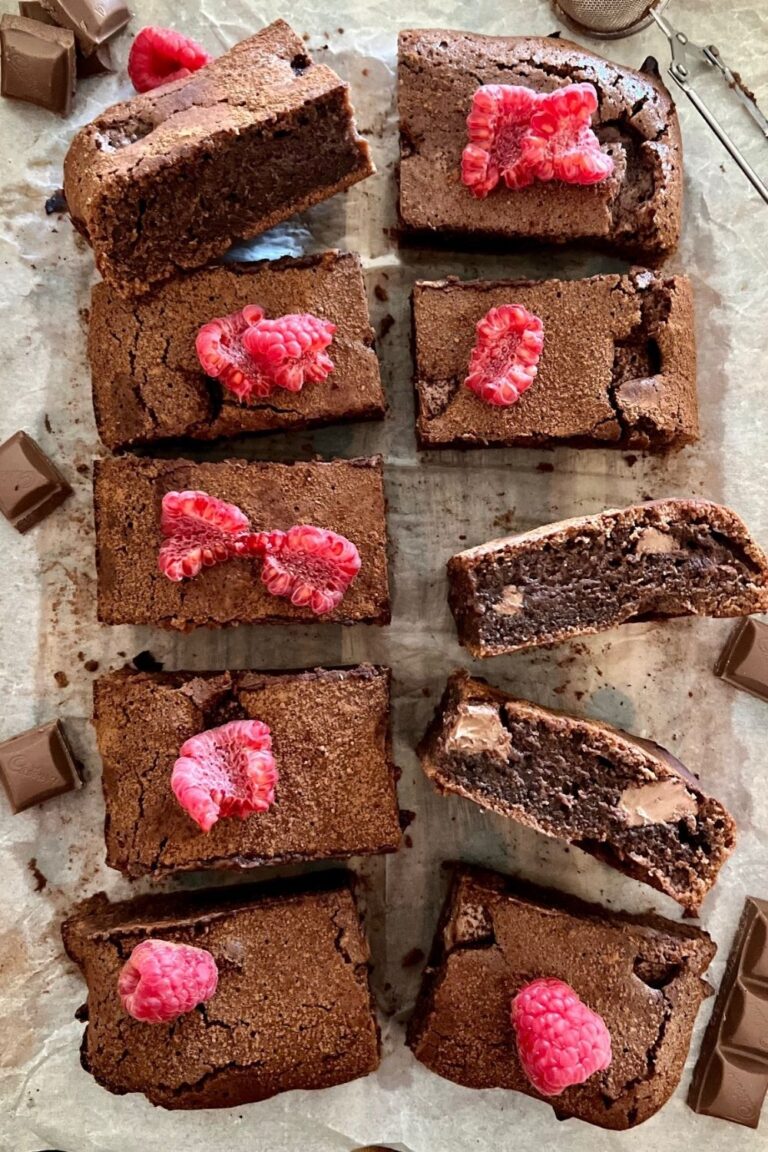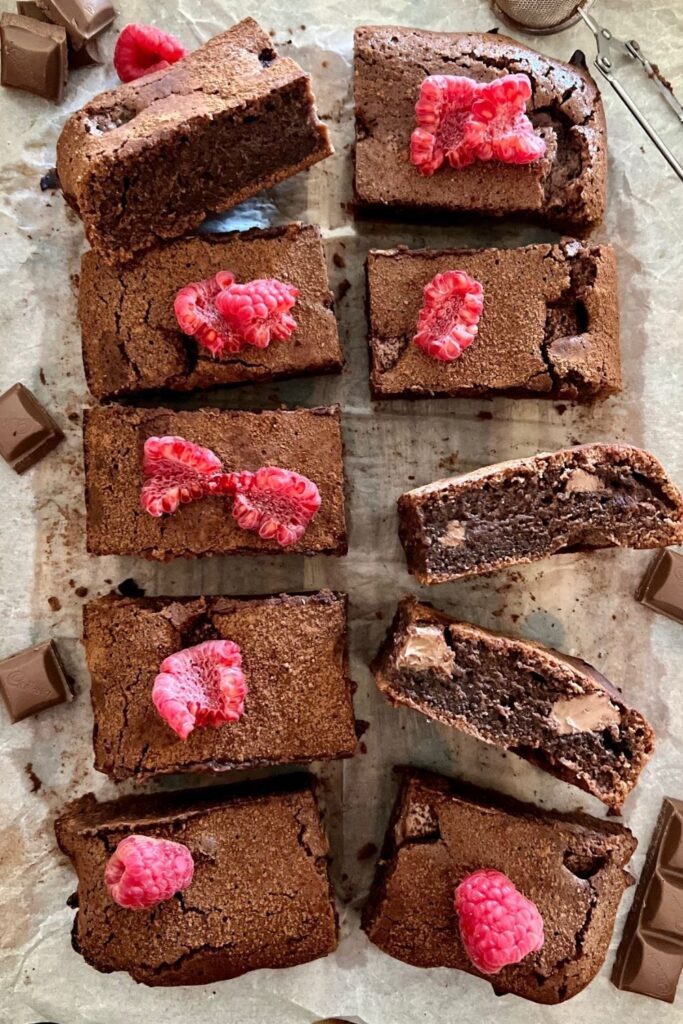 Sourdough Discard Coffee Cake
This simple sourdough coffee cake uses 150g of sourdough discard and is topped with a sweet and crunchy pecan topping ... it's perfect for sharing with friends over a hot cup of coffee!
Sourdough Discard Banana Muffins
Muffins are one of the easiest ways to use up sourdough discard - and these sourdough discard banana muffins are super fast!
I've included 20 different flavor variations in the recipe too!
Sourdough Pumpkin Muffins
These simple sourdough pumpkin muffins are made using sourdough discard and pumpkin puree. You can choose to use canned pumpkin puree if it's easily available, or you can make you own (perfect if you have a glut of pumpkins at the end of summer).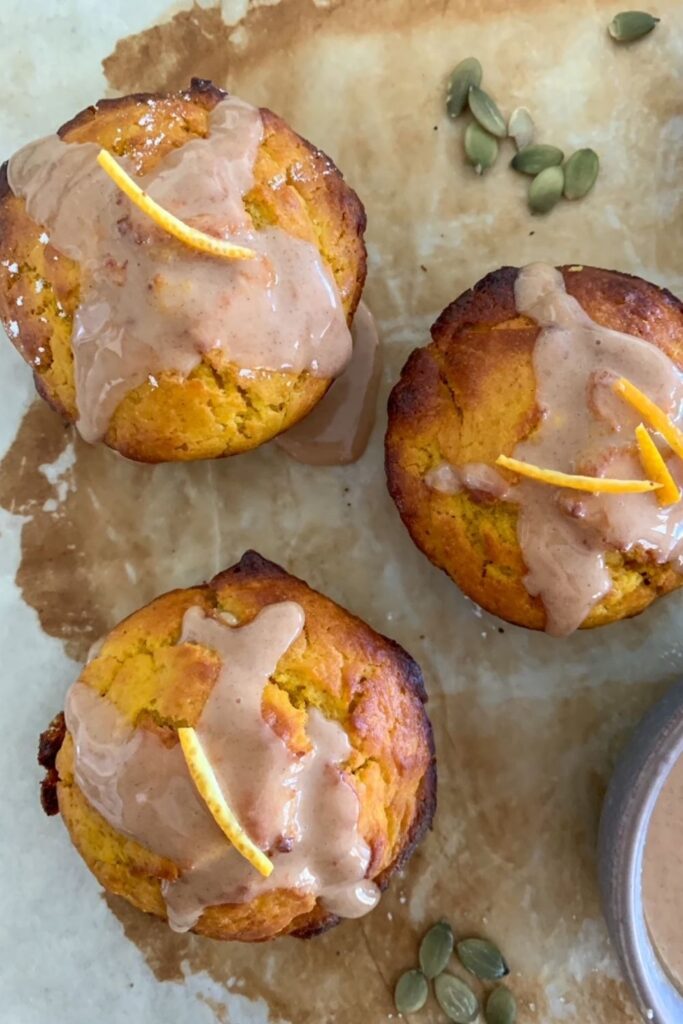 Simple Sourdough Cinnamon Muffins
Sourdough Discard Iced Buns
These delightful sourdough discard iced buns will be a favorite with sweet tooths - young and old! Soft, sweet bread drizzled in sweet icing - perfect for morning tea or a special occasion treat! Lots of fun to bake with the kids in the kitchen too!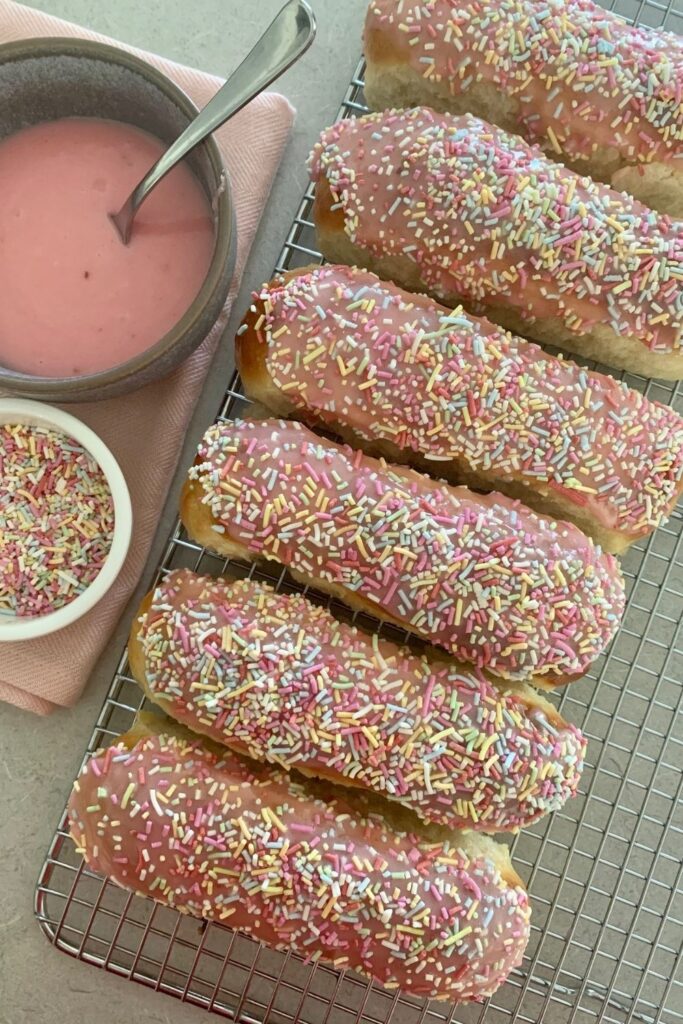 Tangy Sourdough Lemon Muffins
If you love all things lemon, you're going to love these zesty sourdough lemon muffins! Easily made with sourdough discard these light, fluffy muffins make a delicious snack at any time of the day.
Sourdough Discard Apple Cake
This delightful sourdough apple cake is perfect for morning or afternoon tea. A delicious sponge cake topped with apples and toasted almonds. Serve it with a big dollop of sweetened whipped cream for the most delicious sourdough indulgence.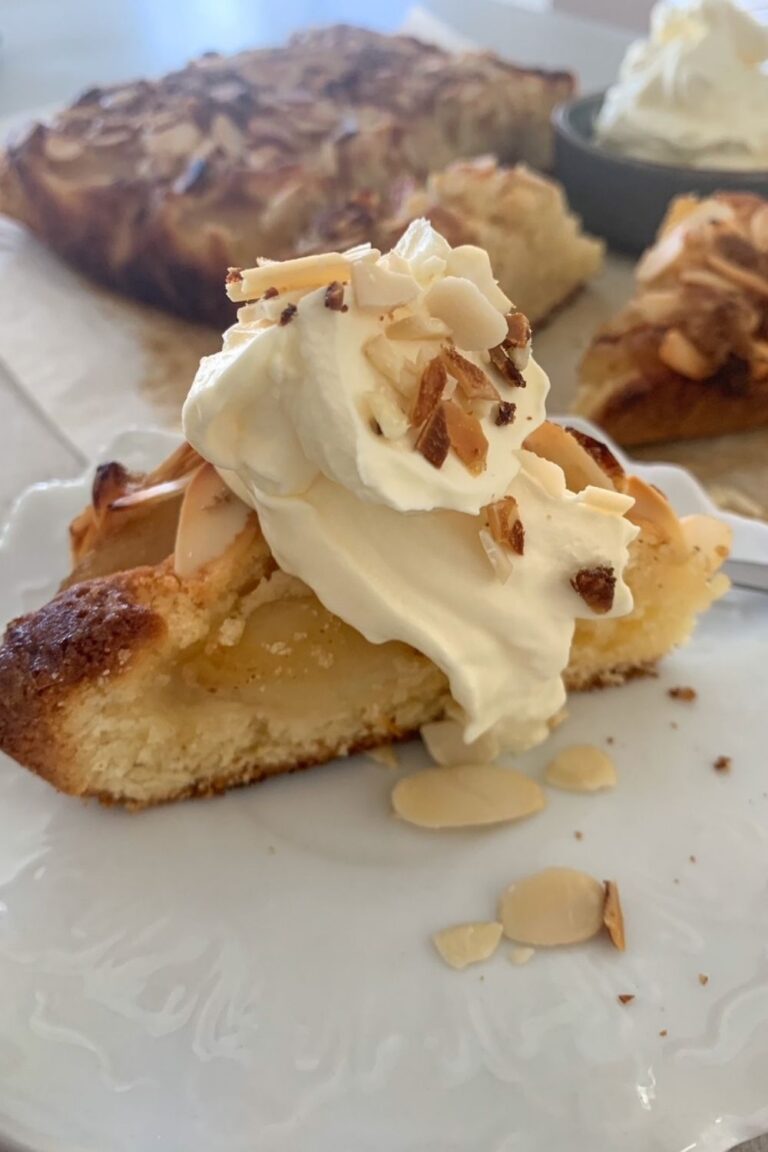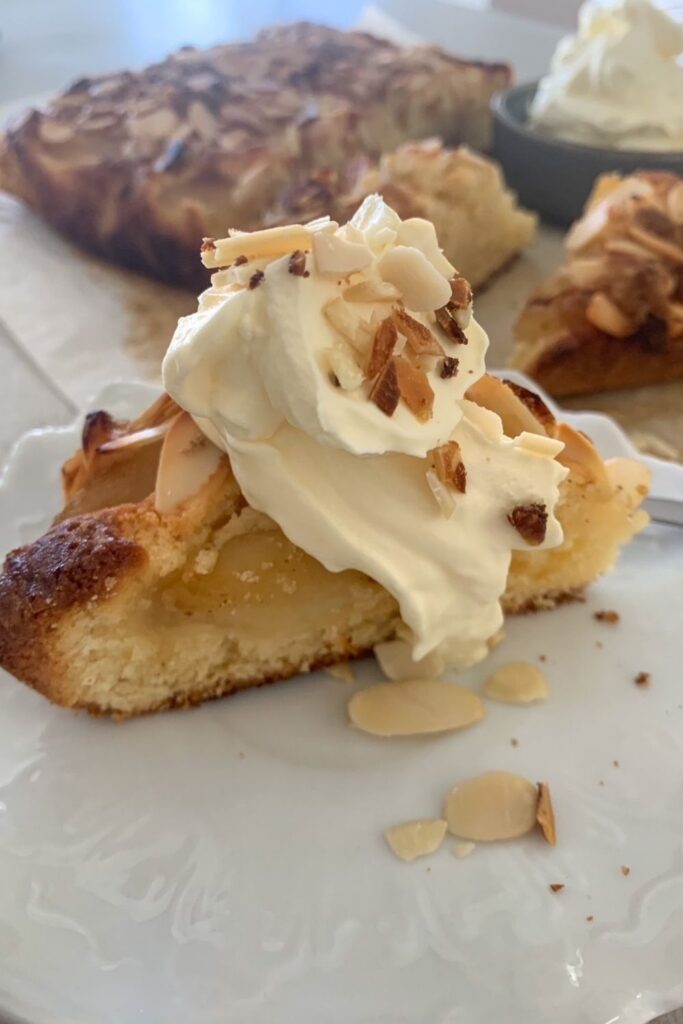 Sourdough Discard Hot Cross Buns
Light, fluffy sourdough hot cross buns made with sourdough discard. You can make this recipe your own by adding the dried fruit and spices you love best!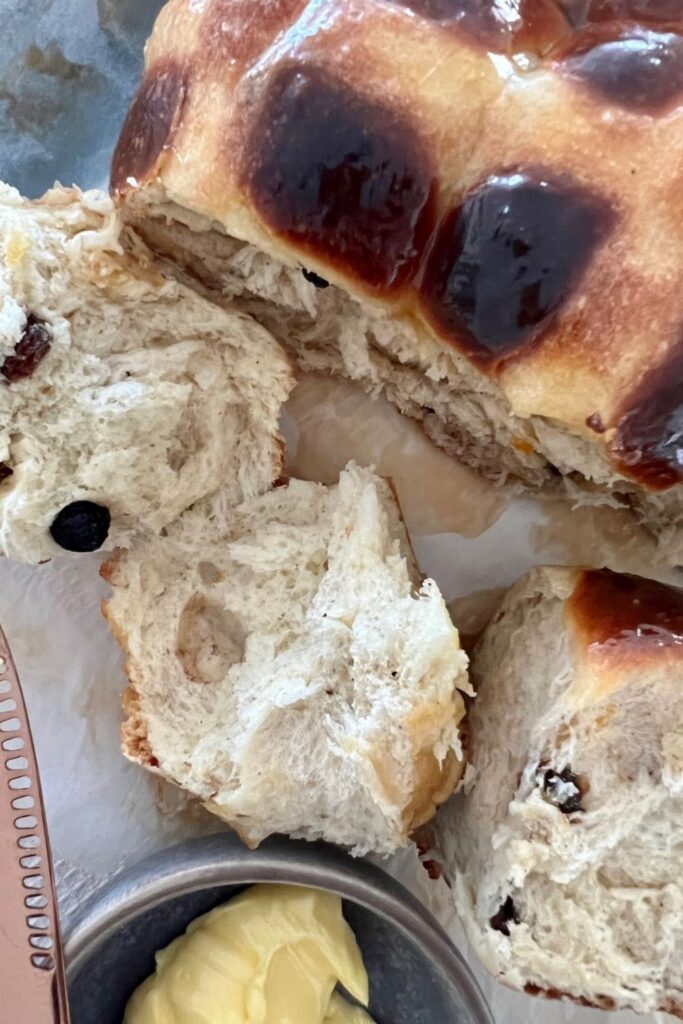 Sourdough Discard Raspberry Muffins
Simple to make, even easier to eat! These sourdough discard raspberry muffins with orange and coconut are an absolute treat to the tastebuds! Use up your sourdough discard to make these delicious muffins today.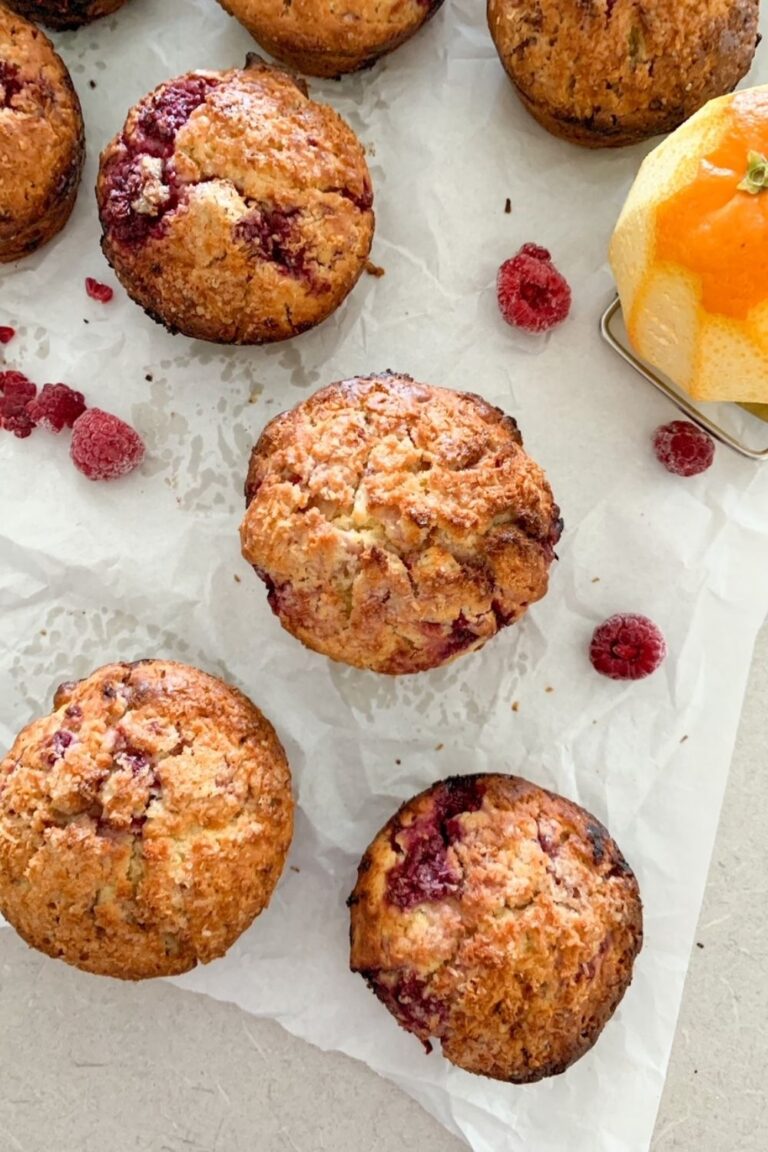 Sourdough Discard Cake with Dates and Lemon Drizzle
Sourdough Apple and Cinnamon Muffins
Deliciously light, moist muffins flavored with apple and cinnamon and the magic of sourdough discard! They are lovely for quick, easy breakfast or simple snack and they even freeze really well too. They are definitely faves in my house - for kids and adults alike.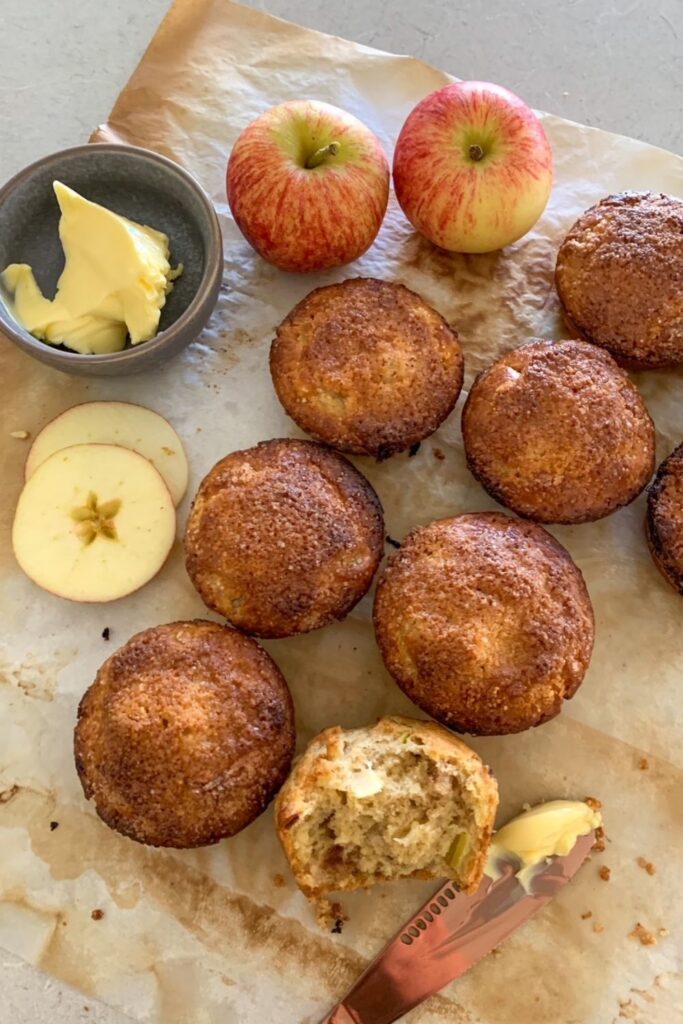 Fluffiest Sourdough Discard Pancakes Ever!
These sourdough discard pancakes are really easy to make and oh so good to wake up to! A hit with young and old, you can top these pancakes with your favorite toppings and enjoy for breakfast, lunch or dinner.
Sourdough Discard Chocolate Chip Cookies
Soft and chewy sourdough discard chocolate chip cookies with a wonderful sourdough tang!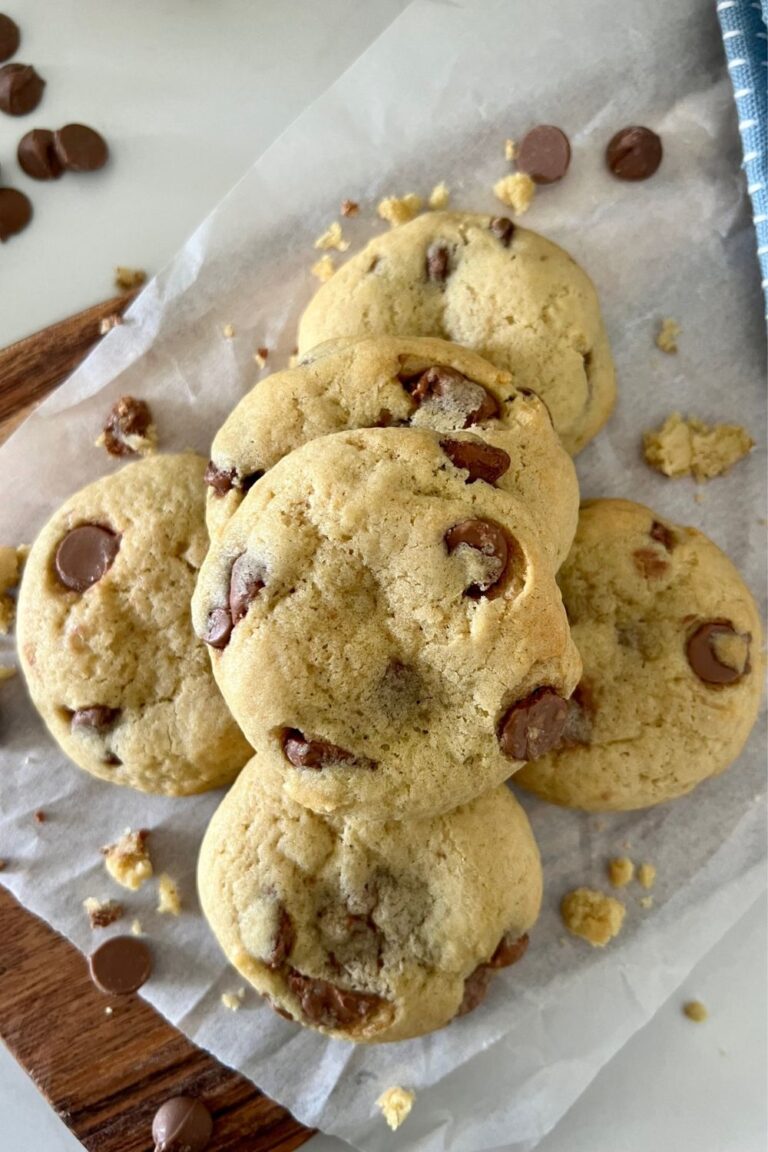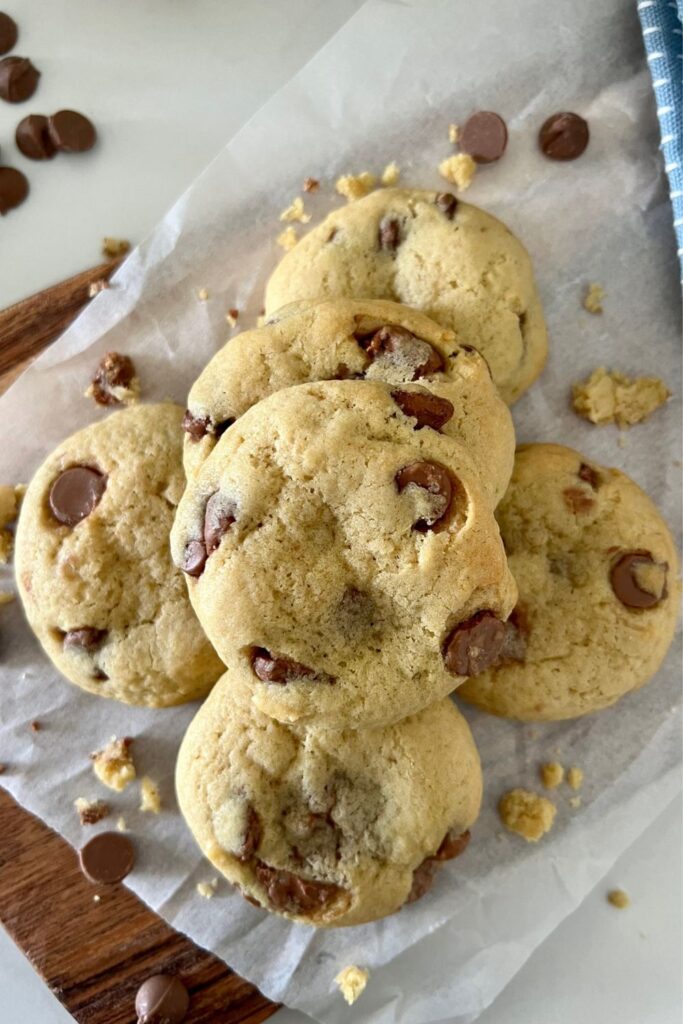 Sweet Sourdough Discard Crackers
Simple, sweet sourdough discard crackers that can be served in so many ways! Perfect with a hot coffee, but even better served with vanilla icecream! Give these a go today!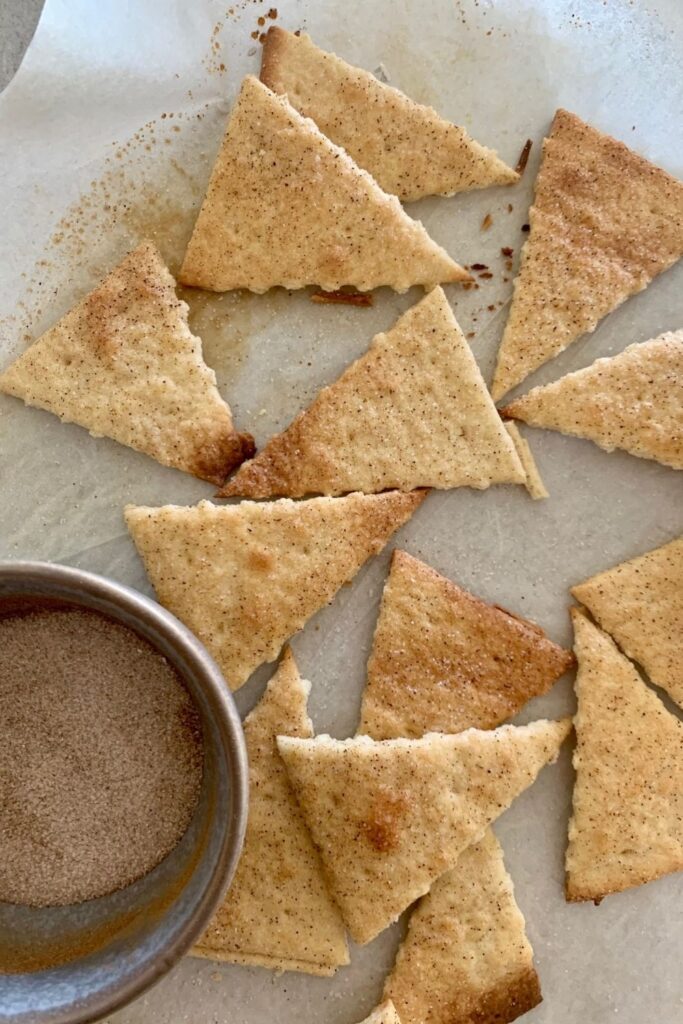 Chocolate Sourdough Discard Loaf
One of the most popular chocolate sourdough recipes on The Pantry Mama site, this chocolate sourdough discard loaf will not disappoint!
You can make it with regular sourdough discard, but it's even better with the discard from a chocolate sourdough starter.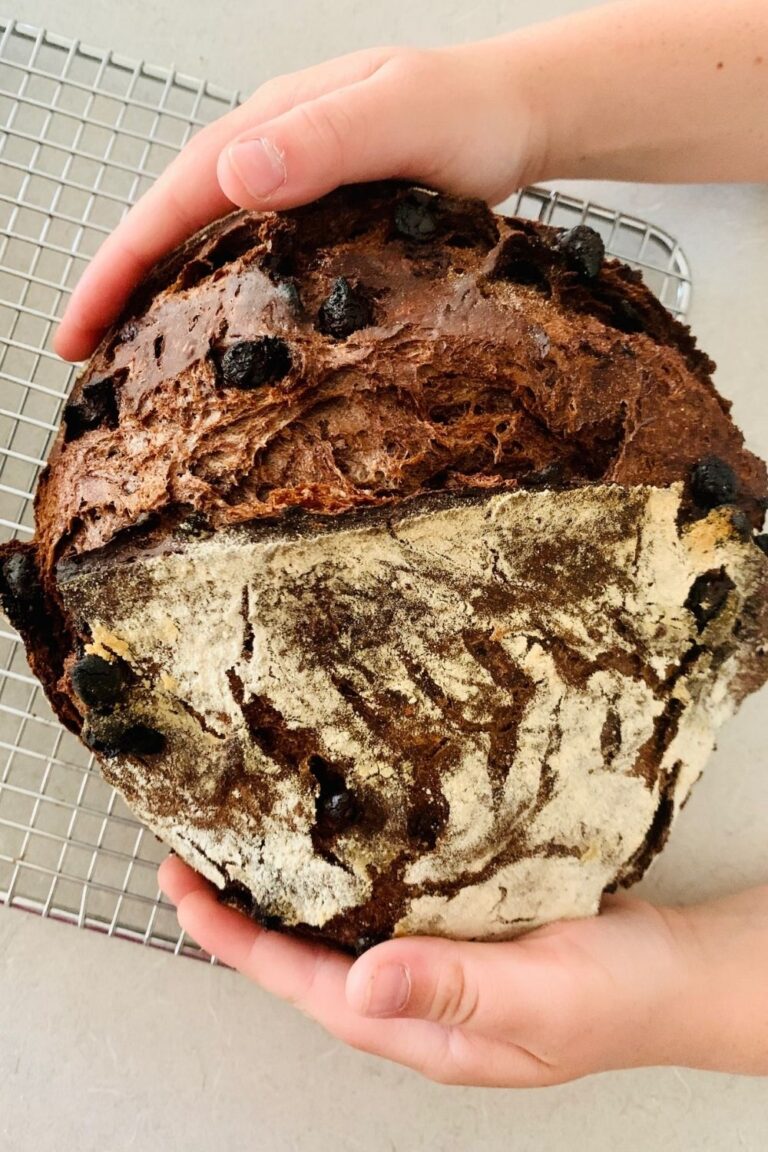 Whole Wheat Sourdough Pancakes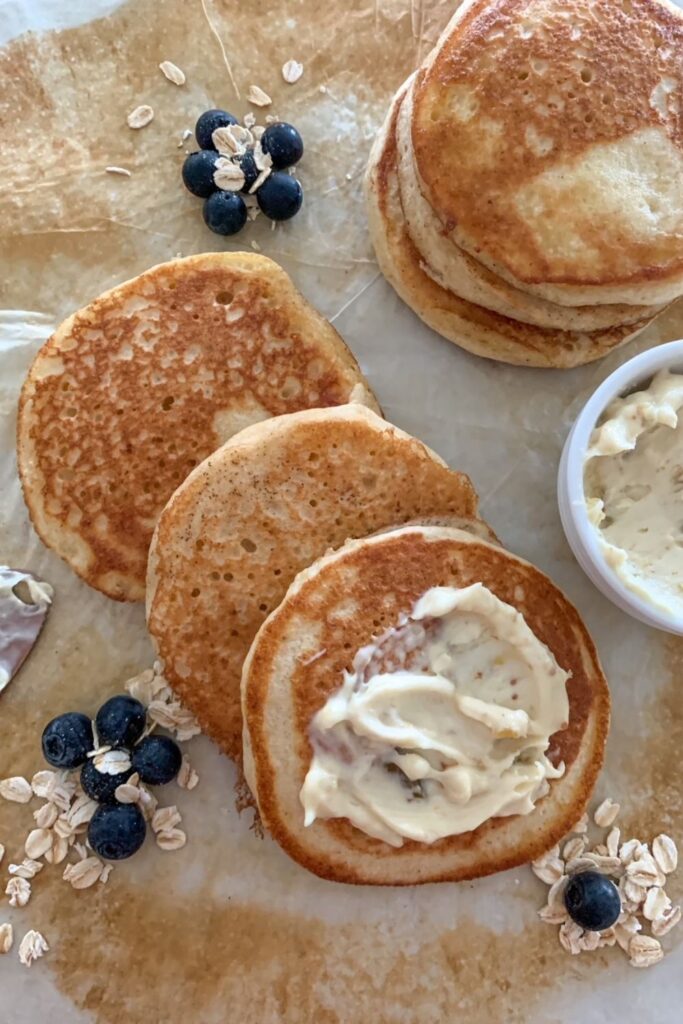 Sourdough Banana Fritters
These delicious, crispy sourdough banana fritters will be something that you absolutely fall in love with. They are oh so simple and only require one bowl to mix the batter! They use 150g of sourdough discard.
Sourdough Biscotti
These crunchy sourdough biscotti can easily be made using 150g of sourdough discard. Add your favorite nuts, dried fruits and spices - YUM!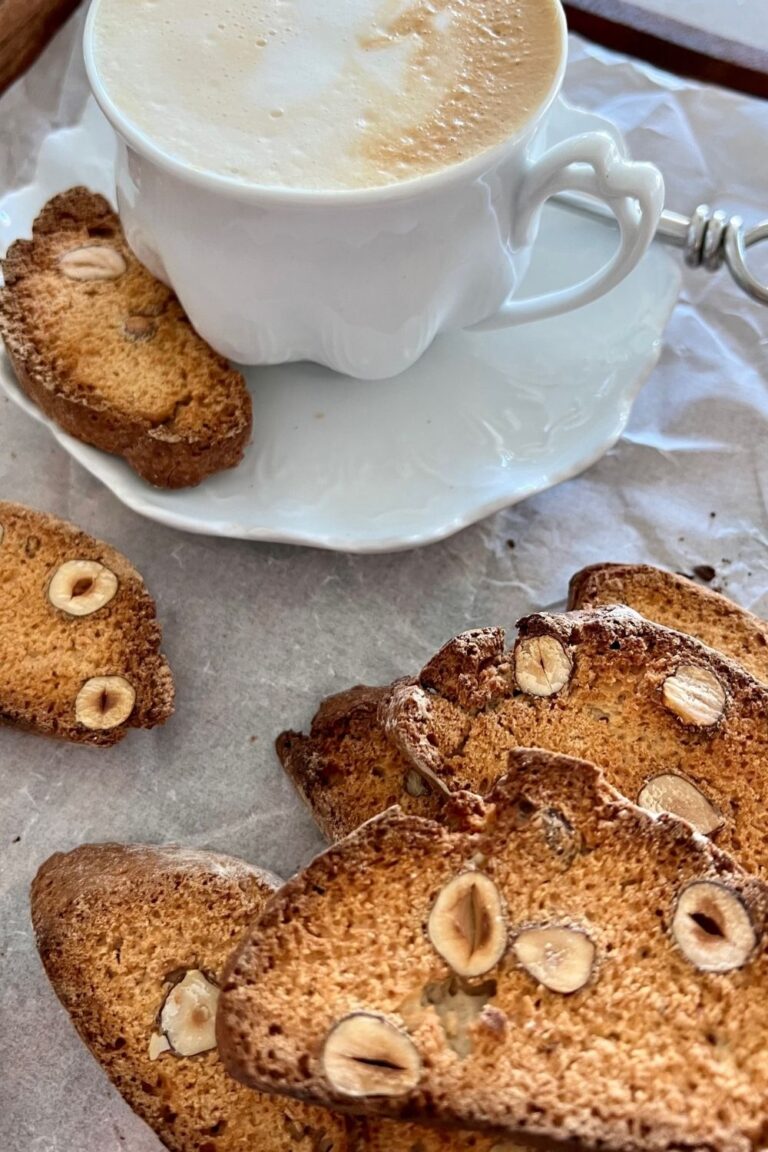 Sourdough Snickerdoodle Cookies
This could be the most fun way to use your sourdough discard ever - sourdough snickerdoodle cookies!! The sourdough discard adds to the signature tang of these famous cookies - and then perfectly offset by lashings of cinnamon sugar. YUM!!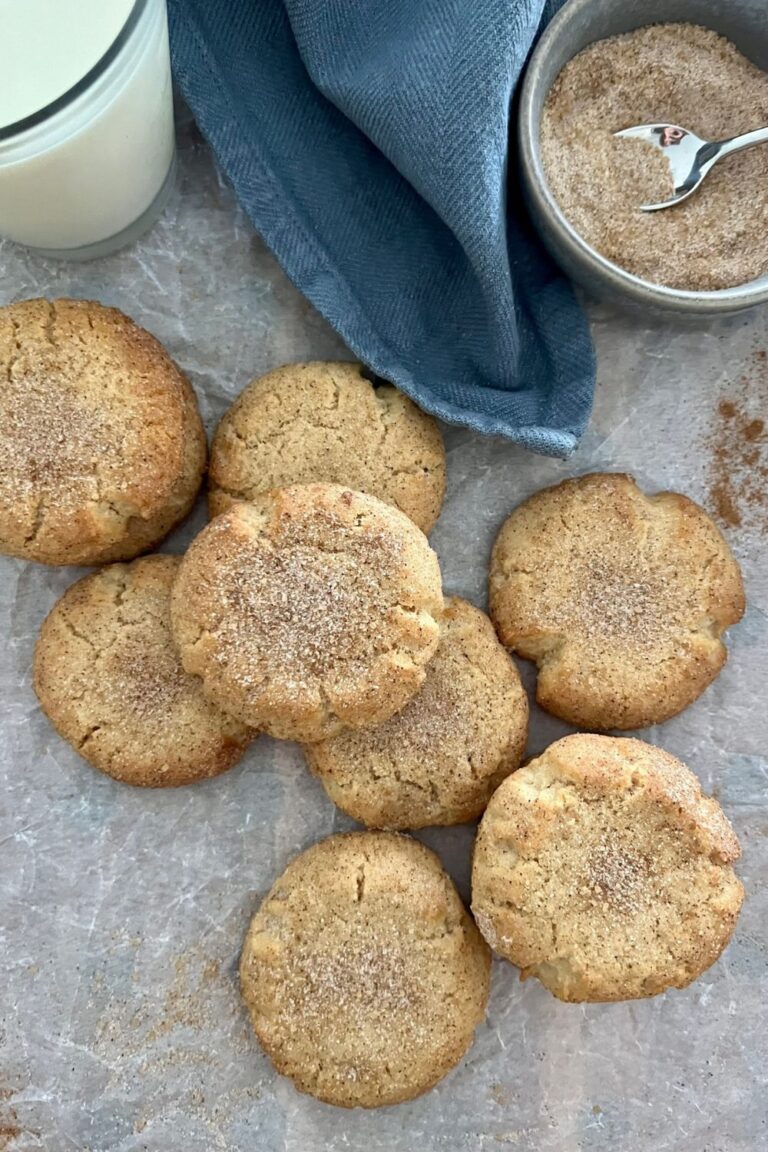 Sourdough Zucchini Bread
Sourdough zucchini bread is a delicious quick bread made with grated zucchini, sourdough starter and warming spices. It's perfect with a cup of tea and a sneaky way to get some green veggies into your kid's diets.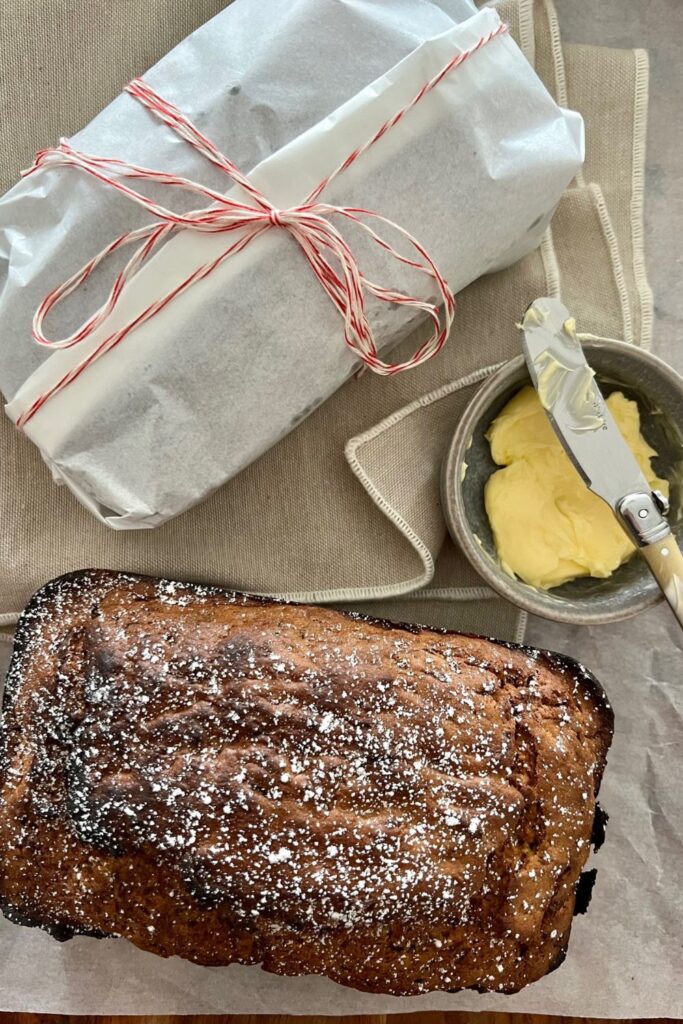 Buttery Sourdough Biscuits
These sourdough biscuits could be listed in savory and sweet because you can eat them either way. They have very little sugar in them ... but can be smothered in homemade butter and sweet jam or used to mop up gravy and sauces - YUM!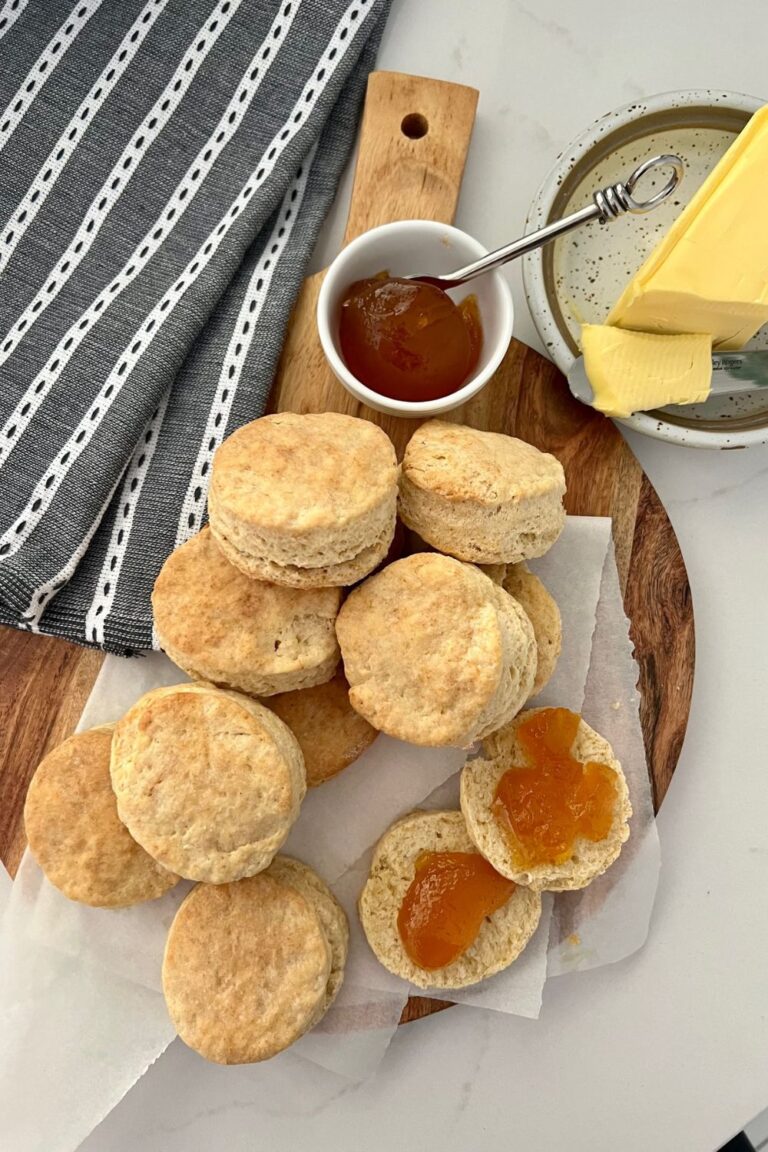 Sourdough Discard Monkey Bread
If you are a cinnamon lover, you're going to love this mouth watering sourdough discard monkey bread. A great pull apart dessert to share with family and friends!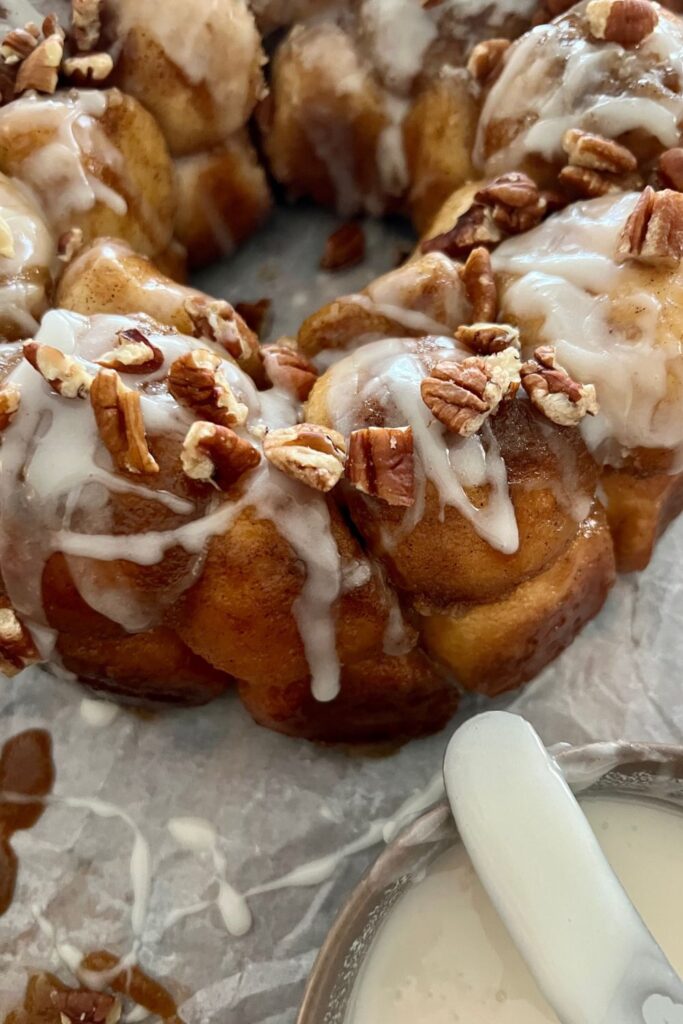 Simple Sourdough Pie Crust
This recipe can be used for a sweet or savory pie! So you only need one pastry recipe for either one -whether it's a delicious apple pie or a savory chicken pot pie, this is your go to recipe.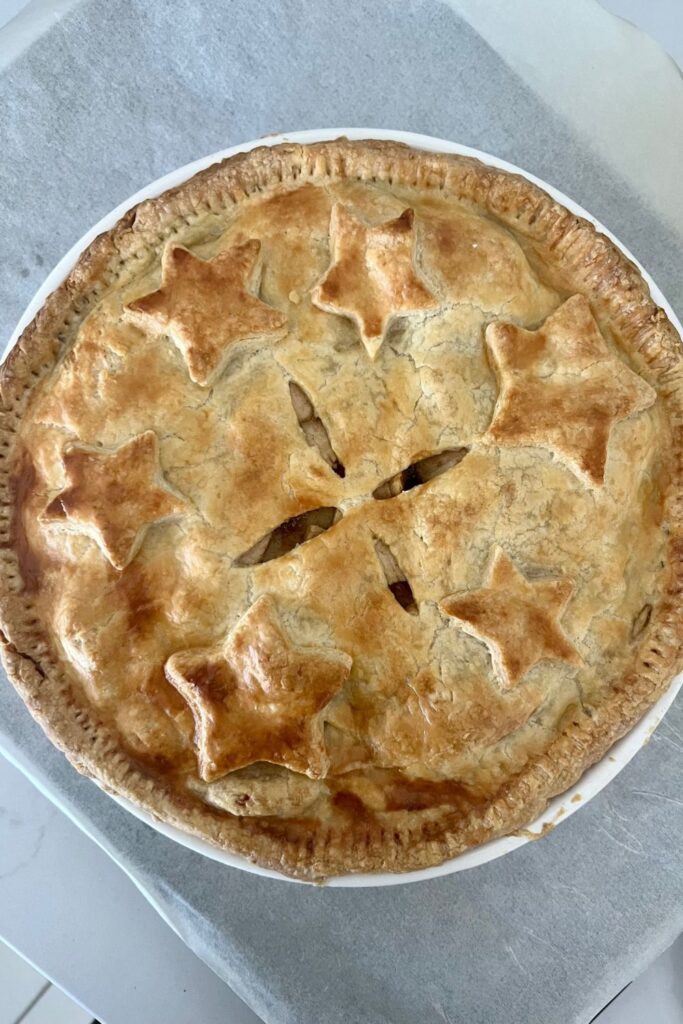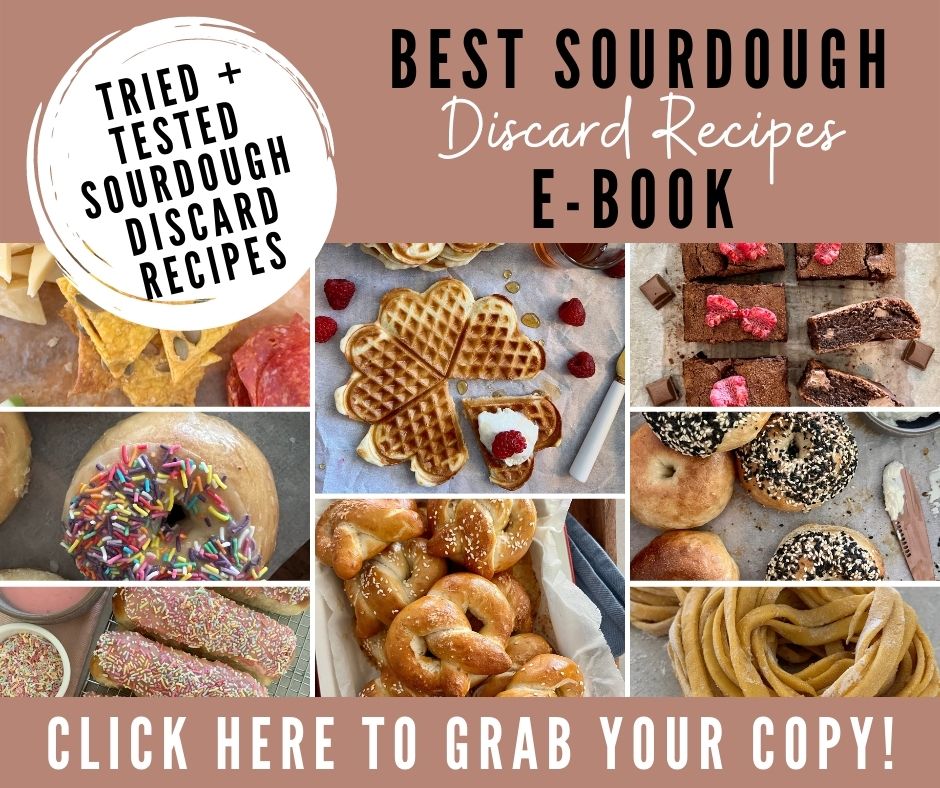 Savory Sourdough Discard Recipes
Sourdough Discard Bagel Recipe
Now this recipe is one you're going to want to try! Sourdough bagels use a fairly stiff dough that's easy to shape. These bagels freeze really well and can be personalised to your taste! They're chewy and full of flavor - you're going to love them, I promise!
Sourdough Discard Pretzel Recipe
This recipe is really quite easy. The dough is just lovely to work with and twisting the pretzels is quite therapeutic! Give this one a try - perfect to share with friends and family over the weekend. You can easily make it with your discard and a little yeast to ensure a great rise.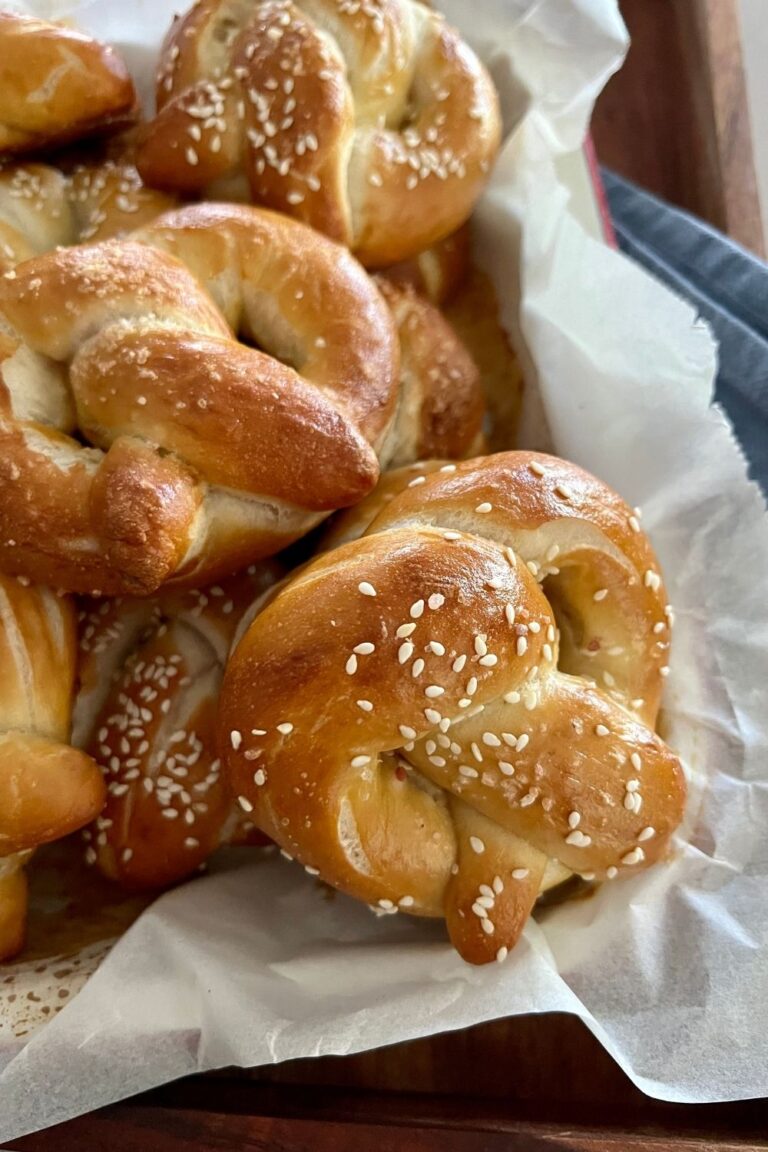 Sourdough Discard Rolls
Soft, squishy sourdough discard rolls that can be made in just a few hours. Bake them in a cast iron skillet for a pull apart effect or bake them as individual rolls in a baking sheet - it's totally up to you 🙂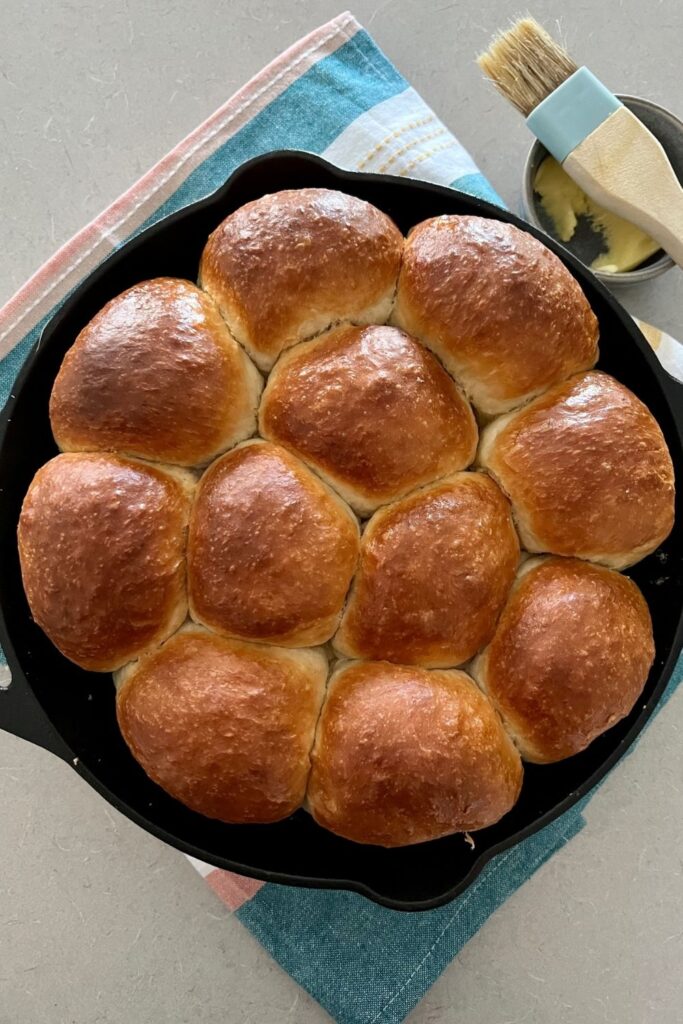 Sourdough Dumplings
Quick, easy and oh so comforting on a cold winter's day, these easy sourdough dumplings are sure to fill hungry bellies.
Sourdough Discard Pigs in Blankets
These delicious little morsels can be made using sourdough discard and a little yeast. You can use any type of sausage you like but I think that little cocktail sausages work best.
Such a fun Super Bowl snack, perfect for kids lunches or a party appetiser!
Sourdough Pane di Casa Bread with Discard
Believe it or not, this recipe uses sourdough discard to create this foolproof loaf that is worth of any table. It's quick to throw together and can be baked in just 2-3 hours. Check it ou!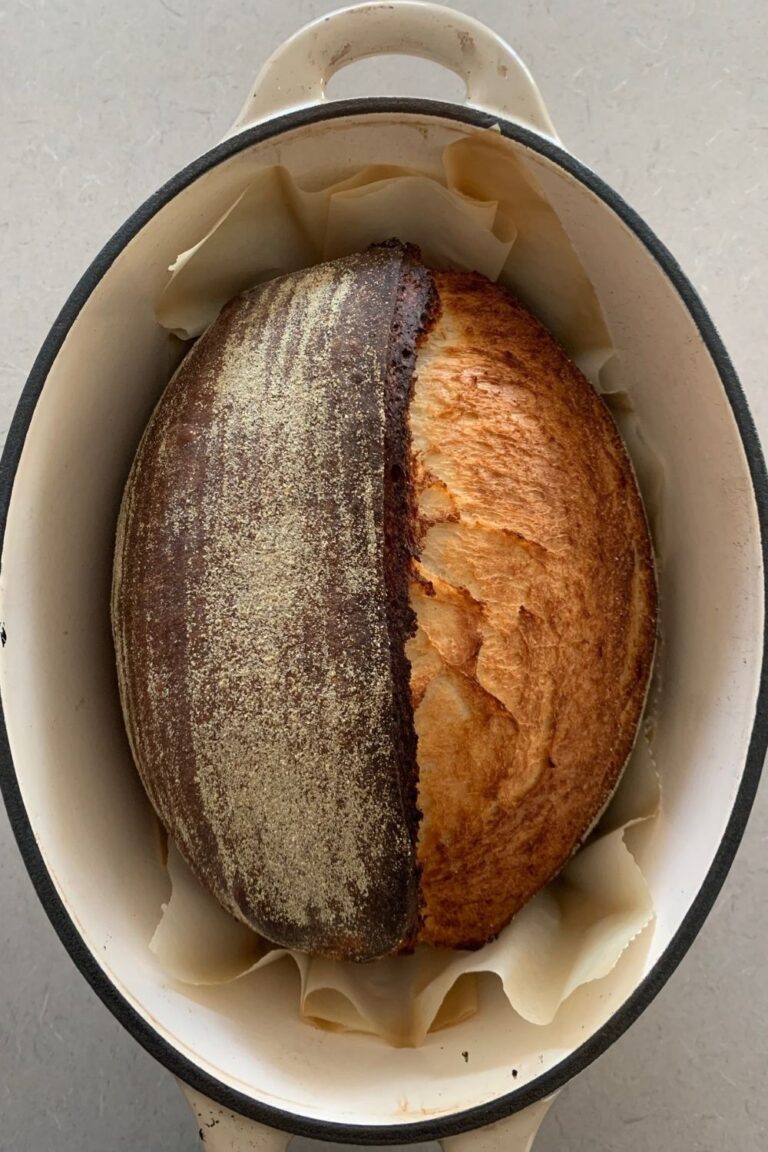 Sourdough Onion Rings
Yes, that's right! You can made onion rings using sourdough discard to make a batter. It's really that simple! You just need to add a few pantry staples to make the crunchiest onion rings you've ever had!
Sourdough Irish Soda Bread
This sourdough Irish Soda Bread can be made with sourdough discard or active sourdough starter in less than 1 hour, making it a fantastic quick sourdough recipe to have in your collection.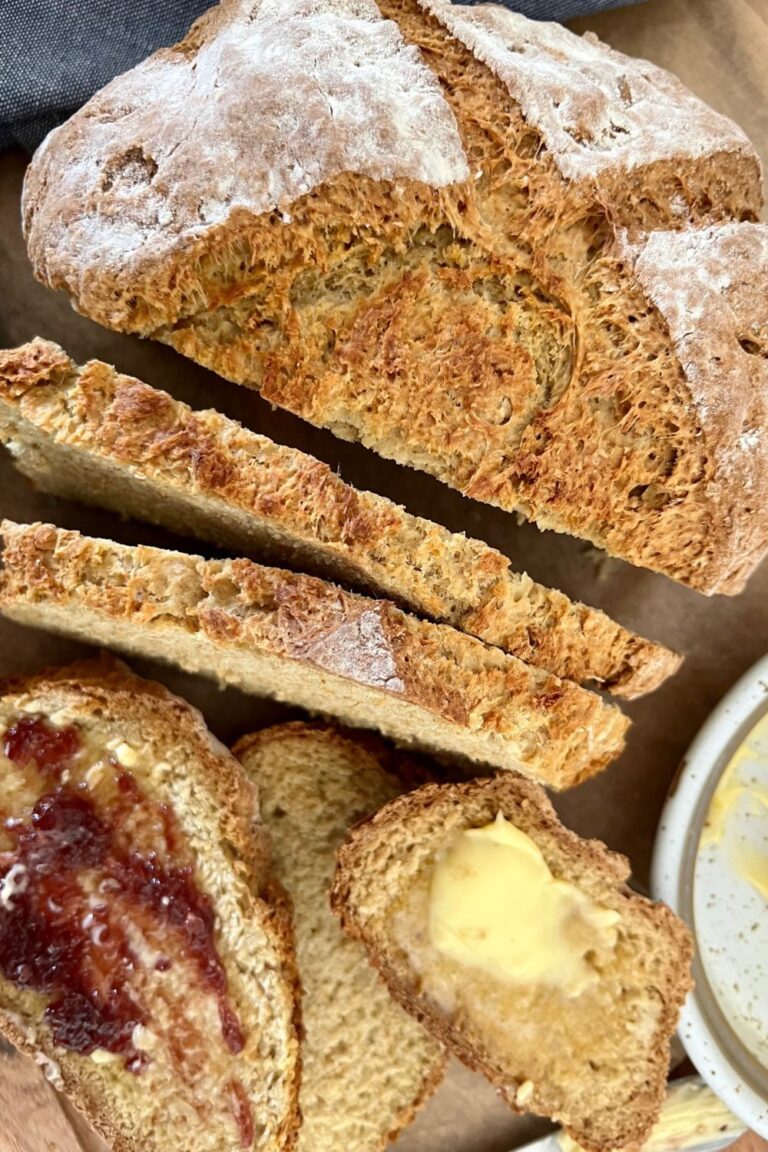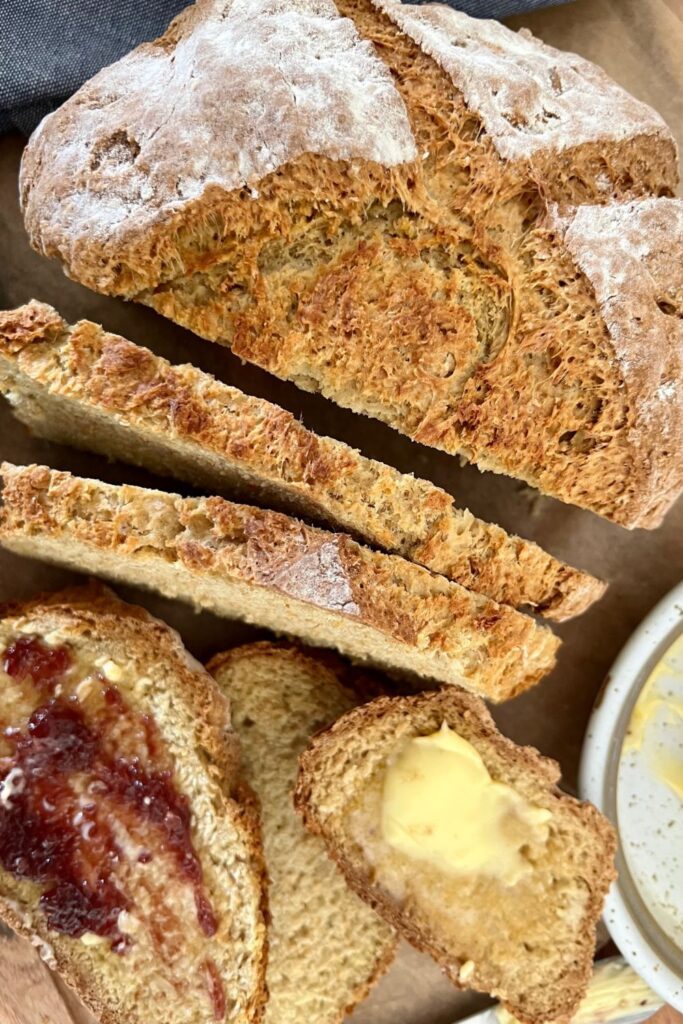 Sourdough Dog Treats
Even your puppy can get something delicious out of sourdough discard. These simple to make sourdough dog treats have been tested by hundreds of pampered pooches who have all given them 4 paws up! Why not treat your doggie today?
Slow Cooker Sourdough Discard Bread Recipe
This simple slow cooker sourdough discard bread recipe is really easy to make and the perfect summer sourdough bread.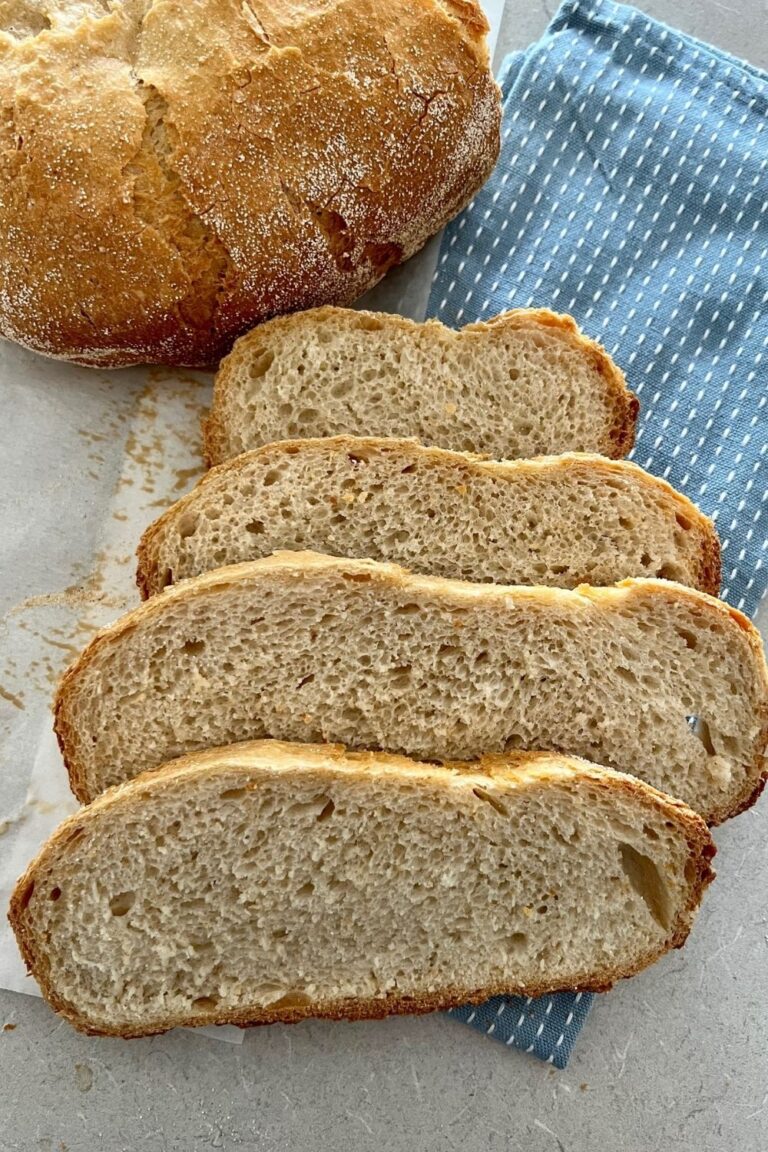 Quick Sourdough Discard Pizza Dough
This quick and easy sourdough discard pizza dough is a great way to use your sourdough discard. You'll find a handy timeline included to make this bake even easier!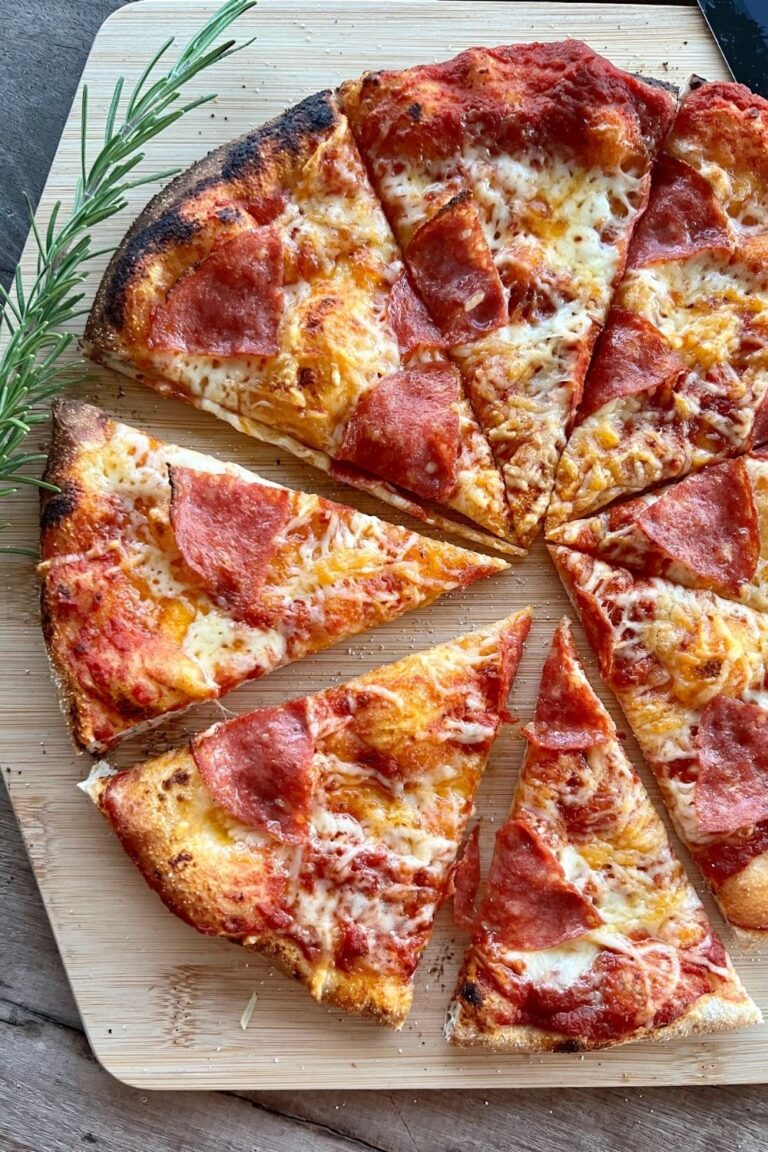 Sourdough Hot Dog Rolls
These soft sourdough hot dog rolls can be made quickly from sourdough discard. You may never have to buy hot dog rolls again! They're perfect for your next grilling session!
Fermented Sourdough Discard Pasta
This fermented pasta dough is really quite easy to mix together. It takes a bit of elbow grease … or you can use a stand mixer! It's a great fun family recipe and the kids can get involved in rolling it out and making fun shapes! You can even freeze it for those busy weeknights!
Sourdough Pumpkin Crackers + Grissini
If you've got some sourdough discard and pumpkin puree that needs to be used up, these sourdough pumpkin crackers and grissini are a great option. Their color alone is so inviting and they really are delicious!
Sourdough Bechamel Sauce
We eat a lot of lasagne in my house and every time I make it, I use sourdough discard in the bechamel (white) sauce. It just adds another flavor dimension and gets a bit of sourdough goodness into literally any meal. You can use sourdough bechamel sauce for so many things too - I've got lots of suggestions in the post.
Cranberry + Pistachio Sourdough Discard Lavosh
These festive crackers can be served as sweet or savory, making them super versatile!
With their pops of green and red, they look amazing on a Christmas Charcuterie board, but can be made and enjoyed year round.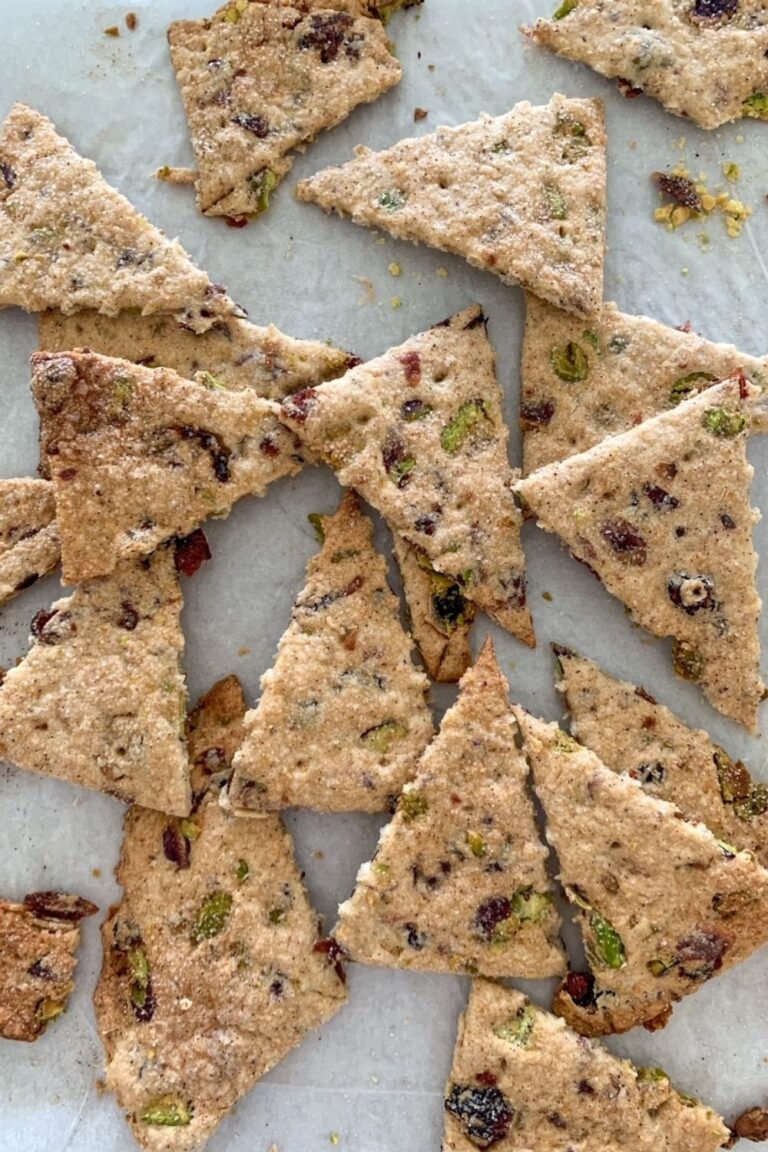 Savory Sourdough Japanese Pancakes - Okonomiyaki
These are my "go to" lunch when my husband is home from work and we need something quick and easy. Honestly, they are so satisfying and couldn't be simpler to make!
Sourdough Discard Naan Bread
Made using sourdough discard, Greek yoghurt and a whole lotta love, these sourdough discard naan breads are just so soft and delicious. They work well with curries and soups, but are also a great pizza base too!
My kids love them with sultanas thrown into the dough. I love them brushed with garlic butter!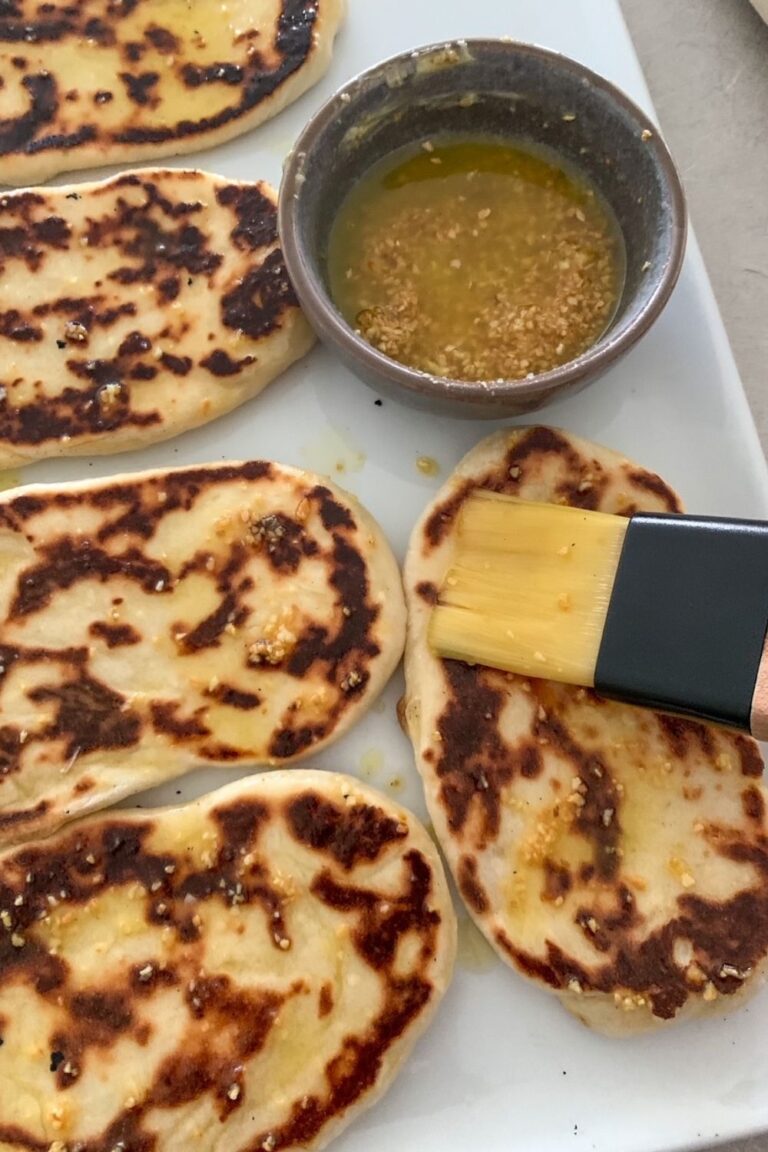 Sourdough Discard Sweet Potato and Chickpea Fritters
I do love a good fritter ... and even better if I can add some sourdough discard! These fritters are absolutely easy to make and taste amazing. They make a great "burger patty" substitute for a veggie burger!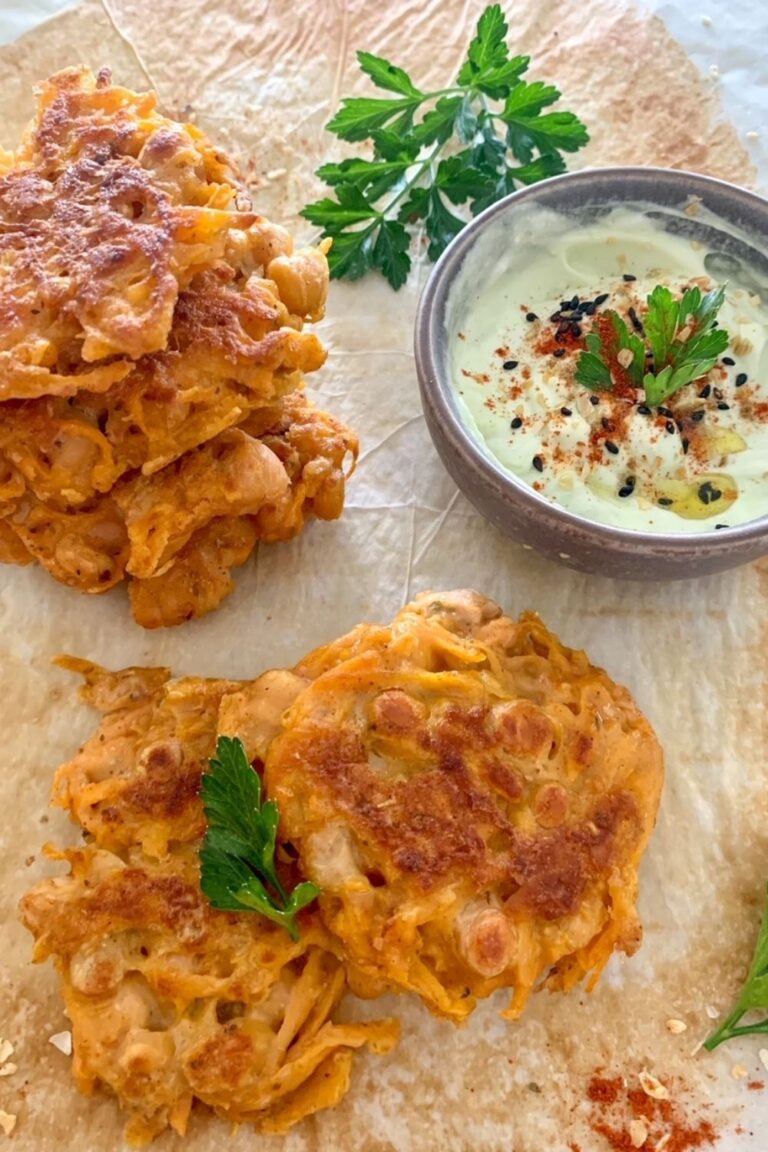 Whole Wheat Sourdough Discard Sandwich Loaf
A great recipe using some whole wheat flour to get that extra goodness in when you need to. This sourdough discard sandwich bread is soft and squishy - perfect for sandwiches.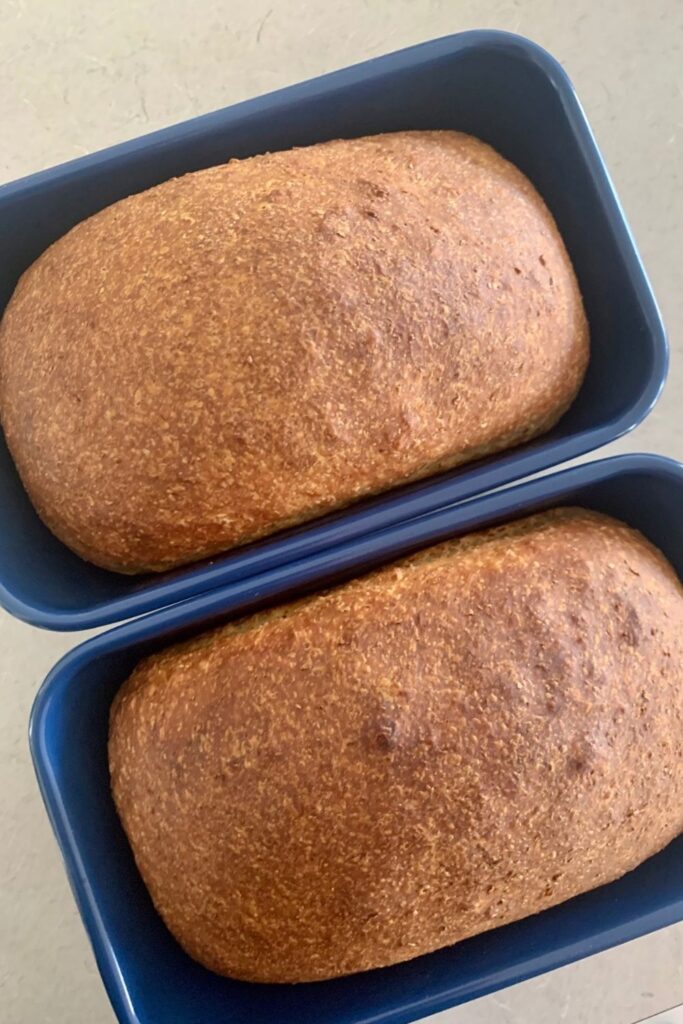 Sourdough Discard Grissini
Sourdough grissini are such an elegant way to use up your sourdough discard. They look fantastic on a charcuterie board and can be served for so many different occasions.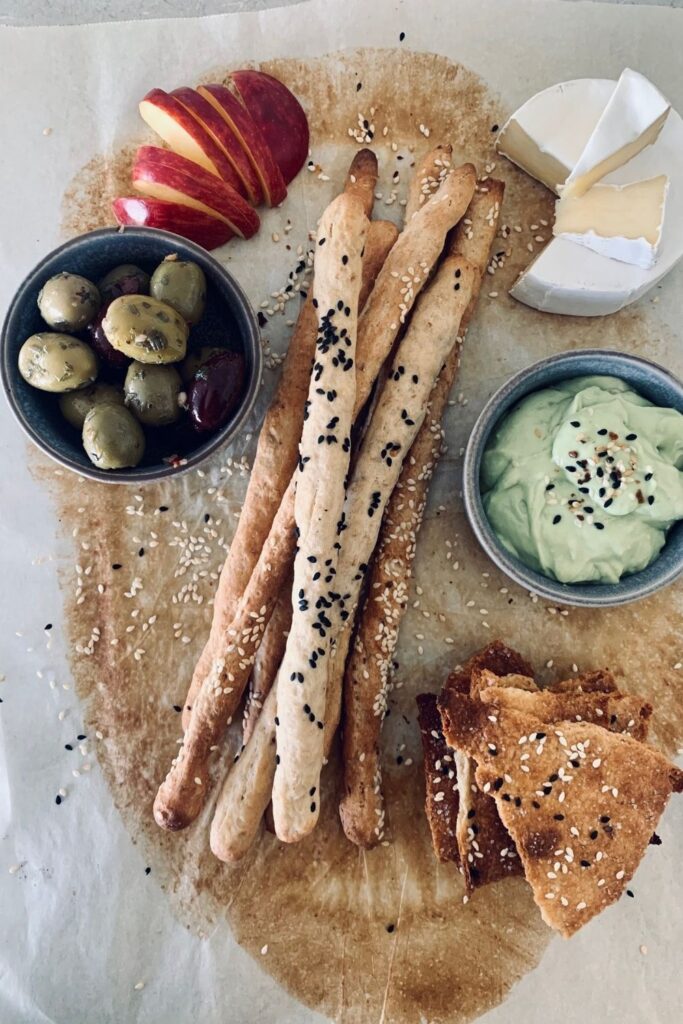 Whole Wheat Sourdough Discard Lavosh Crackers
Sourdough Discard Crackers with Jalapeño Cheddar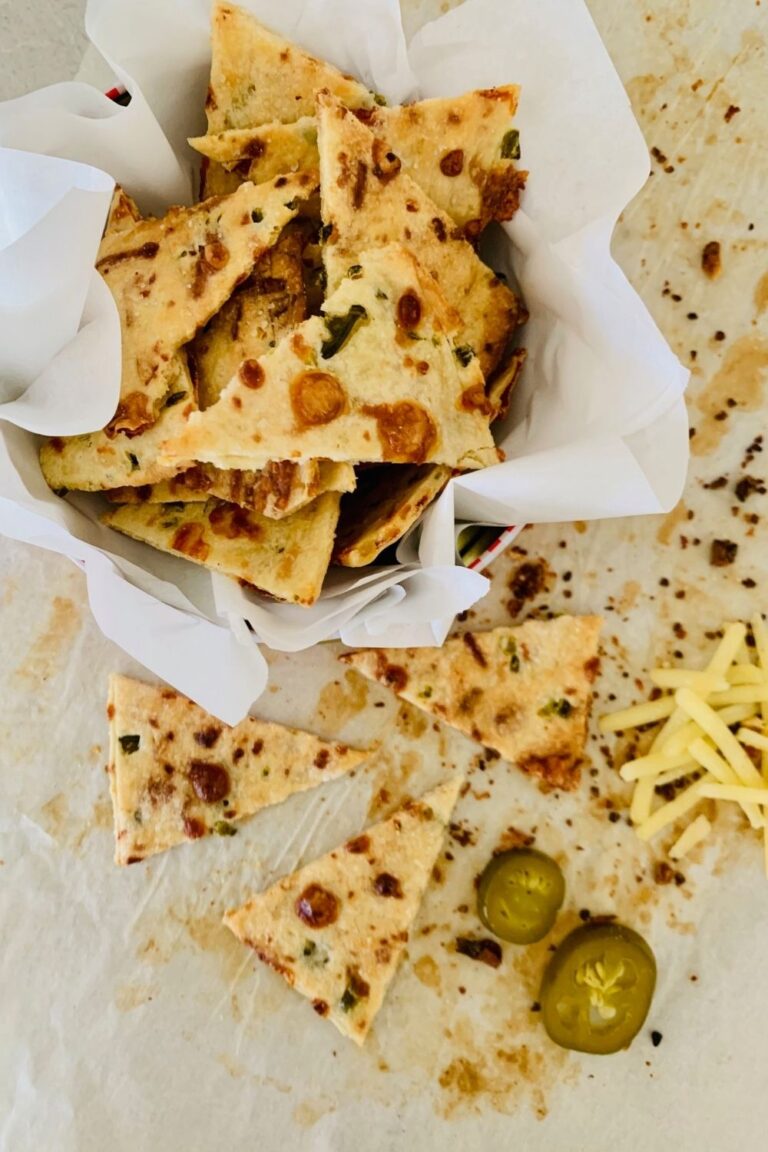 Sourdough Discard English Muffins
These delicious Sourdough English Muffins can be made using discard and yeast. They are oh so versatile and can be used for breakfast sandwiches, mini pizzas or even frozen too. Give the a try - you won't be disappointed!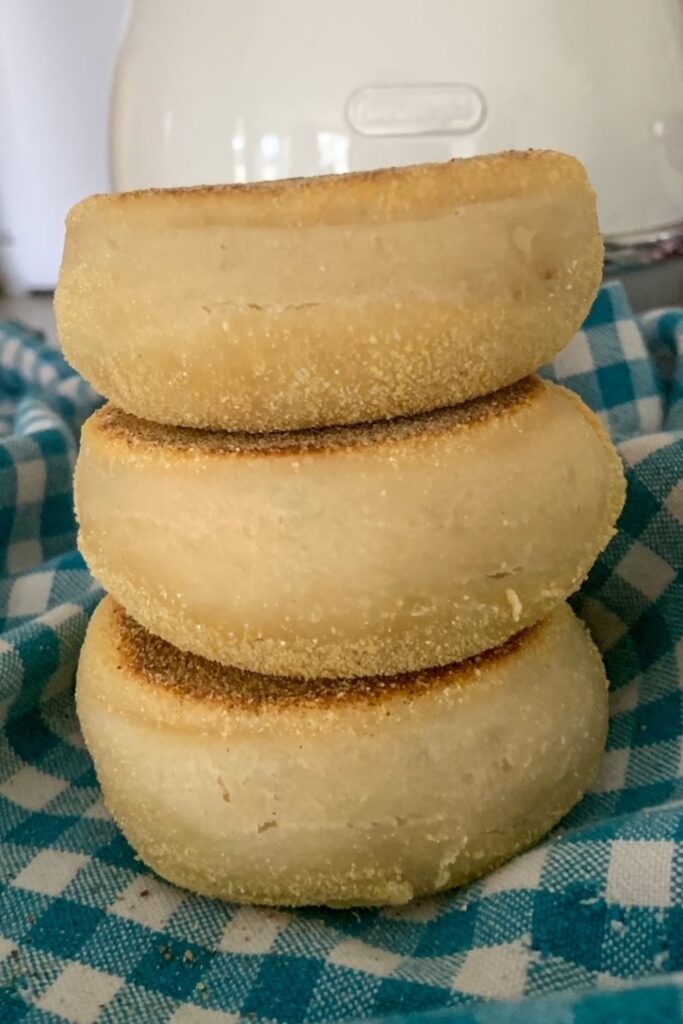 Quick Sourdough Popovers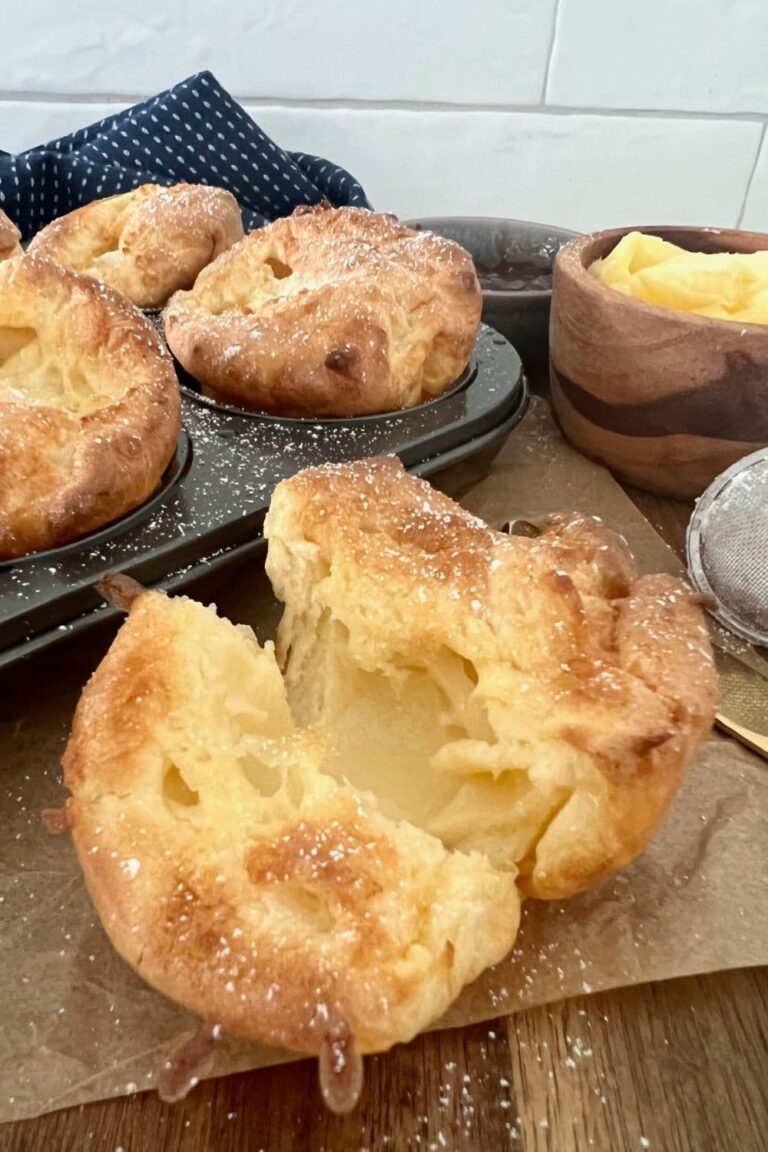 Easiest Sourdough Discard Bread Ever!
Seeded Sourdough Discard Crackers
Full of seedy goodness, these sourdough discard crackers can be made with whatever seeds you have on hand. They make a lovely accompaniment for your fave dips or even guacamole.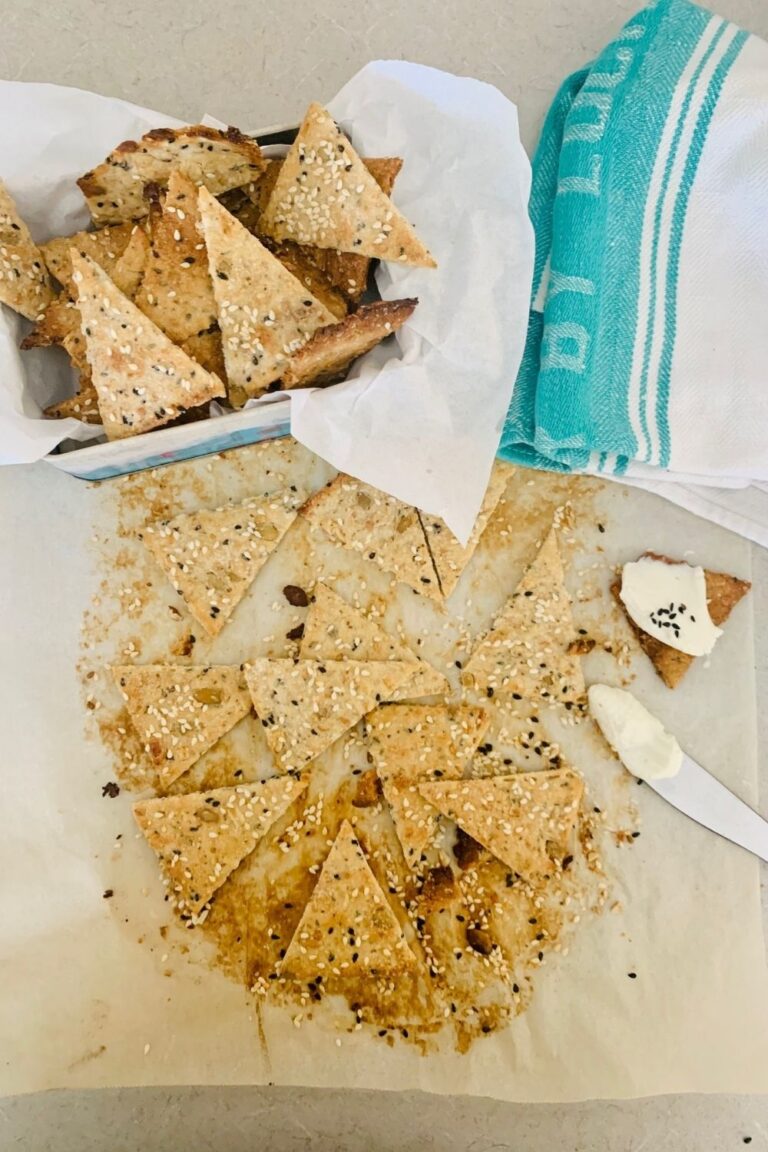 Sourdough Discard Crackers with Rosemary and Parmesan
These crackers are just oh so easy … but you're going to have to make a triple batch because they will literally disappear! I love making these for any occasion. You can mix up the flavor profile, but my favorites are always rosemary and parmesan. YUM!
Sourdough Discard Hamburger Buns
Make them big, make them small … just make these ones! These brioche style hamburger buns get rave reviews from everyone that makes them! They're seriously that good. Go on, you know you want to!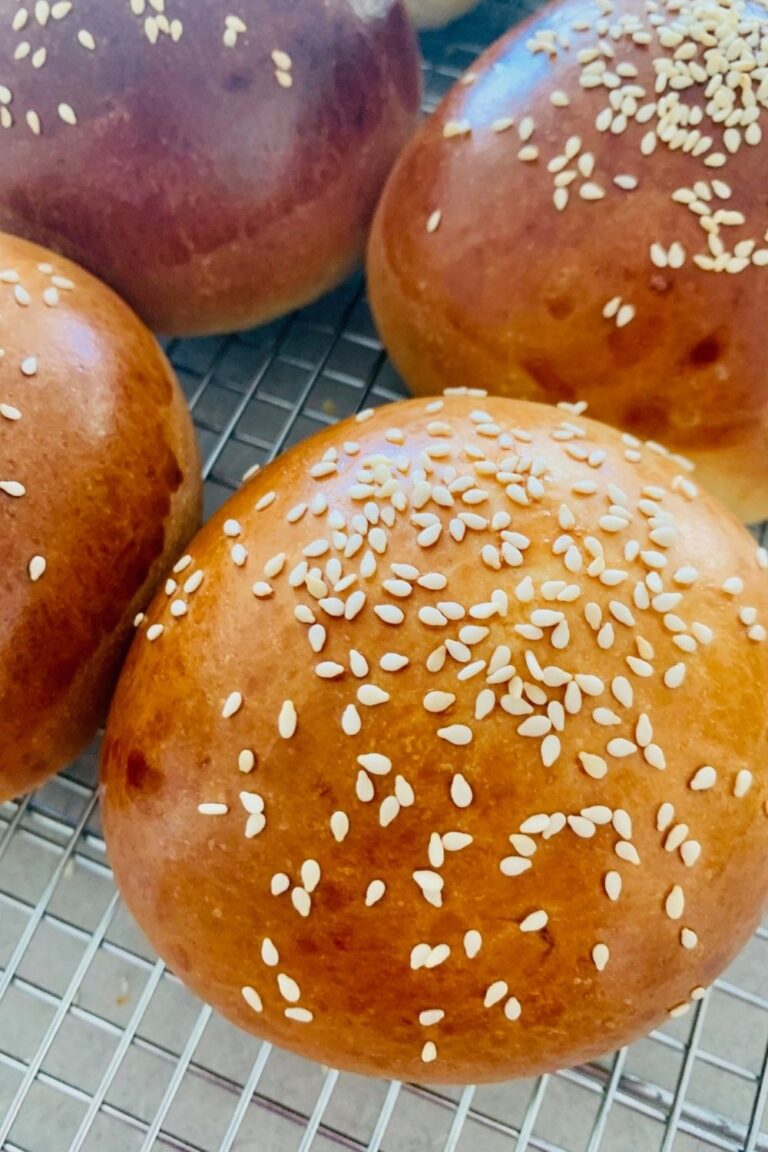 Sourdough Discard Zucchini Fritters
These zucchini fritters are just sooooo easy but oh soooo tasty! They use sourdough discard to bind them together and they really are delicious and nutritious! Great for an easy lunch or supper!
Sourdough Discard Bread Machine Recipe
If you've got a bread machine hiding at the back of the cupboard, why not give this sourdough discard bread machine recipe a whirl! It's a really easy way to make a loaf of bread for your family with minimal fuss!
Sourdough Discard Garlic Bread Bites
Sourdough garlic bread bites can easily be made with sourdough discard. These delightful garlicky morsels pair perfectly with pasta as an alternative to garlic bread!
Sourdough Discard Sandwich Loaf Recipe
This sourdough discard sandwich loaf is the recipe that gets made the most in our Facebook group. It receives hundreds of 5 star reviews every month! If you haven't tried it yet, you've got to give it ago! I promise you'll love it!
Sourdough Discard Zucchini Muffins [with cheese and chives]
These delicious sourdough zucchini muffins made cheese and chives are the ultimate way to use up your summer zucchini. Eat them warm or cold, they make a great lunch or savory snack!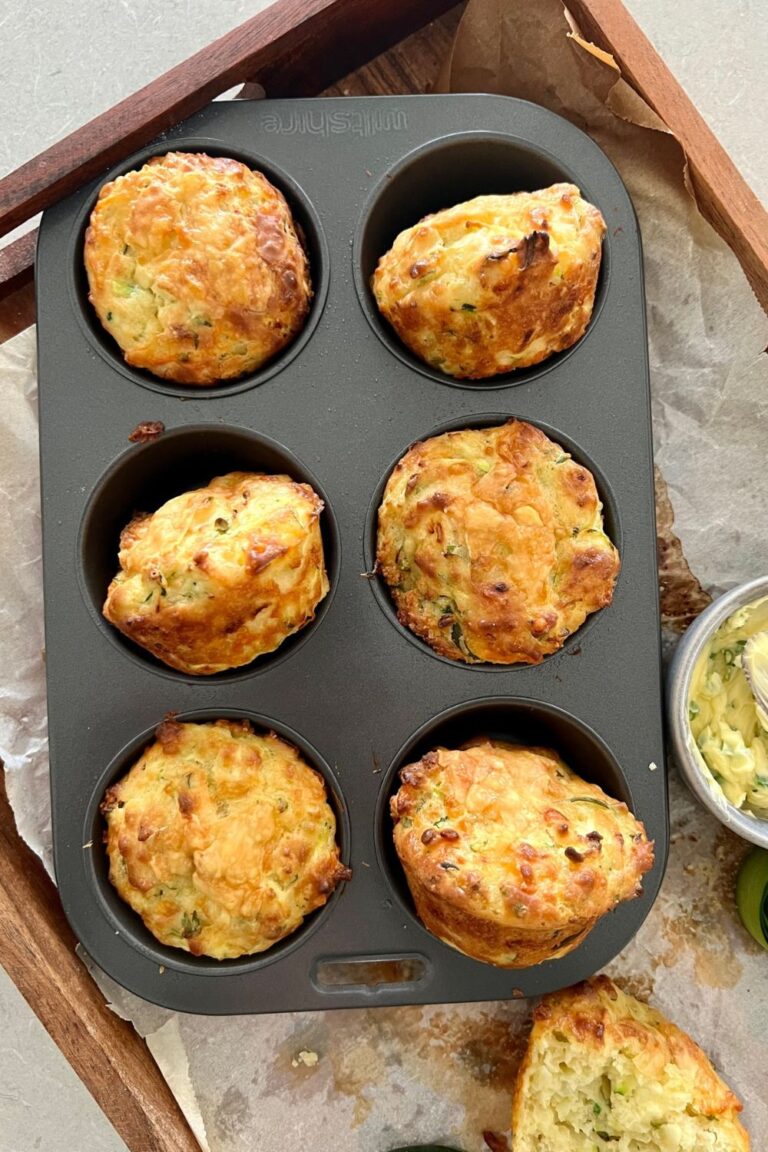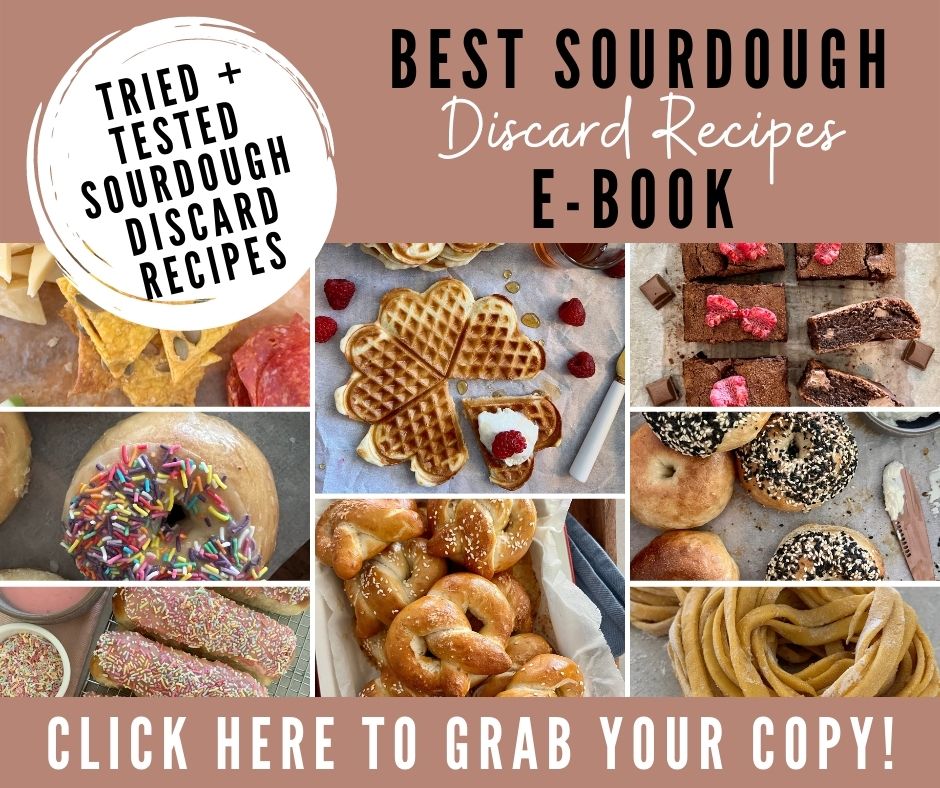 Frequently Asked Questions About Discard
Sourdough Discard Resources
If you're looking for more info on how sourdough discard works and how to use it, check out this collection of resources: