Are you looking for the best jar for your sourdough starter? If yes, then you've come to the right place. In this article, I'll show you some of the best jars and containers for storing a sourdough starter.
To give you the best chance at sourdough success, ensuring your sourdough starter is stored in an appropriate container is really important. The right container will ensure that your sourdough starter has adequate room to grow, develop and become established - giving you the best chance at making perfect sourdough bread.
Learn how to make a sourdough starter from scratch or feed your established sourdough starter.
This guide will teach you how to choose the best jar or container for sourdough starters.
What Are The Best Containers For Sourdough Starter?
You really can use any type of jar or container for creating a sourdough starter. Most things will work, so long as they are clean and have the right capacity.
However, there are definitely some jars and containers that will work better than others. Ideally, you should use a medium sized, clear glass jar with a lid that can be loosely rested or screwed on tight.
At a glance, the best sourdough starter jar should be:
Medium sized
Clear or transparent
Wide Mouthed
Straight Sided (no shoulders)
Lid can be left loose
I started my sourdough starter in a humble coffee jar. It was clean and worked ok. However it did have a rather narrow mouth which eventually caused issues and I changed to using a Ball Mason Jar (I now keep my starter in a 16oz/490ml Ball Jar). I love my Mason Jars so much, I even use them to make butter!
This guide aims to help you find the perfect jar for feeding and maintaining your sourdough starter well into the future.
Watch Your Starter Grow!
A clear container or glass jar is best for sourdough because it allows you to see what is going on at any given moment.
Many bakers use a crock or stone jar which does not allow you to see inside. This may be ok once your starter is established, but it does not allow you to see inside and judge the activity that is happening.
A clear sourdough container allows you to see:
The Size of Your Sourdough Starter Container Matters!
The size of your sourdough starter jar really does matter more than you might think.
You should choose a medium sized container - if it's too small your starter will more than likely try to escape and make a big mess. If it's too large it will be difficult to judge the activity.
Your sourdough starter is a living colony of micro organisms. It contains wild yeast and bacteria that make their home in the jar you choose. I always think a sourdough starter rises best in a medium sized jar!
If you are planning to keep your sourdough starter warm in a specific place, you should also ensure your chosen jar fits inside (for example inside a yogurt maker).
Ideally, you should choose a jar that will comfortably hold between 100g and 200g of sourdough starter (I like to keep between 50 to 100g on hand). A jar with a capacity of 16oz to 32oz is perfect. A jar with a wide mouth and no shoulders is best.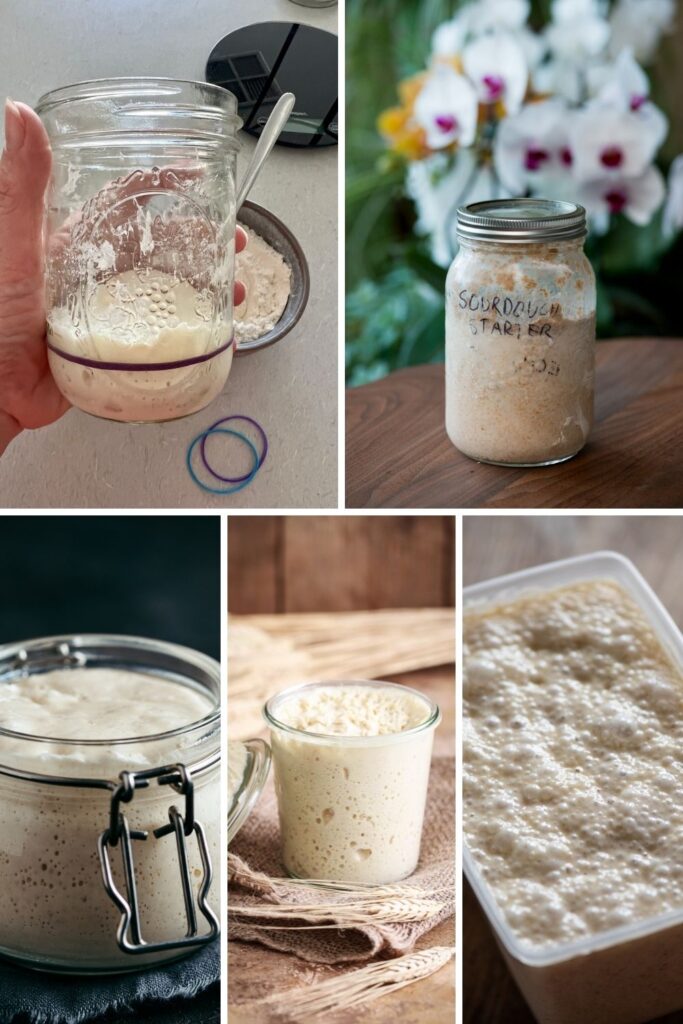 Plastic or Glass For Sourdough?
Glass is best for sourdough starter, however many people do store their sourdough starter in a plastic container. Plastic containers can be better for sharing sourdough starter with friends.
While there are a few cons, the advantages of storing your starter in plastic include less risk of the container cracking or breaking from a growing starter. Additionally, you don't have the risk of the jar shattering if you drop it or stir it too vigorously with a metal implement.
It really is a personal decision. If you are wanting to use plastic, there are just a few things you should be aware of.
Plastic can become scratched and harbor bad bacteria which is not a good thing for your sourdough starter. You also need to ensure you choose a BPA free, food safe plastic container.
Also, make sure the plastic you choose for your sourdough starter is reusable and not single use plastic.
Wide Mouth Jars Are Best
Wide mouth jars are best for growing, feeding and maintaining sourdough starter.
Over the lifetime of your starter, you will need to remove a lot of starter from the jar as well as add a lot of flour and water. If you have a narrow mouthed jar, the small opening will make feeding and caring for your starter messier.
A wide mouth jar will ensure that you can easily add flour and water with much less spillage. It also makes it much easier to stir your starter (stirring is so important!!).
I prefer to use a wide mouthed jar with no shoulders. Shoulders are the "neck" of the jar. Using a straight sided jar makes it much easier to keep the jar clean, which reduces the risk of mold. It also means you don't have to clean the jar very often.
The Lid Of Your Container Matters
The lid of your chosen container really does matter when it comes to sourdough starter.
You want a lid that can be left loose on the jar when you are first establishing it. But you still want the ability to screw it on tight when you are going to store the starter in the fridge.
I like the Ball Jar lids with the metal collars as you can use these to place a paper towel or coffee filter over the jar while you're first making the starter. You can then add the metal insert when you are ready (or swap to a plastic lid).
The thing I don't like is that these metal lids do rust easily so I recommend having some plastic lids on hand. These are much easier to clean and generally last longer. You can easily find them at stores or you can purchase online.
The plastic lids come with rubber seals, but I generally leave them off for my sourdough starter.
Many people also love these fermentation lids which reduce the risk of your jar cracking or shattering from the pressure built up inside.
I've written a full guide to how to cover your sourdough starter here.
Do You Need To Change Jars When Feeding Sourdough Starter?
No you do not need to change jars every time you feed your sourdough starter. You can discard and then feed into the same jar. In fact, I believe sourdough starters are often happier when you allow them to stay in the same jar.
Build up around the mouth of the jar, while annoying, is not necessarily detrimental to your sourdough starter. A wide mouth jar can help to combat this build up.
If you are more comfortable, you can of course feed into a clean jar each time. To do this you will need to have a few of the same jars handy each time you feed.
Alternatively, you could feed the starter into a bowl and then clean the jar before transferring it back into the same jar.
You'll find lots more tips for cleaner sourdough baking here.
Can You Make Sourdough Starter in a Bowl?
Yes you can make sourdough starter in a bowl, however it is not the best option for storing your starter.
A bowl is quite wide and it will be hard to see the growth of your starter. Unless your bowl comes with some kind of lid, you will need something to cover it with.
A bowl can be handy when you feed your sourdough starter, but it's definitely not the best choice for storing it long term. Feed the starter in the bowl and then transfer it back into a jar.
A bowl can be handy for building a levain.
Best Jar For Sourdough Starter
Here are my picks for the best jars to grow, develop and maintain your sourdough starter in. You'll find links to easily purchase these jars provided, as well as the pros and cons of each product explained.
| Type of Jar or Container | Link to Purchase |
| --- | --- |
| 16oz Wide Mouth Ball Mason Jar | BUY NOW |
| Breadling Sourdough Starter Jar | BUY NOW |
| Kilner Sourdough Starter Set | BUY NOW |
| Weck Jar | BUY NOW |
| Triumph Sourdough Starter Jar | BUY NOW |
If you want an affordable starter jar, then we highly recommend the Ball 16 oz Wide-Mouth Mason Jar.
This is one of my favorite starter jars because it is inexpensive, yet still has excellent features. In fact, this set of three high-quality jars is very economical.
These jars are BPA-free, made in the USA, and freezer safe.
They are also very versatile. They can be used to store many different foods safely for a long period of time.
The mason jar itself is also extremely sturdy. It is made from high-quality glass and has a thick base. This means that it will not break easily. This is really important if you are stirring your sourdough starter with a metal implement like a butter knife.
The lids do rust easily, however you can purchase plastic lids for them separately.
These jars are also really easy to clean and can handle being put through the dishwasher.
Pros and Cons
I love the durability of this starter jar. It's made from high-quality materials and is very well constructed.
It is also a very economical choice. It's no nonsense and doesn't come with any extras that you might not want or need. Plus you can really use it for all sorts of other things in your kitchen.
Pros
Sturdy BPA-Free Glass Jars - very durable and safe to use.
Freezer Safe Jars - very versatile.
Sure-Tight Technology - the lids are particularly secure.
Cons
Just Jars - this product doesn't include any extra accessories although you can purchase these plastic lids to make them more versatile.
Lids rust easily (see above).
If you've never made sourdough before, this is the perfect kit for you.
It comes with all of the equipment that you need to get started - and it looks super cute in the kitchen! What more could you want?
This kit comes with a 32oz wide-mouth jar for the fermentation process.
It also comes with an 8oz jar so that you can store a small amount of your bread starter without taking up too much space in the kitchen!
Both jars are made from super durable, BPA-free, clear, soda-lime glass jars.
However, the kit doesn't end there! You also get a white pen for marking, two lids, a double-thick unbleached muslin cloth, and two bands.
The muslin cloth and the bands are ideal if you don't like using lids when cultivating your sourdough starter. The bands are also handy for marking where your starter begins so you can see when it's doubling.
If you've made sourdough before, you will be aware that cleaning the jar that housed your sourdough starter can be a nightmare.
However, thanks to the wide-mouth nature of these jars, they are incredibly easy to clean. In fact, the jars and the lids are all dishwasher safe!
Finally, the appearance of these jars is just darling. They are simple - but effective.
You can also choose from green or peach if you don't like the white lids.
Pros & Cons
This is absolutely perfect for beginners who may be a little intimidated by the process of creating and feeding a sourdough starter.
Pros
BPA-Free Soda-Lime Glass Jars - very durable and of high quality.
Accessories - this kit provides you with everything you need to get started.
Dishwasher Safe - very easy to clean and maintain.
Design - simple but effective.
Cons
Seal - some reviewers have had problems with the lid seal, however, you can return faulty items to the seller for free.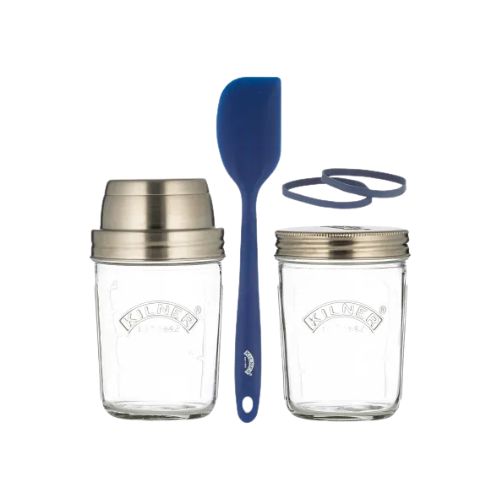 The Kilner Sourdough Starter Kit is another great option for those looking for a beginner's kit.
It includes everything you need to begin making your own sourdough starter.
Included in this set are all the components needed to make super tasty sourdough bread and to bring out your inner baker.
This set comes with two 12 fl oz jars. One jar comes with a stainless steel measuring lid, and the other comes with a regular stainless steel lid.
While this set does come with a measuring lid, I always advocate for weighing your ingredients, rather than measuring by volume.
What makes this kit stand out from other similar products on Amazon is its unique design.
Instead of being rectangular, the jars used in this kit are mainly cylindrical. This means that they are easier to clean than their rectangular counterparts.
Another advantage of this kit is that it comes with a plastic spatula and rubber bands.
The spatula is particularly handy - it is flexible and very easy to clean. As such, it comes with everything you really need to get started.
Pros and Cons
This is a fantastic starter kit for anyone interested in trying their hand at sourdough baking.
We especially like how the jars are designed to be more user-friendly - and they're made from 100% recycled glass, so you're doing your bit for the environment too!
Pros
Flexible Spatula - easy to use and clean.
Measuring Lid - allows you to easily measure out the necessary ingredients.
100% Recycled Glass Jars - very durable and good for the environment.
Step-By-Step Guide - makes the process very simple.
Cons
Price - more expensive than others on this list, but it is a great quality product.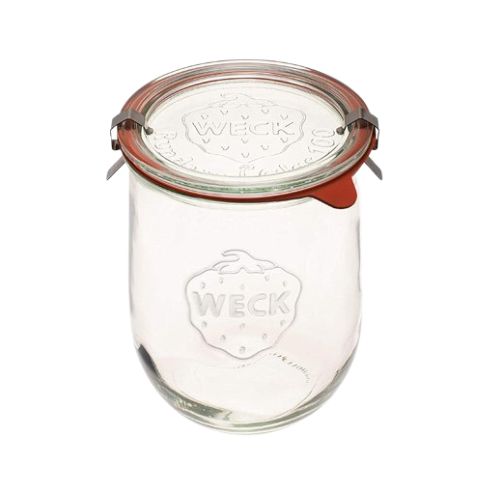 If money is no object, then we highly recommend investing in a Weck Sourdough Starter Jar.
Weck is an American company based in Wisconsin, which was founded by two brothers in 1919.
Since its inception, the company has been dedicated to making premium products - including jars.
This jar is incredibly well-made and features a unique design. They have a wonderful.
Subtle vintage appearance that is certain to add a touch of class to any kitchen. Who said that baking had to be messy and unsightly?
In addition to being well-designed, this jar is also very practical. It is ideal for storing a sourdough starter because it has been designed specifically for this purpose.
Moreover, this jar is microwave safe, and BPA-free, and you can put it in the dishwasher.
As such, the Weck Sourdough Starter Jar is incredibly versatile. It can be used to preserve most types of food thanks to its super secure lid.
The lid itself is made from glass, which means that it is particularly durable. It won't rust, it's very secure, but it is also easy to open!
In terms of their size, the Weck jars are slightly larger than other starter jars on the market. This makes them easier to handle and more convenient to use.
However, this comes at the cost of storage space - so if you have a very limited amount of kitchen space, this might not be the jar for you.
Pros and Cons
This is one of our favorite starter jars. Not only is it very well-constructed, but it also looks really great!
However, it is worth mentioning that you only get one jar for the price.
As such, this jar is more expensive than others on this list - but it is worth it if you're a keen baker looking for a premium quality kit!
Pros
Microwave Safe Jar - very versatile.
Easy To Use Glass Lid - the lid can be removed easily and is very durable.
Dishwasher Safe - easy to maintain.
Design - looks great in any kitchen.
Cons
Size - this jar is quite large.
Price - more expensive than others.
This jar is another fantastic option. It is a very affordable starter jar that is both practical and stylish - and it comes with some great accessories.
This jar is extremely sturdy and will last you for years to come. It is made from premium quality, shock, and shatter-resistant glass.
This means that it is very safe and durable. As a bonus, it is dishwasher safe, meaning that you can easily clean and maintain this jar.
On top of all these benefits, the Triumph Products Sourdough Starter Jar is also very attractive.
It has a beautiful vintage look, which is perfect for adding some character to your kitchen. You can even personalize it with the chalkboard.
However, there is one downside to this product. Although it is very strong and durable, the lid can be a little bit temperamental.
Whilst this largely shouldn't be a problem, if you're hoping for an air-tight seal to store canned food, this product might not be the one for you.
Pros and Cons
We love this starter jar. It is incredibly well-built and looks incredible.
It is also very practical as it features a chalkboard, making it perfect for keeping track of your starters. However, the price is quite high considering you only get one jar.
Pros
Premium Quality Shock and Shatter-Resistant Glass - sturdy, safe and durable.
Chalkboard - makes it ideal for keeping track of your sourdough starters.
Dishwasher Safe Jar - easy to clean and maintain.
Cons
Lid Can Be Temperamental - although this isn't too much of a problem.
Price - quite high considering you only get one jar.
Frequently Asked Questions
Should you keep sourdough starter in an air tight container?
No. Whilst it is important to cover your starter to keep it from drying out or becoming contaminated, it is necessary that your starter does have access to some airflow. As such, if you use a lid, you need to make sure that it's not completely air tight. You should look for a plastic lid that pops off easily, or a screw-top lid that doesn't take a huge amount of strength to open. If you're concerned about your starter receiving enough air, you can always leave the lid off the container for an hour or so after feeding it.
What is the best flour for a sourdough starter?
You can make a sourdough starter from any wheat flour - all purpose and bread flour are the most popular choices. Whole wheat, rye and spelt also work well for sourdough starter. It's really important to use an unbleached flour for establishing a sourdough starter because much of the wild yeast comes from the flour itself.
Can sourdough starter go bad?
Yes it can go bad however it's unlikely that it will. Sourdough starters are incredibly hard to kill. In fact the only things that really end your sourdough starter's reign are mold and other harmful bacteria. Your starter will more than likely be able to be resurrected from anything else! You can read more about the resilience of a sourdough starter here.
Can I store my sourdough starter in the oven?
Yes. If your kitchen is too cold for your starter, you can use the oven as a warm spot for it to thrive. To do so, place the starter, in its container, in the oven. Then, shut the door and turn on the oven light. Do not turn the oven on. The light will produce enough heat to keep your starter at a comfortable temperature. But the caveat here is you need to make sure no one turns the oven on with your starter inside (this happens so often!!). Now the best thing to to is put a note on the oven dials so no one can turn it on without checking inside first. If your starter does get bake, there is still a chance it will be ok - not always - but it's definitely worth trying to resurrect! You can find out how to bring it back from extreme heat here.
Can I make sourdough starter in a recycled peanut butter jar?
Yes you can make a sourdough starter in just about anything - the key is to make sure that it is clean! Wash the jar you want to use in warm soapy water and rinse thoroughly. Any residual peanut butter (or whatever substance was in your jar) could negatively affect your sourdough starter.
Further Reading
Want to know more about making a sourdough starter?