This easy sourdough discard banana bread takes just a few minutes to mix up. But the taste is anything but simple!
This is a great way to use up some of your sourdough discard ... and those brown bananas sitting on your countertop!
Sourdough discard banana bread uses pantry staples, along with your sourdough discard, to create a decadent banana bread - rival to your favorite coffee shop!
And this one has a secret ingredient that you add right at the end ... it gives it a glossy finish and a decadent, sweet glaze!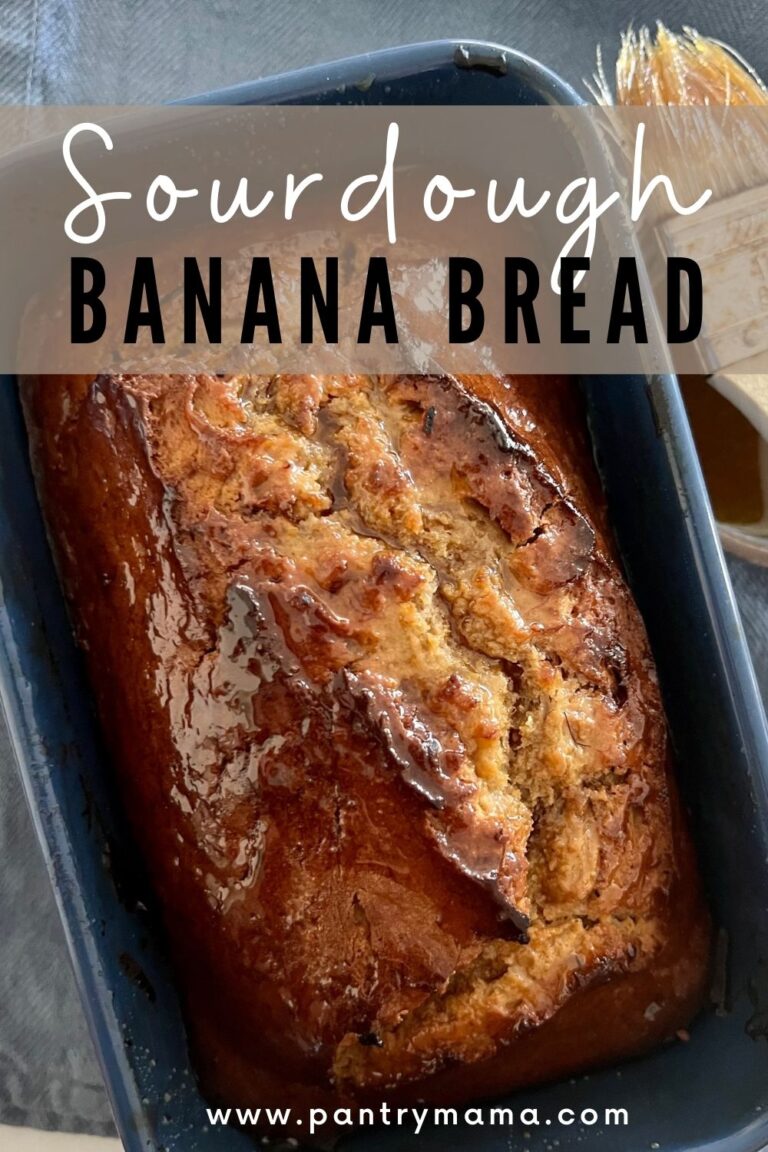 Using Up Sourdough Discard
This banana bread is a simple way to use sourdough discard - which is particularly good if you're going through the process of establishing a sourdough starter.
You can use sourdough discard in this recipe - but active, fed sourdough starter is perfectly fine too!
Just use whatever you have on hand!
And if you love this sourdough banana bread, why not try this sourdough zucchini bread or sourdough discard pumpkin spice bread - they have a very similar style.
How To Make Sourdough Banana Bread
Making sourdough discard banana bread is really easy. You don't need any fancy equipment and you can mix it all together in one bowl!
The secret to this banana bread being so delicious is the golden syrup glaze on top! It is out of this world! If you've never used golden syrup before, you can read up about it here.
Here's how to make easy sourdough discard banana bread:
Mash the overripe bananas with the back of a fork until they form a puree (a few lumps is fine).

Beat the egg and vanilla together and add to the bananas.

Melt the butter on a low heat and add that to the banana and egg mixture.

Then stir through the sourdough starter until well combined.

Next mix all the dry ingredients together until well combined.

Add the wet and dry ingredients together and stir until just combined (do not over mix).

Pour the batter into a buttered loaf tin.

Bake at 180C for around 1 hour - or until a skewer comes out of the bread clean.

Glaze while still in the tin.

Allow to cool for 30 minutes before removing from tin.
Tips & Tricks
While this recipe is super simple, there are few things you can do to ensure you get banana bread success!
Always use overripe bananas! They need to be brown and a bit squishy. These brown bananas add sweetness and texture to your bread. Do not use fresh, yellow bananas straight from the store.

A little tip - always keep a stash of brown bananas in the freezer - they are great for emergency banana bread making! Just leave them out for 10 minutes to soften before you mash them up!

Be careful not to over mix the ingredients once you've added the wet and dry together. Just like sourdough muffins, over mixing can result in tough bread.

If you feel that the top of the loaf is browning too quickly, carefully place a sheet of tin foil over the top. This will allow the banana bread to continue cooking, without burning the top of your bread.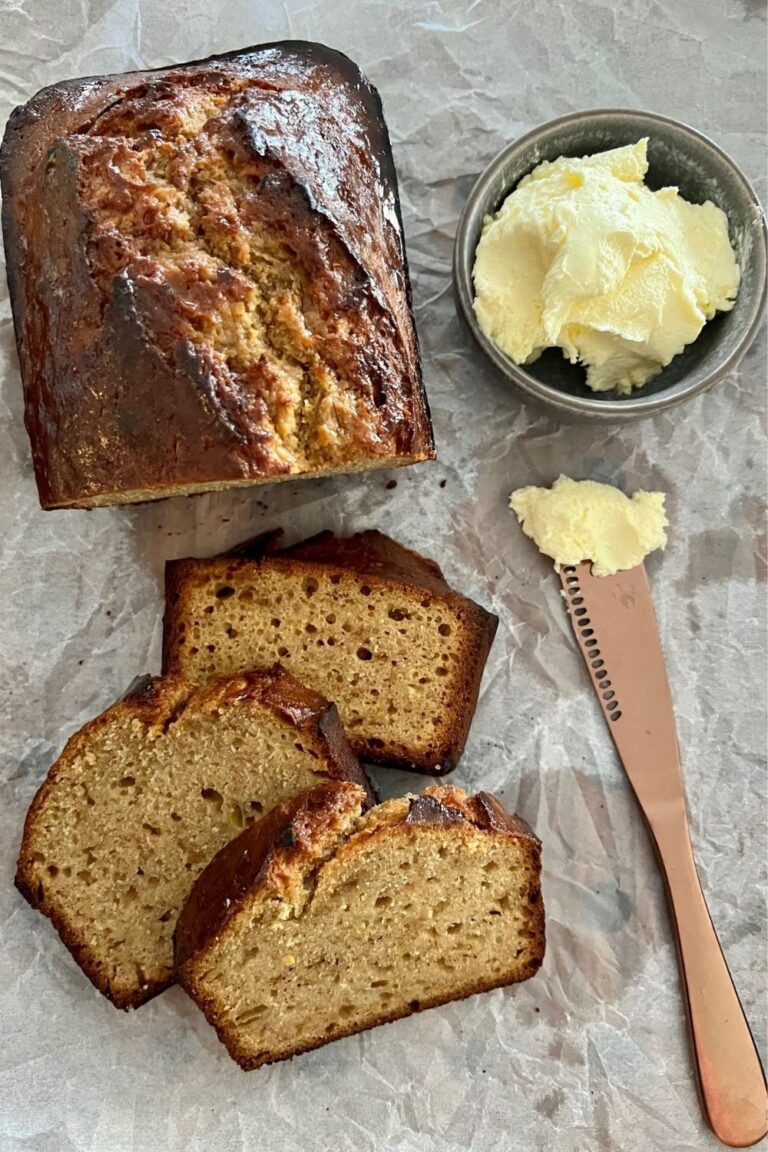 Which Loaf Pan To Use?
I have baked this banana bread in a 1 litre loaf pan. It is a great size and makes a nicely proportioned loaf. It is approximately a 2 pound pan.
The pan I've used is this Jamie Oliver Loaf Pan - mine is a different color to the one I've linked to, but they are the same pan.
I also like that this pan shields the top a little so it doesn't burn in the oven (also see my tips above for ensuring your loaf doesn't burn).
If you wanted to make a larger loaf, you could double the quantities in the recipe and make a larger loaf with larger slices.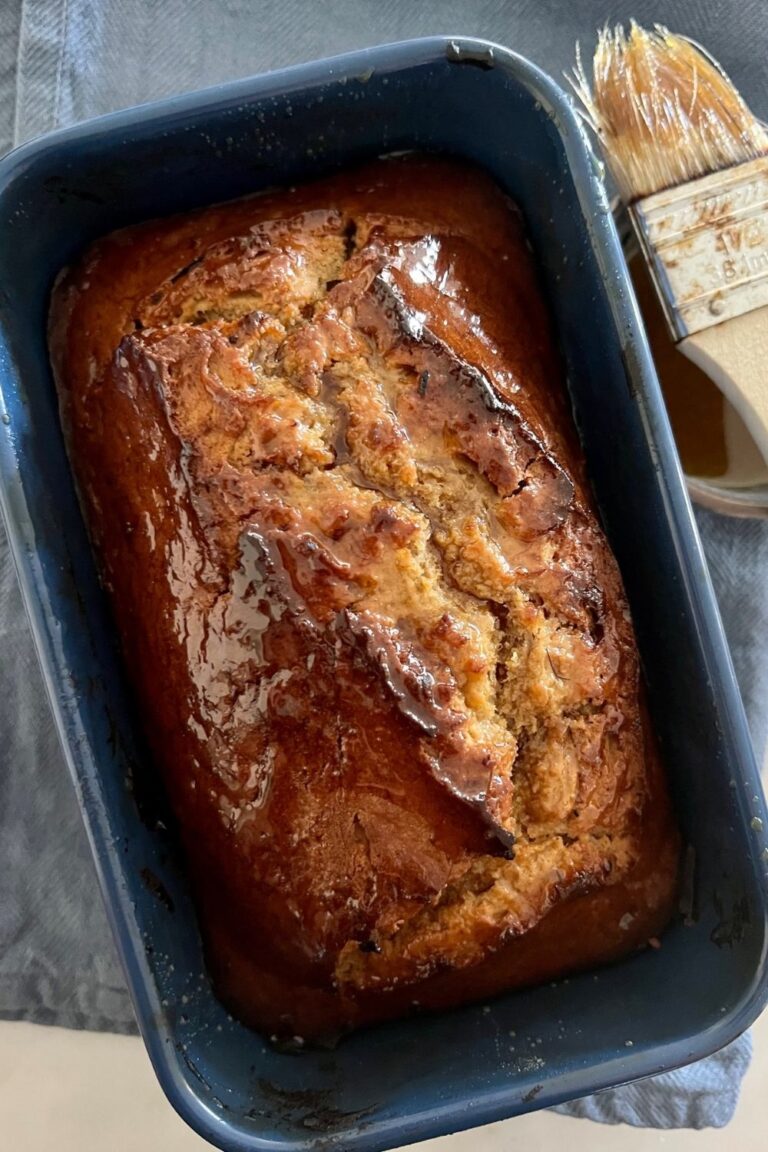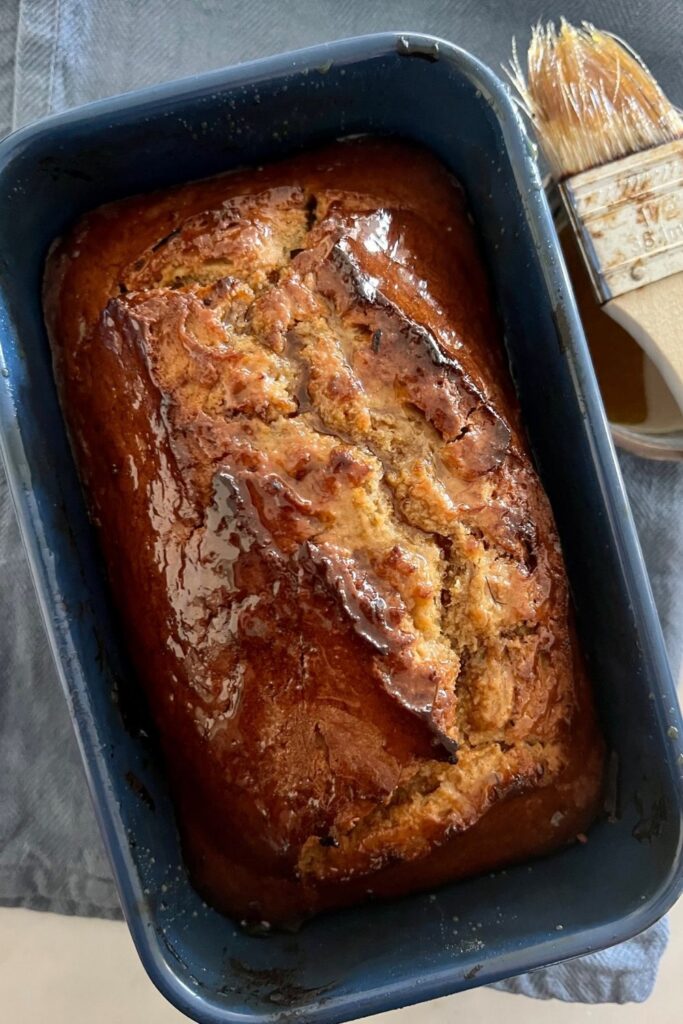 What Can I Add to Sourdough Banana Bread?
While this sourdough discard banana bread is amazing just as it is, there's always room for improvement, right?
Add your extras to the dry ingredients before you mix in the wet ingredients to ensure they are evenly distributed.
Here are a few suggestions on things you can add to take your sourdough banana bread to the next level!
Roasted and chopped nuts - the easiest way is to purchase your nuts already roasted, but if they're raw, toast them lightly in a heated pan before adding.

You could add up to 150g of chopped walnuts, almonds, hazelnuts, pecans or macadamia nuts. I prefer them in the mixture as they don't burn on the top this way.

Chocolate - bananas and chocolate are sooo good together! Add up to 100g of chocolate chips or your favorite chocolate chopped. White, milk or dark all work well!
Butterscotch or Peanut Butter Chips - these flavors both team up so well with bananas! Add up to 150g of these for a little flavor twist!
Want More Sourdough + Banana Recipes?
If you love this recipe for sourdough banana bread, you might also like to try these sourdough recipes: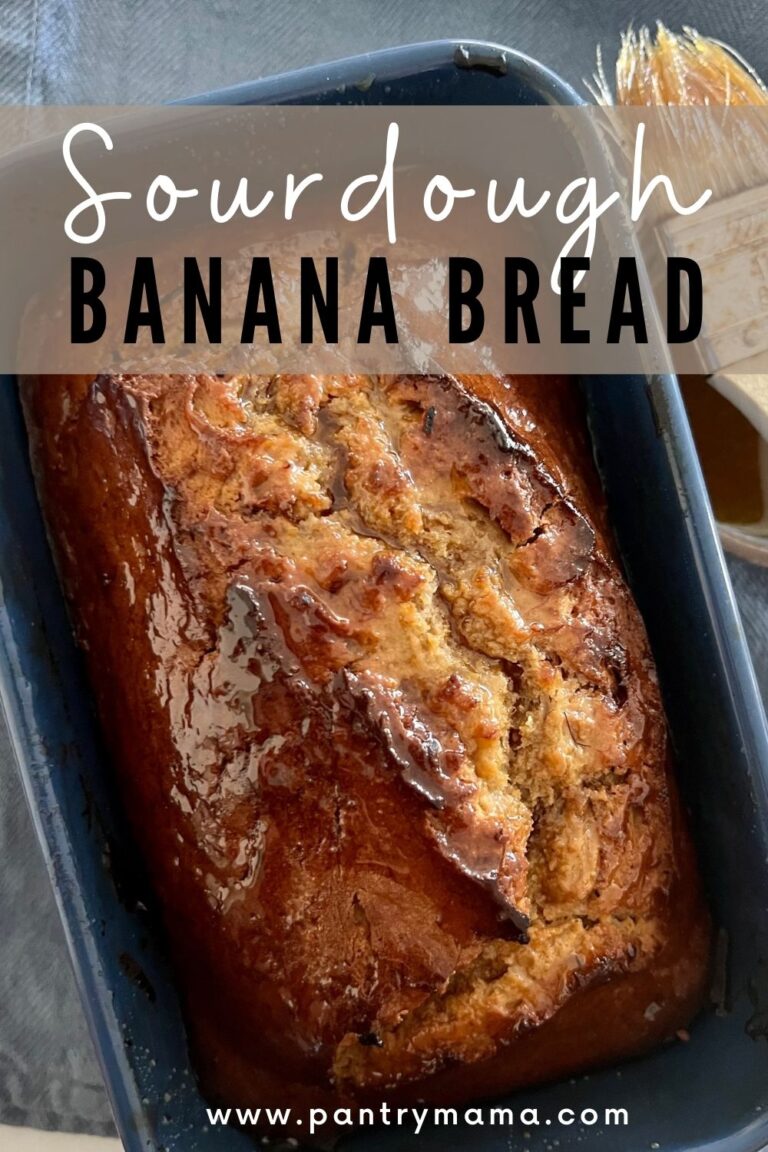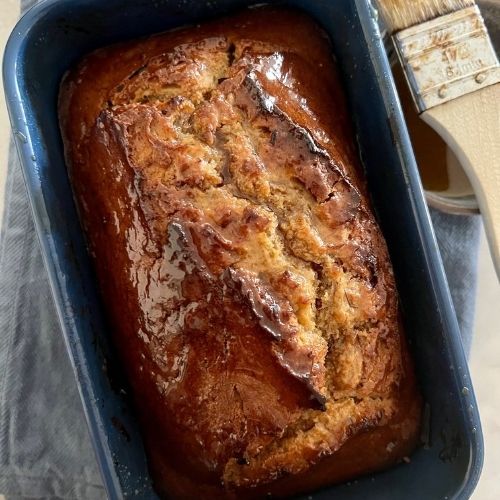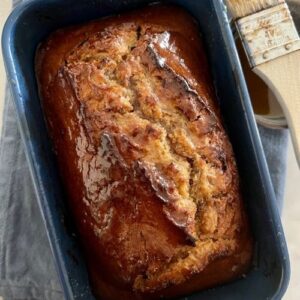 Easy Sourdough Discard Banana Bread
This super easy sourdough discard banana bread recipe can be prepared in just minutes!
Ingredients
250

g

Bananas

approx. 3 medium overripe bananas

1

Egg

5

g

Vanilla Extract

1 teaspoon

80

g

Butter

Melted (can be salted or unsalted)

100

g

Sourdough Starter

Discard or fed & bubbly

200

g

All Purpose Flour

12

g

Baking Powder

2 teaspoons

100

g

Brown Sugar

50

g

White Sugar

optional

pinch

Salt

20

g

Golden Syrup

for brushing on after baking
Instructions
Preheat oven to 180C/350F.

Mash the overripe bananas with the back of a fork until they are fairly smooth (a few lumps is fine).

Now lightly beat the egg and vanilla together and add that to the mashed bananas. Use your fork to lightly mix the egg mix through.

In a small saucepan, melt the butter on a low heat and then add that the egg and banana mixture.

Now add the sourdough starter to the egg mixture and mix throughly.

In a separate bowl, mix all dry ingredients together and ensure that everything is mixed thoroughly.

Now add the wet ingredients into the dry ingredients and stir until just combined.

Pour mixture into a buttered loaf tin.

Bake at 180C/350F for around 1 hour. Baking time will depend on the size of your tin and your oven.

The banana bread is cooked when a skewer is inserted and comes out clean.

When you take the banana bread out of the oven, brush the top with golden syrup for a lovely shiny, sweet glaze.

Allow to cool for 30 minutes before removing from the tin.
Nutrition
Calories:
194
kcal
Carbohydrates:
33
g
Protein:
3
g
Fat:
6
g
Saturated Fat:
4
g
Polyunsaturated Fat:
1
g
Monounsaturated Fat:
2
g
Trans Fat:
1
g
Cholesterol:
28
mg
Sodium:
74
mg
Potassium:
111
mg
Fiber:
1
g
Sugar:
16
g
Vitamin A:
200
IU
Vitamin C:
2
mg
Calcium:
24
mg
Iron:
1
mg