Ever wondered if you could add sourdough starter to Anzac biscuits? The answer is yes you can!
Anzac Biscuits are a staple in many Australian homes.
They are inherently popular around Anzac Day, however, if you're like me, you can eat them all year round!
And despite this, everyone has their own way of making them.
Some people like them crunchy. Others chewy.
And while traditional Anzac biscuits are made with lashings of sugar and golden syrup, there are many modern versions that cater for people with more specific dietary requirements (think dairy free and vegan - they're already egg free).
I have created this sourdough Anzac biscuit recipe using 100g of sourdough starter, as well as the other traditional ingredients such as rolled oats, golden syrup and dessicated coconut.
It is less sweet than a traditional Anzac biscuit (mainly because I make them for my kiddo's lunchbox) - but you can certainly increase the sugar if you want to - you'll instructions for this in the recipe notes.
What Is An Anzac Biscuit?
Anzac biscuits date back to 1920 when they were made to raise money for the soldiers fighting in the war. They were originally called rolled oat biscuits and then sometimes referred to as Red Cross Biscuits or Soldier's Biscuits (source).
Like most things in history there are a few versions of their story floating around.
It's actually very interesting to read it all and while writing this I got lost in a world of historical research!
Interestingly, Anzac biscuits contain no eggs as they were not readily available due to many of the egg farmers being away at war. A little creative Depression baking if you will.
Anzac biscuits actually use golden syrup to bind them (you'll find a full explanation of golden syrup further down).
Today, Anzac Biscuits are bought and made around Anzac Day on 25th April.
This day is a public holiday in Australia and is a day to remember all those that have fought and died in Australian military operations.
You can read more about the history of Anzac biscuits here.
Ingredient Notes
This is an Australian recipe, so I thought I'd add some ingredient notes in case you are making it in another country.
Some of the wording may or may not be a tad confusing or known by another name.In this recipe, a biscuit is in fact similar to a cookie - however it is never ok to call Anzac Biscuits "cookies".
As a sign of respect they must always be referred to as biscuits (read more on this here).
Rolled Oats - Rolled oats are one of the most important ingredients in Anzac biscuits. Make sure you use traditional rolled oats and not instant oats.
Bicarbonate of Soda - this is also referred to as baking soda. It is an alkaline leavening agent used in many cakes, muffins and biscuits. It needs an acid to create the reaction (butter/golden syrup).
If you don't have bicarbonate of soda, you could substitute baking powder - you'll need to double the amount.
Golden Syrup - this is a staple in Aussie homes. There really isn't a substitute for golden syrup in Anzac Biscuits as it's used to bind the dough (in place of eggs).
Golden syrup is an invert sugar. If you cannot find it at the grocery store, you can make your own using this recipe. You can also buy golden syrup online here.
Desiccated Coconut - Finely shredded, dry coconut bulks out these biscuits. You could also use shredded coconut if you can't find desiccated.
How To Make Sourdough Anzac Biscuits
Sourdough Anzac Biscuits are incredibly simple to make. In fact, my kids often help me to make these for their lunchboxes or just for a quick and easy snack at home.
You can make them using just a saucepan, mixing bowl and baking sheet. You don't need any fancy equipment, which makes them perfect for a kid friendly recipe.
I've popped some hints and tips in the next section to make sure you bake the best Anzac biscuits possible!
Here's how to make sourdough Anzac biscuits:
Add flour, rolled oats, caster sugar, coconut and salt to a large mixing bowl. Stir through until well combined.

In a small saucepan, melt the butter.

Once the butter is melted, add the golden syrup and stir until well combined.

Add the bicarbonate of soda to the butter mixture.

Now add the sourdough starter and butter mixture to the dry ingredients.

Mix thoroughly until the dough comes together.

Roll the dough into small balls and place them with plenty of room onto a lined baking sheet.

Bake in a moderate oven until golden (the length of cooking time determines whether they are crunchy or chewy).

Allow to cool and firm up on a cooling rack before enjoying.
Tips & Tricks for Anzac Biscuits
While Anzac biscuits really are quite simple, there are still a few things that can make sure your biscuits come out perfectly!
Here are my best tips:
Make sure that your bicarbonate of soda is fresh and hasn't been sitting in an open packet for a while. It needs to be fresh to make sure you get the fizz when you add it to the butter and golden syrup.

You can increase the sugar to 200g if you prefer as sweeter, crunchier biscuit (also see notes below on crunchy vs chewy).

These biscuits will be soft when you take them out of the oven. Use a metal spatula to carefully transfer them to a cooling rack to firm up.

They will burn easily so watch the time! It's better to take them out before you think they're ready than have them get too brown as they will be like rocks when they cool.
Using Sourdough Starter in Anzac Biscuits
You can choose to use active bubbly sourdough starter or sourdough discard in these biscuits.
I have used fresh, bubbly starter in developing this recipe - mainly because my starter is fed every single day for making bread and I just feed it a little extra to use for biscuits, crackers and even pasta.
Discard is perfectly fine too - I just wouldn't use anything past 2 weeks old as it will be too sour.
If you're not sure about how to store your sourdough discard, check out this guide to storing sourdough discard in the fridge.
Chewy or Crunchy
There is much discussion around whether Anzac Biscuits should be chewy or crunchy.
And really it comes down to personal preference.
My kids much prefer a softer, chewier biscuit.
I like a crunchier bikkie that I can dunk in my coffee!
So if you'd like a crispier, crunchier biscuit, bake them for just a few minutes more (and add a little extra sugar if you'd like to).
Can You Add Other Things To Anzac Biscuits?
Traditionally, Anzac Biscuits must contain certain ingredients to be called Anzac Biscuits.
In saying that, if you're baking them at home for your family, there really are no rules to what you can or can't add!
Here are some things that make lovely addition to these sourdough Anzac biscuits:
100g of Chopped Nuts - you could add peacans, walnuts, almonds, hazelnuts - or my personal favorites - Macadamia Nuts!

100g of Chocolate - add choc chips or chopped chocolate of your choice. White chocolate works really well in these!

100 g Dried Fruit - add chopped dried apricots, blueberries, raisins, sultanas or cranberries.
How To Eat Anzac Biscuits
Anzac biscuits are delicious anytime! Traditionally eaten around 25th April (Anzac Day) you really can enjoy these biscuits anytime!
Here are some of the ways we enjoy these biscuits in my home.
Because these Anzacs don't have a huge amount of sugar and they contain oats, I often use them for a quick breakfast on the go!
They make great lunchbox fillers for the kiddos.

Sandwich them together with good quality vanilla ice cream for a delicious dessert. Take this to the next level by drizzling the biscuits in chocolate first!

They make a lovely gift for neighbours and friends too. Why not pop them in a decorative tin and make someone smile!
Vegan Sourdough Anzac Biscuits
Anzac biscuits are already egg free and with a few tweaks can be made vegan, which is good if you need to have a dairy free biscuit.
To make these sourdough Anzac biscuits vegan, substitute the butter with 100g of coconut oil.
Further Reading
If you love this recipe for sourdough Anzac biscuits, why not try some of these ideas: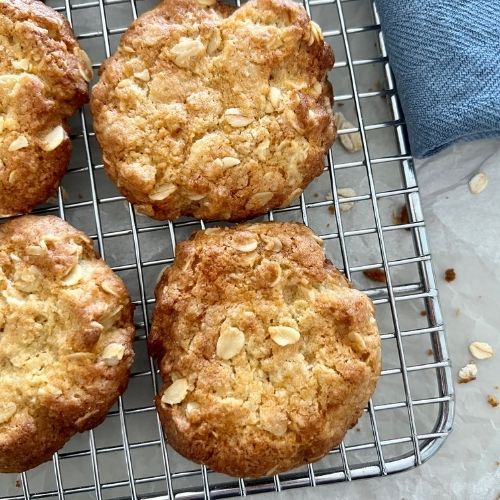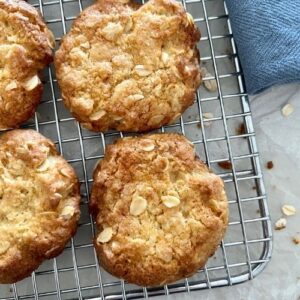 Sourdough Anzac Biscuit Recipe
Anzac Biscuits are a staple in many Australian households. Made with pantry staples like rolled oats, coconut and golden syrup, I've given these Aussie biscuits a sourdough twist!
Ingredients
100

g

Sourdough Starter

can be discard or fed & bubbly

100

g

All Purpose Flour

Plain Flour

100

g

Rolled Oats

60

g

Coconut

Desiccated

100

g

Caster Sugar

can increase to 200g if you wish

125

g

Melted Butter

can be salted or unsalted - whatever you have

30

g

Golden Syrup

1

tsp

Bi Carb Soda

Bicarbonate of Soda

pinch

Salt
Instructions
Add flour, rolled oats, coconut, caster sugar and salt to a large mixing bowl. Stir through until well combined.

In a small saucepan, melt the butter gently. Once melted, stir through the golden syrup until mixed through.

Add the bicarbonate soda to the butter & golden syrup and stir (it should foam a little).

Now, add the sourdough starter and melted butter mixture to the bowl of dry ingredients.

Stir through until it forms a biscuit dough.

Using a spoon, scoop the mixture and form into balls. 30g is a good size for each ball.

Place the balls of dough onto a baking tray lined with parchment paper. Make sure there's plenty of room between them as they will spread out.

Flatten the balls out a little with the back of a wet spoon.

Bake them in an oven at 180C for around 12 - 15 minutes. They will still be soft when you take them out but will harden up once they're cooled.
Notes
This recipe makes soft Anzac biscuits. I have halved the sugar I would normally put in because I make them for my kids. This makes them a bit softer.
If you'd prefer crunchy Anzac biscuits, increase the sugar to 200g and bake them slightly longer - you need them to go a little darker in color to get a crunch!
Nutrition
Calories:
1107
kcal
Carbohydrates:
194
g
Protein:
28
g
Fat:
24
g
Saturated Fat:
16
g
Polyunsaturated Fat:
3
g
Monounsaturated Fat:
3
g
Sodium:
1114
mg
Potassium:
647
mg
Fiber:
18
g
Sugar:
28
g
Vitamin C:
2
mg
Calcium:
74
mg
Iron:
10
mg