If you love Everything Bagel seasoning, why not learn to make it at home! Making this yummy bagel seasoning blend yourself means you can adjust the simple ingredients to your liking.
This is particularly important if you like it less salty or you want to increase or decrease the seeds or even the onion and garlic.
You don't need a trip to Trader Joe's, this bagel seasoning recipe is simple to whip up in your own kitchen with your own seasonings!
This easy recipe is made by blending sesame seeds, poppy seeds, onion flakes, dried minced garlic and sea salt flakes.
Seriously, it's that easy! Perfect to sprinkle on cream cheese bagels or take avocado toast to the next level.
I love making this bagel seasoning mix myself - it means I always have it on hand and I can use it on anything and everything! Although my favorite way to use it is on my homemade bagels (sourdough of course) or these sourdough pumpkin bagels!
The real reason I started making it myself? It's actually not a common seasoning mix in Australia where I live, so I started making my own! Low and behold, now I'm a pro at throwing it together, it's becoming more common place in our grocery stores!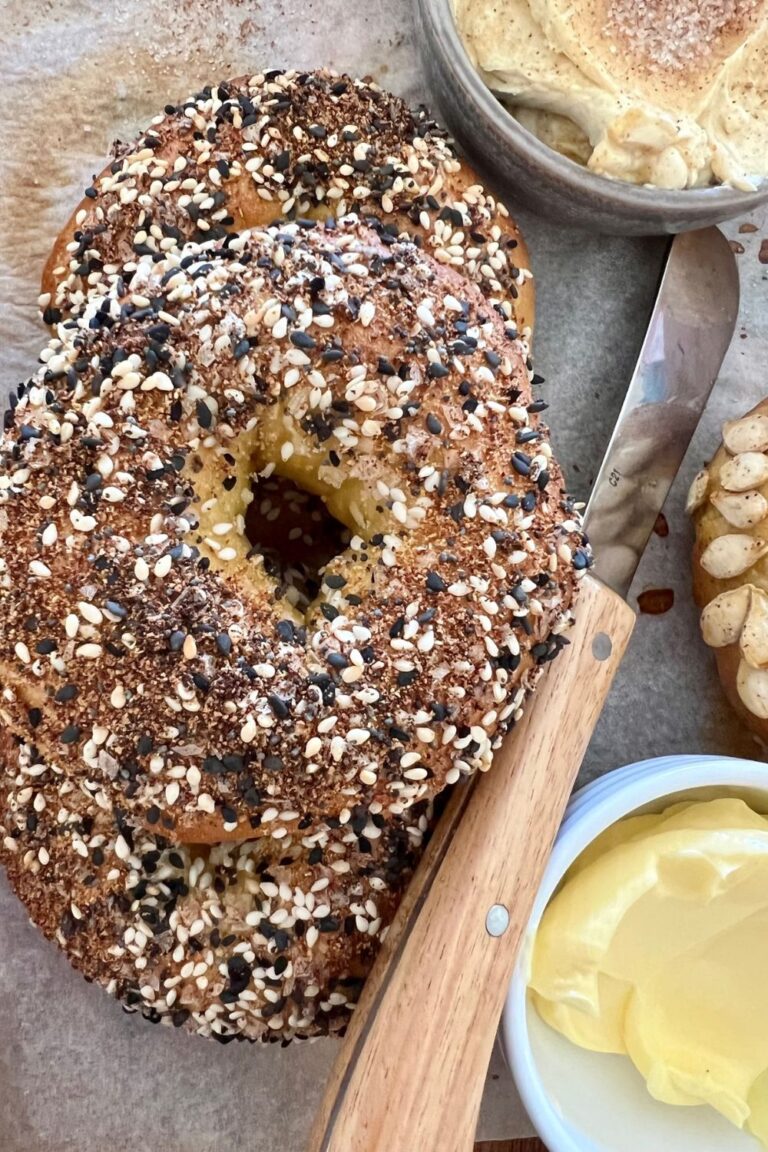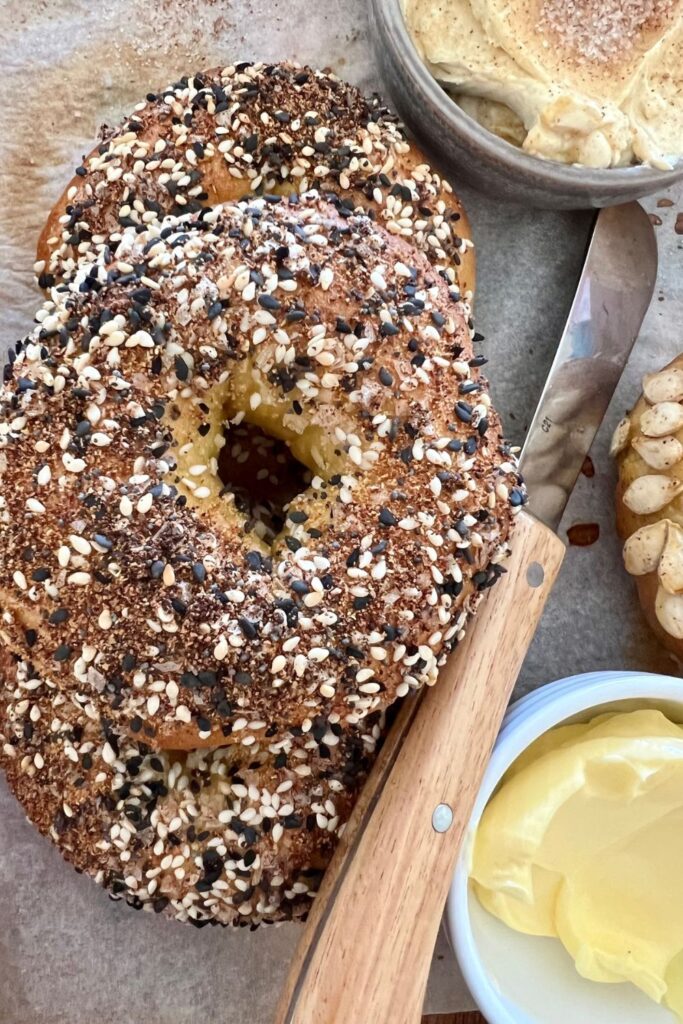 What Is Everything Bagel Seasoning?
Everything bagel seasoning is a mix of spices, seeds and salt that is used as the perfect topping for bagels. With savory flavors of dried onion and garlic, sea salt and sesame seeds, the irresistible crunch makes the perfect seasoning for your favorite foods!
You can read about the origins of "Everything Bagel" seasoning here.
This popular sesame seasoning blend contains 5 ingredients and takes 5 minutes to make!
A good Everything Bagel Seasoning will always have:
Black & White Sesame Seeds
Poppy seeds
Onion flakes
Minced dried garlic (garlic flakes)
Flakey sea salt
All of these simple ingredients are available at your local grocery store - or you can do what I do and buy them in bulk from my local asian market.
Why You Should Make Everything Bagel Seasoning At Home
While it's fairly easy to buy Everything Bagel Seasoning if you live in the US, there are lots of reasons why it's better to make it yourself! Here's why I like to make it in my own kitchen ... and why you should too!
you can control the amount of sodium - if you are eating a reduced salt diet, you can make the seasoning to suit your personal preferences. Lowering the salt level and therefore sodium, means you can still enjoy the seasoning you love! This is a huge advantage to making this bagel blend at home. You can ever leave the salt out if you need to.

use your pantry staples - using what's already in your pantry and spice cabinet to create something new means spending less money!

you know what's in it - you can make a seasoning blend that has no preservatives, fillers or artificial ingredients.

makes a great gift and making it at home makes it much more economical! You can gift a bigger jar than if you were buying a store-bought version - can't argue with that!
How To Make Everything Bagel Seasoning
This homemade Everything Bagel Seasoning Recipe is so easy! You literally have to mix the ingredients together! But like most things, there are a few tips and tricks you need to know to make sure you end up with the best bagel spice blend possible!
Make sure all the ingredients you use are relatively the same size - I've specified the ingredients in the recipe card below where you'll find the full recipe - try not to use substitutions or you won't get the right flavor or texture. For example - you need to use dehydrated onion flakes, not onion powder because the powder is way too fine and will settle at the bottom of the jar. Same goes for garlic powder.

Ensure that the ingredients you use are fresh! While it's good to use your pantry staples ... it's not the best idea to use dehydrated garlic that's been in your spice draw for 5 years.

To increase the flavors in your sesame seeds, lightly toast them in a non stick fry pan for around 5 minutes on moderate heat. You don't want them to burn, but a little heat releases their flavors and gives your seasoning mix a sesame boost!
How To Use Everything Bagel Seasoning
While this delicious seasoning blend is famous for topping bagels, there's really no limits as to how you can use this delicious blend!
I love using it in these recipes:
But you can also use it in these creative ways too:
a little sprinkle on eggs (hard boiled egg, poached, fried - it works on them all).

take your avocado toast to the next level with a sprinkle of homemade everything bagel seasoning.

serve a dish of good quality olive oil alongside a small bowl of everything bagel seasoning with your next loaf of homemade sourdough bread. The Everything Bagel Seasoning can be used like a Dukkah to dip your bread in! YUM!

Roll a ball of cream cheese in Everything Bagel Seasoning and serve the cheese ball with these homemade seedy sourdough crackers or sourdough grissini.

Speaking of crackers and grissini - use your EBS on your homemade versions! It's a great way to change up their flavor!

Cook some green beans in a little butter and sprinkle with this homemade seasoning for a simple side dish.
What Salt To Use In Everything Bagel Seasoning?
There are so many different types of salt, how do you know what type to use in your homemade Everything Bagel Seasoning Recipe?
There's table salt, fine sea salt, kosher salt, pretzel salt ... which do you use? Because all salt is not created equal!
Flaky sea salt works best in a homemade Everything Bagel Seasoning recipe because they are a similar size to the other ingredients. If you use fine salt it tends to settle to the bottom of the jar and you lose the "blend" you're trying to create. Coarse sea salt will be too large and give you an odd crunch.
If sodium is an issue in your diet, you might also want to change the type or amount of salt you use. However if you want it to taste (and feel) like the EBS (yup there's an acronym) you buy from Trader Joe's, then you've got to use sea salt flakes.
I highly recommend Maldon Sea Salt Flakes - honestly, this is the bees knees of salt!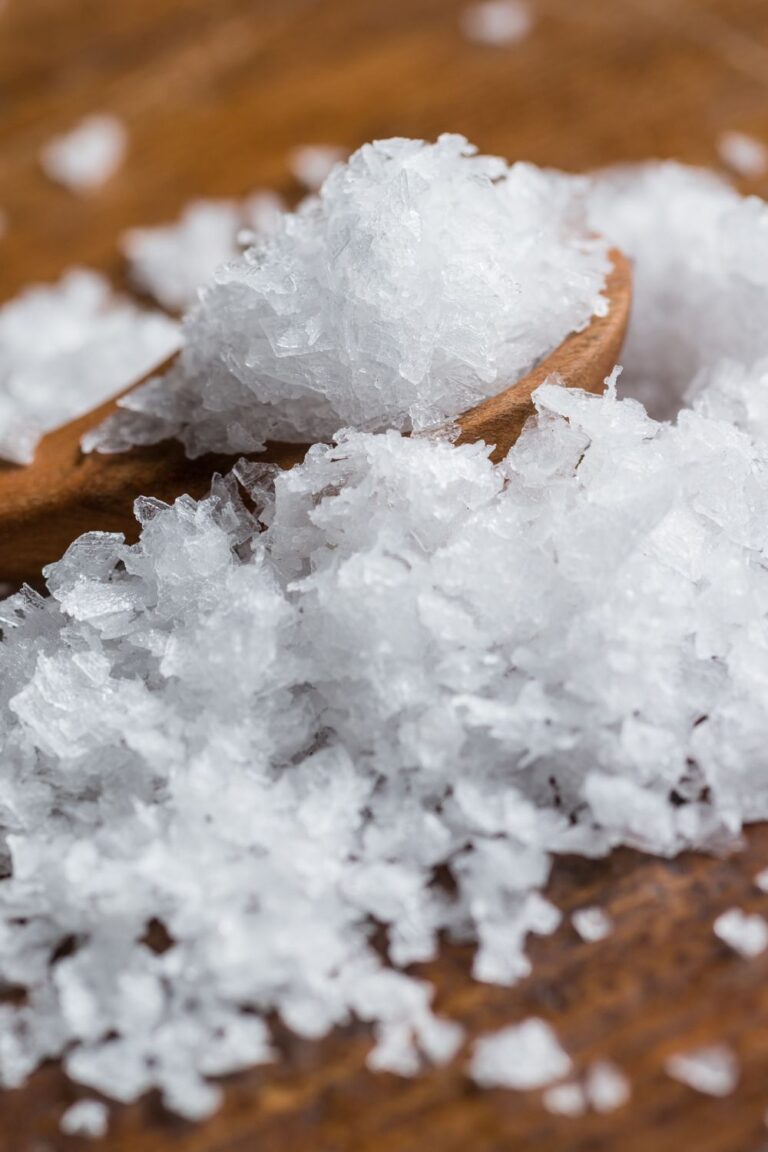 Recipe Variations
While this is a simple recipe, there are a few ways you can vary the ingredients to create something a little different. I love the idea of creating 2 or 3 variations of Everything Bagel Seasoning and giving a little set of jars to your loved ones at Christmas along with some home baked bagels or sourdough bread. You could even add a bottle of olive oil in there too!
Add a small amount of caraway seeds
Add a small amount black cumin (Nigella seeds).
Use only black sesame seeds instead of white (or vice versa and use just white sesame seeds).
How To Store Your Own DIY Seasoning
For the best results, store your DIY Everything Bagel Seasoning in an airtight jar in a cool dry place. Avoid storing it in plastic if you can - glass is always better (that goes for all your favorite seasoning blends)!
I like to store mine in a small mason jar. It helps seal in all that garlicky flavor and sesame goodness!
If stored in an airtight jar, this homemade everything bagel seasoning recipe will last for 6 months.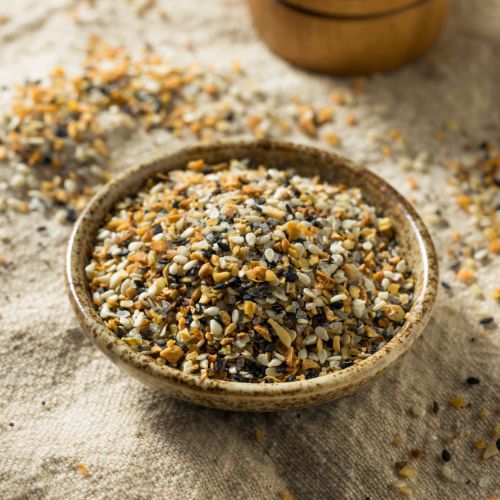 Homemade Everything Bagel Seasoning Recipe
Make this popular bagel seasoning blend at home for a fraction of the cost! Using just 5 ingredients and 5 minutes of your time. Get those bagels ready - the best Everything Bagel Seasoning you've ever tasted is here!
Ingredients
20

g

Poppy Seeds

15

g

White Sesame Seeds

15

g

Black Sesame Seeds

10

g

Garlic Flakes

(Minced Dried Garlic)

3

g

Onion Flakes

(Minced Dried Onion)

12

g

Flakey Sea Salt

(I recommend Maldon Flakes)
Instructions
Toast sesame seeds in a moderately heated non stick pan. Allow to cool.

Mix all ingredients together in a bowl and transfer to a glass jar with tight fitting lid.

I have chosen to weigh my ingredients. Most modern digital scales will weigh in 1g increments so you should have no problems weighing the smaller amounts.
Nutrition
Serving:
2
g
Calories:
320
kcal
Carbohydrates:
22
g
Protein:
11
g
Fat:
23
g
Saturated Fat:
3
g
Polyunsaturated Fat:
12
g
Monounsaturated Fat:
7
g
Sodium:
4666
mg
Potassium:
453
mg
Fiber:
9
g
Sugar:
2
g
Vitamin A:
3
IU
Vitamin C:
3
mg
Calcium:
599
mg
Iron:
7
mg