Knowing how to laminate sourdough bread is a handy tool in your sourdough baker's tool kit.
Lamination is a technique traditionally used in pastry to add butter to the layers of pastry (like when you make croissants).
But did you know that lamination is an effective way of building dough strength in sourdough bread.
This blog will show you the correct way to laminate sourdough bread, as well as when to use this technique for the best outcomes.
What is Sourdough Lamination?
When baking sourdough, lamination refers to the process of stretching the dough as thin as you can without tearing it.
When the dough is stretched as thin as it can go, it is then folded up into layers until it becomes a neat little parcel.
Why Do You Laminate Sourdough?
Lamination is mainly performed as a way to build dough strength. It agitates the gluten strands and strengthens them.
Lamination can also be used to make additions to sourdough bread.
Certain ingredients are better when added via lamination rather than stretching and folding.
It can also be the personal preference of the baker.
For example, this Sourdough Olive Loaf uses lamination to incorporate the olives.
Sourdough pasta can also benefit from lamination.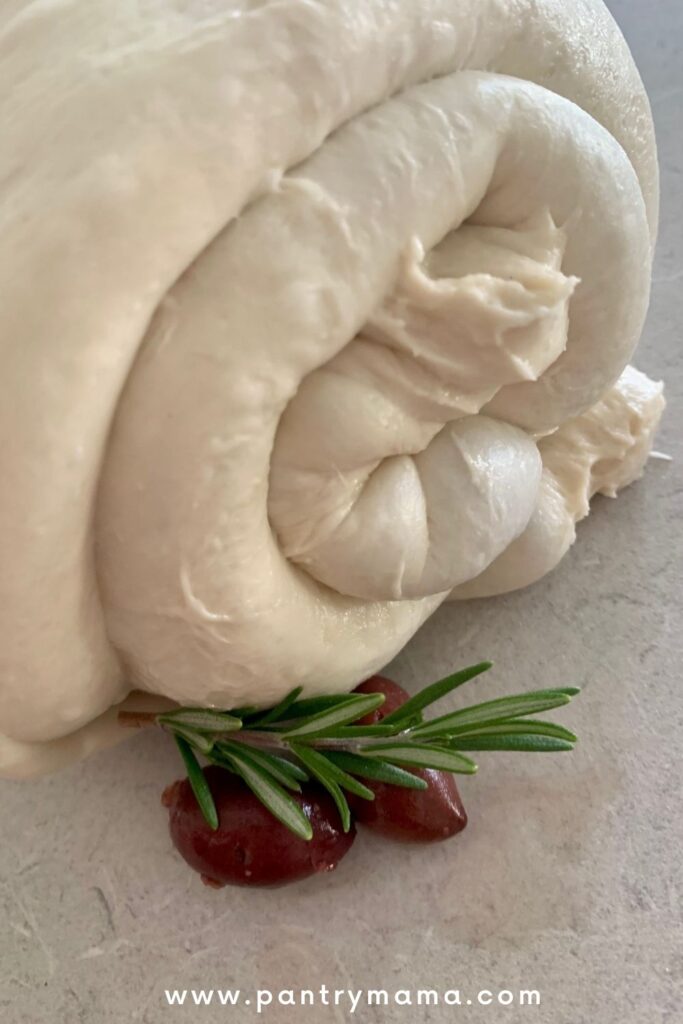 Benefits of sourdough lamination:
Improves dough structure
Allows you to add ingredients to sourdough
Can be used instead of a pre shape
Is a way to strengthen high hydration sourdough
Gives you a way to swirl in cinnamon or garlic towards the end of bulk fermentation.
At What Stage Do You Laminate Sourdough?
You would generally laminate sourdough during the bulk ferment stage, after you have stretched and folded the dough a few times.
Sourdough needs to be fairly stretchy in order for lamination to be successful. If the dough isn't elastic enough it will tear, making lamination impossible.
I would normally use lamination after 2 -3 sets of stretches and folds in order to strengthen the dough. Alternatively I'd use it at this stage to add extra ingredients (like this parmesan and rosemary sourdough loaf).
Other bakers also use a lamination towards the end of the bulk ferment to add ingredients.
If you perform a lamination at this stage, the ingredients will tend to form a swirl through your dough which can be desirable for things like cinnamon or garlic (which can inhibit fermentation if added earlier).
How To Laminate Sourdough
So, how do you actually laminate sourdough?
Here's an easy, step by step process.
Ensure the dough is fairly elastic and has been through at least 2 sets of stretches and folds.

Spritz a large work surface with water.

Place your dough in the middle of the surface and gently ease each corner of the dough outwards.

Move around the dough, gently stretching it as you go.

Once the dough has been stretched as thin as possible, start folding it back up.

There is no set way to fold the dough, you just want it to end up in a neat package (you can see the picture below).
Is Lamination Really Necessary For Sourdough?
For a regular sourdough loaf, lamination isn't essential. You can just stretch and fold the dough.
Stretching and folding is a sufficient technique to develop the gluten network.
Even if you're adding in flavors, lamination isn't necessary. Again, you can stretch and fold the additions in with no issues.
In saying this, lamination can be a way for more advanced sourdough bakers to hone their craft.
Or maybe you enjoy experimenting and are looking for an alternative technique to strengthen your dough.
Also, for some additions, lamination can be an advantage. Some fillings, such as walnuts can tear the gluten network if folded in too late in the process.
For this reason, lamination would be beneficial.
Lamination can also be used in conjunction with coil folds for higher hydration sourdough.
Frequently Asked Questions
Do you need butter to laminate sourdough?
No, unlike pastry, you don't need butter to laminate sourdough (unless of course you are making croissants or puff pastry). Laminating sourdough simply requires a flat work surface and some water spray.
What if my dough tears when I am trying to laminate my sourdough?
If your dough tears easily, you might need to do a few more gentle stretch and folds to ensure that it's strong enough for lamination. Alternatively, just letting it sit for a 10 minute period can also help the gluten to relax and allow you to laminate the dough.
Can I laminate my sourdough instead of doing a preshape?
Lamination can be a good alternative to a preshape. Neither lamination nor preshape are actually essential to good sourdough, however, performing lamination towards the end of the bulk ferment can set you up to having a very well shaped dough.
Can I laminate low hydration dough?
In general, you should be able to laminate dough from around 70% hydration. Any lower than this and the dough may not have enough elasticity to be laminated.
Should you laminate sourdough pizza dough?
Laminating pizza dough isn't essential, however performing a lamination of the dough can lead to a bubblier, flakier pizza crust. Sourdough pizza dough can be laminated during the bulk ferment. Generally laminating it towards the end of the bulk ferment would yield the best results.
Further Reading
If you found this article on how to laminate sourdough helpful, you might enjoy these: