Developing gluten in sourdough bread is one of the most important parts of making sourdough bread. A strong gluten network can ensure that your dough doesn't stick to the banneton, has superior oven spring and doesn't collapse once it's cool.
The 8 best techniques which will help you build gluten in sourdough and create the perfect environment for holding all that CO2 gas are:
Stretch and Fold
Coil Fold
Lamination
Wrapping
Kneading by Hand
Slap and Fold
Pulling Dough Around the Bowl
Kneading with a Stand Mixer or Machine
What Is Gluten and Why Is It So Important?
Gluten is a mixture of two proteins found in wheat. When these proteins are mixed with water, they create a network of gluten chains. It's this gluten network that makes the dough elastic.
Without gluten, your dough would rip and tear (which is why making gluten free sourdough can be so difficult).
The development of gluten in sourdough bread is instrumental to the quality of bread produced. Poor gluten development does not provide an adequate structure for the CO2 gas bubbles produced by the yeast to be evenly distributed.
If the gluten network is weak it will collapse under the weight of the gas produced. This means you'll end up with a tight crumb and dense bread. Generally the opposite of what you're aiming for.
A strong gluten network will be able to withstand the pressure of the gas as it builds and hold the gas in such a way to create an even, open crumb.
A robust gluten network is also essential to ensure your sourdough doesn't collapse after it's baked as well.
How To Develop Gluten In Sourdough Bread
Gluten will develop in sourdough bread even if you do nothing (like in this rustic sourdough bread recipe), however, agitation of the dough will speed up the formation of gluten, and make it stronger and more robust.
Generally, the longer the process you employ for sourdough, the stronger the gluten network. A longer fermentation will further develop the gluten network.
There are 8 main techniques for developing gluten when making sourdough bread.
While my basic sourdough recipe features stretch and folds to develop the gluten in the flour, there are also many other ways to develop gluten.
Like anything in life, you should use the technique you find the easiest to perform - and of course which yields the best results for your loaves.
Gluten Development Techniques for Sourdough Bread
| TECHNIQUE | TIME NEEDED | BEST SUITED TO |
| --- | --- | --- |
| STRETCH AND FOLD | 2 HOURS (FOR 4 TO 6 SETS) | ANY LEVEL |
| COIL FOLD | 2 TO 4 HOURS (FOR 4 TO 6 SETS) | HIGH HYDRATION |
| LAMINATION | 10 MINUTES PER LAMINATION | HIGH HYDRATION |
| SLAP AND FOLD | 10 MINUTES PER SESSION | ANY LEVEL BUT BEST FOR HIGH HYDRATION |
| WRAPPING | 10 MINUTES PER DOUGH WRAP | ABOVE 70% HYDRATION |
| PULLING AROUND THE BOWL | 2 HOURS (FOR 4 TO 6 SETS) | ANY LEVEL |
| KNEADING | 5 TO 10 MINUTES | LOWER HYDRATION |
| STAND MIXER OR MACHINE | 5 TO 10 MINUTES | ANY LEVEL |
Stretch and fold
Stretch and fold is possibly the most well know technique for developing gluten in sourdough bread. Stretch and folds can also be referred to as "pull and folds" or just folding. They generally all refer to the same technique.
When performing stretch and folds, you complete a set of 4 stretches and folds every 15 to 30 minutes. You aim to do around 4 to 6 sets before the dough is ready for bulk fermentation.
Stretches and folds can be done in the bowl or on the kitchen counter.
Coil Fold
Coil folds are the gentlest way of developing gluten in sourdough bread. They are best suited for high hydration dough.
You can perform coil folds in combination with other gluten development techniques.
Coil folds could be performed towards the end of the bulk fermentation if you think the gluten needs further agitation. They are gentle enough not to disturb too many of the bubbles that have formed during fermentation.
To do a coil fold, you'll need to wet your hands and loosen the dough around the edges of the bowl. Pick up the dough in the centre and then use the dough's own weight to let it fall. As you place it back in the bowl, you coil it under itself.
Turn the bowl 90 degrees and repeat the process.
You can see a comparison of stretch and folds vs coil folds here.
Lamination
Lamination is a great technique for developing gluten and is easier than you might think. It's perfect for adding other ingredients to your dough, like nuts, dried fruit and chocolate.
Generally, you'll need to perform some stretch and folds or coil folds before you laminate the dough. Alternatively, you'd need to leave the dough to develop some gluten structure on it's own before you performed this technique.
You can see how lamination is performed in the photo below and you will find a full guide to laminating sourdough here.
Wrapping
Wrapping sourdough is a very underrated technique to develop gluten. It can be a great way to really get your hands in the dough!
To wrap your dough, you'll need to gather the whole piece of dough out of the bowl and use one hand to simply wrap it around the other hand. I suggest wetting your hands before you perform this technique.
Once the dough has been wrapped around your hand, you can remove it and place it back in the bowl. The dough will look like a spiral.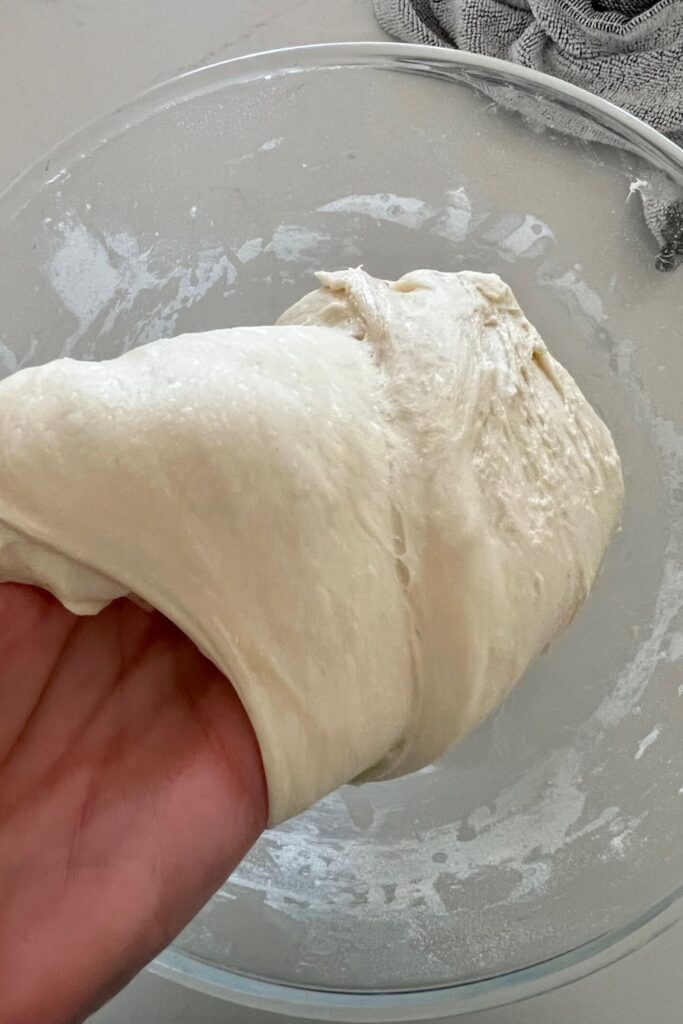 Kneading
It's often said that sourdough bread doesn't require kneading - and this is true - you can make sourdough without kneading. However, it's definitely possible to knead sourdough and it can be a successful technique for developing gluten quickly.
Almost any dough can be kneaded, however if you are working with a higher hydration dough it can get more difficult to knead.
Slap and fold
Slapping and folding sourdough is quite a fun technique - but it can get messy if your dough is sticky. This technique is best suited to high hydration sourdough where you can actually use the stickiness to your advantage.
You are basically taking the whole piece of dough and slapping it down on the table or counter while you pull it towards you and then fold it back over itself.
The slap and fold technique can turn a very sticky mess into a strong ball of dough fairly quickly.
Pulling Around The Bowl
I use this technique in conjunction with stretches and folds in my simple sourdough recipe. This is a great way to take the dough from a shaggy mess into a more structured dough, ready for stretches and folds.
You simply use your finger tips to pull the dough in short, upwards motions as you move around the bowl. You can generally perform around 20 to 25 of these dough pulls as you move around the bowl.
The dough will usually stiffen as you near the end of this sourdough gluten development technique.
Using Stand Mixer or Bread Machine
You can knead sourdough using a stand mixer or a bread machine. These methods can build gluten very quickly and can be great options for people who are time poor or who aren't able to handle the dough very well with their hands.
A stand mixer or bread machine can be used to autolyse, mix and knead the sourdough, before it is left to complete bulk fermentation.
You can find techniques for making sourdough using the following machines here:
How To Test Gluten Strength in Sourdough
When implementing any of the above gluten development techniques, you may want to test the strength of the gluten in your dough so you know when to move onto the bulk ferment.
The window pane test is the way to do this.
You pull a piece of sourdough between your fingers and stretch it very thin (so you can see light coming through). If the dough tears, the gluten network isn't developed enough. If you can stretch it without breaking, the gluten network is strong.
Does Hydration Affect Gluten Development in Sourdough?
Yes different hydration levels will affect the gluten development in sourdough bread. Higher hydration doughs will generally develop gluten faster than lower hydration doughs.
Lower hydration doughs are stiffer and you'll have to work harder to agitate the proteins than you would in a higher hydration dough. Examples of lower hydration doughs would be sourdough pretzel dough or sourdough bagel dough.
Can You Add Gluten To Sourdough Bread?
Yes, you can add vital wheat gluten to sourdough bread dough to increase the gluten. However, it's really only necessary if you're using a lower protein flour (like all purpose flour) or you're using rye and whole grains which are lower in gluten naturally.
Does Fermentation Break Down The Gluten Structure?
Yes, fermentation will eventually start to break down the gluten structure of your bread. This is where it's important to find that sweet spot, particularly for cold fermentation.
You want a long enough fermentation to create a strong gluten structure and good flavor from the lacto bacteria, but not so long that the bacteria start to actually break down all the strength you've worked hard to build up.
This is also why over fermented sourdough collapses when you tip it out of the banneton. When it's left too long, the gluten network breaks down and cannot support the gas bubbles any longer.