Have you ever wondered if it's possible to proof sourdough in the fridge? And whether it's even beneficial to do so?
The good new is that proofing sourdough in the fridge is indeed possible.
In fact, proofing sourdough in the fridge is considered best practice when it comes to getting that real sourdough tang flavor wise.
But in order for your sourdough to proof effectively in the fridge, there are many things to consider.
It's also handy to note that proofing is not the same as fermentation - a common source of confusion for sourdough bakers.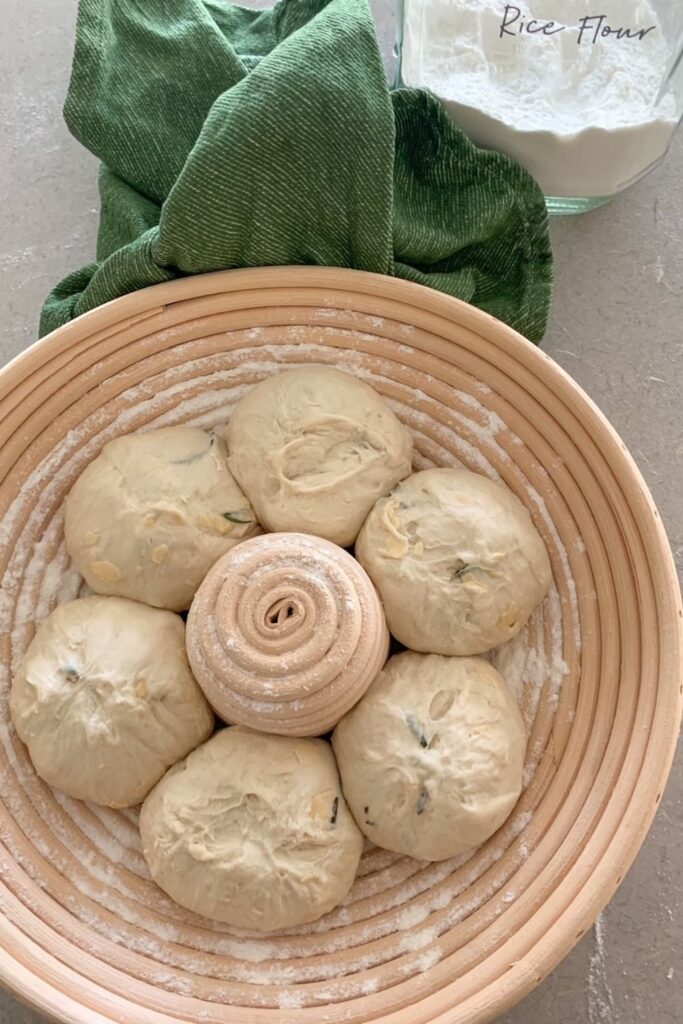 What is Sourdough Proofing?
In bread making, proofing is referred to as the final rise.
When it comes to sourdough, proofing refers to the period of rest that the dough goes through after shaping, but before baking.
Proofing can be done at room temperature - however you need to be very careful that this proofing is short so you don't let the dough over proof.
More often than not, sourdough is cold proofed. That is, it is placed in the banneton in the refrigerator to rest prior to baking.
It is during this time that the yeast become mostly dormant. The bacteria however, continue to work, giving your sourdough that trademark tang.
This process is also referred to as "retarding" or "cold retard" because it retards the dough from rising any further - saving its energy for the oven.
Check out this sourdough glossary for more sourdough terminology. You might also find this resource handy to understand the difference between bulk fermentation and proofing.
Why Do You Proof Sourdough In The Fridge?
Proofing sourdough in the fridge is effective because it allows the dough to rest in its shaping container while developing superior sourdough flavor.
Unlike bulk fermentation (which must be done at room temperature), proofing can be done in cold fridge temperatures.
Proofing in the fridge works because it allows the yeast to become dormant, stopping the dough from rising too much and over proofing.
The bacteria in your sourdough starter are still active at lower temperatures. They will continue to break down the sugars in the dough while the dough rests.
If you leave the dough on the counter to proof, you risk over proofing because the yeast are still highly active. You will need to watch the dough very closely.
Benefits of Proofing Sourdough In The Fridge
The main benefits of proofing sourdough in the fridge are:
the flexibility to bake sourdough later
stop sourdough from over proofing on the counter

you do prolong the fermentation for extra benefits like this long fermented sourdough bread.

dough is easier to score

dough is easier to handle (transfers to banneton more easily)

How Long To Proof Sourdough In Fridge?
You might be surprised at just how long you can proof sourdough in the fridge.
Cold fermentation allows you to hit pause on your sourdough and bake it at a time that is convenient for you.
Of course, a long, cold fermentation will also allow you to increase the sourness of your bread.
Ideally, you can proof sourdough in the fridge for up to 36 hours, or even longer if your dough will tolerate it.
You don't want to have the gluten structure break down or for the dough to use up all of its energy before it hits the oven. This will result in poor oven spring.
You may need to experiment a little to find the cold proofing time that works for you and your dough.
The only caveat here would be if you're using wholegrains or rye. These flours may not cope as well with cold proofing as bread flour.
Wholegrain and rye flours may be more sensitive to the acids in your sourdough starter and have a weaker gluten network which will bread down more easily.
Proofing Sourdough Overnight In The Fridge
Proofing sourdough overnight in the fridge is a great option if you like to bake first thing in the morning.
You could plan out your sourdough baking timeline so that your bulk fermentation finishes in the evening.
You would then shape your dough and place it into the fridge to proof overnight.
When you get up in the morning it will be ready to bake.
How easy is that!
This cold proofing trick is perfect if you're a busy mom trying to fit sourdough baking around kids.
Sourdough bread is the most popular to col proof, but you could also cold proof these fluffy sourdough cinnamon rolls or even these sourdough garlic bread rolls.
Frequently Asked Questions
Do you cover sourdough in the fridge?
Ideally you should place a plastic shower cap over the banneton while the dough cold proofs in the fridge. You could also place the sourdough into a plastic bag to stop it drying out. You don't want it to get too dry on top as this will reduce the overall hydration of the dough, giving you a tough crust and hindering oven spring.
How long should you proof sourdough after shaping?
There's really no set time to proof sourdough after shaping. It will depend on your specific sourdough starter and dough, as well as the temperature that you are proofing at. If proofing at room temperature, the time you proof will be much shorter than if you place your dough into the fridge.
What is the difference between fermentation and proofing?
Fermentation generally refers to the bulk fermentation, where the dough is allowed to rest at room temperature. Proofing refers to the second rise or resting period when it comes to sourdough. Many people use these terms interchangeably, when in fact, they are two different things.
Can you bake sourdough straight from the fridge?
Yes! In fact it's best practice to take your dough from the fridge, score it and pop it straight into a hot Dutch Oven. The cold dough and hot Dutch Oven combination equals maximum oven spring.
What is retarding when referring to sourdough?
Retarding dough refers to placing it into the fridge for cold proofing. It ensures that the yeast become mostly dormant but the bacteria are still able to work on giving your dough that lovely sourdough tang.
How long to proof sourdough after shaping?
This will depend on whether you are proofing your sourdough in the fridge or on the counter at room temperature. Cold proofing will allow you to leave the dough a lot longer than proofing at room temp. If proofing at room temp, you would only be able to leave it a few hours - especially if it's warm.
Further Reading
If you enjoyed this article about proofing sourdough in the fridge, you might enjoy these: