Wondering how to store sourdough bread once you've baked it?
Keeping sourdough bread fresh and crusty post bake can be a challenge. But there are a few things you can do to preserve sourdough to keep it fresh.
Baking sourdough bread is such an involved process. Your sourdough starter almost becomes a part of your family ... maybe you've even given it a name?
Once you've invested your time into baking good sourdough bread, you want to know how to store it to ensure it stays as fresh as possible, right?
Here, you'll find information on storing sourdough bread correctly.
What Makes Sourdough Bread Different To Yeasted Bread?
Sourdough bread has a higher water content than regular yeasted bread. This allows it to have a more open crumb and an often moister inside (depending on how it's baked).
Sourdough bread will not mold as fast as bread made with commercial yeast due to the good bacteria present. It doesn't actually have any preservatives in it - so it won't stay fresh longer term like the bread you buy from the store does (which is a good thing!).
When you bake sourdough bread, the water in the dough is pushed outwards and that is how the crust is formed.
The higher the hydration, the longer it will take to form a crust in the oven and the thinner the crust will be when it does form.
Given this, you will find that sourdough with a higher hydration will generally stay fresher for longer than that with a lower hydration level. The crumb will be softer for longer as it generally starts out with more moisture.
Other elements which help sourdough stay fresher for longer are:
sourdough that has been fermented correctly during bulk ferment (under or over fermented sourdough will spoil more quickly).
baking sourdough for the right amount of time so that is cooked all the way through and there are no under cooked/under fermented parts.
enriched doughs (with butter, egg or milk) may stay softer for longer than lean dough.
Does Sourdough Bread Have A Use By Date?
A commonly asked question - how long does sourdough bread stay fresh?
While it's true, sourdough bread does have very clever bacteria that prevent mold longer than yeasted bread, it does have a use by date.
As soon as your sourdough is cooked, it starts the process of going stale. And there aren't any preservatives present to hinder this process. So in short, sourdough bread will not stay fresh forever.
With this in mind home baked sourdough is best consumed within the first 24 hours of baking.
That first 24 hours is when homemade sourdough bread will be in it's peak form. The crust will be crisp and a little chewy. The inside will be soft and airy, begging for butter. You can't help but gobble it up.
But what happens if you have some leftover sourdough bread? What is the best way to preserve sourdough to keep it fresh?
How To Store Homemade Sourdough Bread
There are a few ways you can store your homemade sourdough bread but almost all of them sacrifice some of the elements you love - for example a plastic bag will keep the bread from drying out, but it will also soften the crust.
A paper bag is more eco friendly than plastic, but it will make the bread dry out faster.
To choose the right storage for your sourdough, you need to ask yourself what is important to you:
Do you want to maintain the crust at any cost?
Is it more important that the sourdough be soft inside?
Do you have more than one loaf to store?
The answers to these questions will all have a bearing on how you decide to store sourdough bread in your kitchen.
You also need to consider whether you'll be storing a sourdough loaf that is cut - or a sourdough loaf that is uncut. A cut loaf will dry out faster than a loaf that has not been cut yet.
On The Counter With A Tea Towel or Linen Bread Bag
Perhaps the most common way to store sourdough bread - and the easiest - is on the kitchen counter with a tea towel, or inside a cloth bread bag.
As soon as you remove sourdough bread from the oven, it should be placed on a cooling rack. You don't have to cover it, but laying a tea towel over it while it cools is a good idea if you have flies or even pets around.
Once it's cool, wrap it in the tea towel or bread bag and it will stay fresh like this for up to 24 hours. This is great if you want to leave bread out for breakfast the next morning, or if you've baked earlier in the day ready for dinner.
Once the sourdough has been cut, place it cut side down on the bread board and place the tea towel over the top. The bread will be ok like this for up to 48 hours.
Storing sourdough bread on the counter with a tea towel is environmentally friendly and probably the most cost effective, plastic free option.
Allowing sourdough bread to sit on the counter in this way, particularly within the first 24 hours after baking, allows the bread to breathe.
Bread Box (Bread Bin)
Bread bins can be an attractive, plastic free option for storing homemade sourdough breads. Not only are they functional, but they can also serve a decorative purpose in your kitchen.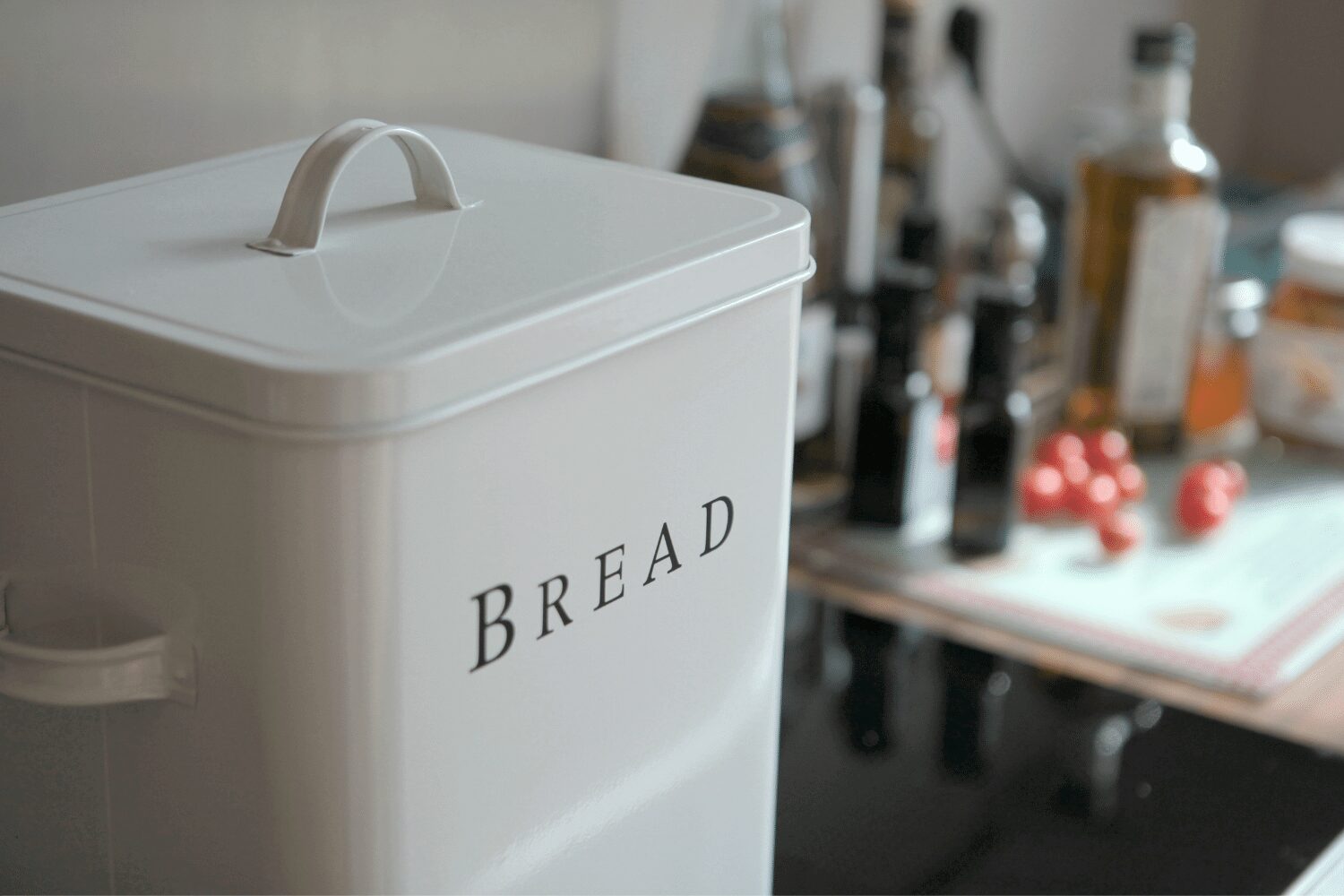 Not all bread bins are created equal however. Some will keep sourdough bread fresher for longer.
A bread box is generally a large container made from either wood or tin with an opening to be able to put your bread inside. With the lid on, the box is sealed, but not completely air tight.
The bread box works because the moisture from the bread raises the humidity inside the box. However, there is enough air circulation inside to keep it from getting too moist (like it would inside a plastic bag).
If built and used correctly, a bread box should keep the inside of the bread soft and the crust fairly crisp.
So which bread box is best for keeping sourdough bread fresh?
A lot of this choice comes down to personal preference - whether you'd like a wooden, tin or even stainless steel bread box. Large or small?
Storing Sourdough Bread In A Plastic Bag
Plastic bags are a good option for storing some types of sourdough bread. Sandwich loaves, bread rolls and sweet buns typically do the best in a plastic bag because they don't have crisp crusts.
When storing these types of bread, the priority is to preserve their tender, moist crumb.
Sandwich bread typically has a softer crust which is not ruined by the humidity inside the plastic bag.
Sometimes traditional sourdough bread is sold in plastic bags, however you might find that these plastic bags have perferations which allow air to circulate. These plastic bags are suitable for sourdough boules and batards which have a crisp crust.
Sourdough sandwich bread and soft dinner rolls are best suited to being stored in ziploc bags or these purpose made sandwich loaf bags.
Storing Sourdough Bread In A Paper Bag
Storing sourdough bread in a paper bag is a cost effective and eco friendly solution, however it's not always a a good way to keep sourdough fresh past 24 hours.
The paper bag will allow a lot of air circulation, allowing the bread to breathe. This is great for the crust. But it will not maintain a soft inside because there isn't a way to trap some humidity.
It can be a good way to keep sourdough covered before it's cut (within 24 hours).
It's also a cost effective way to wrap sourdough for gifting or selling.
Other Ways To Store Sourdough Bread
There are other ways you can store sourdough bread after it's baked.
If you only use a Dutch Oven to bake sourdough, you could use it as a bread box after baking.
Once the sourdough bread and the Dutch Oven are cooled, place the bread inside the Dutch Oven. This works even if the bread is cut.
Please note though that there will not be air circulation inside the Dutch Oven, which means that the crust will not stay super crunchy or crisp using this method. It is ok however if you like to toast your sourdough.
Another creative way to store sourdough bread is in a glass cloche on your kitchen counter. This also serves as a way to display beautiful sourdough bread. This glass cloche would work well for sourdough bread (however, as above, please note that it does not allow air to circulate, so would be better for short term storage).
How To Refresh Sourdough Bread After Storage
Did you know you can refresh sourdough bread after it's been stored for a few days, either on the counter or in the freezer?
This tip is super handy if you need to have freshly baked bread for a dinner party or even for a gift but you need to bake it in advance.
Let's say you bake a loaf of sourdough bread before work on Friday morning and leave it to cool on the counter while you go to work. When you arrive home that evening, you could spritz the bread with water and place into a hot oven for a few minutes.
The crust will be refreshed and crispy - just like it's been freshly baked. This works for uncut loaves up to 48 hours old.
You can read more about this method here.
How Do You Keep Sourdough Fresh in the Fridge?
The only time sourdough bread should be stored in the fridge is during the cold retard - that is before it's baked.
Baked sourdough bread should never be stored in the fridge because it will cause it to go stale more quickly than if it was just left out on the counter.
It's better to store baked sourdough bread in the freezer.
Sourdough bread does not store well in the fridge because the environment inside the fridge is very dry and will cause the bread to go very hard. It will certainly stale more quickly in this environment.
How To Freeze Sourdough Bread
Freezing sourdough bread is one of the best ways to keep it fresh long term. You can freeze pretty much any type of sourdough bread, so long as it is wrapped correctly.
Sourdough bread can be frozen as a whole loaf or sliced for your convenience. Slicing sourdough bread before storing in the freezer means that you can take out a single piece at a time for toasting.
This is a very convenient way of storing sourdough bread, particularly if you know you won't be able to eat it all in just a few days.
You'll find a guide on how to freeze sourdough bread here.
Frequently Asked Questions About Storing Sourdough Bread
Q - How long does sourdough bread stay fresh?
Sourdough bread is best consumed within 24 hours for maximum freshness. After this period the crust and crumb will start to deteriorate and won't be as good as fresh baked.
Q - How do you keep sourdough bread crusty?
Higher hydration sourdough will maintain a crisper crust for longer than a lower hydration loaf. Storing sourdough bread on the counter wrapped in a tea towel or linen bread bag is best as it allows the bread to breathe.
You can also refresh sourdough bread after it's been baked, or after it's been defrosted. You'll find the instructions on how to do this here.
Q - How can I store sourdough bread without plastic?
The best plastic free storage for sourdough bread would be wrapped in a tea towel, cloth bread bag or a wooden bread box. However, as with all sourdough storage methods, you will eventually lose some of the texture of the bread due to air circulation.
Q - Can I freeze sourdough bread?
Yes! It's very easy to freeze sourdough. In fact, this is probably the best way to store sourdough bread for long term freshness! You'll find full instructions for freezing sourdough bread here.
Further Reading
If you found this article helpful, you might like these: