If you enjoy gifting your sourdough loaves to friends & family, you may have thought about how to gift wrap your sourdough or artisan bread.
A loaf of sourdough, or any bread really, makes the loveliest of gifts.
You can present a loaf of crusty sourdough or artisan bread to a friend hosting a dinner party or bbq, as a holiday gift or to a friend who's been unwell.
Sourdough really is the universal bread gift, right?
These delicious sourdough garlic bread bites are also an amazing way to gift the host of a dinner party or gathering.
How To Gift Wrap Your Sourdough Using Paper
Paper is perfect to wrap your sourdough loaves in - it's natural and gives a rustic effect. It also allows your sourdough bread to breathe.
You could tie your paper bread parcel with twine for a little extra flourish.
Fresh herbs or flowers from your garden add a personalised touch too.
You can choose any type of paper you have on hand, but these options are best for keeping your bread fresh, while looking the best too.
Wax paper
Parchment or baking paper
Brown paper
Clear Bread Bags For Gifting Sourdough
If you don't have time to wrap and tie, you'll find many "done for you" options. We love these clear bread bags.
These bread bags work really well if you've scored a design into your sourdough. You could add a gift tag or a simple ribbon, or just leave as they are.
Cloth Wrapping Ideas for Sourdough
It's easy to wrap sourdough or bread into a clean tea towel or linen bread bag.
These can form part of the gift - perfect at Christmas time or even for end of school year teacher gifts.
I often pick up packs of pretty tea towels and pop them away to use as an easy, last minute bread gift.
These cloth and linen bread bags are a lovely idea too!
Creating Sourdough Bread Baskets
Imagine receiving a basket like this - with a fresh loaf of sourdough bread, cheese, butter, jam ... even a plant (just because it's easy to propagate some cool plant gifts too).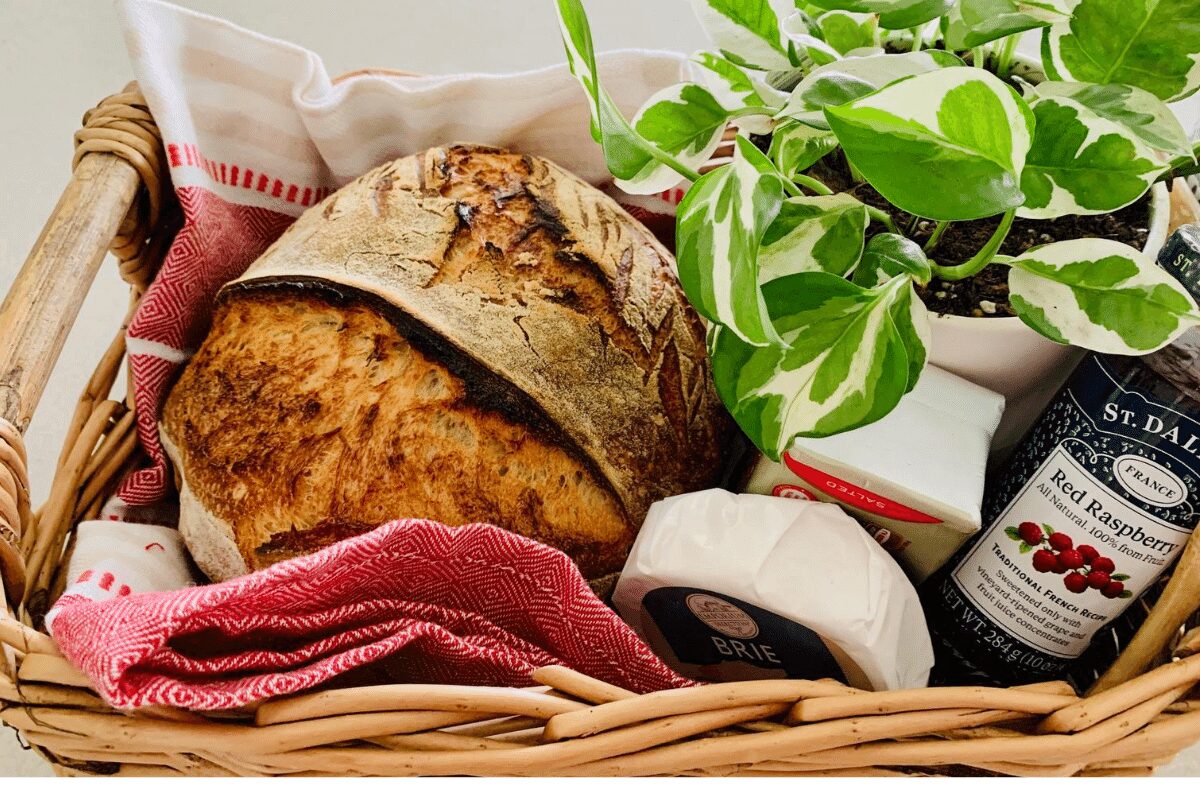 Honestly, this basket was next to nothing to put together and looks absolutely amazing!
A basket of mini sourdough boules would be lovely too!
Another idea for including in a bread basket is flavored or whipped butters. Whipped Honey Cinnamon Butter, Jalapeño Honey Butter or Whipped Herb Butter are always well received.
Sourdough Gift Ideas That Aren't Bread
While it's always nice to gift an actual loaf of sourdough, there are also lots of sourdough recipes you can bake and gift that aren't actually bread.
Why not bake a batch of these sourdough parmesan & rosemary crackers and package in a lovely glass jar or cellophane bag.
Have some fun with sourdough grissini - shape them into hearts and then package in cellophane.
A package of homemade sourdough English Muffins or hamburger buns would also be a lovely gift.
Check out this great guide to Christmas Sourdough Recipes To Make As Gifts.
Frequently Asked Questions
What do you wrap sourdough bread in?
You can wrap sourdough bread in almost anything - from tea towels, to brown paper, hessian, fabric scraps or linen bread bags - even beeswax wraps! You are really only limited by your imagination.
How do you store sourdough bread?
How you store sourdough bread really depends on what type of sourdough bread you have (sandwich, rustic, crusty, flavored etc). The texture of the crust and crumb will determine whether you store your sourdough in paper, plastic, cloth etc. You'll find full instructions for how to store sourdough bread here.
Further Reading
If you love this article, you might enjoy these ideas: