One of the questions I get asked most frequently is "is sourdough time consuming?".
Now I'd be lying if I said it isn't ... but it really doesn't have to be. Like most skills, the more you practice, the better you get and the less time it takes.
Sourdough is also a form of bread making that is quite hands off - meaning that while it may be a 3 day process to make a loaf, you don't actually have to have your hands on the dough for that whole time.
Let me explain ...
Is Sourdough Bread Hard To Make?
This is a difficult question to answer with yes or no. When ascertaining the difficulty of making sourdough bread, you really have to take into account your other life experiences.
If you've baked yeasted breads in the past, you're probably not going to find sourdough bread too difficult. If you've never baked yeasted breads before, sourdough may be a huge learning curve.
In any case, you are dealing with wild yeast, rather than commercially cultivated yeast, so there are always going to be some nuances.
What Skills Do You Need To Make Sourdough Bread?
In order to successfully bake sourdough bread, you need to be able to:
Read a recipe or instructions
Measure ingredients using a scale
Map out a timeline and plan schedules
Handle dough with your hands (stretching, folding, shaping)
Be flexible!
Have patience!
Is Sourdough Time Consuming?
I think one of the most time consuming parts of sourdough is actually cultivating the sourdough starter.
You can choose to make this from scratch or purchase an established sourdough starter. This guide will help you decide which path is best for you.
It can take a good few months to establish a strong sourdough starter that is capable of making sourdough bread. You would need to commit around 10 minutes morning and night to feed the starter - so it's not a lot of time. But you need to do it consistently every single day until the starter is ready to go into the fridge.
When you are ready to make sourdough, you would need approximately 2 hours and 40 minutes of "hands on dough" time over 2 to 3 days. This would include feeding the starter, mixing the dough, stretching and folding and shaping the dough.
The rest of the time is "hands off" time in that the dough will be resting, fermenting, proofing and baking.
You can easily construct a sourdough baking timeline that will map out how much hands on dough time you need for each loaf.
You'll find my simple sourdough bread recipe here.
Do You Need To Be Home A Lot To Make Sourdough Bread?
There are lots of people who say oh I can't make sourdough bread, I work full time. Or I can't make sourdough bread, I have kids!
But the truth is that the timeline needed to make sourdough bread can be constructed around the time you do have available.
As you have seen above, the hands on time is only 2.5 hours over 2-3 days. And these time blocks can be manipulated so that you can perform them when you do have time.
I've written an ebook around this very topic - "Scheduling Sourdough" - it features tricks and methods to fit sourdough into your busy schedule, including a full timeline to fit around full time work.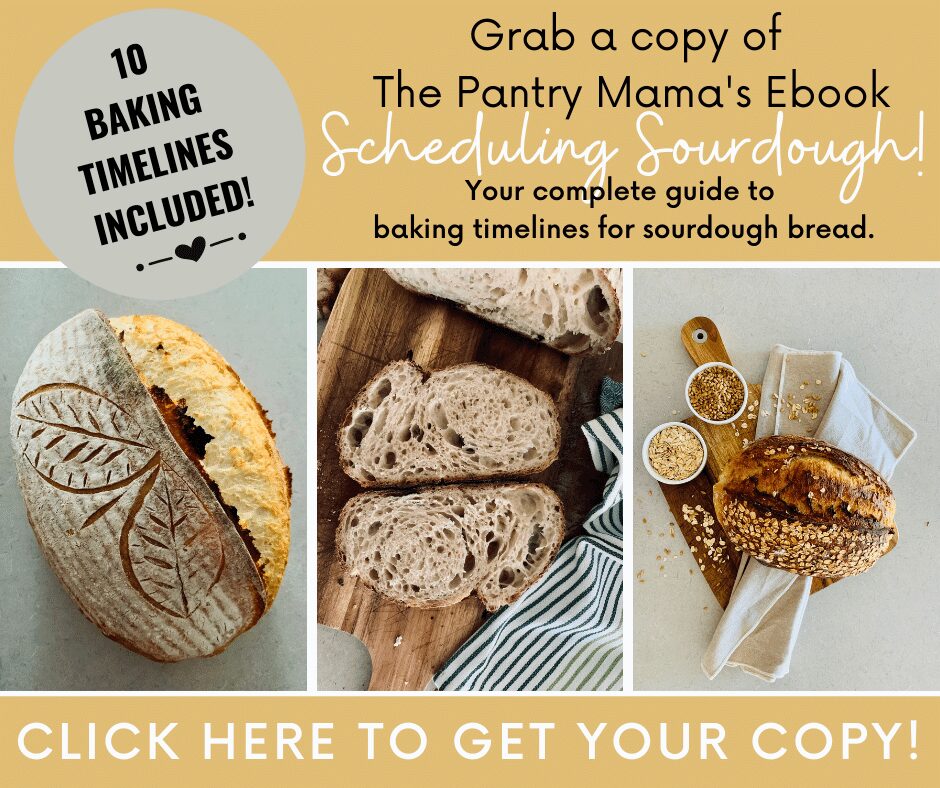 Is Making Sourdough Starter Like Having A Pet?
Many people liken creating a sourdough starter to having a pet - or even a small child.
As someone who has 3 small children, pets and a sourdough starter, I can tell you that it's not like either of those things!
You really only need 10 minutes, twice a day to create a sourdough starter. Once it's mature, you can even keep it in the fridge (you definitely can't do that with a pet!).
You may spend more time thinking about your sourdough starter, sniffing it and even researching it. But this time isn't actually time required to take care of it.
And while your sourdough starter is technically a living colony of micro organisms, it's really not a lot of work to look after.
Why Does Sourdough Take So Long?
Sourdough bread takes considerably longer than yeasted bread because you are using wild yeast that has been cultivated by mixing flour and water.
Commercial yeast has been harnessed and manipulated to work in a short amount of time. It only needs an hour or two to rise fully.
A sourdough starter may take up to 12 hours or longer to rise your bread dough. This can be really overwhelming for a new sourdough baker, but you don't actually need to be around while your wild yeast are doing their thing.
Once you are more experienced, you'll be able to set and forget.
Can You Make Sourdough Bread In A Shorter Time?
If you don't want to use commercial yeast, you can't really take short cuts with sourdough bread making. Because you're working with wild yeast, it takes time. It requires a lot of patience.
A good way to ensure you can eat sourdough bread anytime is to make enough sourdough bread for the week on your weekend or time off.
You can then freeze the bread and use it later in the week.
Sourdough can also be "cold fermented" for long periods of time, meaning that you can make the dough and then proof it in the fridge for a few days before baking.
So you could make enough dough for 3 or 4 loaves and then place them into the fridge. You can then bake a fresh loaf each day, with no extra "hands on dough" time.
How Can You Make Sourdough Less Time Consuming?
Many people ask how they can make sourdough bread in less time. Sourdough needs time to ferment and develop flavor and rise, so you can't really decrease this time (without sacrificing oven spring) but you can do things to decrease your "hands on dough" time.
My best tips for making sourdough less time consuming are: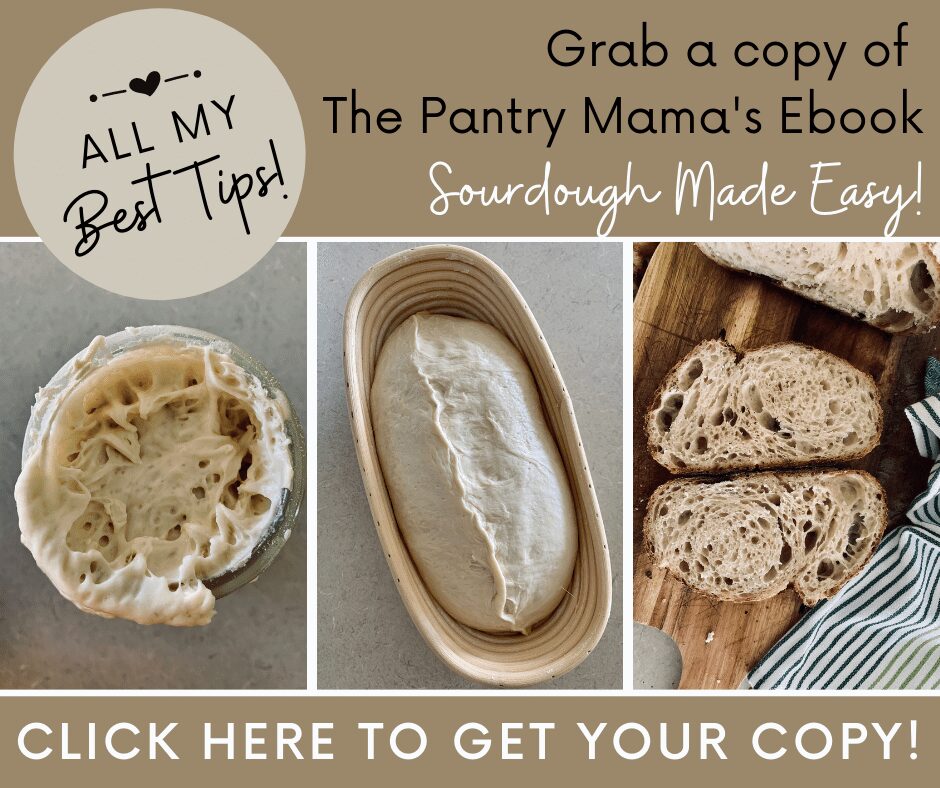 Frequently Asked Questions
How long is the sourdough process?
It depends on which sourdough recipe you follow. Some "no knead" sourdough recipes require fairly minimal hands on time, others can require a few hours of hands on time over a 2 to 3 day period. The good thing about sourdough bread is that you can manipulate the process to suit your own schedule.
Can I use commercial yeast to speed up the sourdough process?
You can use commercial yeast to speed up the sourdough process, however once you do this it is no longer "true sourdough". If you are pushed for time, sourdough discard or sourdough hybrid recipes can be a good compromise since they consist of both sourdough starter and commercial yeast. They often take only a few hours to make.
Can you make sourdough bread in just one day?
Yes you can make sourdough bread in one day, but you need to plan ahead to make this happen. You would need to feed your sourdough starter the night before, for example. You would also need to manipulate the amount of starter you use and the temperature you bulk ferment at - but it can be done.