This sourdough flat bread recipe can be used for so many different things!
Seriously this might just be the most versatile sourdough recipe ever!
Tortillas, souvlaki, wraps, pizza bases, pita, burritos, flat bread, naan - it's all covered with one, easy to mix and easy to work with dough!
This sourdough flat bread is also vegan and dairy and egg free!
This flat bread recipe came about quite by accident. You see, in my family we eat a tonne of pizza! But we are also super keen on tacos and wraps - anything you can put meat and salad in really.
One night I had some pizza dough left over and I wondered what would happen if I cooked it in a skillet, rather than using it on a tray like traditional pizza.
Seriously, I could not believe the delicious flat breads that we created. They are so good! Bubbly, soft, pliable, bendable, foldable - all of this - with that delicious sourdough tang.
The great thing about this recipe is you can make the dough and then decide what you're going to use it for!
Since discovering just how good this dough is, we've since tested it for a bunch of different meals and they've all been fantastic!
The dough is silky smooth and not at all sticky, so the kids can get involved in shaping and rolling it too!
What Can You Use Sourdough Flat Breads For?
Roll them super thin and round and cook them as tortillas (you could even use a Tortilla Press).
Roll them into ovals and serve with pulled meats and salads.
Shape them into Naan Bread, top with sesame seeds and cook on a hot griddle pan (brush them with garlic butter once they're cooked).
Use 100g balls of dough and roll into mini pizza bases. This is so much fun for the kids to make their own mini pizzas!
Use 100g balls of dough and roll into wraps - perfect for lunches filled with egg or meat and salad.
Use as wraps to serve with souvlaki.
Turn them into pita breads by shaping them into rounds (around ½ inch thick) and cooking in a HOT skillet.
Cut left over flat breads into triangles, drizzle in olive oil and paprika and bake in the oven to make tortilla chips - serve with your fave dip!
Let your imagination run wild and have fun with this versatile sourdough flat bread dough!
Storing Your Sourdough Flat Breads
This dough can be made in advance and stored in the fridge for up to 48 hours before you want to use it.
Cooked flat breads can be frozen between sheets of baking paper or parchment paper.
When cooking your sourdough flatbreads, pile them into a tea towel and keep them wrapped to ensure they stay soft and pliable.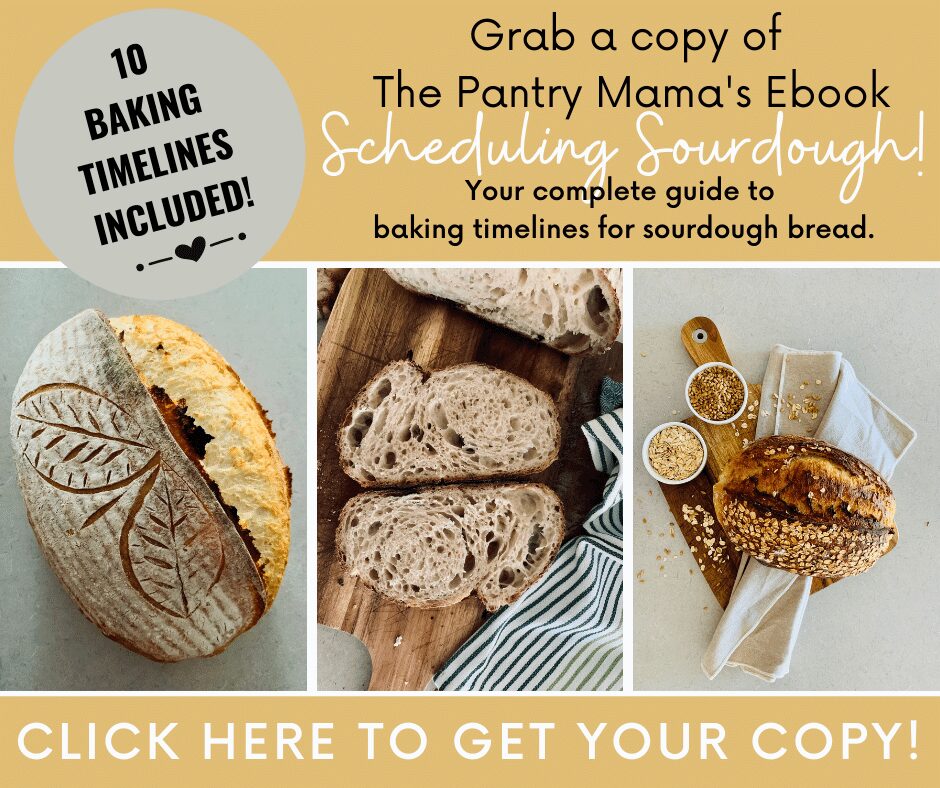 Further Reading
If you love this sourdough flat bread recipe, you'll love these ideas!
Looking for soft and tender sourdough naan bread made with yoghurt? This recipe is amazing!
This sourdough lavosh is a type of crispy flat bread - perfect for snacks and charcuterie boards.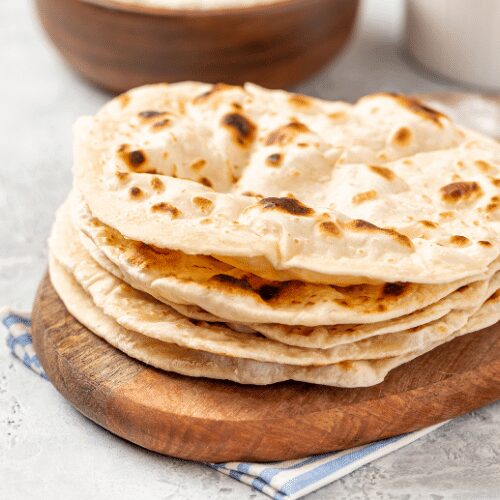 Sourdough Flat Breads (Tortillas)
These sourdough flatbreads are incredibly versatile and will become a family favorite at your house in no time. From tortillas to pizzas, this dough has you covered!
Equipment
Stand Mixer

Tortilla Press

Frying Pan
Ingredients
500

g

Bread Flour 

280

g

Water

200

g

Sourdough Starter

fed and active

30

g

Olive Oil

15

g

Salt
Instructions
Measure out all your ingredients into the bowl of your Thermomix or stand mixer. You don't have to pre mix, you can just add them all in on top of one another. This dough is extremely forgiving.

Gently combine all the ingredients so it forms a shaggy dough. Let the dough sit for around 30 minutes.

Using the knead function on your stand mixer, combine all the ingredients and knead for around 4-5 minutes (use the dough hook on your stand mixer).

Thermomix - Dough function for 4 minutes.

Check the texture of your dough. It should be smooth and silky and coming away from the sides of the bowl (see recipe notes below)

Turn the dough out into a large ceramic or glass bowl. Cover with cling wrap or a damp tea towel and leave to rise until it has doubled.

This may take several hours, depending on the temperature of your kitchen. Watch the dough and it will show you when it's ready, rather than going by a set amount of time.

Using 200g of sourdough starter means the process will happen faster than if you used less (see notes)

Once the dough has doubled, separate the dough into smaller balls so they are ready to be rolled out. I find around 50g to be the perfect size.

The easiest way to do this is to flip the dough onto your counter, making sure the sticky side is facing up. Use a metal dough scraper to gently cut chunks of the dough away. Gently form into a loose ball.

Leave the balls on your counter top, covered with a tea towel, for around 30 minutes to allow the gluten to relax. (see notes)

Once the dough has relaxed you can roll them into the shape you would like.

If you're making naan or even thicker flat breads, you can just use your fingers to press the dough out. If you want tortillas that are perfectly round, use a tortilla press.

I find that a rolling pin is handy if you want nice thin flatbreads. It's really up to you.

Have some semolina or cornmeal handy to use if you're using a rolling pin so the dough doesn't become sticky. The olive oil in the dough will make it quite elastic though.

When you're ready to cook, heat a frying pan, skillet or bbq plate until it's HOT! These flat breads need a hot, fast cook.

Add a few drops of olive oil to your cooking surface and carefully drop the flat bread onto it (if you find the dough has "shrunk" a little from when you shaped it, just gently use your hands to stretch it a little before you drop it in the pan).

They will only need around 1 minute each side. They will bubble up and brown very quickly. Once it bubbles, flip to the other side to brown and then remove.

If you aren't eating them straight away, keep the flatbreads stacked and wrapped in a tea towel to ensure they stay nice and soft and pliable.
Notes
Using a Stand Mixer or Thermomix to Knead the Dough
The easiest way to make this dough is in a food processor, stand mixer or Thermomix. This recipe requires kneading so I find it easiest to use a machine (mainly because I'm time poor). I make this dough in my Thermomix - but any type of stand mixer (ie Kitchen Aid) would work. If you're using a stand mixer, I'd combine all the ingredients first and then swap to the dough hook once the dough has come together.
Knowing When the Dough Is Kneaded


If your dough is still sticky, sprinkle a little extra flour and knead for a further minute or two until it becomes silky smooth. You'll know it's ready when you can hear it slapping the sides of the bowl. Generally it takes 4-6 minutes of kneading but the time will depend on your dough as well as the strength of your machine.

Notes on Bulk Fermentation

This recipe uses 200g of sourdough starter, which means that your dough will ferment fairly quickly. For more information on how the amount of starter affects fermentation time, go here.
Notes on Size of Dough Balls


Just a note here regarding the size of each flatbread - what you want to use them for will depend on the size you make them. 50g is perfect for a tortilla or flatbread. 100g would be better if you want a naan or souvlaki wrap.
Nutrition
Calories:
2252
kcal
Carbohydrates:
401
g
Protein:
65
g
Fat:
39
g
Saturated Fat:
5
g
Sodium:
5841
mg
Potassium:
502
mg
Fiber:
13
g
Sugar:
2
g
Vitamin A:
10
IU
Calcium:
87
mg
Iron:
5
mg