Have you ever wondered what sourdogh bread should actually look like? What should it taste like? How should the crumb look? What is the perfect loaf of sourdough?
These are questions I get asked all the time in my Facebook Group of over 140,000 people, so much so, that I decided to actually share my thoughts on what good sourdough bread actually looks like.
I think the most important thing to note here is that the perfect loaf of sourdough bread might be different from one person to the next. One person might love a really open, lacy sourdough crumb with a thin, crackly crust where they have to dip the bread into homemade butter because it falls through the open holes.
Someone else might like a softer crust with a more closed crumb so the toppings don't fall through.
And don't even get me started on the sourdough ear! It seems ears are super divisive - some people love them, some people will do anything to bake sourdough without them (personally, I love a good ear).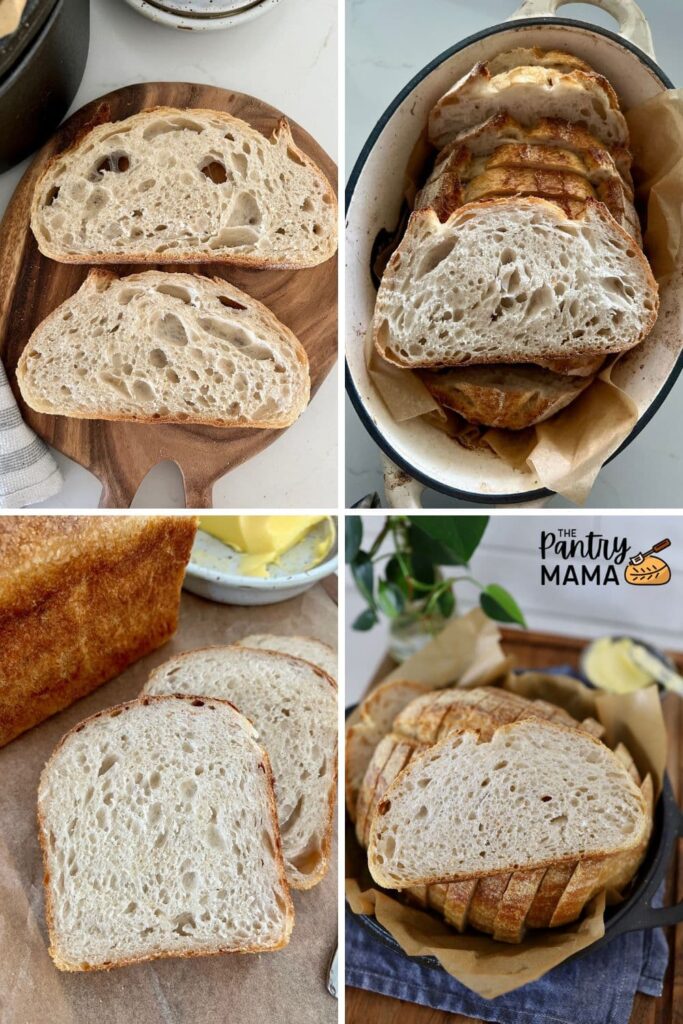 So you see what I mean, the perfect loaf is so different for everyone. But this post aims to show you what sourdough should look like or could look like. I hope it's helpful in your sourdough journey to see the photos and information that I've put together for you.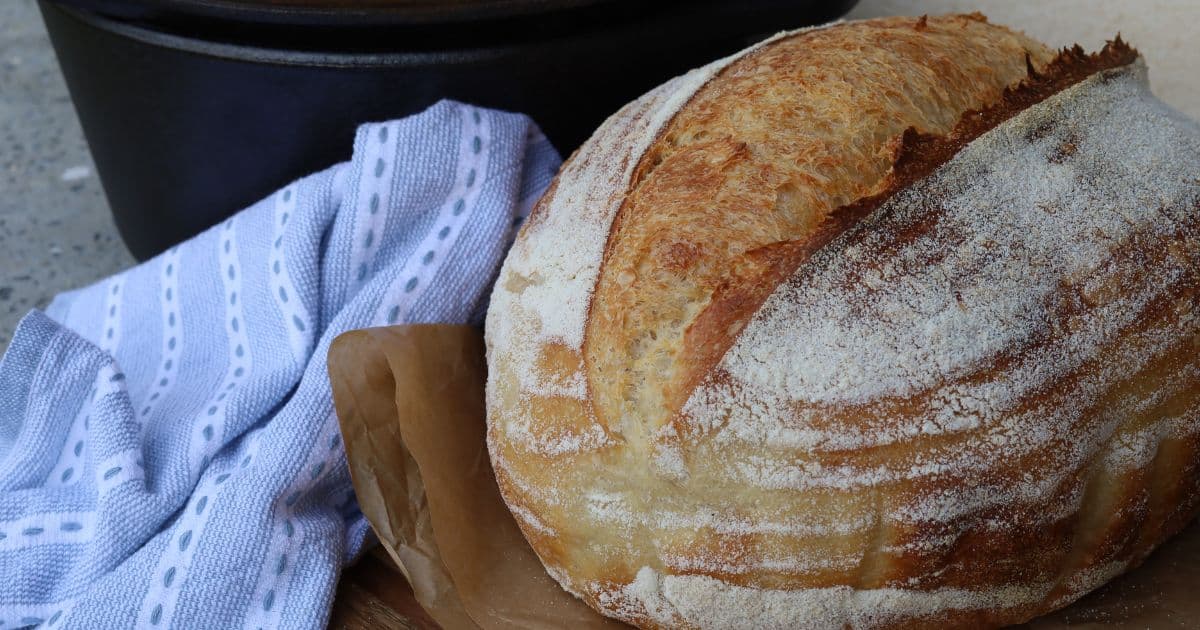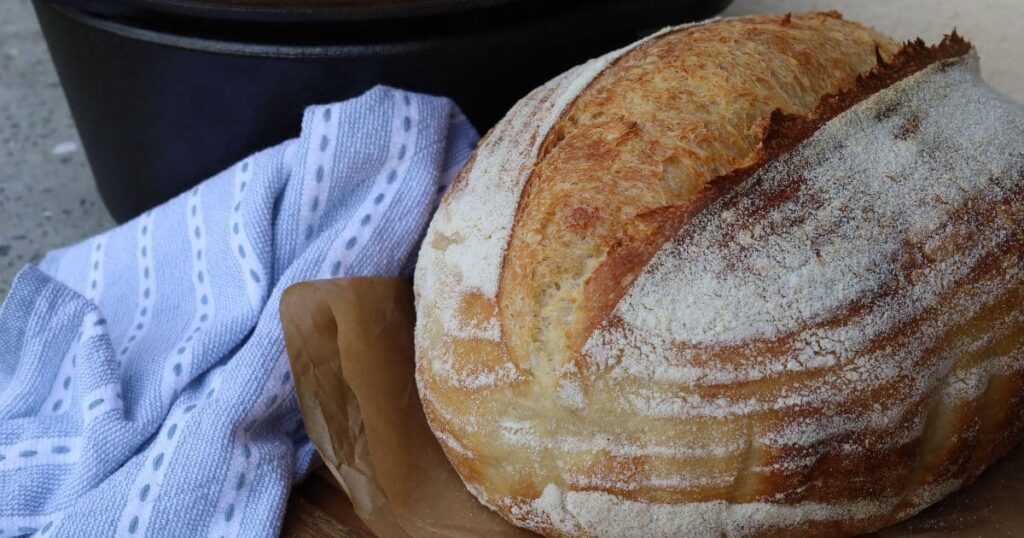 Sourdough Resources
If you're new to sourdough, or you're looking to improve on your sourdough skills, you might find these sourdough resources helpful:
So What Should Sourdough Look Like?
So if you really want to know what traditional sourdough bread is generally like, then it would be characterised by:
Crispy, golden, deep brown crust that is firm and crusty, slightly chewy
Airy and lacy open crumb caused by medium to large holes (can be irregular)
A slight shine to the alveoli (indicating sufficient gluten development)
A sourdough ear or flap of crust that lifts up when the belly of the loaf opens
A round belly
Light to the touch when picked up (not heavy and dense)
What Does Sourdough Taste Like?
Now I think the biggest myth when it comes to sourdough is the flavor. Technically, sourdough refers to the method of leavening, that is leavening with soured dough or wild yeast, rather than commercial yeast.
Therefore, while sourdough should have a tangier flavor than commercially leavened breads due to the fermentation that it goes through, it doesn't have to be unpleasantly sour. You can learn about the science of sourdough here (a good read!!).
The sourness can vary, with some loaves having a more pronounced tang, while others may lean towards a milder, well-balanced flavor. The fermentation process contributes depth, and the crust often offers a delightful contrast, providing a slightly bitter note. Overall, a well-executed sourdough should have a nuanced taste, showcasing the influence of wild yeasts and lactic acid bacteria.
The sour flavor can be manipulated when you know how (you can learn how to make your sourdough bread less sour here ... or here if you prefer it more sour.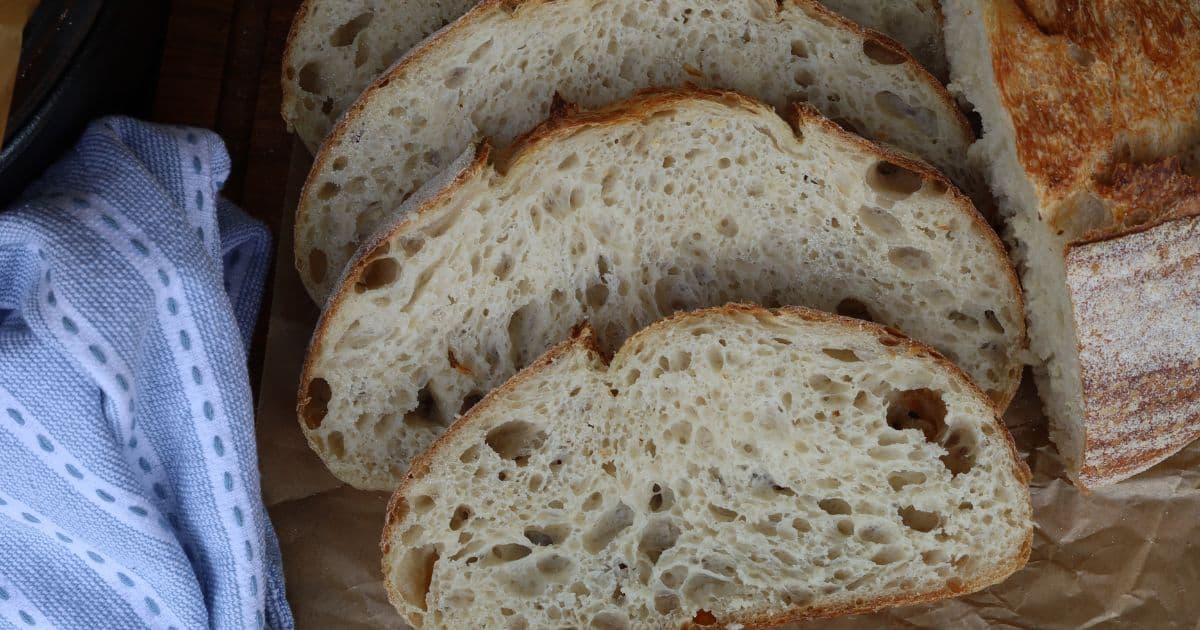 Is Sourdough Wetter Inside Than Other Bread?
No sourdough should not be wet or gummy inside. Wetness or gumminess is caused by under fermented sourdough that has not been baked through fully.
Some sourdough breads can be denser in texture, but they should not be wet or gummy. A sourdough loaf made with 500g of good quality bread flour, 50g to 100g of sourdough starter, left to ferment for adequate time, will produce a light, airy loaf with a lacy, open crumb that is not wet or dense in any way.
It's important to allow your sourdough bread enough time to bake through in the oven and then adequate time to cool once it's out. The cooking process doesn't stop as soon as you take the loaf out of the oven. It takes around 4 to 6 hours for a loaf of sourdough bread to fully cool to room temperature and to stop the cooking process.
If you slice the loaf before it has fully cooled, the steam trapped inside the loaf will cause it to be wet and gummy inside. You can read more about this in my guide to slicing sourdough perfectly.
Does Flour Choice Influence How Sourdough Looks & Tastes?
The choice of flour plays a pivotal role in both the visual and taste characteristics of homemade sourdough bread. Flour type determines the color palette, with white flour yielding a lighter crumb and crust, while whole grain flours contribute to a darker, heartier appearance.
Beyond aesthetics, the flour selection introduces distinctive flavors, where white flour provides a mild canvas for the tanginess of sourdough fermentation, while whole grain options infuse earthy, nutty notes, and rye flour imparts a subtle sweetness. You might like to try this sourdough rye bread, whole wheat rye sourdough or this sourdough multigrain loaf.
The fermentation process is also influenced, as whole grain flours, richer in nutrients, may accelerate fermentation and impact rise dynamics. Additionally, the flour's gluten content affects the bread's structure, with white flours generally producing a more robust rise and open crumb compared to the denser texture associated with whole grain flours.
Using different flours to achieve your perfect loaf of sourdough can be a fun sourdough experiment.