If you crave the flavor of whole wheat sourdough, but you still want a beautiful light crumb, this easy whole wheat rye sourdough bread recipe is for you!
The dough is easy to work with, despite being higher hydration and will give you delicious, complex flavored sourdough bread for minimal effort.
Baking with whole wheat and rye flour can be difficult, but this sourdough allows you to blend the best of worlds - you can have your bread and eat it too!
Whole Wheat Sourdough Made Easy
On paper, this whole wheat rye sourdough bread is higher hydration than my basic sourdough bread recipe. This recipe is 82% hydration vs 71% for my basic recipe.
However, because the whole wheat and rye flour absorb water differently, I would argue it does not behave like high hydration dough.
As long as it's bulk fermented correctly, it should be fairly easy to shape. The dough should be like a giant marshmallow and easy to work with.
This recipe still uses regular bread flour blended with whole wheat and rye.
I like my sourdough with a light, airy crumb.
Traditionally, 100% whole wheat and/or rye will give you quite a stodgy, dense bread. This is because whole wheat and rye flours do not contain the same amounts of gluten as good old white bread flour. I find that this 50/50 blend is a great compromise (without having to add any Vital Wheat Gluten).
You're getting great oven spring from the white bread flour but with that delicious wholesome flavor that only comes from whole wheat and rye flour.
If you love using whole wheat flour, you might also enjoy this rustic sourdough bread recipe or this sourdough country loaf.
Fermenting a High Hydration Sourdough Loaf
Higher hydration sourdough will ferment a little faster than a lower level hydration dough so you will need to watch this one more carefully when you first make it.
I recommend creating a baking timeline where you can actually watch the fermentation (at least for the first time you make it).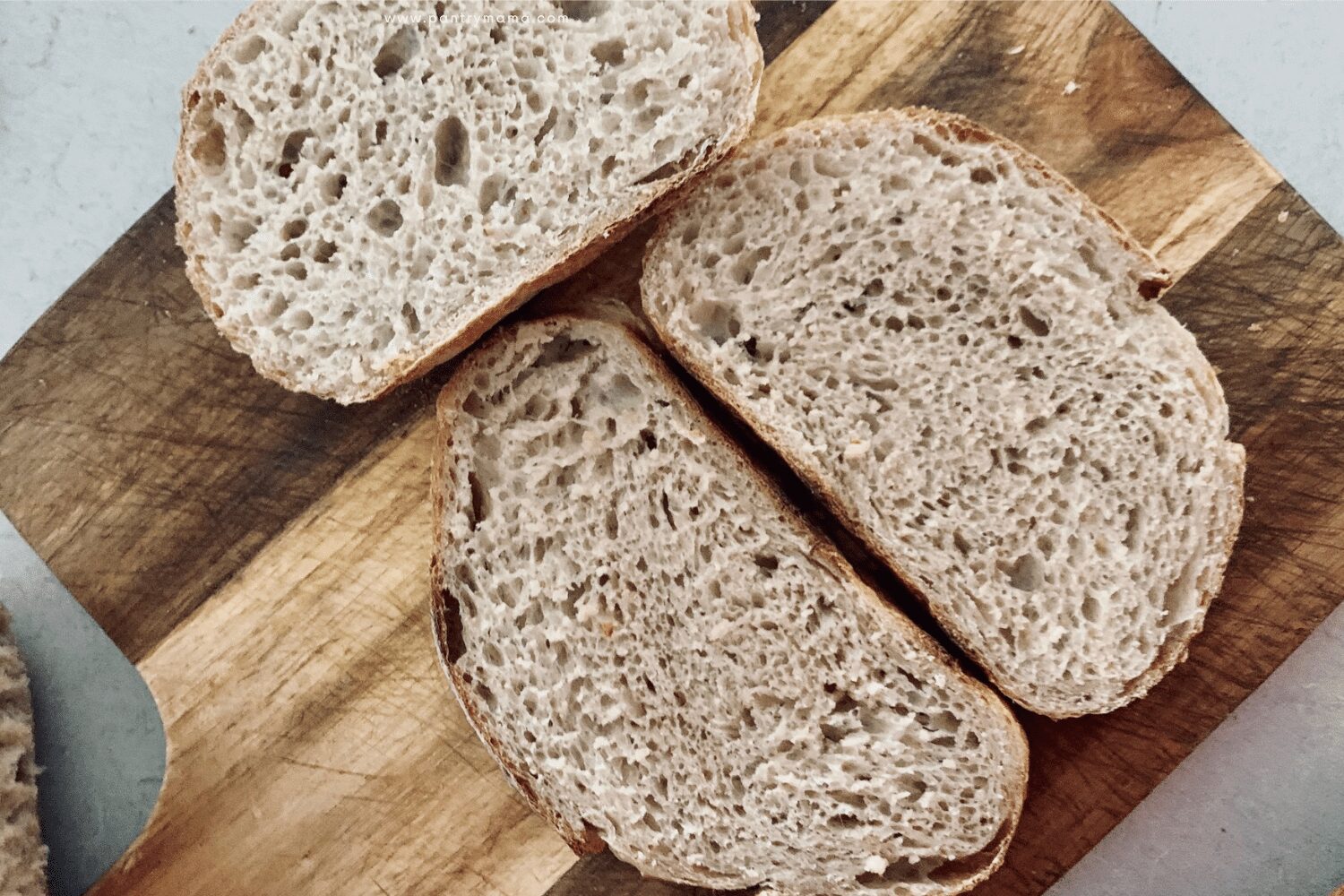 Recipe Variations for Whole Wheat Rye Sourdough
As always, I like to include a few variations on the recipe. Some ideas of ways you could make this whole wheat rye sourdough bread recipe a little differently include:
adding 30g of raw, unprocessed honey at autolyse stage (no need to adjust anything else).
add some rolled oats or sesame seeds to the banneton before you place your dough inside. This will give your bread a lovely country feel when it's baked. You could use this mulitgrain loaf as a guide.
add 50 to 100g of your favorite seeds at the stretch and fold stage for a light country multigrain bread.
Use a chocolate sourdough starter instead of your regular sourdough starter to add a richness of color and flavor - you won't necessarily taste chocolate but the cocoa will add depth to the whole wheat flavor.
If you'd prefer a true rye flavored sourdough, try this lovely rustic sourdough rye bread.
Further Reading
Once you've baked this delicious whole wheat rye sourdough, you might like these: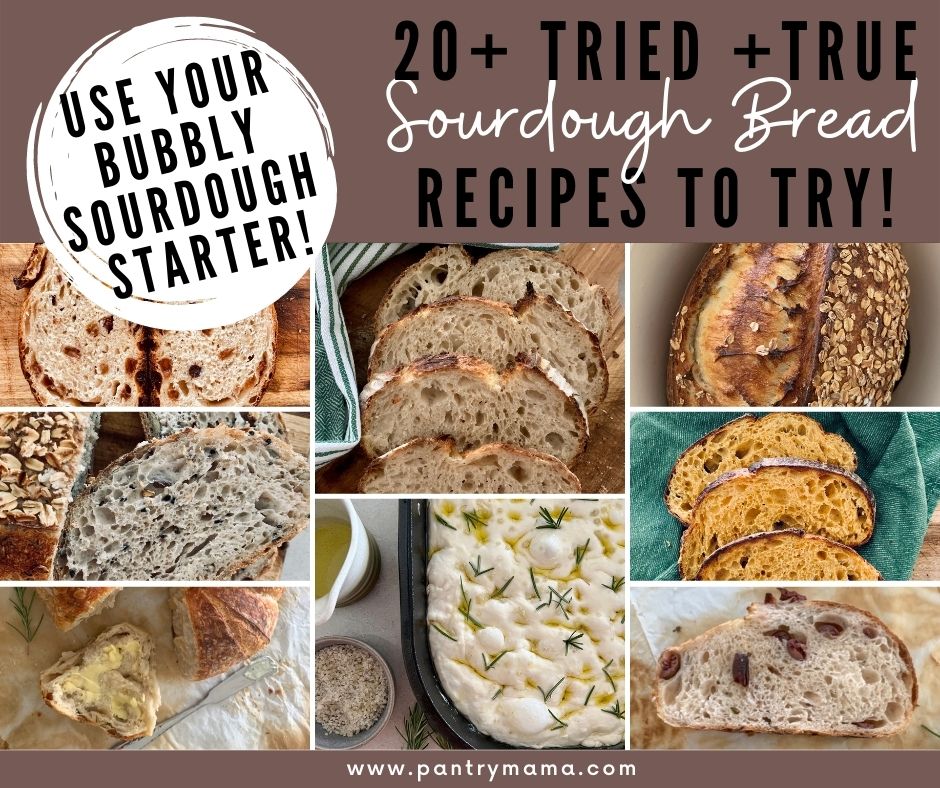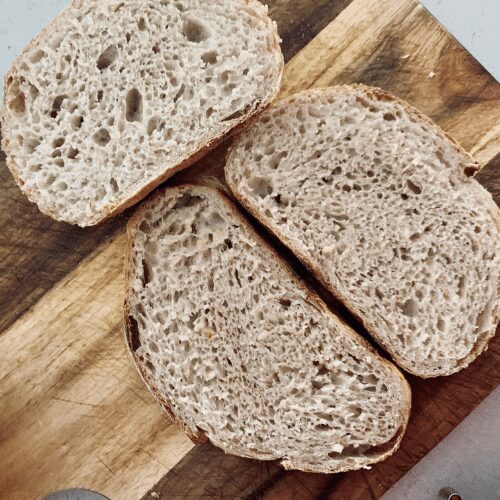 Whole Wheat Rye Sourdough Bread Recipe
An easy whole wheat rye sourdough recipe that gives you the perfect amount of flavor and oven spring. A good introduction to working with whole wheat and rye flour in sourdough baking.
Equipment
Mixing Bowl

Digital Scales

Banneton

Dutch Oven
Ingredients
100

g

Sourdough Starter

fed and bubbly

250

g

Bread Flour

230

g

Whole Wheat Flour

20

g

Rye Flour

400

g

Water

10

g

Salt
Instructions
Autolyse:

Weigh out your sourdough starter and water into a large ceramic or glass bowl.

Mix the water and starter together briefly. Then add your flour and salt and mix altogether with the end of a wooden spoon.

The dough will be fairly shaggy and only just brought together.

Cover your bowl with cling film or a damp tea towel and let it sit for around 1 hour. It's ok if it's a little bit longer, it's not going to matter too much.

This process is called the "autolyse" and allows your flour to soak in all the water and become hydrated.

Forming Up Your Dough:

After the dough has been through autolyse you need to bring it together into a ball. You'll notice that the dough is fully hydrated after soaking all the water up. It will be fairly sticky but as you bring it into a ball, it will become smoother and shinier.

Work your way around the bowl, grabbing the dough from the outside, stretching it up and over itself until a smooth ball is formed. You shouldn't need more than about 20-25 folds to form the ball.

Once the dough has formed into a smooth ball, pop the cling film back on and let it rest for 30 minutes.

Stretch & Folds:

Over the next few hours you need to create some structure for your dough by "stretching and folding".

Aim to do around 4-6 sets of stretches and folds. For each set, stretch the dough up and over itself 4 times. Leave around 15 minutes in between each set. Again you do not have to be exact with time, but you need to do at least 4 sets over 2 hours.

You will need to really work the dough to develop the gluten - because whole wheat and particularly rye flour have a lower gluten content.

Bulk Ferment:

Once you've finished your stretch and folds, place the cling film or damp tea towel back over your dough and let it rest and ferment (see notes).

Shaping Your Dough:

Once your dough has finished it's first ferment, it's time to form it back into a ball and give it some shape and surface tension. You'll need to flour your counter top with rice flour for this (we use rice flour because it has no gluten). Try to be quite sparing with the rice flour, you only need a very light dusting.

Use a silicone dough scraper to gently ease the dough out of the bowl. You want it to land upside down on your counter so that the smooth top of the dough is on the countertop and the sticky underside is facing up. This will make it easier to shape.

You can shape into whatever you like. I prefer this one as a batard.

Once the dough is shaped into a tight ball, place it into your banneton smooth side down, so your seam is on the top - this way the top of your dough will get the pretty lines from the banneton. If you're using a cloth or tea towel in a bowl it's ok to put your dough with the smooth side up. Just make sure the dough is tight.

Lift your dough around the edges to pop a little more rice flour if you feel it needs it. Just try to handle the dough as little as possible and be really gentle as you really want to preserve all the gases and air bubbles that have formed during your bulk ferment.

You will need a banneton to put your dough into. If you do not have a banneton, then a bowl or basket lined with a floured tea towel is perfectly fine. Make sure your bowl isn't too big though, you want your dough to retain some shape.

Whatever you're using needs to be liberally floured with your rice flour. If you're using a banneton - liberally sprinkle it with rice flour. If you're using a cloth or tea towel, rub the flour into it to ensure it becomes non stick.

Cold Ferment:

Now your dough is in it's "shaping container" cover it loosely with a plastic bag or damp tea towel and place into the fridge. I use a large plastic bag to cover it - I just reuse it each time. It's not totally essential to cover it - you can place it in the fridge uncovered if you'd prefer.

Try to leave it in the fridge for a minimum 5 hours up to a maximum of around 36 hours. The longer you leave it the better your bread will be! A longer cold ferment creates beautiful blisters on your crust and a deeper sourdough flavour. It will also ensure your dough forms a skin which makes it easier to score.

Preparing to Bake Your Sourdough:

Once you're ready to bake your sourdough, you'll need to preheat your oven to 230C/450F.

Place your Dutch Oven into the oven when you turn it on so it gets hot. Try to preheat for around 1 hour to ensure your oven is super hot - but you know your oven so just adjust this time if you need to.

Leave your dough in the fridge until the very last minute - placing a cold dough into a hot oven will give you a great "spring".

Baking Your Sourdough:

When your oven is at temperature. Take your sourdough out of the fridge.

Gently place it onto a piece of baking paper.

Make sure that you make the baking paper big enough to use the edges as a handle to lower to dough into your Dutch Oven.

Gently score your bread with a lame, clean razor blade or knife.

Carefully take your dutch oven out of the oven. Place the sourdough into the pot using the baking paper as a handle. Put the lid on and place into the hot oven. If you want to you can spritz your dough with extra water before you put the lid on.

BAKE TIME:30 Minutes with the lid on at 230C/450F plus10-15 Minutes with the lid off at 210C/410F

Finishing Your Bake:

When you remove your dough from the oven, carefully remove it from the dutch oven as soon as possible and place on a wire rack to cool.
Notes
Notes on Bulk Fermentation - 
The time this takes will depend on the temperature in your home. If your home is warm then your dough will ferment a lot faster and could be done in as little as a few hours.. If it's colder, it will take longer, possibly overnight. This recipe has 100g of starter and is a higher hydration dough so it will ferment fairly quickly. You can reduce the starter to 50g if you want to slow the ferment time. You can find more information on changing the amount of starter here.
You will know your dough is ready to move to the next stage when it has *just* doubled in size. It will be fairly wobbly and full of bubbles. You should be able to see large air bubbles under the surface of the dough. You don't want to let it go any further than doubled as it will be over fermented. You can learn more about bulk fermentation here.
Notes on Baking - 
If you prefer a less crusty loaf, wrap in a tea towel and let it cool under that. The tea towel will make the bread sweat a little and soften your crust.
If you're worried about your bread not being cooked all the way through, turn the oven off and place your dough straight onto the oven rack. Leave the door ajar and let your bread rest there for a few hours.
Wait at least 90 minutes before you cut into your delicious loaf (because this loaf has rye and a high hydration, the longer you leave it the better - 6 hours is generally good).
Nutrition
Calories:
1845
kcal
Carbohydrates:
381
g
Protein:
65
g
Fat:
10
g
Saturated Fat:
2
g
Sodium:
3907
mg
Potassium:
1161
mg
Fiber:
34
g
Sugar:
2
g
Vitamin A:
26
IU
Calcium:
135
mg
Iron:
11
mg