Filled to the brim with grainy goodness, this easy multigrain sourdough recipe is everything you want in grainy bread.
It's totally customisable so you can add the seeds and grains you love to eat.
There really is something so wholesome about multigrain bread. Perhaps something we didn't love as kids, becomes somewhat of an adult treat. The smell of this loaf baking is just out of this world!
I worked over a number of weeks to perfect the ratio of grains to regular flour to ensure that this sourdough bread maintained a soft, fluffy crumb, a crispy, chewy crust and a big pop of oven spring - even jammed with all that grainy goodness!
Serving Ideas for Multigrain Sourdough Bread
This multigrain sourdough bread can easily be used where you would use a normal white loaf. It is soft and fluffy and makes the most delicious cold cut sandwiches.
I love to eat it toasted in the mornings with lashings of butter and jam. It's fantastic topped with eggs and hollandaise sauce!
I love making my toddler multigrain sourdough toast for breakfast because I feel good giving him all those extra seeds in his morning meal. He's quite happy to eat this - unlike my older kids who prefer this invisible multigrain sourdough bread.
Make It Yours With A Custom Seed Blend
I tried many different seed and grain combinations before I settled on the ones I've listed in my recipe. I like the combination of oats and seeds so I used:
25g Whole Rolled Oats
25g Pumpkins Seeds
25g Sunflower Seeds
25g Rolled Flax Seeds
10g Hemp Seeds
10g Sesame Seeds
10g Poppy Seeds
You can use any combination of seeds you'd like. Aim for around 100 to 150g of seeds. It's a great way to use up those random packs of seeds lurking in your pantry!
You can also use seeds on the outside of the loaf. To do this, place the seeds into the base of the banneton before placing the shaped sourdough on top. The seeds will stick to the dough as it proofs.
Soak Your Seeds
I like to soak the oats, pumpkin, flax and sunflower seeds for about 30 minutes before I put them into my bread. The seeds will absorb all the water in the dish.
The flax will become quite gelatinous but they will be perfect once cooked.
Soaking the seeds ensures that they don't burn but I feel that it also helps them to incorporate into the dough much more easily too.
I find that if you don't soak the seeds, they will absorb some of the moisture from your dough once they are incorporated and this can make your dough harder to work with as it will be a lower hydration.
If the seeds do soak up some of the water in your dough, it will result in a tougher crust and a smaller crumb. Of course, the bread will still be delicious, but if crust and crumb are important to you, then I highly recommend soaking the seeds.
Just remember to drain them before adding to the dough as you don't want to have a sloppy dough with too much hydration.
Frequently Asked Questions
Do you need to soak seeds before adding to sourdough?
You don't have to, however if you don't soak them, they can take on some of the water in the dough which can affect the hydration. This will ultimately change the texture of your bread an have an effect on the crust and crumb.
I recommend soaking and then draining the seeds if you have the time. You will be rewarded with better sourdough.
Do the seeds affect the bulk fermentation time?
The seeds will not affect the bulk fermentation time, so long as you don't use more than 20% weight overall (you can read about baker's percentages here). You can treat bulk fermentation just as you normally would with a plain sourdough loaf.
If you would like to learn more about judging when bulk fermentation is finished, you can read this handy guide.
How long should you allow the bread to cool before cutting?
As a general rule, you should leave sourdough to cool and rest for at least 90 minutes once it's been removed from the oven. This allows the cooking process to finish and the steam to settle. If you do not wait, you risk a gummy crumb and a sticky knife.
Ideally, you should let the bread cool for around 6 hours, particularly if using rye flour.
My kids don't like multigrain. How can I incorporate grains without them knowing?
I have 3 boys and it can be hard to get them to eat a really seedy bread. I developed this Sourdough Oatmeal Bread as a kind of "invisible multigrain" sourdough to get them to eat a bread with more nutrient dense ingredients. Try it - I promise you'll love it - and so will they! Don't add the oats on the outside of the bread if you are trying to disguise it.
Other Mulitgrain & Whole Wheat Sourdough Recipes
If you love all things multigrain, why not try these other multigrain sourdough recipes: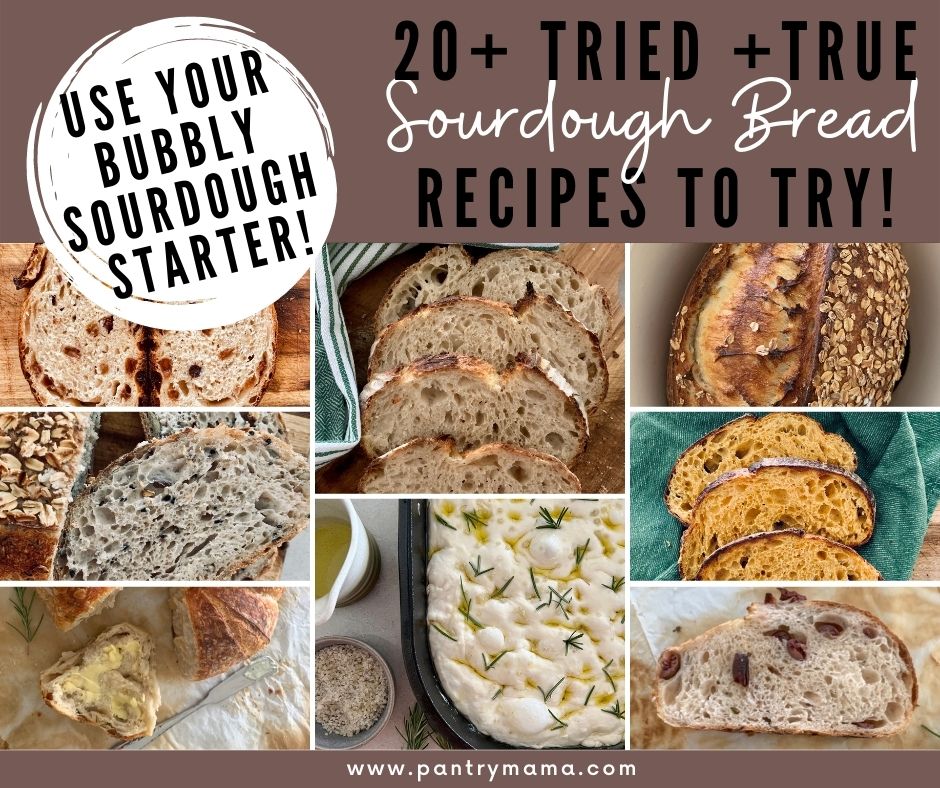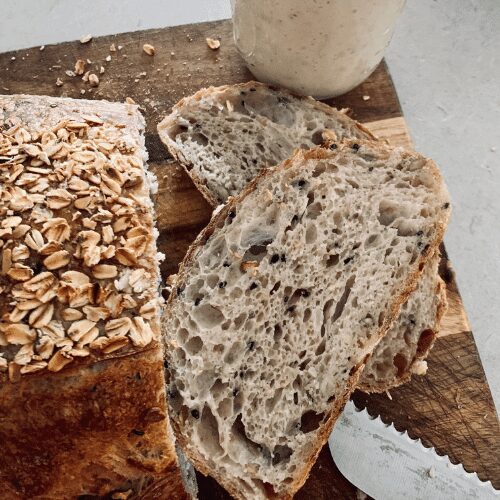 Easy Multigrain Sourdough Recipe
Filled to the brim with grainy goodness, this easy multigrain sourdough recipe is everything you want in grainy bread. It's totally customisable so you can add the seeds and grains you love to eat.
Equipment
Mixing Bowl

Banneton

Dutch Oven
Ingredients
50

g

Sourdough Starter

Active and Fed

500

g

Bread Flour

350

g

Water

10

g

Salt

25

g

Whole Rolled Oats 

25

g

Pumpkin Seeds

25

g

Sunflower Seeds

25

g

Rolled Flax Seeds

10

g

Hemp Seeds

10

g

Sesame Seeds

10

g

Poppy Seeds

Additional Seeds of choice for topping your sourdough.
Instructions
Before You Start:

Before you start this bake, you'll need to soak your seeds and oats in about 100g of water.

Only soak pumpkin, sunflower, flax and oats (not poppy seeds, sesame seeds or hemp). Just leave them for around an hour.

They will soak up all of the water in this time.

Autolyse:

Weigh out your sourdough starter and water into a large ceramic or glass bowl.

Mix the water and starter together briefly. Then add your flour and salt and mix altogether with a silicone dough scraper.

The dough will be fairly shaggy and only just brought together (see photo).Cover your bowl with cling film or a damp tea towel and let it sit for around 1 hour.

Adding Your Seeds:

After the dough has been through autolyse you will need to add your seeds. If there is still water sitting in the bowl of seeds, drain it off. The seeds will be quite wet but this will help them incorporate into the dough.

Put all the seeds and oats into the middle of the bowl and work your way around, folding the dough over the seeds and oats and incorporating them into the dough.

Don't worry if your seeds haven't worked through the dough fully, they will be evenly distributed when you complete the stretch and folds.

Once the dough has formed into a ball, pop the cling film back on and let it rest for 30 minutes.

Stretch & Folds:

Over the next few hours you need to create some structure for your dough by "stretching and folding". Aim to do around 4-6 sets of stretches and folds. For each set, stretch the dough up and over itself 4 times. Leave around 15 minutes in between each set. You do not have to be exact with time, but you need to do at least 4 sets over 2 hours.

Bulk Ferment:

Once you've finished your stretch and folds, place the cling film or damp tea towel back over your dough and let it rest and ferment (see notes).

Shaping Your Dough:

Once your dough has finished its first ferment, it's time to form it back into a ball and give it some shape and surface tension. You'll need to flour your counter top with rice flour for this (we use rice flour because it has no gluten). Try to be quite sparing with the rice flour, you only need a very light dusting.

Use a silicone dough scraper to gently ease the dough out of the bowl. You want it to land upside down on your counter so that the smooth top of the dough is on the countertop and the sticky underside is facing up. This will make it easier to shape.

You want to pull the edges of the dough into the centre and then flip it over so that the sticky side is now underneath. Using the stickiness, gently pull the dough into a tight ball.

Adding Topping:

You will need a banneton to put your dough into. If you do not have a banneton, then a bowl or basket lined with a floured tea towel is perfectly fine. Make sure your bowl isn't too big though, you want your dough to retain some shape.

Whatever you're using needs to be liberally floured with your rice flour. Then, add the seeds you'd like on the top of your sourdough to the bottom of the banneton.

Place your dough, seam side up into the bannton.

This will allow the seeds to stick to the top of the dough, so when you flip it out to bake, they won't all fall off.

Cold Ferment:

Now your dough is in it's "shaping container" cover it loosely with a plastic bag or damp tea towel and place into the fridge. I use a large plastic bag to cover it - I just reuse it each time. It's not totally essential to cover it - you can place it in the fridge uncovered if you'd prefer.

Try to leave it in the fridge for a minimum 5 hours up to a maximum of around 36 hours. The longer you leave it the better your bread will be! A longer cold ferment creates beautiful blisters on your crust and a deeper sourdough flavour. It will also ensure your dough forms a skin which makes it easier to score. For this multigrain bread, I highly recommend leaving your dough in the fridge for 36 hours - it creates the most amazing flavor!

Preparing to Bake:

Once you're ready to bake your sourdough, you'll need to preheat your oven to 230C/450F.

Place your Dutch Oven into the oven when you turn it on so it gets hot. Try to preheat for around 1 hour to ensure your oven is super hot - but you know your oven so just adjust this time if you need to. Leave your dough in the fridge until the very last minute - placing a cold dough into a hot oven will give you a great "spring".

Scoring Your Sourdough:

Now it's time to score! When your oven is at temperature, take your sourdough out of the fridge. Gently flip your dough out onto a piece of parchment paper so that the seeded top is facing up.

Make sure that you make the baking paper big enough to use the edges as a handle to lower to dough into your Dutch Oven.

Gently score your bread with a lame, clean razor blade or knife. At minimum a large cross is sufficient, but you can get as artistic as you like (although it can be hard with a seeded loaf). Try to score it fairly deep to ensure the dough opens up.

Baking Your Sourdough:

Carefully take your dutch oven out of the oven. Place the sourdough into the pot using the baking paper as a handle. Put the lid on and place into the hot oven. If you want to you can spritz your dough with extra water before you put the lid on.

If you're worried about the base of your bread burning, place a baking sheet on shelf underneath your Dutch Oven - it works!

BAKE TIME:30 Minutes with the lid on at 230C/450F plus10-15 Minutes with the lid off at 210C/410F

Finishing Your Bake:

When you remove your dough from the oven, carefully remove it from the dutch oven as soon as possible and place on a wire rack to cool.
Notes
Notes on Sourdough Starter
This recipe is based on you having an active starter that you have fed a few hours before starting your bake. For information on whether your starter is ready, go here.
Notes on Stretch & Folds


If you are going to do the stretch & folds on your bench top, spray your surface with water mist rather than using flour. 

Notes on Bulk Fermentation:

If your home is warm then your dough will ferment a lot faster and could be done in as little as a few hours.

If it's colder, it will take longer, possibly overnight.

I would recommend that you try to do your first few bulk ferments during daylight hours so that you can watch your dough closely.

Once you're more familiar with the process - and the temperature of your home - you will be able to do overnight ferments.

You will know your dough is ready to move to the next stage when it has *just* doubled in size. It will be fairly wobbly and full of bubbles. You should be able to see large air bubbles under the surface of the dough.

You don't want to let it go any further than doubled as it will be over fermented. If you want to do an overnight ferment, but your home is warm, consider using a little less starter (ie 25g).

Less starter means your dough will take longer to ferment and you will reduce the risk of over fermenting your dough.

You'll find more information on these topics here: When is my bulk ferment finished? What is the difference between cold ferment and bulk ferment? Why does the amount of starter matter?
Notes on Baking
If you're worried about the base of your bread burning, place a baking sheet on shelf underneath your Dutch Oven - it works! If you're worried about your bread not being cooked all the way through, turn the oven off and place your dough straight onto the oven rack.
Leave the door ajar and let your bread rest there for a few hours.


Remember not to cut into your loaf too soon - you'll need to let it cool for at least a few hours (4-6 is best).
Nutrition
Calories:
2304
kcal
Carbohydrates:
386
g
Protein:
81
g
Fat:
47
g
Saturated Fat:
6
g
Trans Fat:
1
g
Sodium:
3912
mg
Potassium:
983
mg
Fiber:
19
g
Sugar:
3
g
Vitamin A:
79
IU
Vitamin C:
1
mg
Calcium:
374
mg
Iron:
12
mg