Sourdough bread timeline - Creating the right sourdough bread schedule for your lifestyle is essential to successful sourdough baking.
Many people want shortcuts, but in truth, shortcuts will often sacrifice the quality of your bread. But what if I told you, you can have make sourdough work on any schedule?
All you need is patience - and a sourdough baking schedule!
Creating a baking timeline is all about making sure that you are able to fit the sourdough baking process around your lifestyle.
Whether you work full time, shift work, chase toddlers around or just enjoy not having to be a slave to your dough - sourdough baking timelines and some careful planning make sure that you can enjoy sourdough on your terms.
While it's true, sourdough baking can be a lengthy process, it can also be manipulated so that you can work the process around your life.
Things like feeding ratios, starter amounts, temperature controls and your fridge will become crucial elements to allowing this to happen.
If you'd like more information about creating your own sourdough bread timeline or making sourdough fit in with your own lifestyle, you'll find lots of information in my book - Scheduling Sourdough: A Guide To Creating Baking Timelines.
Creating a Sourdough Baking Schedule
It's a great idea to prepare a sourdough bread timeline before you start to bake your sourdough bread. Knowing how to time sourdough is a skill that you build overtime. While you're learning, creating a sourdough baking timeline is a smart idea.
While you may not be able to adhere to it minute by minute, it will ensure you have a good idea of what needs to happen and when and you won't skip a crucial step.
You need to think about the times that you are home and able to commit to the steps of a sourdough bread recipe - and the times that you're not available and need to be hands off.
There's no point mixing dough when you're about to head off to work! Or worse ... you've mixed your dough and done a few stretch and folds but it's time for bed - now what?
You'll find 10 easy to follow baking timelines in my e-book Scheduling Sourdough.
From a sourdough schedule for working full time or caring for young children - you'll even find the instructions on how to bake a quality loaf of sourdough in just one day! Perfect if you have a day off or would like to bake start to finish on a Saturday.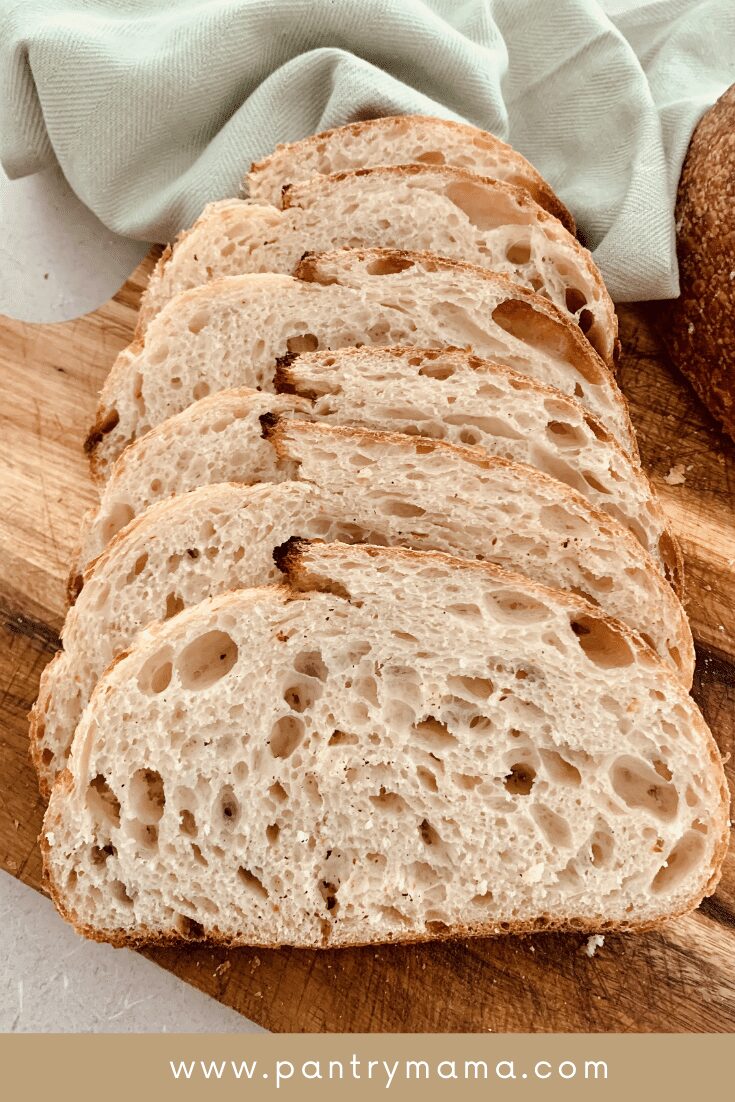 Example of a Weekday Sourdough Baking Schedule
Here is an example of a baking timeline that you could use to fit sourdough into your life (it's the one I use to bake sourdough for my busy family).
It's based on my Simple Sourdough Bread recipe.
DAY 1
1.00pm – Feed sourdough starter
5.00 pm – Premix and Autolyse (while I cook dinner)
6.30pm – Form into a smooth ball. Rest for 30 minutes.
7.00pm – Perform 4-6 sets of stretch & folds over next 2 hours.
9.00pm – Cover and leave on bench overnight for bulk ferment if temp right (adjust starter as necessary).
DAY 2
6.00am – Shape & lift into banneton/bowl & into the fridge.
(I could bake my bread from around 2pm today if I wanted to, I just prefer a longer cold ferment).
DAY 3
2.00pm – 32 hours later place into hot oven.
7.00pm – finally cut into delicious sourdough!
Does Sourdough Take Long To Bake?
The actual baking part of sourdough doesn't really take that long - around 40 minutes for a dough with 500g of flour.
You probably need to preheat your oven and Dutch Oven for longer than you actually have to bake your bread.
For a simple sourdough bread using 500g of flour and 350g of water, baking time should be around 30 minutes with the Dutch Oven lid on and around 10 minutes with the lid off. You'll find specific temperatures and time here.
Did you know that it takes just as much time and energy to bake one loaf as it does to bake two, so often making multiple loaves at the same time is a great idea.
Can I Bake My Sourdough The Next Day?
The beautiful thing about sourdough bread is that it loves a really long cold ferment or proof in the refrigerator after it's been shaped.
Shaped sourdough is placed into a banneton, covered with a plastic bag or elastic food cover and then placed into the fridge (making sure that it's the correct temperature).
It can then stay there for a period of time.
This gives you the ability to bake your sourdough the next day.
There are of course a few things to be careful of to ensure that you don't overproof the sourdough in the refrigerator. This will cause your dough to deflate before you put it in the oven and result in a flat, sour loaf.
You might also like this overnight sourdough bread which has a great schedule if you work full time.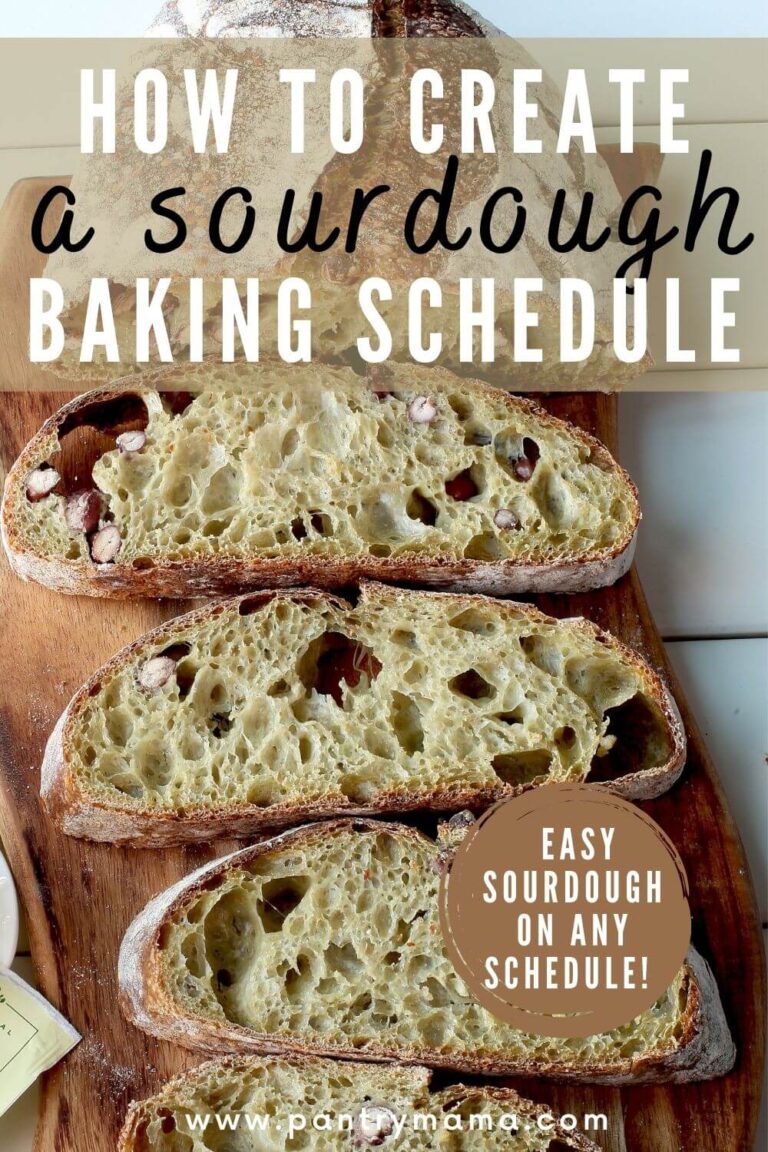 Frequently Asked Questions About Sourdough Bread Timeline
How long does sourdough take to prove first?
This is a really hard question to answer because there are so many variables. First, you need to understand that bulk fermentation is dependent on temperature and the amount of starter that you've used. You can read a full explanation of bulk fermentation and how it works here.
How do you schedule sourdough for baking?
Scheduling sourdough is a skill that you will develop over time. It will depend on many things including how much time you have available and at what times of the day, the behaviour of your starter and the temperature of your home. You'll find 10 sourdough baking schedules that you can use for many different scenarios in my ebook "scheduling sourdough".
Can you bulk ferment sourdough in the fridge?
No! Sourdough fermentation needs to occur at room temp - particularly for the first part of the fermentation. The second part can be done in the fridge. You can read about how bulk fermentation differs from cold fermentation here.
Further Reading
If you found this post on creating a sourdough bread schedule helpful, you might enjoy these: