Making more than one loaf of sourdough bread at a time not only saves time, it can also save you money! Since it takes the same amount of time and energy to make two loaves, as it does to make one, it's a great habit to get into to ensure you always have fresh sourdough bread on hand.
Whether you're wanting to make two loaves of sourdough bread at a time for your household to fill up the freezer, make a batch of sourdough bread bowls or you want to make multiple loaves of sourdough bread to sell, this post will help you to maximise your time, energy and oven space to bake multiple loaves of sourdough bread at once.
My top tips for baking multiple loaves of sourdough bread at once:
double the amount of starter you need (or triple depending on how many loaves you're making).
Make sure you have enough bowls, bannetons, Dutch ovens etc (depending on the type of sourdough you're making).
Make sure you have adequate fridge space for cold fermenting multiple loaves.
Don't overfill your oven to ensure adequate air flow around your loaves.
Extra Sourdough Bread Without Extra Effort!
Making a loaf of sourdough bread can be time consuming, depending on how skilled you are. But did you know that it takes the same amount of time and energy to make 2 loaves as it does to make one? In fact, you can probably comfortably make 3 loaves just as easily as you can 1! That's not only great for time management, but baking sourdough on a budget too!
So why not capitalise on your time and energy and make a double batch of sourdough next time you bake.
The great thing about weighing your ingredients is that you can easily scale your recipe using baker's percentages.
To make life even easier, you can easily scale my sourdough bread recipe using the 1x, 2x or 3x on the recipe card.
Some other resources that might make baking a few loaves of sourdough at once easier are:
Benefits of Making Multiple Loaves of Sourdough At Once
save time by baking extra loaves and freezing some for the week ahead.
use your time more effectively by making 2 or 3 loaves in the same time as it takes to make one.
streamline your process and get extra practice by shaping multiple loaves in one session.
save electricity by only preheating the oven once and baking multiple at the same time.
How Do You Make Multiple Loaves of Sourdough Bread?
To make two loaves of sourdough bread at the same time, you'll need to double the ingredients used. The timeline remains the same. You can choose whether to make the double batch in one large bowl, or keep them separate. This choice can depend on how skilled you are at dough handling.
If you double your sourdough bread recipe and make 2 loaves at the same time, this is the basic process you would follow:
feed sourdough starter double the amount (for example 50g starter, 100g of flour and 100g of water so you have 200g of starter, plus 50g for your next bake).

once the starter is at peak, add it to your flour, water and salt - mix the double batch of ingredients in one bowl and follow the recipe for stretches and folds etc.

once bulk fermentation has finished, split the dough into two equal portions using a scale and dough scraper.

shape each loaf and place into bannetons.

cover loaves and place into fridge for cold ferment.

when you're ready to bake, preheat the oven and add your baking stone or 2 x Dutch Ovens (depending on your preference).

bake loaves as per recipe instructions.
The most important part to baking 2 loaves at once is splitting the dough after bulk fermentation (if you've mixed it as one big batch) and ensuring that both loaves get adequate heat and bake time in the oven.
Much of the process will depend on how you are going to bake them - that is in a Dutch Oven or without a Dutch Oven (on a cookie sheet or baking stone etc).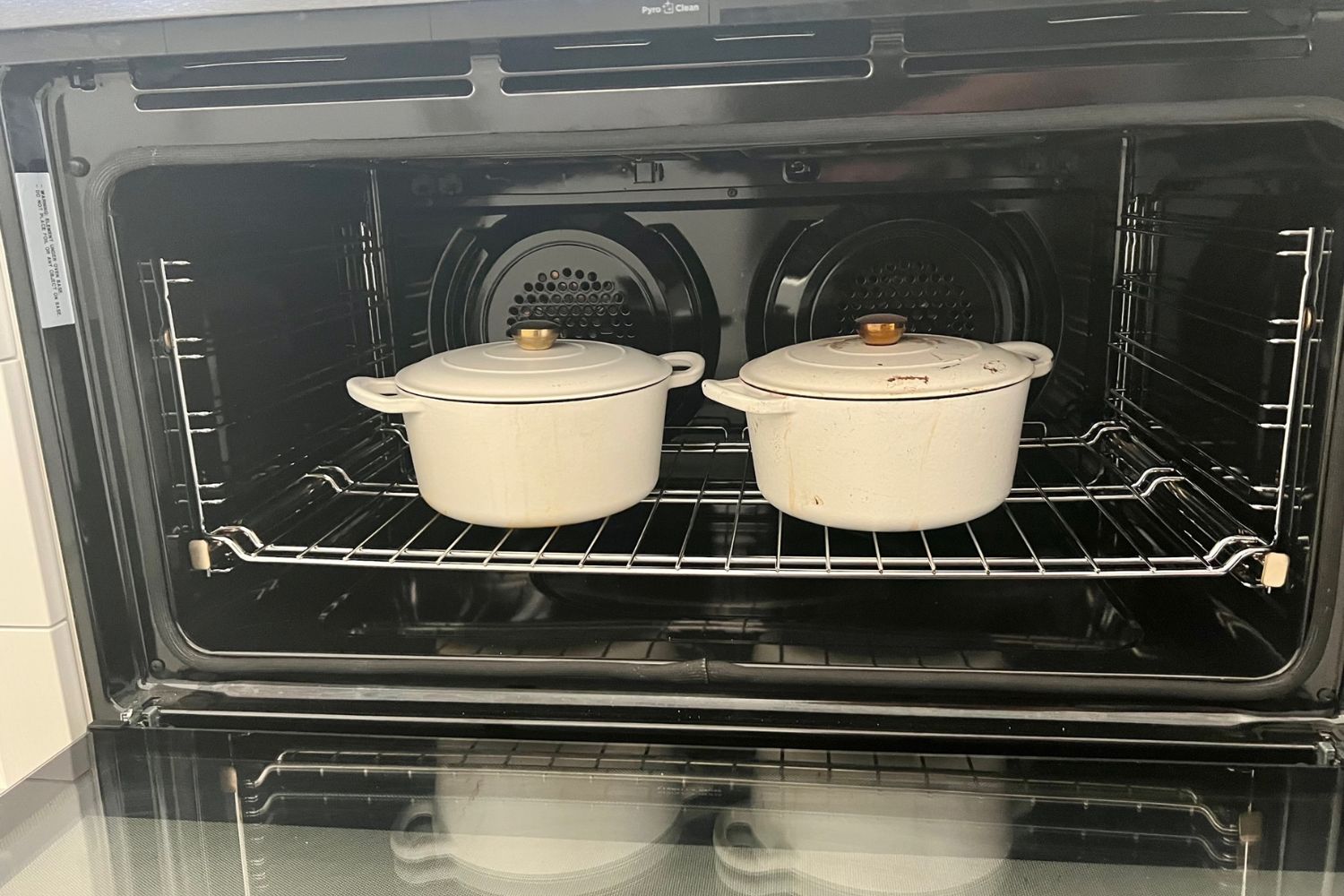 How To Maximise Oven Space When Baking Multiple Loaves
The number of loaves you'll be able to bake at once largely depends on the size of your oven. If you only have a small oven, you might only be able to bake 2 loaves at once. A larger oven may mean you can bake 4 or even 8 loaves at once.
I have a 900mm oven so can comfortably bake 6 loaves at a time if I open bake them. I might be able to squeeze in 8, but I like to ensure I get really good air flow around my loaves.
Purchasing a baking stone that fits your oven perfectly will enable you to maximise your oven space when baking multiple loaves of sourdough bread. You can buy a baking stone to fit the top and bottom rack of your oven, essentially doubling or even tripling your baking capacity. These baking stones come in custom sizes to fit your oven.
My oven came with a custom size baking tray which fits across the whole width of the oven. This is perfect for open baking (I just cover it with parchment paper to ensure the loaves don't stick).
You do need to remember that domestic ovens do have a lesser output than commercial ovens in most instances, so you don't want to push your home oven beyond its capabilities.
Measure Your Oven
The best way to assess your oven space is to have a practice when the oven is turned off. See how many Dutch Ovens you can comfortably fit (if that's your preferred method of baking). Measure the racks, measure your baking stones. Move the shelves around. It's always easy to do this with the oven turned off.
Also consider the height of your oven and the height of your sourdough bread when it bakes. You don't want to squash it in so that it touches the top of the rack above, or worse, your heating element, when it bakes.
It's always better to work all of this out beforehand - you don't want to be moving racks around in a hot oven!
Things To Consider Before You Attempt Baking Multiple Loaves
Before you start mixing up a double or even triple batch of sourdough bread, there are a few things you'll need to consider to give yourself the best chance of success:
Equipment - Do you have enough bowls or cambro containers, bannetons etc - if you are going to make a double batch, do you have a bowl big enough to accomodate that much flour? Or if you are going to mix them separately, do you have two or even more bowls to do this? Do you have 2 bannetons (or proofing basket alternatives)?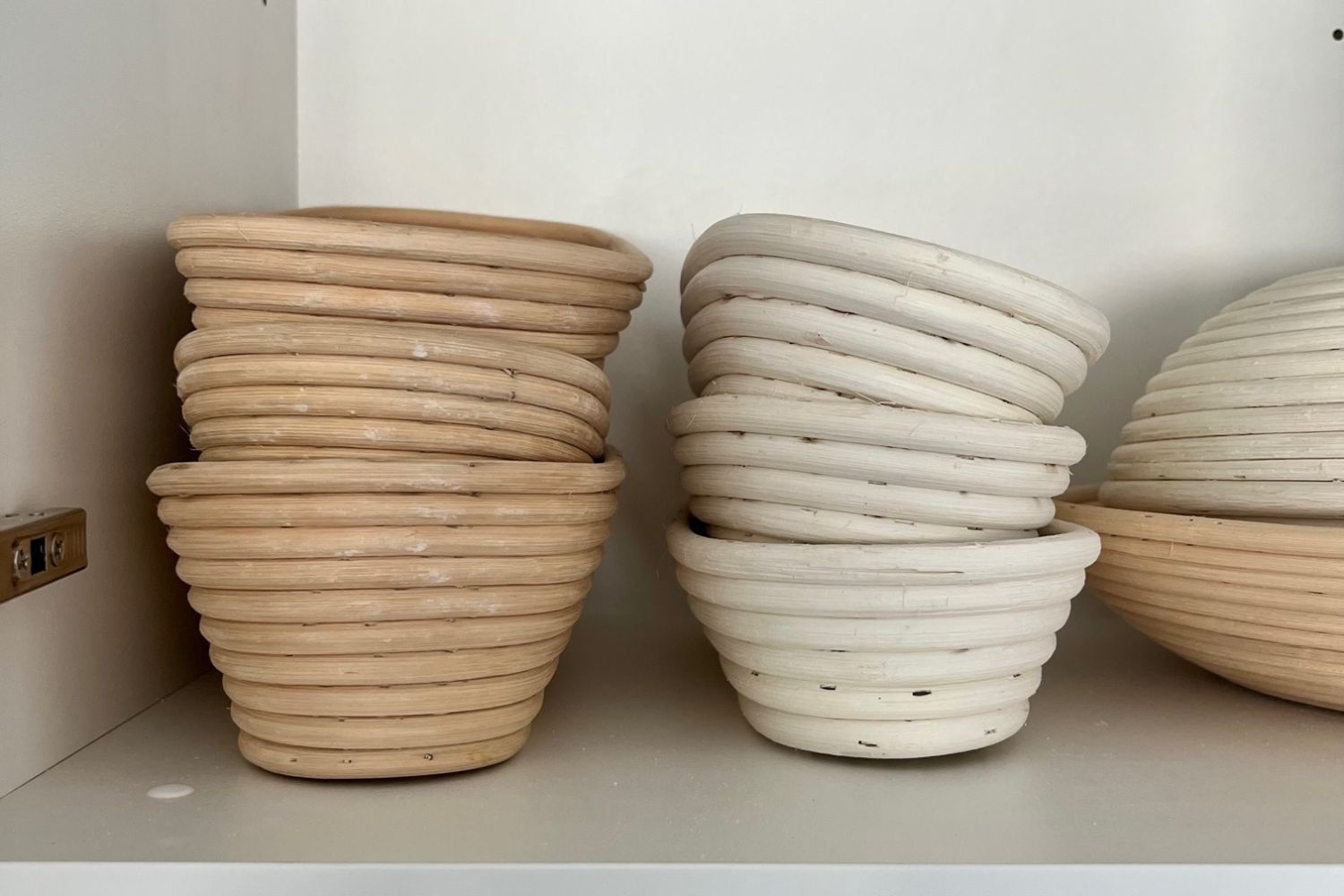 Fridge Space - Do you have enough fridge space to accomodate multiple loaves during cold fermentation (or are you going to skip that). It might sound silly, but 2 or even 3 or 4 bannetons take up room in the fridge and you can't stack anything on top of them. I ended up buying a dough proofing fridge because our regular fridge is too full for all my sourdough bread!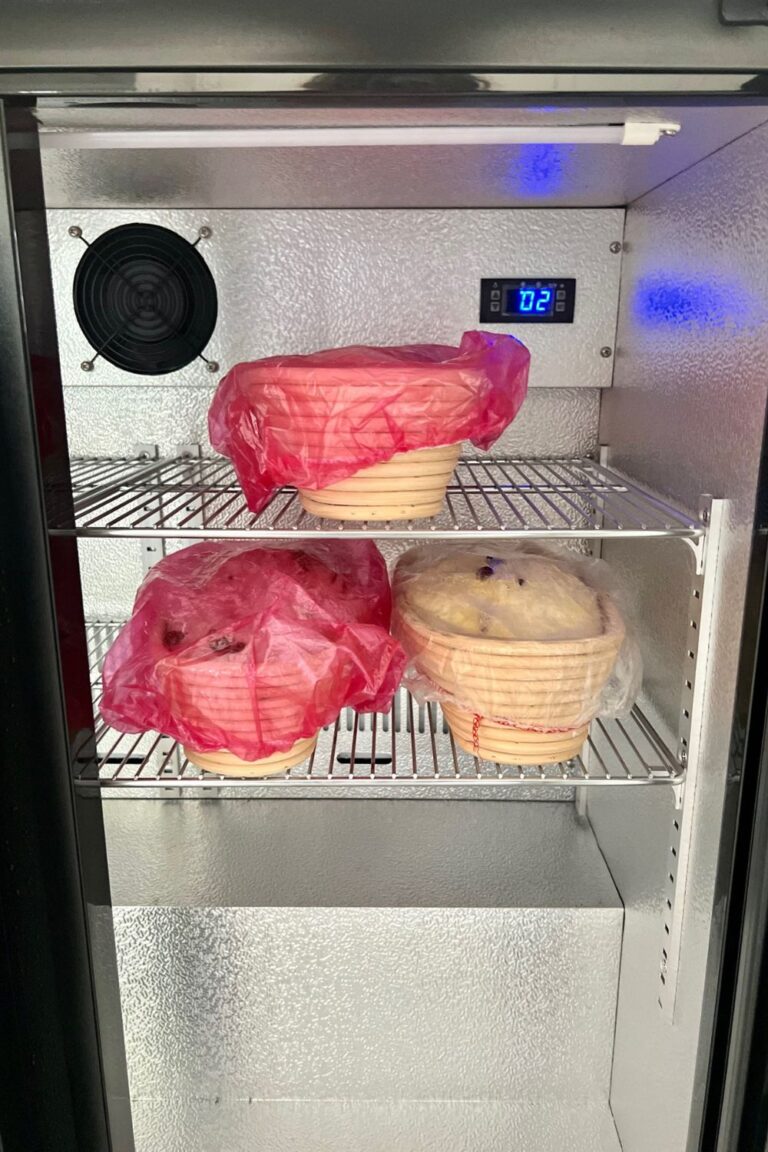 Oven - How big is your oven? Will you be able to utilise the top and the bottom rack? Are there any hot spots or even cooler spots in the oven that might affect the bake? Measure the height of the oven and make sure you allow plenty of headroom for when your loaves spring in the oven. You don't want your sourdough touching the rack above, or worse, the heating element!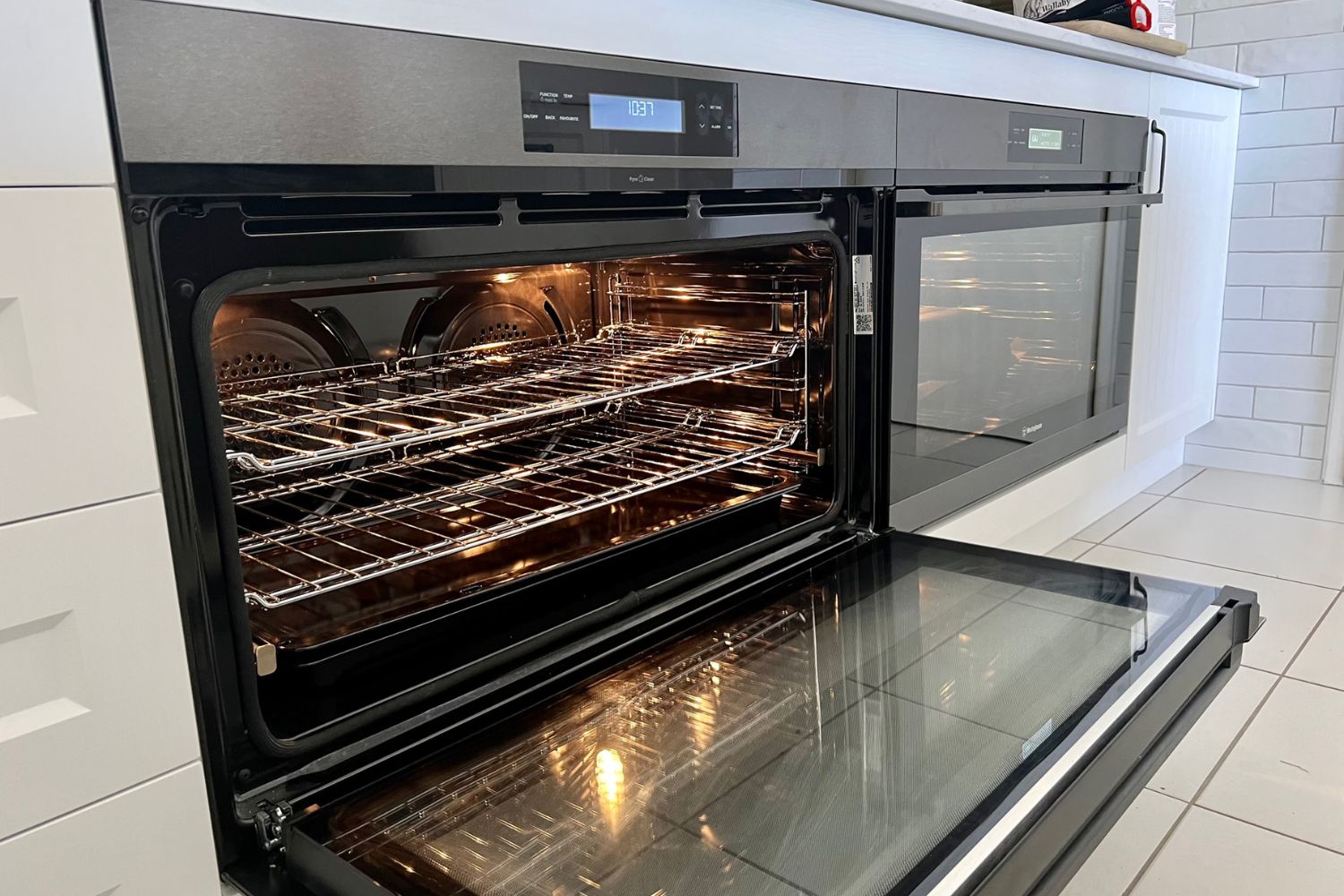 Shape of Sourdough - is it easier to bake multiple boules or batards in your oven?
Method of Transfer - how are you going to load all of the loaves into the oven at once? Do you have a baking peel you can use to transfer loaves onto a baking stone or are you going to just use cookie sheets? I've written an explanation of how to use a baker's peel to transfer loaves to a hot stone here.
How many loaves of sourdough bread can I bake at once with a Dutch Oven?
Essentially, you'll only be able to bake one loaf at a time with a Dutch Oven, unless you have multiple Dutch Ovens and the oven space to accomodate them.
If you are baking with a bread pan like a Challenger, you can fit two smaller loaves in, but it does get a bit tight.
You can see the size of the loaves in the photo below.
You could bake two or three smaller size boules (like sourdough bread bowls) in an oval Dutch Oven too.
Do I need to change the temperature of the oven when baking more than one loaf of sourdough at a time?
No, you shouldn't need to adjust the temperature of your oven when baking multiple loaves of sourdough. You would need to check your oven owner's manual, as sometimes there are tips in there for baking a lot of items.
For example, my oven manual suggests using the fan to assist the oven to distribute the heat more evenly when baking multiple items. When baking multiple sourdough loaves, I always use the "fan assist" baking mode.
Do I need to bake my loaves for longer if I'm baking more than one?
No, you shouldn't need to bake your loaves for a longer time. Of course, if they are looking blonder than normal or you want them a little darker, you can of course leave them in a little longer than you normally would.