This simple chocolate sourdough discard bread can be made in just a few hours.
It's a great way to use up some discard while you're waiting for a sourdough starter to mature.
There are also lots of flavor variations to explore.
This simple chocolate sourdough discard bread is an easy sourdough recipe to make while waiting for your sourdough starter to mature.
It is also a delicious way to use the discard from making a Chocolate Sourdough Starter. It's a sourdough bread that my kids ask for over and over! And the leftovers make the most amazing sourdough bread pudding.
If you're looking for a different chocolate recipes, this Sourdough Chocolate Star Bread can be made using discard too, along with these chocolate sourdough brownies and these chocolate chunk sourdough muffins.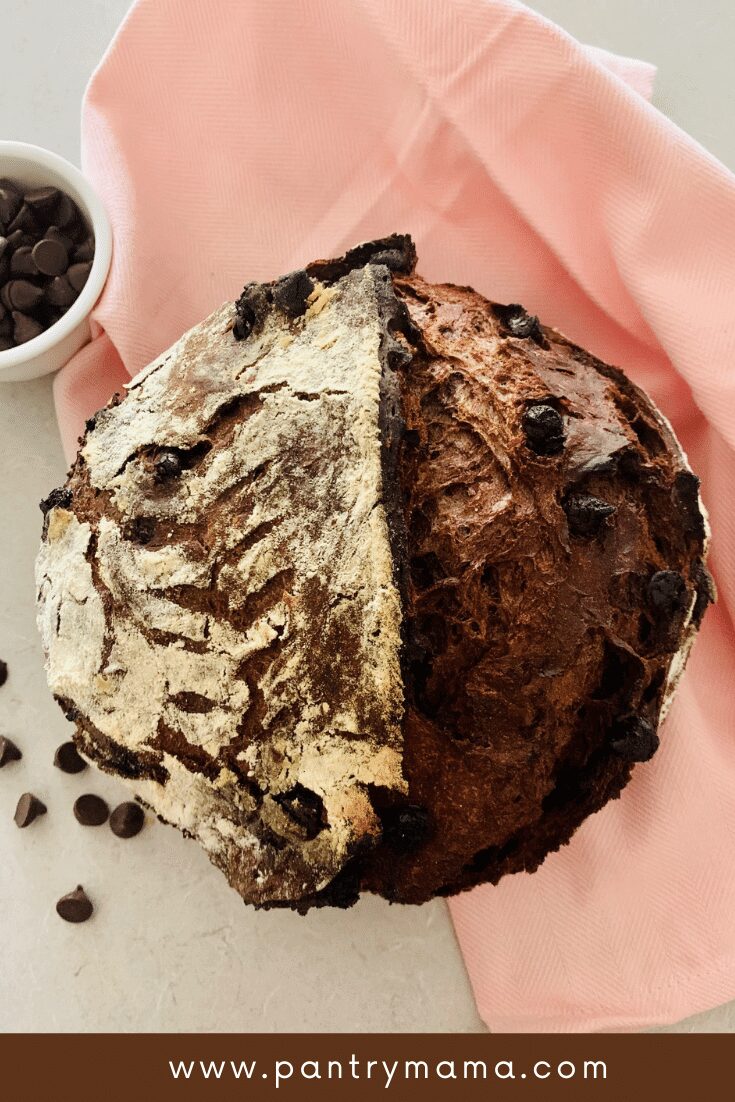 How To Enjoy Chocolate Sourdough Discard Bread
This bread is quite sweet. It is lovely for breakfast, toasted and served with butter and or maple syrup. It also makes a delicious dessert or supper.
My son is absolutely in love with it! He's even eaten it with whipped cream and strawberries! Spoiled much?
You could substitute the sugar with honey or even maple syrup if you want to. I find that sugar is the easiest way to sweeten it, but as always, there are lots of alternatives you could try.
Here are a few ways you can use this chocolate sourdough discard bread, other than just enjoying it as it is:
Toasted and topped with strawberry jam and whipped cream;
Toasted and topped with cream cheese and fresh raspberries (you can even drizzle with maple syrup);
Toasted and topped with fresh ricotta and drizzled in raw honey;
Use it to make French Toast;
Use it to make bread and butter pudding;
Slice thinly, toast and top with good quality vanilla ice cream - chocolate sourdough ice cream sandwich!
Flavor Variations For Chocolate Sourdough Discard Bread
While this delicious chocolate sourdough discard bread is perfect the way it is, there are lots of ways you can vary the flavors to make something truly special. Here are some ideas:
Add a shot of coffee to your water to create an Espresso Chocolate Discard Bread.
Add some dried fruit like cherries or apricots. Add up to 100g of dried fruit in addition to the 100g of chocolate chips.
Top your bread with shredded coconut before you bake it for a toasted coconut topping.
Add your 100g of your favorite nuts to the mixture along with the chocolate chips. You could try pecans, walnuts or even pistachios!
Want More Chocolate Sourdough?
If you're looking for a true sourdough bread using cocoa, try this Chocolate and Walnut Sourdough Bread.
Want to know how you can create your very own Chocolate Sourdough Starter? You'll find the instructions here.
Check out this Chocolate Sourdough Star Bread!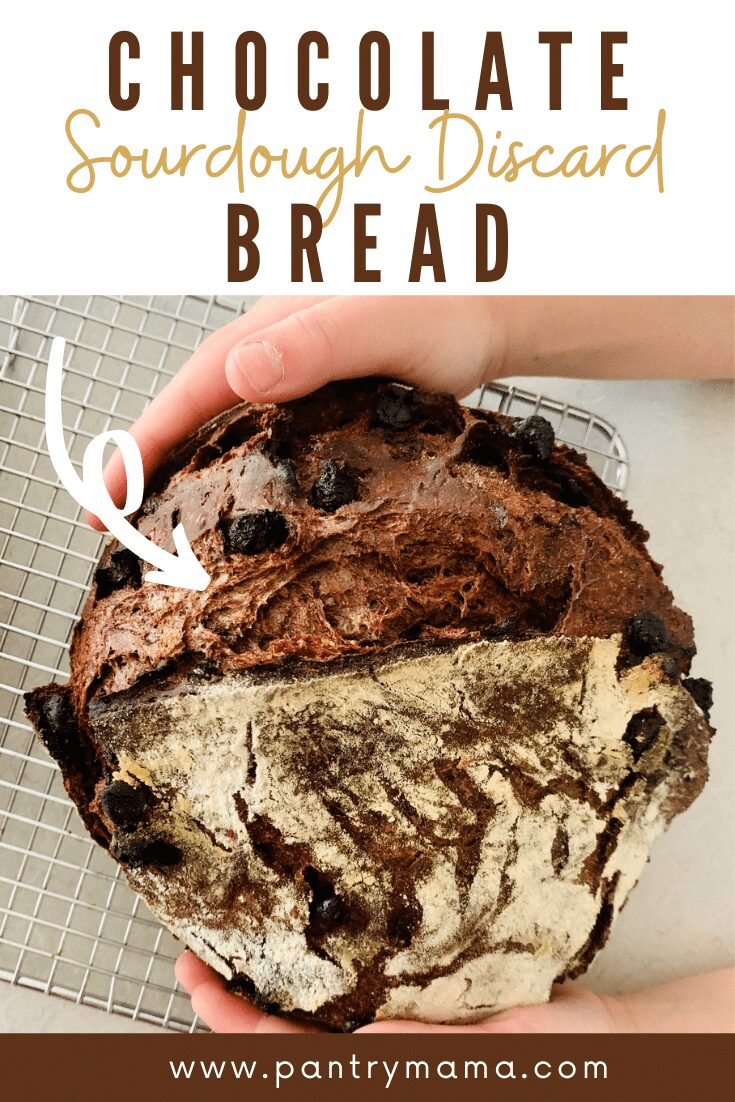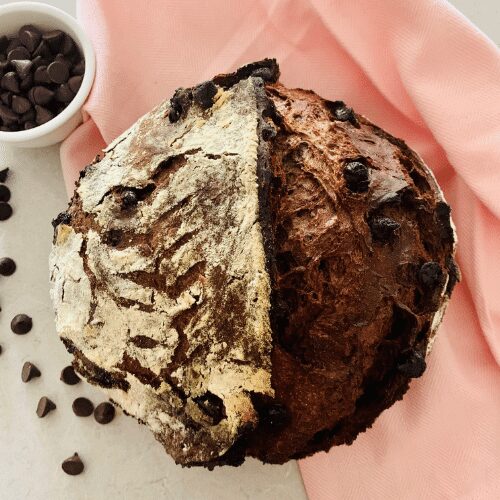 Chocolate Sourdough Discard Loaf Recipe
This simple chocolate sourdough discard bread is a great recipe to have in your repertoire. It can be made with regular sourdough discard or a chocolate sourdough discard starter.
Ingredients
450

g

Bread Flour 

100

g

Sourdough Discard

Can be regular discard or chocolate starter discard

360

g

Water

Warm

40

g

Sugar

30

g

Cocoa Powder

100

g

Chocolate Chips

10

g

Salt

7

g

Instant Yeast
Instructions
Take a clean ceramic or glass bowl and add all ingredients to the bowl (including the chocolate chips and any other additions you'd like).

Use a wooden chopstick or end of a wooden spoon to gently bring all the ingredients together into a shaggy dough. I also find a silicon dough scraper is really good for this stage - it allows you to clean the sides of the bowl as you mix. You don't need to it be fully smooth, just ensure that all of the flour & cocoa powder is wet.

Cover the bowl in cling film and set it somewhere warm for 1 - 2 hours. It really depends on the temperature of your house with this one. If your house is warm, 1 hour will be plenty. In the depths of winter or with air con, you may need more than 2 hours. You just want it to double in size, no more or it won't rise in the oven.

Around 45 minutes before you want to put your bread into the oven, you'll need to put a dutch oven into the oven and preheat it to around 220C/430F. A round Dutch Oven is perfect for this recipe.

Once your dough has doubled in size, grab a piece of parchment paper and lay it out on your counter. Sprinkle on a few tablespoons of rice flour or fine semolina flour (this is just so that the dough doesn't stick to your hands). Pop this aside for now - you'll need it once your dough is shaped.

NOTE - If you are wanting to put your bread in the refrigerator to bake another time (usually within 24 hours) then just pop the cling film over the bowl of doubled dough and put in the fridge. You don't need to do anything to the dough before it goes in.

Use a silicone dough scraper to scrape the dough out of the bowl and flip it onto a floured surface (the counter is fine).

If it's not too wet, use the flour and your finger tips to gently bring it into a round shape - you will need to pull each side over each other to do this. If your dough is too wet - don't fret, just try and bring it into some kind of shape without getting too messy. Use a metal dough scraper to move the dough to the parchment paper. Don't stress too much - this bread is a rustic loaf.

Using a lame or razor, score the top of the dough - a cross or single line is perfectly fine.

Carefully take your dutch oven out of the oven and remove the lid. Use the parchment or baking paper as a handle to gently place your discard bread inside the pot and put the lid back on.

Bake in the oven, with the lid on for 30 minutes at 220C/430F. Then remove the lid of the pot and bake for a further 10 minutes at 200C/390F. Remove the bread from the oven and allow to cool on a wire rack.

Try to let it cool for at least an hour before cutting it. It will still taste great if you cut it hot, but it's so much easier to cut if you let it cool!
Nutrition
Calories:
1870
kcal
Carbohydrates:
387
g
Protein:
63
g
Fat:
12
g
Saturated Fat:
4
g
Sodium:
3913
mg
Potassium:
976
mg
Fiber:
23
g
Sugar:
42
g
Vitamin A:
9
IU
Vitamin C:
1
mg
Calcium:
122
mg
Iron:
8
mg