With more and more households having a dog as a companion, this question is much more common than it used to be.
The short answer is yes, dogs can eat sourdough bread as long as it's cooked. The danger for dogs lies with uncooked sourdough.
If you suspect your dog has eaten raw, uncooked sourdough, please contact your vet immediately!
Of course, if your dog has allergies to wheat and or other grains, even cooked bread should be off the table, so to speak!
Why Is Uncooked Sourdough Bread Dangerous for Dogs?
Uncooked sourdough is a fermented product.
It produces ethanol while it ferments. Ethanol is a type of alcohol. And you guessed it, alcohol is definitely dangerous for dogs and can cause alcohol toxosis.
Sourdough can be particularly dangerous for dogs because due to the wild nature of it, it must be left for longer periods of time to rise than commercial yeasted doughs.
This means it could be more available to your dog.
If your dog eats uncooked sourdough, it will continue to ferment inside their gut, producing ethanol. It may occur more slowly due to the nature of sourdough, but this in itself may be dangerous as the symptoms may be displayed straight away.
If your dog eats uncooked sourdough, they may display the following symptoms:
Excessive drooling
Shallow breathing
Pacing and disorientation
Bloating
Vomiting and or abdominal pain
Unusual drooling
Hyperactivity
Slow reflexes or inability to react
Depression, anxiety, and restlessness
Please note this list of symptoms is not exhaustive. If you suspect your dog has eaten uncooked dough, you need to contact your vet immediately.
You'll also find more information surrounding symptoms your dog may display here.
If your dog eats uncooked sourdough, they could end up with alcohol toxosis or a distended stomach, which may present as bloat.
Both of these conditions can be life threatening for your dog.
Can My Dog Eat Cooked Sourdough?
While it is ok for your dog to consume cooked sourdough (it won't harm them like uncooked dough can), it should really only be given as an occasional treat.
Sourdough bread is carb heavy and really provides no nutritional benefit to your dog.
With grain and wheat causing many dogs stomach discomfort, itchy skin, sore ears and other issues, sourdough may not be a good idea for your dog.
If you want to feed your dog sourdough, why not try making these sourdough dog treats. They contain other nutrients for your dog, along with the sourdough to ensure they provide some benefit.
They are a healthy and safe way to treat your dog to sourdough, provided they can tolerate wheat and or grains.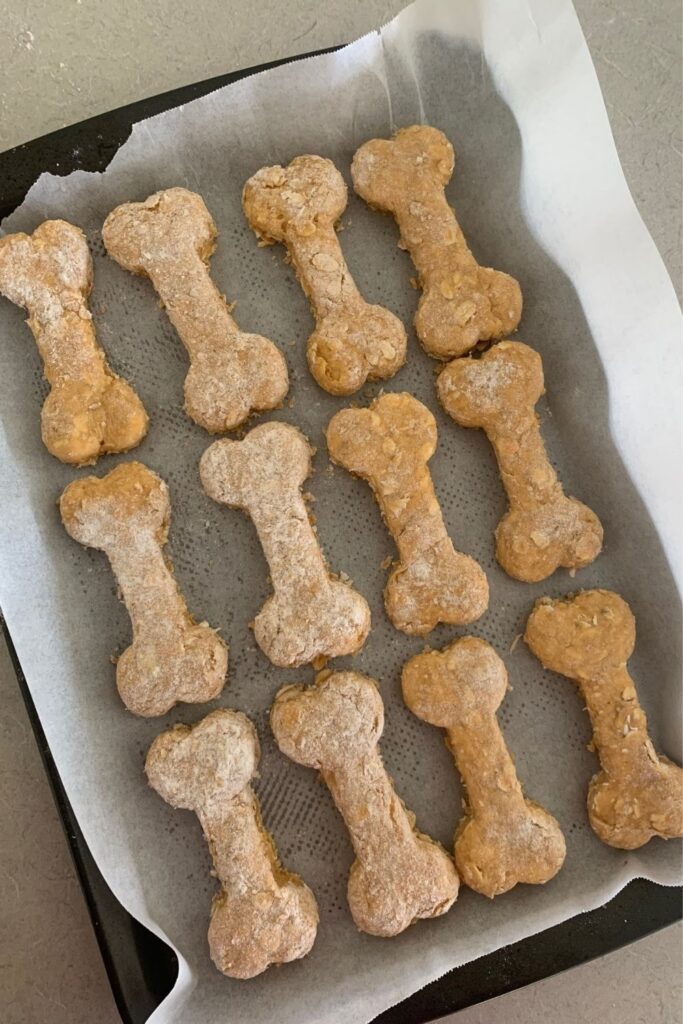 Is Sourdough Starter Bad For Dogs?
Yes, raw sourdough starter is very dangerous for dogs. You should avoid allowing your dog to eat any uncooked sourdough starter.
Sourdough starter, like raw dough, is fermented and will continue to ferment once ingested, producing alcohol and causing toxcitiy.
Sourdough starter is safe to add to sourdough dog treats because they are cooked through before being consumed by your dog.
How To Stop Your Dog Eating Sourdough Bread
If you have a beloved pooch who only has eyes for your sourdough, there are a few things you can do to keep your bread safe.
Here are some tips for stopping your dog from eating your sourdough:
Keep your dog outside while you are fermenting sourdough to prevent them from stealing your rising dough.
If you can't keep the dog outside, think about using a dough proofer like this or even placing your dough in your microwave or high cupboard where your dog cannot reach. A dough proofer will not only keep your dough safe from your dog, it will also ensure that it is kept at optimum temperature.
Avoid leaving cooked bread on the counter to cool where your dog can see it (and smell it). Try to cool the bread away from doggie eyes. If your dog sleeps outside, baking a night and allowing to it cool on the counter overnight might be a good option.
Train your dog not to go into your kitchen. If you live in an open plan home, simply closing the kitchen door might not be an option. Training your dog that the kitchen is a no go zone may be a good option.
Further Reading
If you found this article helpful, you might enjoy these ideas: