You may have read that sourdough can be dangerous for your dog to consume, but these sourdough dog treats are both safe and delicious for your precious pooch.
With uncooked sourdough bread being very dangerous for your dog and cooked sourdough, while being delicious, not providing them with required nutrients, these sourdough dog treats are an easy way to share the sourdough love with your dog.
Did you know that you can also feed your sourdough discard to your backyard chickens? And use it to fertilise your indoor plants and gardens?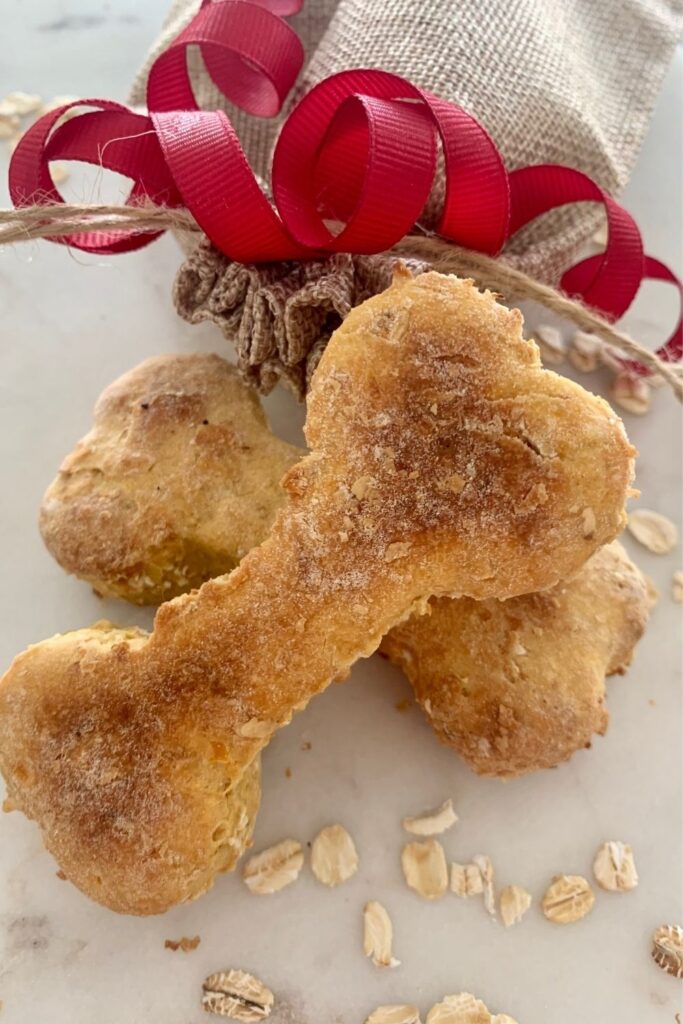 Why Can't Dogs Eat Sourdough?
Dogs cannot eat sourdough because it's a fermented product.
Giving dogs uncooked sourdough starter or uncooked sourdough can be fatal at worst, and at best make your dog very, very sick.
Check out my guide on what to do if your dog has eaten uncooked sourdough or sourdough bread. You'll also find the symptoms to look for.
Can Dogs Eat Sourdough Treats?
Yes, sourdough treats are a much better option than giving them sourdough bread itself. Sourdough bread provides dogs with no nutritional value.
Sourdough treats however contain added nutrients from egg, peanut butter, pumpkin and oats.
They are a much better way to share the sourdough love with your dog.
You should not give your dog sourdough treats if they have allergies or sensitivities to wheat as this is the main ingredient.
Like anything "treat", sourdough dog treats should be given occasionally and should not form part of their regular diet.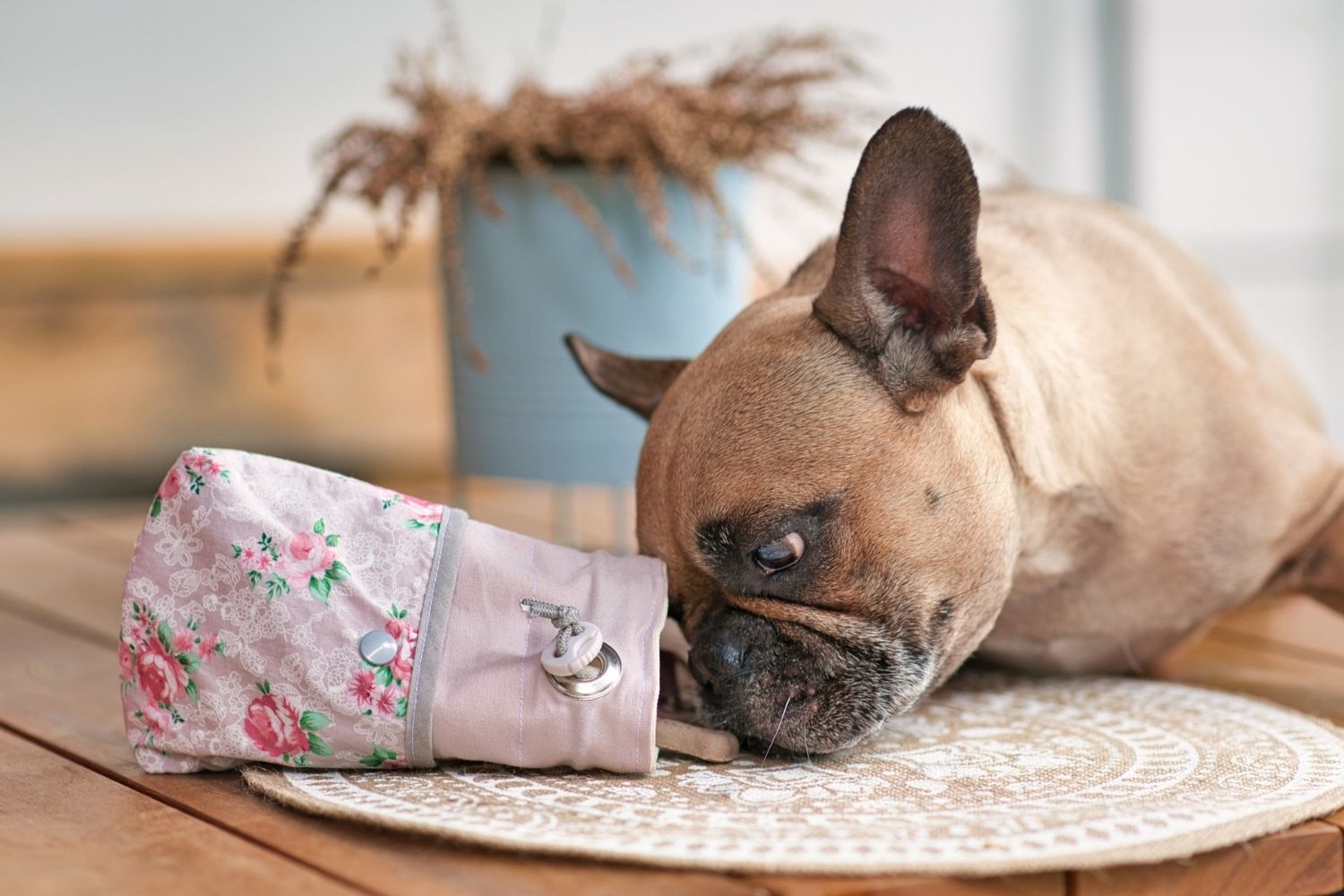 How To Make Sourdough Dog Treats
Sourdough dog treats are very easy to make. They use a few simple pantry staples to create a delicious sourdough dog biscuit.
You can choose whether you use canned or homemade pumpkin puree.
Here's how to make sourdough dog biscuits:
Add the wet ingredients to a large bowl and whisk together to form a smooth batter.
Add rolled oats and mix through until thoroughly coated.
Add the whole wheat flour and bring together into a rough dough.
Turn onto a floured surface and press out into a rough rectangle.
Roll out to around ¼" thick.
Dust the dough with flour.
Using a cookie cutter, cut shapes from the dough.
Place the dough shapes onto a baking tray lined with baking paper.
Spray lightly with olive oil.
Bake in a moderate oven until golden brown.
Allow to cool on a rack before sharing one with your dog.
Tips for the Best Sourdough Dog Treats
While this recipe is super simple to make, there are a few things you can do to make sure you get the best treats for your pampered pooch.
Make sure you use natural peanut butter with no added sugar or salt. You could even make your own peanut butter if you have a powerful food processor.
Try to add some of the oil from the peanut butter into the mixture for extra goodness.
You can use sourdough discard if you have some to use up or active sourdough starter - whatever is easy for you.
If the dough is too sticky, just add some extra whole wheat flour and bring it together. Depending on the consistency of your pumpkin puree and sourdough starter, you may need up to 100g extra flour to form the dough.
Spray with a little olive oil before baking to give them a nice golden color once baked.
The treats will crisp up as they cool so don't worry if they seem a little soft in the middle. You can turn them over and bake for an extra 5 minutes if you feel they need them.
What Flour Is Best For Dog Treats?
It's best to use whole wheat flour when making sourdough dog treats. This ensures that you're giving your pooch the most nutrient dense food you can.
You can really use any type of flour, however, if you are wanting to give your dog the best, you should choose the healthiest flour possible.
If you don't want to use wheat flour, you could of course substitute any type of flour you have on hand. Chickpea, coconut or even almond flour are good, nutrient dense choices for dog treats.
Using Pumpkin Puree in Dog Treats
Using pumpkin in dog treats is a great way to add extra fibre.
Some of the other benefits of pumpkin for dogs are:
supports digestive health (high in fibre)
it promotes good urinary health
pumpkin seeds can be a natural remedy for worms and parasites
good source of antioxidants and vitamins including Vitamin A, C, zinc and magnesium.
It's very important that if you're using canned pumpkin puree, you use pure pumpkin puree with no additives - not pie filling.
It's very easy to make your own pumpkin puree. In fact for the purposes of these dog treats, you can just microwave some pumpkin (or sweet potato) and mash it with a fork once soft.
I used my Thermomix (thermal cooker) to make the puree for these treats. It took just 10 minutes. I used a mixture of pumpkin and sweet potato because that's what I had on hand.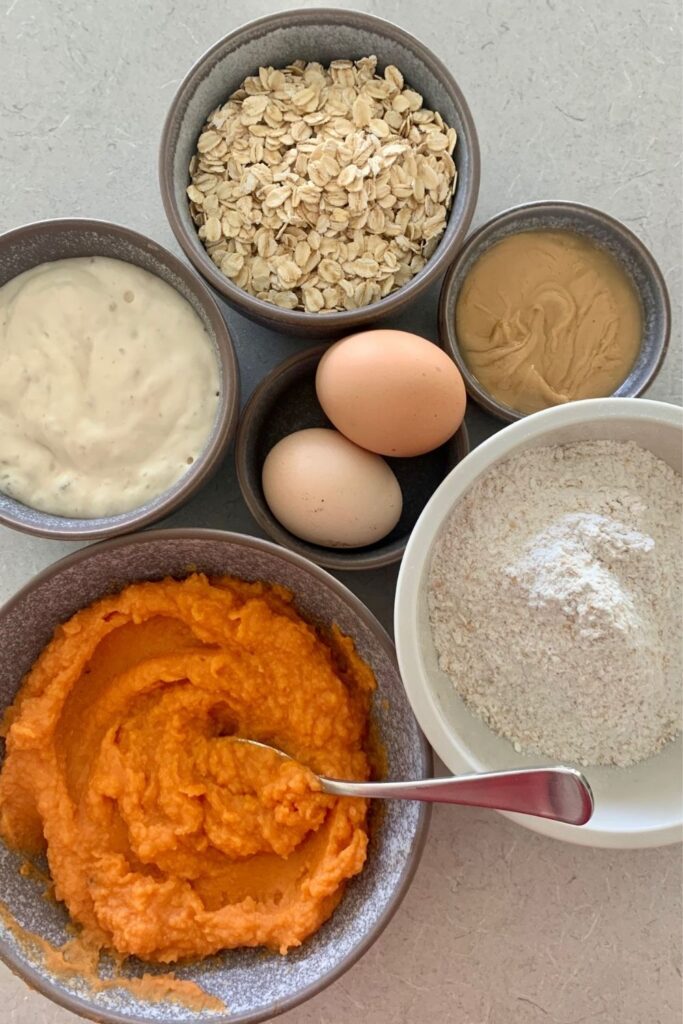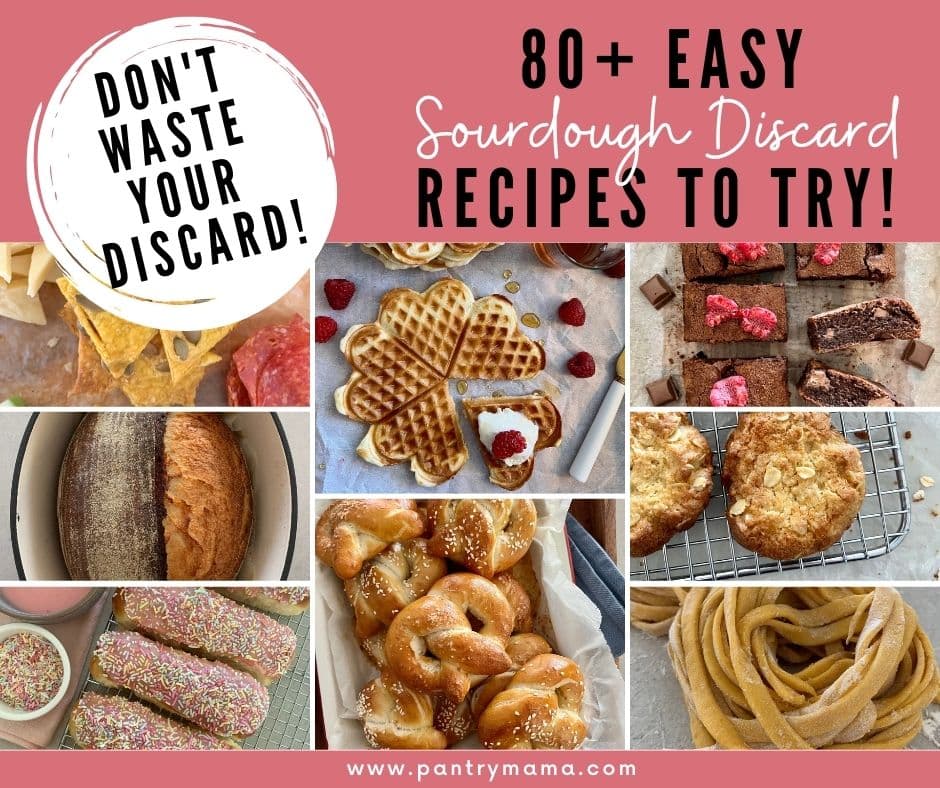 Further Reading
If you enjoyed making these sourdough doggie treats, you might enjoy these ideas: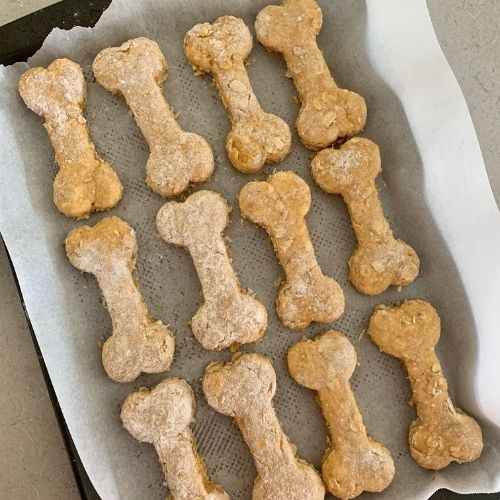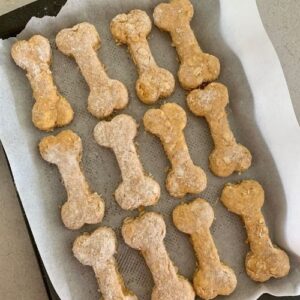 Sourdough Dog Treats
These nutrient rich sourdough doggie treats will have your precious pooch begging for more! They also make a lovely gift for friends with fur babies.
Equipment
Cookie Cutter (Bone or Paw Print for some fun)

Rolling Pin

Baking Tray
Ingredients
180

g

Sourdough Starter

can be active, fed or discard

2

Eggs

150

g

Pumpkin Puree

or sweet potato puree

80

g

Peanut Butter

natural, unsweetened, unsalted

100

g

Rolled Oats

200

g

Whole Wheat Flour

have some extra on hand just in case

Pumpkin Seeds

optional
Instructions
Preheat oven to 180C/350F.

Mix all of the wet ingredients together into a large bowl. Use a fork to whisk them together into a smooth batter (include the peanut butter).

Stir the rolled oats through the batter until they are coated.

Now, add the whole wheat flour and bring together to form a rough dough. It doesn't have to be smooth and will be a little sticky.

Once the dough has come together, sprinkle a clean surface with some whole wheat flour.

Tip the dough out onto the floured counter and press out with your finger tips. If the dough is sticky on top, dust it with some whole wheat flour.

Use a rolling pin to lightly roll it into a rough rectangle. It should be around ¼" thick. The dough won't rise much in the oven, so you don't want to roll it too thin.

Sprinkle the top of the dough with flour and use a cookie cutter to cut out as many pieces as you can. You can re roll the dough out to cut more pieces.

Place the pieces onto a baking tray lined with parchment paper.

If you would like to use pumpkin seeds, lightly brush or spray the dough with water and sprinkle on desired seeds.

Spray the biscuits lightly with olive oil.

Place dog treats into the oven and bake at 180C/350F for around 20 minutes until golden. If you feel they aren't quite baked through, you can turn them over and pop them back into the oven for 5 minutes.

Cool on a wire rack. They will crisp up a little as they cool.