Chocolate sourdough starter - Easy instructions on making a chocolate sourdough starter and why you need to!
This simple chocolate variation on a traditional sourdough starter will provide you with new inspiration on your sourdough journey.
You can use this starter for a myriad of chocolate sourdough recipes, as well as add it to non chocolate sourdough recipes for a new twist.
How To Add Chocolate To Your Sourdough Starter?
In order to make a Chocolate or Cocoa Sourdough Starter, you first need to have an established "normal" sourdough starter. This makes it much easier to create a chocolate one.
You will add cocoa, sugar, flour and water to your regular sourdough starter in order to transition it to a chocolate sourdough starter.
You can either use regular cocoa powder or raw cocao powder - it's totally up to you.
Either one of these will work just fine. You should however try to use the best quality cocoa powder you can.
Why Create A Chocolate Sourdough Starter?
Adding chocolate to a portion of your sourdough starter is an easy way to create a rich and decadent base to many different recipes.
You can use the cocoa starter exactly the same way you would a regular sourdough starter.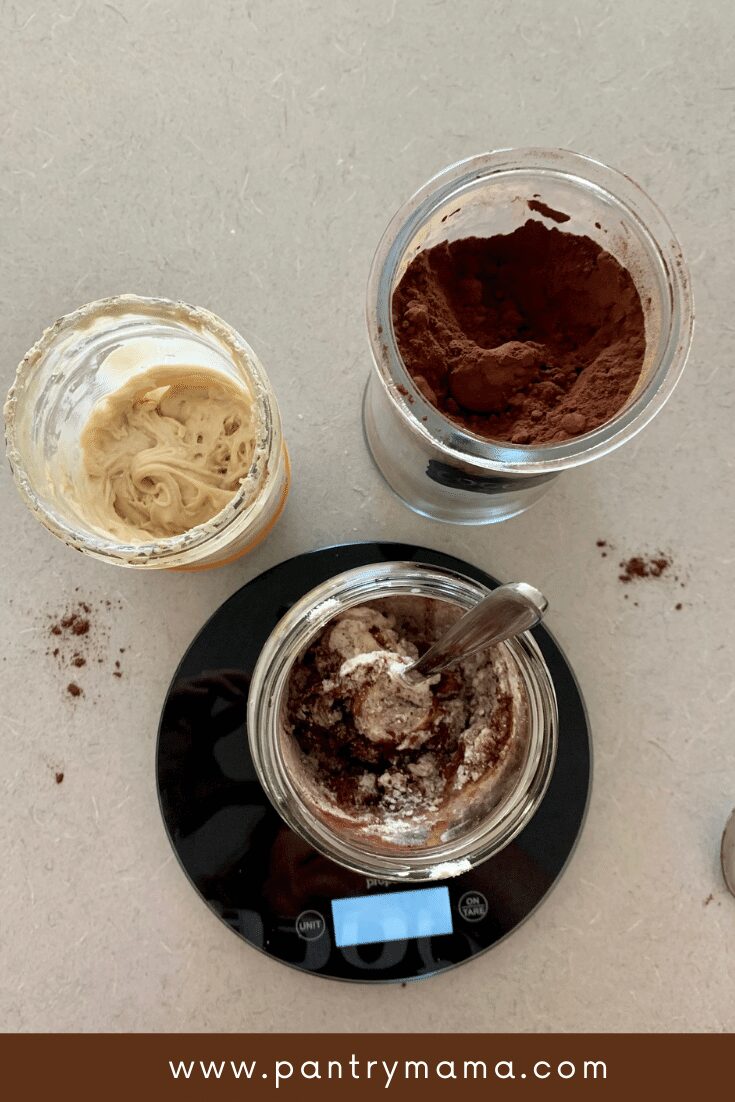 The cocoa, together with the sugar and flour, provide a food source for the yeast and bacteria.
The cocoa will change the chemistry of your sourdough starter - but it will still behave in the same way.
You'll find that using the chocolate starter in chocolate sourdough recipes will give you a much richer flavor than using your normal liquid starter.
You can also use the discard from feeding the chocolate starter in a variety of discard recipes for a hint of chocolatey goodness.
These discard cookies work really well with the chocolate starter, as do these fluffy sourdough pancakes and this sourdough chocolate discard loaf and sourdough brownies.
I always recommend keeping a back up of your sourdough starter.
You can create this Sourdough Starter as a once off to use in a recipe.
You could also keep your chocolate starter in the fridge and feed it when you want to bake with it.
If you'd like to see what other sourdough starters you can create from your original sourdough starter, check out these 10 different types of sourdough starters.
How To Store It
I find keeping the chocolate starter in the fridge the best solution.
It's not a starter I use every day and I don't want to feed it once or twice a day. I keep the jar of cocoa starter in the fridge and just take it out and feed it as I require it.
As my starter is well established, it only takes one feed to get it doubling.
It's up to you how you build or store your starter - you can certainly just build the chocolate starter as you need it for a recipe, this method will work just fine.
Depending on how established your starter is (and how well your first mixture doubles) you might want to do two or three feedings before you use it in a bake.
If your starter is well established, you will find it doesn't take much to get a chocolate one going.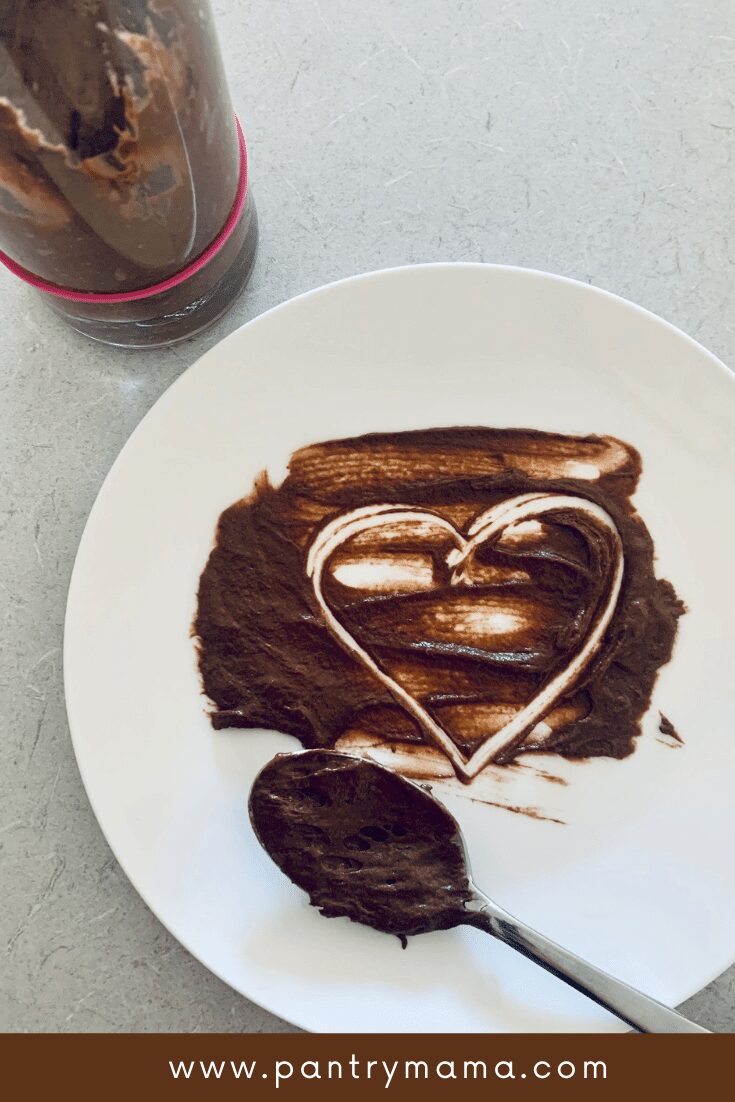 Feeding & Maintaining a Chocolate Sourdough Starter
It's up to you how you maintain this type of starter.
You can just build it whenever you need it. This would mean just using your mother starter and creating the chocolate one whenever you want to use it in a recipe. This is a great option if you only use it every so often.
You could of course keep it in the fridge as I've mentioned above.
Whether you keep the starter in the fridge or on the counter, you need to feed it. Feeding it is like any other starter.
Discard all but a portion - let's say 25g in this case.
Add 25g of the starter to a jar and then feed it with the ingredients listed in the recipe below (so you'd need to add flour, cocoa, sugar and water every time).
The basic ratio for this starter is:
1 part starter : 2 parts flour : 2 parts water : 0.6 parts cocoa : 0.6 parts sugar.
So if you have 25g of starter (1 part) you'd feed it with 50g of flour (2 parts) : 50g of water (2 parts) : 15g of cocoa (0.6 parts) : 15g of sugar (0.6 parts).
Flour to Use for Cocoa Starter
When building this type of starter, I chose to use a blend of All Purpose Flour and Rye Flour.
You can basically use whatever flour your starter prefers - or you can choose to use something different. I like using a little rye to give the starter a boost.
The smell of the rye and the chocolate together is heaven!
You want to keep your cocoa starter fairly stiff - it seems to be happier that way. You can still use it in recipes that ask for a 1:1:1 starter - it won't make any noticeable difference.
If you use rye or whole wheat you might notice that your starter is very stiff - it's totally ok, it will loosen up as it ferments.
As the cocoa absorbs water as well as the flour, it may feel different to your traditional liquid starter.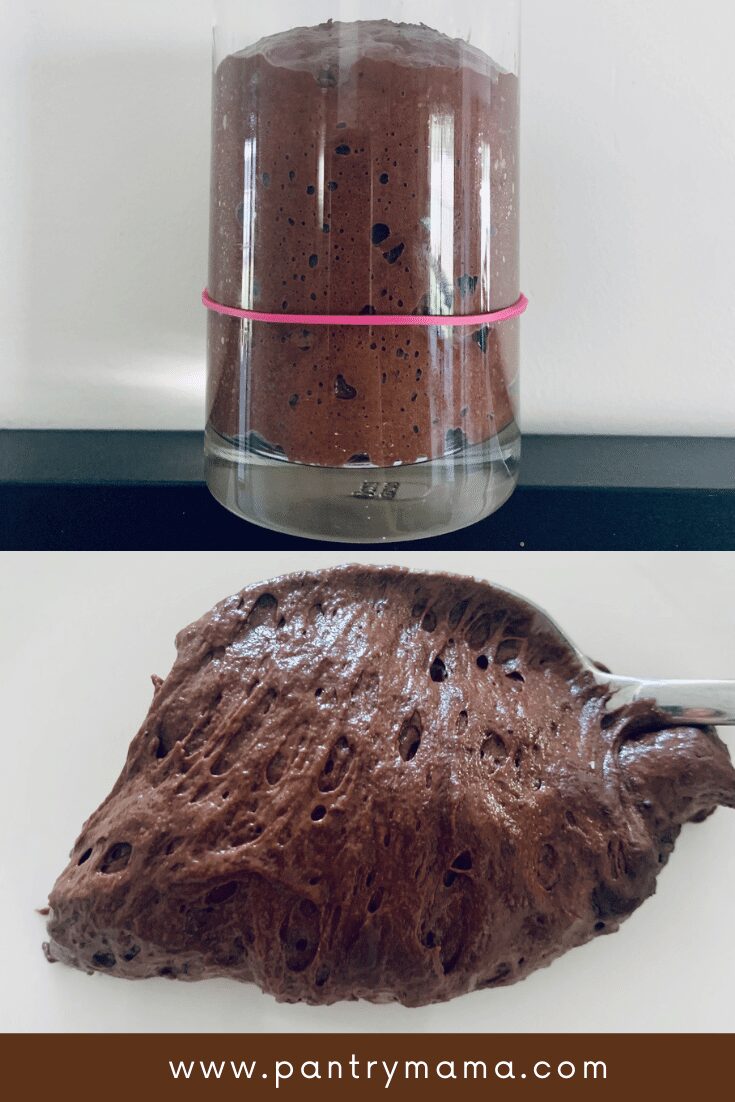 How To Use a Chocolate Sourdough Starter
Adding cocoa to your sourdough starter creates the most amazing, rich jar of yeasty goodness! You can use your chocolate sourdough starter in many different recipes. I've listed a few here:
Further Reading
If you love the idea of different flavored sourdough, you might enjoy these ideas: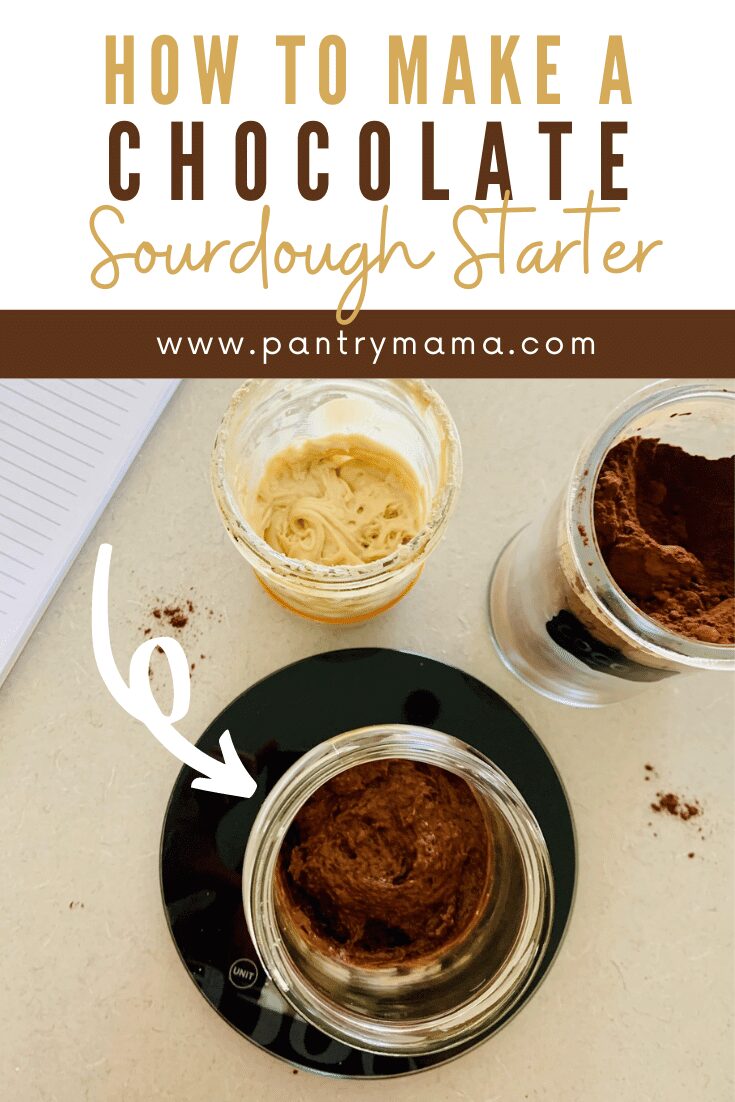 Chocolate Sourdough Starter Recipe
Easy instructions for creating a chocolate starter to use in your sourdough baking. Use the chocolate sourdough starter for chocolate and non chocolate recipes for an unusual twist.
Ingredients
15

g

Cocoa Powder

15

g

Sugar

50

g

Flour (All Purpose, Rye, Bread, Whole Wheat - whatever you want to feed your starter)

25

g

Established Sourdough Starter

50

g

Water
Instructions
Use a scale for accuracy. Combine all ingredients into a clean, wide mouth jar. Stir vigorously until it forms a smooth, chocolatey paste.

You will find the mixture is quite stiff due to the cocoa. This is totally fine, it will loosen up as it ferments.

Cover your chocolate starter with a paper towel secured with an elastic band or a loose fitting lid and set aside to allow fermentation to occur.

If it seems slow, give it a stir after a few hours. It should double within 10 hours (as long as you've used an established sourdough starter).

Use your chocolate sourdough starter in your favorite chocolate sourdough recipe.

You can continue to feed your chocolate sourdough starter using the measurements above. It's up to you whether you just build this starter when you require it - or double the mixture and use half and put half in the fridge. You can then just take it out and feed it as you need it.
Nutrition
Calories:
92
kcal
Carbohydrates:
24
g
Protein:
3
g
Fat:
2
g
Saturated Fat:
1
g
Sodium:
6
mg
Potassium:
229
mg
Fiber:
5
g
Sugar:
15
g
Calcium:
21
mg
Iron:
2
mg