Who knew you could make easy sourdough brownies with sourdough starter? And seriously they are so chocolatey and fudgy!
Adding sourdough starter (or discard) to brownies gives them a lovely sour tang which pairs perfectly with the rich, fudgy chocolate.
This sourdough brownie recipe is seriously easy to make. You need one bowl and a brownie tin - that's it! Nothing fancy, no mixers ... but wow will you get a fancy result! And if you prefer your brownies blonde, try these sourdough blondies!
If you love simple chocolate sourdough recipes, be sure to try these chocolate chunk sourdough muffins, chocolate chip sourdough scones or these sourdough chocolate chip cookies.
What Do Sourdough Brownies Taste Like?
Sourdough brownies taste like regular brownies - only way better!
These brownies have a crackly, meringue top (essential for good brownies if you ask me!).
The brown sugar gives a good depth of flavor and using bother melted chocolate and cocoa ensures that rich chocolatey goodness.
The sourdough starter only adds to this complex flavor profile and rounds out the often too rich feeling brownies can have.
I love eating these slightly warm, topped with the best quality vanilla bean ice cream and sprinkled with tart raspberries - perfection!
Can You Use Sourdough Discard in Chocolate Brownies?
Absolutely. This recipe will work with either fed and bubbly starter or sourdough discard (even if it's been in the fridge).
Chocolate works really well with the more sour notes in sourdough, so you can use discard without worrying that it will overpower the flavor.
In fact, I think that the sour works really well in this recipe!
I alternate between using fed starter and discard - I just use whatever I have on hand at the time. I've been known to feed my starter a little extra just to make a batch of these for dessert!
You could even make this chocolate sourdough starter and use it in these brownies!
How To Make Easy Sourdough Brownies?
Sourdough brownies are so easy to put together! You literally need a few ingredients, a mixing bowl and a brownie tin!
Probably the hardest thing you have to do is melt the chocolate and butter together - but even that is pretty easy if you use the microwave.
I baked these brownies in a pan similar to this (dimensions (11 x 7 x 1.5 inches).
Here's how to make Sourdough Chocolate Brownies:
Melt the chocolate and butter together (you can use the microwave to make this easy or do it over a pot of water on the stove).

Whisk the butter and chocolate together until it looks like liquid chocolate.

Now add the eggs, vanilla, sourdough starter and sugar together in the bowl with the butter and chocolate and whisk until well combined.

Add the flour, cocoa and salt to the bowl and whisk until the batter is molten and well combined.

Line a brownie tray with parchment paper and pour the sourdough brownie mix in.

Bake at 180C/350F for around 20 minutes or until they are cooked to your liking.

Remove from the oven and dust with cocoa. Cool slightly before serving.
Tips for Baking Sourdough Brownies
There are a few things that make a really good chocolate brownie! Here are my best tips for making sure you get a lovely, chocolatey, fudgy brownie!
Using cocoa and melted chocolate together will give you the best result! You can use raw cacao, Dutched cocoa powder or regular cocoa. I've used regular cocoa in my recipe.

Don't overcook the brownies. They are better undercooked than over! If you like them super fudgy, reduce the cooking time by a few minutes and remove from the oven when they are still wobbly in the middle. If you insert a skewer in - it should come out covered in batter!

If you prefer them more cakey then cook them until the skewer comes out mostly clean.

Use whatever chocolate you like to eat - dark, milk, semi sweet - they are all good!
Flavor Variations for Sourdough Brownies
There are so many ways you can make this recipe suit your own brownie tastes!
Here are some ideas to for your next brownie bake!
Mix through some white chocolate chips and macadamia nuts when you add the flour and cocoa.

Add a shot of espresso to the batter and top with pecans before baking.

Push a punnet of fresh raspberries or blueberries into the batter before you bake the brownies.

Dust with icing sugar instead of cocoa.
How To Store & Freeze
Sourdough brownies will last for around 7 days in an airtight container. I've had better luck keeping them in a tin lined with parchment paper than plastic.
You can freeze them. Wrap in parchment paper and then in tin foil and freeze. It's better to freeze them as a whole "cake" rather than cut before freezing.
To defrost, allow them to sit on the counter until thawed through. Warm slightly before serving (microwave is fine).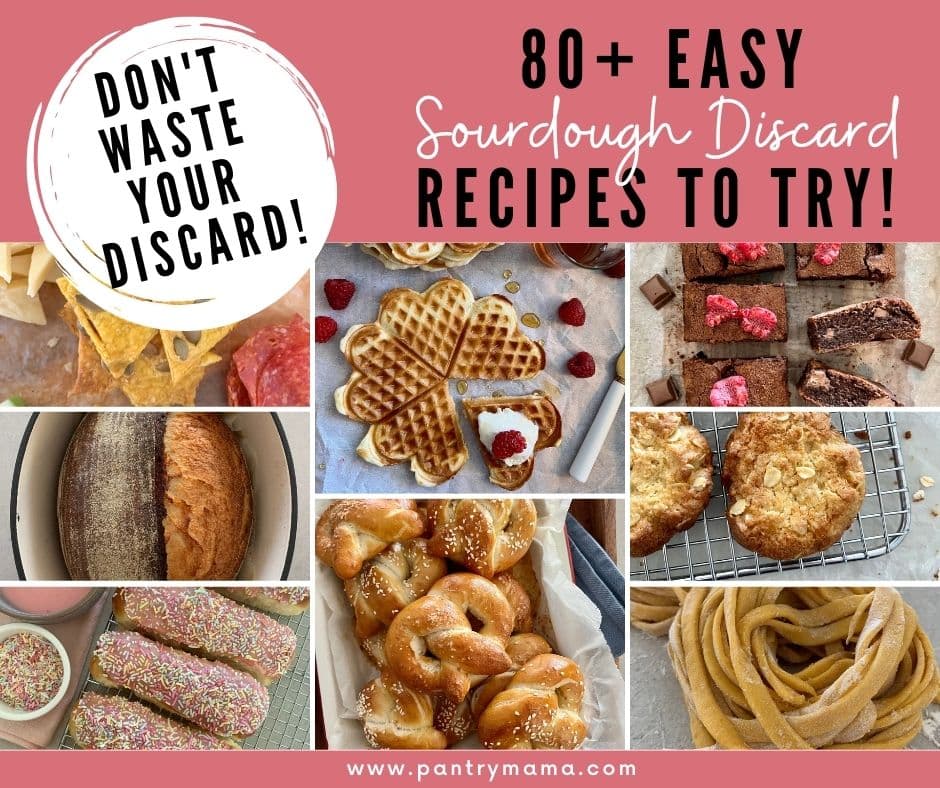 Want More Chocolate Sourdough Recipes?
If you are loving these easy sourdough brownies, why not try these other chocolate sourdough recipes: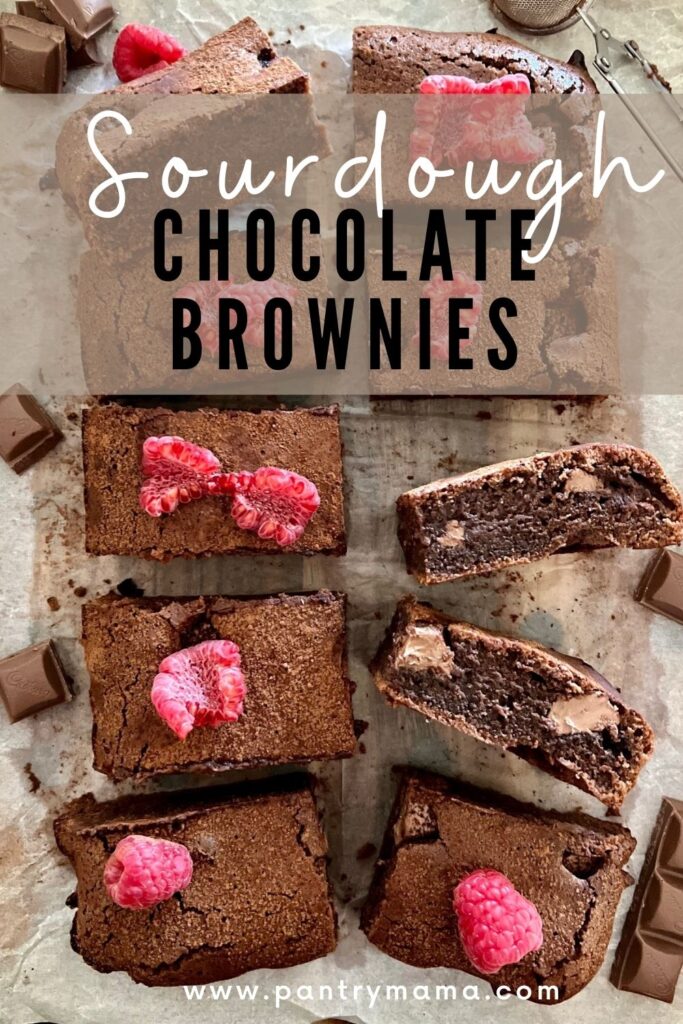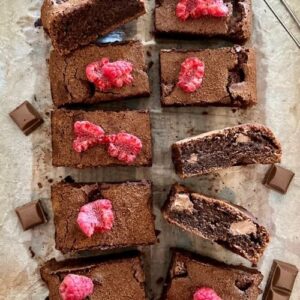 Sourdough Brownie Recipe
This simple one bowl recipe uses 200g of sourdough starter to create a chocolatey, fudgy sourdough brownie recipe everyone will ask for!
Ingredients
150

g

Butter

melted

200

g

Chocolate

milk or dark

200

g

Sourdough Starter

can be unfed or active and bubbly

200

g

Dark brown sugar

3

Eggs

5

g

Vanilla Extract

50

g

Cocoa Powder

75

g

All Purpose Flour

pinch

Salt

100

g

Chocolate Pieces

optional - for poking into the batter
Instructions
Preheat the oven to 180C/350F.

Melt 200g of chocolate together with the butter.

I do this in the microwave - I place both ingredients in a glass bowl and do 30 second bursts until they are melted. Stir together.

Once the chocolate and butter are melted together, add eggs, vanilla, sugar and sourdough starter to the same bowl and mix until well combined.

Then to the same bowl add the cocoa, flour and salt.

Mix until a liquid, molten batter forms.

Pour the batter into a brownie tin lined with parchment paper.

If using, poke the chocolate pieces into the batter.

Bake the brownies at 180C/350F for around 30 to 35 minutes (depending on your oven).

Dust with cocoa powder once removed from the oven.
Notes
I have used a brownie pan with the following dimensions - 27.5 x 17.5 x 3.5 cm (11 x 7 x 1.5 inches). You can purchase a similar pan here.