Make these fluffy sourdough discard pancakes using your sourdough starter discard.
You can make the batter the night before and pop into the fridge for quick easy pancakes in the morning!
If you are building your sourdough starter, you will need to discard regularly to ensure it thrives.
The discard can really add up fast. These fluffy sourdough discard pancakes are a quick, easy way to use up your discard.
My kids LOVE pancakes so these are a regular meal at our house. While I don't necessarily need to discard in order to maintain my mature sourdough starter, I feed it a little extra to make sure I am able to make these.
I love making them the night before and allowing them to ferment a little before we cook them for breakfast. It's an easy way to get some of the good stuff into my growing boys.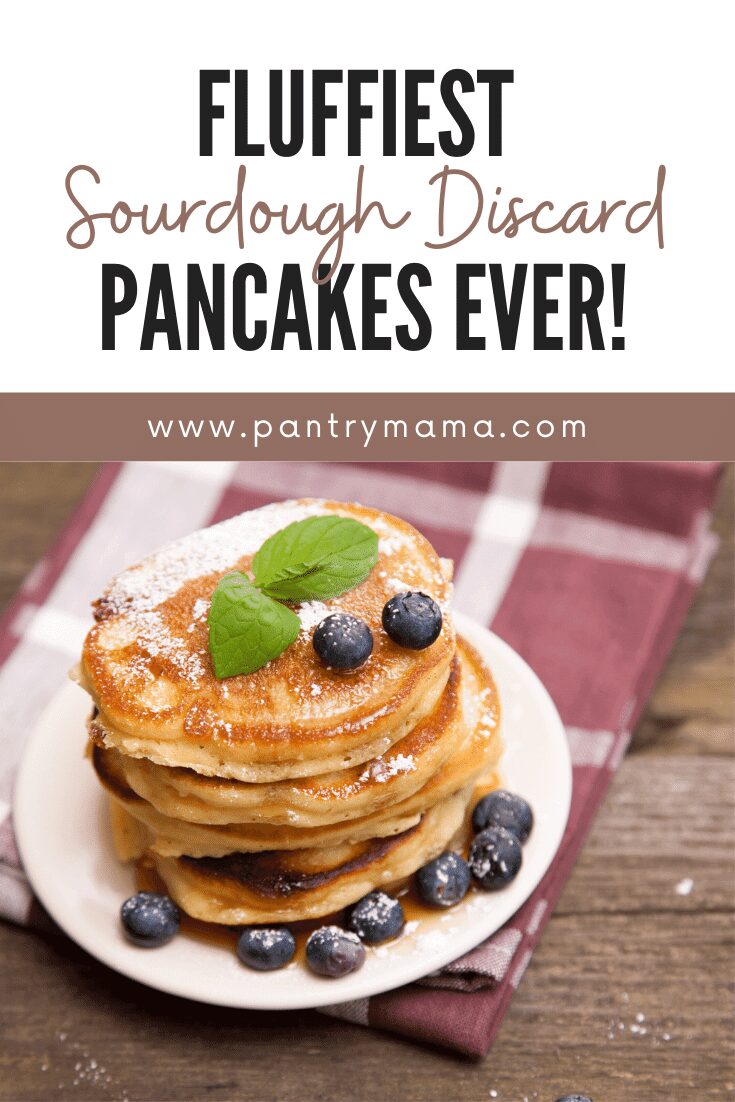 Oven Baked Sourdough Discard Pancakes
If we are really in a hurry in the morning, I sometimes oven bake our pancakes.
I place a sheet of parchment paper into a shallow tray or roasting pan and then pour the pancake batter into it.
If I have time I'll sprinkle some frozen berries and shredded coconut on the top. But they are great plain too.
I bake in a moderate oven for around 15 to 30 minutes. The batter is very forgiving so it's hard to muck them up! This method works whether you make the batter and bake immediately or make the batter the night before.
Once baked, I just cut them into squares and the kids love them! They cook up nice and fluffy.
My boys absolutely love this whipped honey cinnamon butter on their sourdough pancakes!
Sourdough Pancakes In The Thermomix
If you have a Thermomix, these sourdough discard pancakes are even easier to make.
You can place all the ingredients into the bowl at the same time. Mix on speed 4 for about a minute and voila - easiest Thermomix sourdough discard pancakes ever!
If you want to make overnight sourdough pancakes, you can ferment the ingredients in the Thermo jug overnight on the counter and then just add the egg, butter, vanilla, baking powder and salt the next morning. It makes for an easier clean up with less bowls to wash!
A Few Things To Note
You can prepare these pancakes the night before by creating a "preferment" and then adding eggs, butter, vanilla, baking powder and salt the next morning (see recipe notes for directions).
You can replace the milk with buttermilk if you want to. This is a great way to use up the buttermilk from making your own butter or cultured butter.
These pancakes are suitable to cook the day before and store in the fridge. You can microwave them in the morning for a quick and easy breakfast.
You can freeze the cooked pancakes. Wait until they are cool and then freeze with pieces of parchment paper in between so they don't stick together.
You could make mini pancakes which are fantastic for lunch boxes or toddler breakfasts.
If you want to add frozen berries, add them just before you flip the pancakes. Raspberries and blueberries work really well.
Further Reading
If you love this recipe, you might enjoy these ideas:
If you'd prefer whole wheat pancakes, these sourdough pancakes are full of goodness with whole wheat flour, oats and banana.
If you're looking for the easiest discard bread ever, you'll find my proven recipe here - it's super popular in my Facebook Group!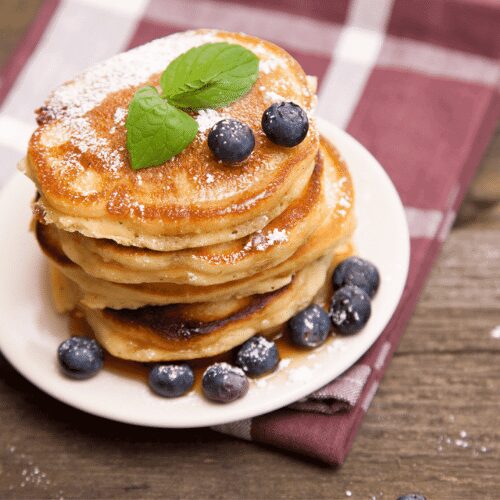 Sourdough Discard Pancakes
The fluffiest pancakes you'll ever eat, made with your sourdough discard. Create a waste free sourdough routine by making these pancakes with your discard.
Ingredients
100

g

Sourdough starter discard 

200

g

All Purpose Flour

you can sub up to 100g whole wheat flour

200

g

Milk

you can sub with buttermilk if you'd like (see notes)

50

g

Butter

Melted

40

g

Sugar

1

Egg

8

g

Baking Powder

3

g

Salt

(a pinch of salt)

5

g

Vanilla Extract
Instructions
Add the sourdough starter, milk, egg, butter, vanilla and sugar to a bowl. Whisk well until just combined.

Now add the flour, baking powder and salt to the liquid ingredients and whisk until well combined and a batter forms.

This batter is ready to use straight away (see notes below if you want to ferment the batter overnight).

Heat a large frying pan and add a little oil and butter to grease it.

Cook the pancakes to your desired size (use a mini soup ladle to scoop out the mixture).

Let all the bubbles fully form on the surface before you flip them over.

A lower heat is better as it lets the bubbles develop without burning the outside.
Notes
TO FERMENT PANCAKE BATTER OVERNIGHT:
If you'd prefer to ferment the batter overnight, you need to use the following instructions and then finish it off in the morning before you bake them:
Add the Sourdough Starter, sugar, milk and flour together in a bowl and mix until well combined. Leave it on the counter overnight (it's perfectly safe to leave the milk overnight, however if you're worried it can go in the fridge for up to 24 hours).
In the morning, add eggs, baking powder, melted butter, salt and vanilla essence and mix well until it forms a batter.
The batter made this way will be quite stretchy because of the overnight fermentation of the flour.
Cook as instructed in the regular recipe above.
DAIRY FREE SUBSTITUTIONS:
If you'd prefer to make these sourdough discard pancakes dairy free, you can use any type of plant milk instead of dairy milk (almond and oat milk both work well). You can use vegan butter or just leave it out altogether. Cook them in whatever oil you prefer.
MILK OR BUTTERMILK:
you can use either milk or buttermilk in these sourdough waffles. If you make your own butter or cultured butter, you will have plenty of buttermilk on hand. This is perfect to include in this recipe.
Nutrition
Calories:
72
kcal
Carbohydrates:
10
g
Protein:
2
g
Fat:
3
g
Saturated Fat:
2
g
Polyunsaturated Fat:
1
g
Monounsaturated Fat:
1
g
Trans Fat:
1
g
Cholesterol:
15
mg
Sodium:
262
mg
Potassium:
28
mg
Fiber:
1
g
Sugar:
3
g
Vitamin A:
91
IU
Calcium:
38
mg
Iron:
1
mg