Sourdough gifts! Are you looking for a gift for a sourdough enthusiast?
Maybe you are the sourdough enthusiast (seriously, no judgement here).
Whoever you're looking to spoil, I've put together a curated list of unique pieces every sourdough lover will enjoy.
And the best thing is they're all under $50!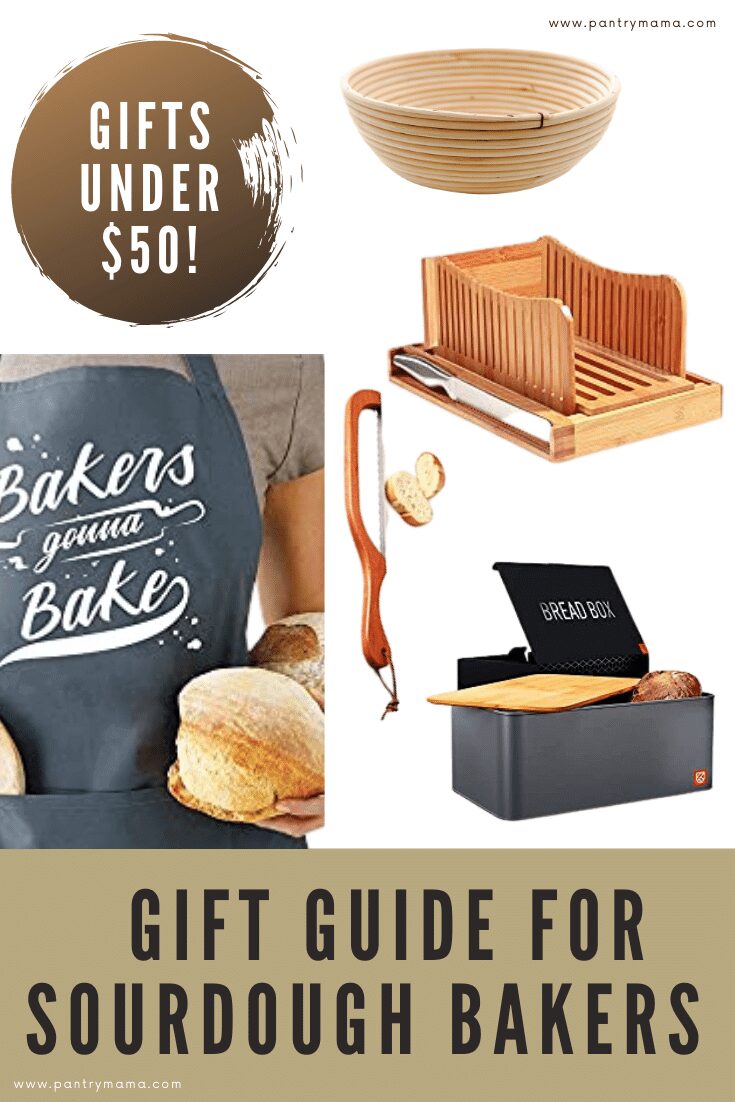 These beautiful and thoughtful gifts for sourdough bakers are all under $50! There is sure to be something that suits even the fussiest baker.
Sourdough Gifts Under $10
Sourdough Baker's Journal / Log Book
This thoughtful and useful gift will be treasured by any sourdough baker - a place to journal their ever evolving journey of sourdough baking.
This gift comes in at under $10 too so it's definitely a budget friendly sourdough themed gift. Check out this lovely sourdough baker's journal here.
Jar Spatula
Small but super handy, this jar spatula is perfect for scooping out sticky sourdough starter.
Seriously, it will be loved by any home baker who deals with sourdough starter!
Bread Lame
This inexpensive gift is sure to be loved by the sourdough home baker.
Helping them to score their bread with beautiful designs, this bread lame will ensure their bread gets noticed!
Sourdough - A Novel
A novel all about a life changing loaf of bread ... and we all know that sourdough can in fact be life changing, right? This novel will be enjoyed by any sourdough baker.
Something for them to read while their dough bulk ferments.
Sourdough Gifts Under $20
Reusable Bread Bag
This lovely organic cotton bread bag is a lovely way to store sourdough. It's reusable and easy to fit into a small space.
It's sure to bring a smile to a home baker's face!
Danish Dough Whisk
A Danish Dough Whisk is super handy for initially mixing together flour and water.
It's a handy sourdough utensil that many sourdough baker's don't purchase for themselves ... but should!
This makes it the perfect gift for the sourdough baker.
Specialty Flours
Any home baker would love to receive a package of specialty flour - it's often something they'd love to buy, but never order for themselves. Some lovely packages to gift would be
Banneton
While many sourdough bakers will already have a banneton (or two) - you can never have too many!
Honestly it will be very well received.
While most bakers will have a round banneton, why not gift a more unusual shape or size for something different. Here's an oval banneton for shaping a sourdough batard. This one is a triangle banneton for something more unusual. These are mini banneton which are perfect for making sourdough bread rolls.
These banneton are very unique and allow baker's to add a design to their bread while it's cold proofing.
If you're looking for the right size to bake my Simple Sourdough Recipe, you'll find the correct size for a batard here and a boule here.
If you're trying to find a specific sized banneton, try this banneton size guide.
Baker's Blackboard
A Kitchen Blackboard is such a useful and thoughtful gift for the at home sourdough baker.
Not only does it add a warm, rustic feel to the kitchen, they can use it to record their baking timetable, recipe additions or changes or just write their sourdough bake for the day.
Sourdough Gifts Under $30
Baker's Apron
This lovely apron is sure to be loved by all the proud Sourdough Starter Mamas out there! It comes in a range of colors so you can choose the perfect personalised gift!
This one is lovely too! Perfect for any baker in your life!
Fiddle Bow Bread Knife
For something a little different, what about a beautiful wooden fiddle bow bread knife? It's something that will be a conversation piece in their kitchen, as well as being incredibly useful for slicing sourdough bread.
If you're looking for a more everyday sourdough bread knife, this Mercer 10" Bread Knife is the best one to buy.
Sourdough Gifts Under $40
Bread Box With Chopping Board
This gift is sleek, sexy and would look lovely on any kitchen counter. This handy bread box will not only keep up to 2 loaves of bread fresh, it's lid also doubles as a bread board. What a clever space saving idea, right?
Bread Slicing Guide & Knife Set
This handy bread slicing guide is a best seller! Helping the home baker slice their sourdough with precision and ease using this quality bamboo slicing guide and stainless steel knife.
A sourdough gift that will be used on the daily!
English Muffin & Crumpet Rings
Many sourdough bakers not only bake bread, but also crumpets and English Muffins using their sourdough discard. These non stick crumpet rings are perfect for ensuring their crumpets turn out perfectly every single time.
Sourdough Gifts Under $50
Lekue Silicon Bread Baking Kit
This Lekue Silicon Bread Baker comes with a handy baguette tray which is sure to make any bread baker smile. The Silicon Bread Baker is perfect for mixing and baking sticky loaves (like this one) with minimal fuss.
Fiddle Bow Knife & Cutting Board Set


This unique gift is both beautiful and useful and will be treasured for a long time to come. This useful fiddle bow bread knife sits inside this solid bread board for easy storage.
Coloured Enamel Dutch Oven
Just like bannetons, the home baker can never have enough Dutch Ovens! Why not gift them one in their favorite color?
These gorgeous Dutch Ovens in Turquoise, Red, Blue and Orange all come in under $50!
Or why not gift them a set of heavy duty Oven Gloves to go with a Dutch Oven they already have.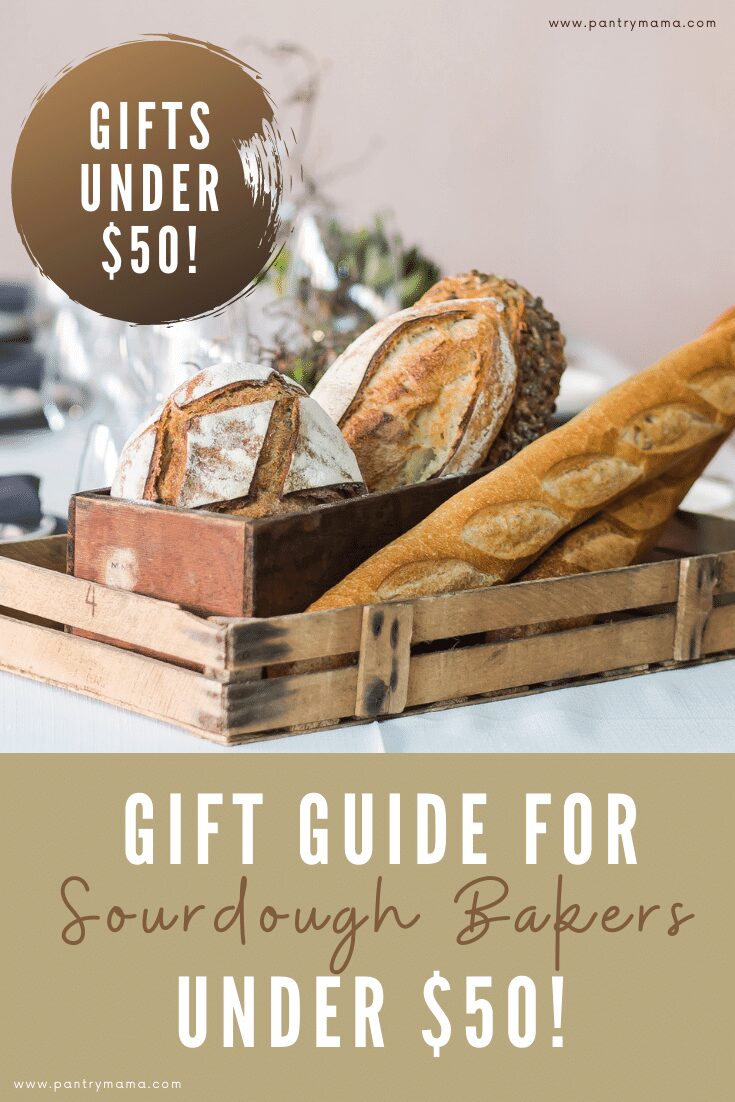 I hope this sourdough gift guide has been useful in selecting a beautiful gift for a sourdough baker in your like - or indeed ensuring you get something that you'd like as a gift!
Further Reading
If you enjoyed this gift guide for sourdough bakers, you might enjoy these: