If you have a sourdough starter, then chances are you'll have a bit of sourdough discard from time to time - depending on how often you feed it.
Baking true sourdough bread is certainly rewarding, but with our busy lives, we don't always have time for a 2 to 3 day process, right?
So I've created the easiest sourdough discard bread you'll ever make - seriously it's so so simple!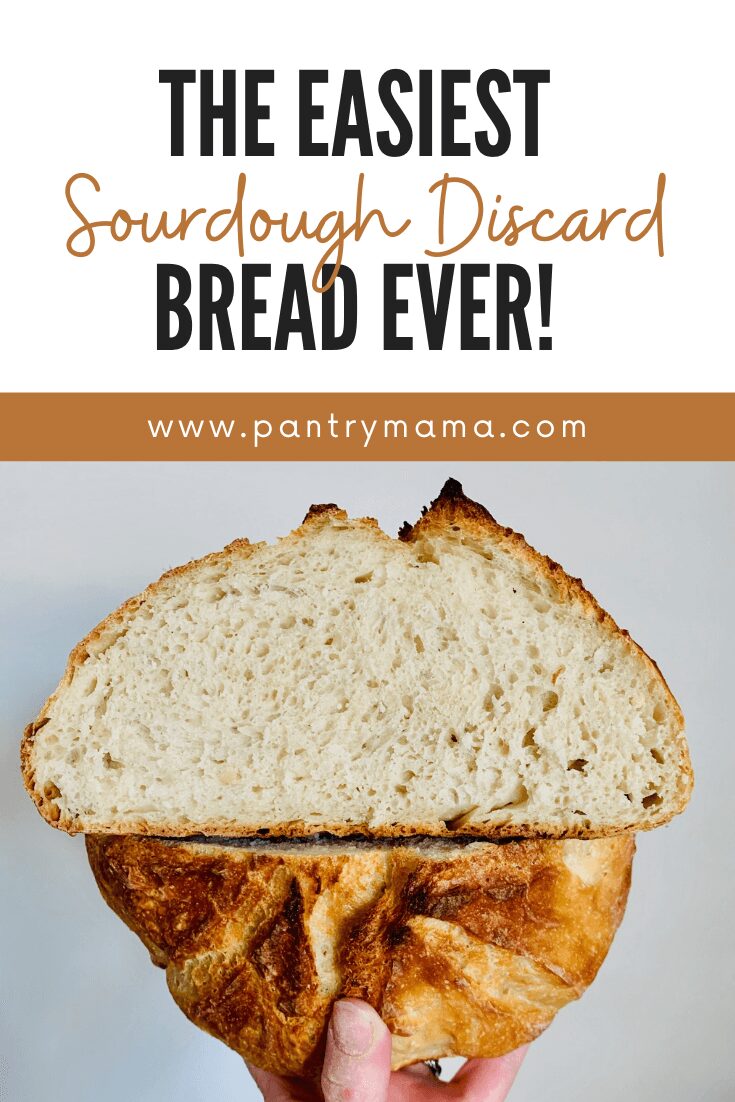 This recipe is perfect if you're still building your sourdough starter, but you really want to bake bread.
Make This Sourdough Discard Bread In Under 2 Hours!
You can make this easy sourdough discard bread within 2 hours if your house is particularly warm. It does use a little commercial yeast - but you will still get some of the sourdough tang from your discard.
If your house is a little cooler, it will take a little longer for the dough to double. Mixing the ingredients takes just seconds!
Experiment With Different Flours
I often make this bread in the evening so I can have a loaf ready for our eggs in the morning. I can knock it out super fast and my kids love to eat it. It's also a great way to experiment with different flours.
While it's super fast to make it from baker's (bread or high protein) flour (AP and plain flour will also work), you could supplement some of the 450g of flour with rye, spelt or even whole wheat.
If you are using different flours, I recommend holding a little of the water back while mixing. It's much easier to add more if you need to, than take it away (or have to add more flour if the mix is too wet).
An Easy Way To Use An Immature Sourdough Starter
This easy sourdough discard bread will also work for you if your starter is not quite ready to start baking true sourdough bread. The commercial yeast will create the rise that is lacking in your sourdough starter.
If you're having trouble with your sourdough starter, you'll find some tips to boost your starter here. You can also join our Facebook Group for sourdough bakers.
You'll find more ideas to use your sourdough discard here as well as a sourdough discard sandwich loaf recipe here.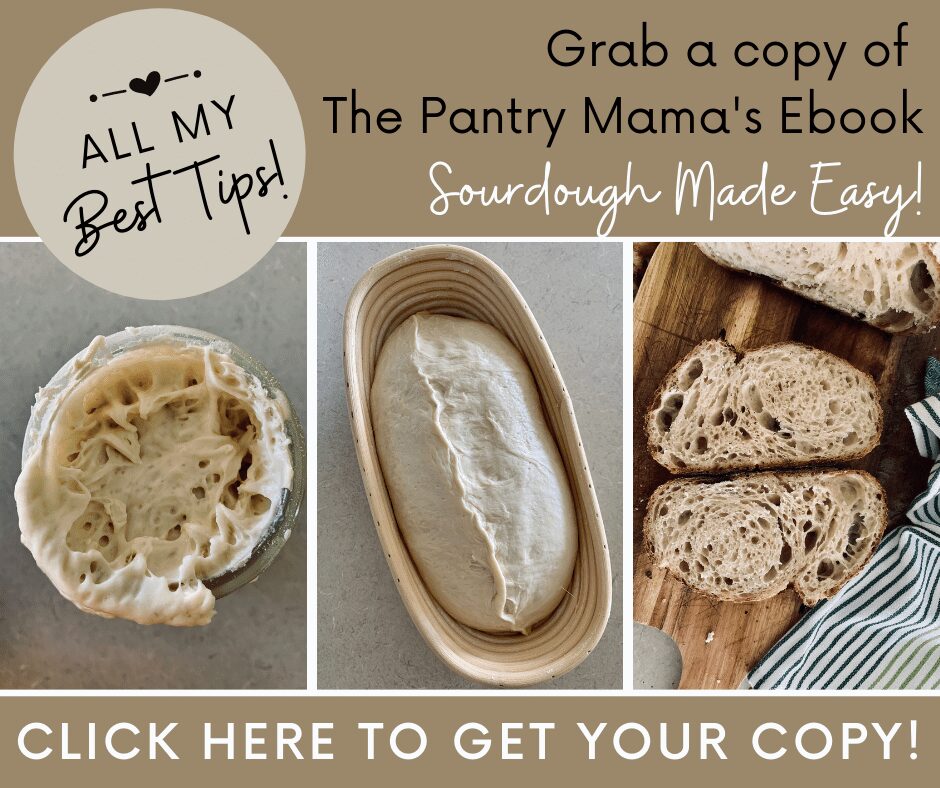 Extend The Rise
If you don't want to bake your bread immediately once it's risen, you can pop it in the refrigerator for up to 24 hours. Just put the whole bowl in the fridge, covered with a plastic bag or some cling wrap to stop it drying out.
This is a great idea if you want to have it freshly baked for dinner for example or when you first wake up.
When you want to bake it, let it sit out on the kitchen counter for around 30 minutes before it goes in the oven (so take it out when you turn on the oven to preheat).
Want To Give Your Sourdough Discard Loaf A Flavor Boost?
You can add lots of different flavor combinations to this sourdough discard loaf. It's up to you whether you go sweet or savory. Some of my favorite ways to add flavors to this loaf include:
Jalepeno Cheddar
Bacon & Cheese
Olives (you can use whatever olives you love)
Chocolate chips and orange zest
Cranberries and walnuts
Raisins and cinnamon for a fruit loaf
It's best to add the flavors to the dough when you first mix it, that way you can leave it alone to rise rather than have to disturb it to add in the flavors.
Handling The Dough
This sourdough discard loaf can be quite a sticky dough. The stickiness will really depend on the consistency of your starter and how wet you choose to make it. But it's certainly not impossible to work with and is one of the most baked recipes in my Facebook Group!
With a little flour and a dough scraper, you should be able to shape it into a roundish shape. It doesn't need to be perfect, it's a rustic type of bread. If you have a bread lame or razor blade, you can score the top to encourage it to spring up in the oven.
If you're looking for a sandwich loaf recipe, you might like this sourdough discard sandwich loaf.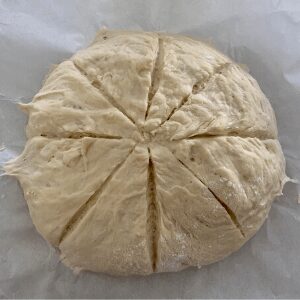 Bake Your Discard Bread In A Dutch Oven
To get the best results for your sourdough discard bread, bake it in a Dutch Oven. It keeps the steam inside the pot and enables your bread to get the rise before the crust starts to harden. Keep the lid on your Dutch Oven for the first 30 minutes of your bake, then take it off for the last 10 minutes to give it some crunch and colour. Just like baking true sourdough, the Dutch Oven really is a game changer.
If you love this recipe, you'll enjoy making this sourdough pane di casa bread. It is a lovely rustic sourdough you can enjoy in just a few hours.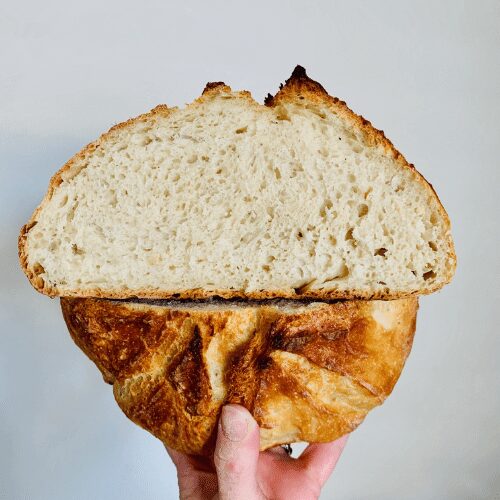 Easy Sourdough Discard Bread
Looking for ways to use your sourdough discard - this is the bread recipe you need! It's simple, tasty and ensures your sourdough starter creates no waste.
Equipment
Mixing Bowl

Digital Scales

Dutch Oven
Ingredients
450

g

Bread Flour 

360

g

Water

Warm

10

g

Salt

7

g

Instant Yeast

or Rapid Yeast

100

g

Sourdough Discard

unfed sourdough starter
Instructions
Take a clean ceramic or glass bowl and add your flour, warm water, instant yeast, salt and sourdough discard.

Use a wooden chopstick or end of a wooden spoon to gently bring all the ingredients together into a shaggy dough. You don't need to it be fully smooth, just ensure that all of the flour is wet.

Cover the bowl in cling film and set it somewhere warm for 1 - 2 hours. It really depends on the temperature of your house with this one. If your house is warm, 1 hour will be plenty. In the depths of winter or with air con, you may need more than 2 hours. You just want it to double in size, no more or it won't rise in the oven.

Around 45 minutes before you want to put your bread into the oven, you'll need to put a dutch oven into the oven and preheat it to around 220C/430F.

Once your dough has doubled in size, grab a piece of parchment paper and lay it out on your counter. Sprinkle on a few tablespoons of rice flour or fine semolina flour (this is just so that the dough doesn't stick to your hands).

NOTE - If you are wanting to put your bread in the refrigerator to bake another time (usually within 24 hours) then just pop the cling film over the bowl of doubled dough and put in the fridge. You don't need to do anything to the dough before it goes in.

Scoop your dough out with your hands - if it's particularly wet it's perfectly fine to pour it onto the paper.

If it's not too wet, use the flour and your finger tips to gently bring it into a round shape - you will need to pull each side over each other to do this. If your dough is too wet - don't fret, just try and bring it into some kind of shape without getting too messy.

Score your dough if you're able to - otherwise just leave it and it will open up naturally in the oven.

Carefully take your dutch oven out of the oven and remove the lid. Use the parchment or baking paper as a handle to gently place your discard bread inside the pot and put the lid back on.

Bake in the oven, with the lid on for 30 minutes at 220C/430F. Then remove the lid of the pot and bake for a further 10 minutes at 200C/390F. Remove the bread from the oven and allow to cool on a wire rack.

Try to let it cool for at least an hour before cutting it. It will still taste great if you cut it hot, but it's so much easier to cut if you let it cool!
Nutrition
Calories:
1647
kcal
Carbohydrates:
329
g
Protein:
57
g
Fat:
8
g
Saturated Fat:
1
g
Sodium:
3906
mg
Potassium:
518
mg
Fiber:
13
g
Sugar:
1
g
Vitamin A:
9
IU
Vitamin C:
1
mg
Calcium:
83
mg
Iron:
4
mg