Sourdough Okonomiyaki are savory Japanese pancakes. This version is made using sourdough starter.
You can easily make these savory sourdough pancakes using sourdough starter, egg, cornflour, cabbage and green onion.
Taking inspiration from Japanese Okonomiyaki pancakes - these delicious morsels can be served for nearly any meal or snack you can think of!
Get your sourdough starter ready ... because you are going to love making - and eating - these Japanese sourdough Okonomiyaki!
What Is Sourdough Okonomiyaki?
Okonomiyaki is a savory Japanese pancake. The word means "as you like" and refers to the fact that the pancake is made to personal preference and topped with whatever you like.
Okonomiyaki savory pancakes are a popular street food in Japan.
While it is referred to as a pancake or Japanese pizza, it's probably more a cross between a savory pancake and a frittata.
Because Okonomiyaki is made with egg, flour and water, it's quite easy to use sourdough starter in the mixture.
The texture and flavor of sourdough starter lends itself easily to the recipe.
Ingredients for Savory Sourdough Pancakes
You need very few ingredients for these delicious savory sourdough pancakes.
To make sourdough Okonomiyaki you'll need:
Sourdough starter (can be fed or discard)
Cornflour
Eggs
Chicken stock (or dashi powder)
Shredded Cabbage
Spring Onions
Some All Purpose flour can be handy if you need to thicken the mixture.
A few things to note on the ingredients:
You can use sourdough discard - or you can just feed your starter for the purpose of making these savory sourdough pancakes. Either will work just fine.
Traditional Okonomiyaki pancakes utilise Dashi Powder to give them "unami". At the time of making these I didn't have access to this but successfully substituted chicken stock cubes. You can use whichever you like, or are able to purchase. Chicken stock cubes make this recipe accessible for people who may not be able to purchase Dashi powder easily. I also find that chicken stock is more kid friendly.
If you find the mix is too runny once you've added all the ingredients, you can add a little all purpose flour to thicken it. You don't want it too thick - it should be runnier than normal pancake batter. More like a fish batter consistency. The final thickness of the batter will depend on the hydration of your sourdough starter and how runny it is.
How to Make Sourdough Okonomiyaki
Making sourdough okonomiyaki could not be easier! In fact, it's a great sourdough recipe that the kids can make.
All you need is a mixing bowl and a frying pan!
Here's the process for making savory sourdough pancakes:
Beat eggs in a bowl.
Add the corn starch and sourdough starter.
Now add the water and stock (or dashi).
Then add the cabbage and green onions.
Fry pancakes in a hot, oiled pan.
Serve with your favorite toppings.
Toppings for Savory Sourdough Pancakes (Okonomiyaki)
Traditional Okonomiyaki is served with a range of toppings including Japanese Mayonnaise, seaweed and sauces.
Meat is a popular topping too - think pork belly strips, bacon, grilled prawns (sounds good right).
You can basically add whatever you like to these. They can almost become like pizza pancakes!
Here are some ideas for toppings for sourdough okonomiyaki:
My favorite way to eat these is to cut them into wedges, top with Kewpi Mayo, sesame seeds, nori sprinkles and chili and then dip them into a bowl of Yakatori sauce (with a little chilli jam added). Seriously cannot get enough!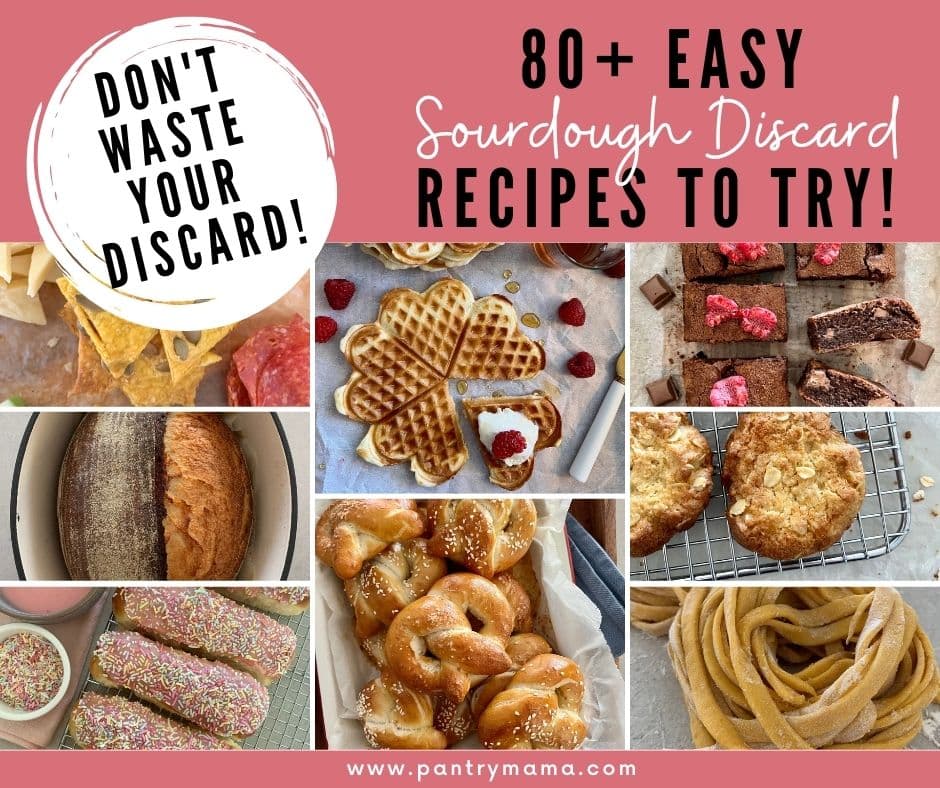 Further Reading
If you love this savory sourdough pancakes recipe, you'll love these ideas:
Looking for sweet fluffy sourdough pancakes, this recipe is really popular.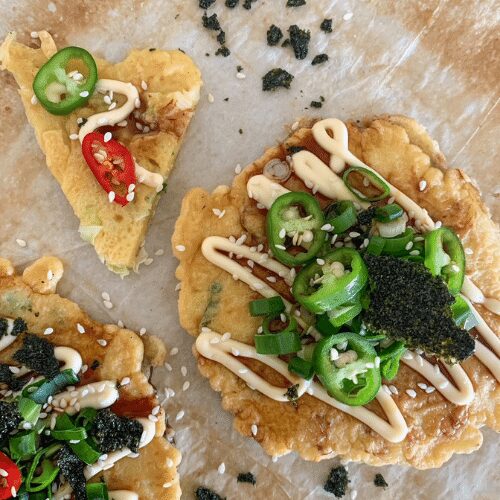 Sourdough Okonomiyaki - Savory Japanese Pancakes
Savory sourdough pancakes inspired by Okonomiyaki pancakes will have you feeding your starter just so you can make more! These delicious pancakes use few ingredients to create something special.
Ingredients
120

g

Sourdough Starter

50

g

Water

2

Chicken Stock Cubes

3

Eggs

50

g

Cornstarch

100

g

Green Cabbage

Finely sliced

30

g

Green Onions

Diced (approx. 2 green onions)

Oil

for frying
Instructions
Dissolve the stock cubes into the water and set aside.

Lightly beat eggs with a fork in a mixing bowl.

Now add sourdough starter and corn starch to the eggs and mix to combine. It's ok if there's some corn starch still around the edges of the bowl.

Now pour in the stock and mix well, working out all the lumps as you go.

Add the cabbage and spring onions, mix through and set aside.

Heat a large skillet or frying pan. Add a little sesame or vegetable oil to the pan.

When the pan is hot, use a ladle to pour mixture into the pan. You can make the pancakes as big or small as you like. I find this mixture makes 4 good size pancakes.

When the egg mixture starts to cook on the edges, flip the pancake. Once it's browned on both sides, take out of the pan to serve.

Serve the pancakes with japanese mayonnaise, yakatori sauce, chilli and sesame seeds - or pretty much whatever you like to eat them with!
Nutrition
Calories:
136
kcal
Carbohydrates:
20
g
Protein:
6
g
Fat:
4
g
Saturated Fat:
1
g
Trans Fat:
1
g
Cholesterol:
123
mg
Sodium:
532
mg
Potassium:
115
mg
Fiber:
1
g
Sugar:
1
g
Vitamin A:
278
IU
Vitamin C:
11
mg
Calcium:
38
mg
Iron:
1
mg