If you are wanting to maintain your sourdough starter with a zero waste sourdough discard routine, then this is the blog for you! Discard is essential to building a thriving sourdough starter, but you don't have to throw it away!
If you are keeping your sourdough starter on your bench and feeding it regularly, you can accumulate a lot of discard quite quickly.
A lot of people baulk at "discarding" half your starter every time you feed it, however it is a necessary part of the sourdough process. But just because you are removing the "discard" from your starter jar, doesn't mean you have to waste it.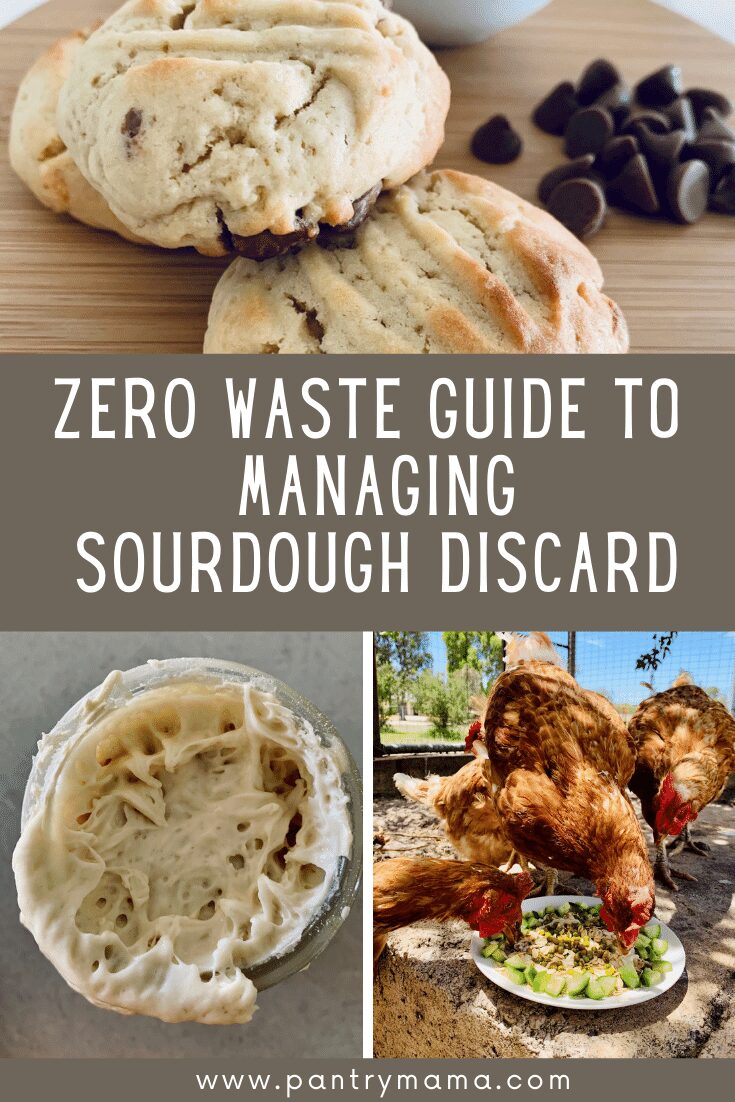 If you want to cut down on the amount of discard you produce, you can keep your mature starter in the fridge - but even then, you will still have a bit of discard to deal with.
You could also maintain a much smaller starter and then build what you need each time you bake.
But half the fun of maintaining a sourdough starter is finding creative ways to use the discard, right?
IMPORTANT NOTE - I advise not to use your sourdough discard for the first 5 to 7 days of building your sourdough starter. During this time the good bacteria are fighting it out for dominance and the yeast colonies are still being established. It usually smells really bad in these first few days. Put this early discard into the bin or compost.
Zero Waste Sourdough Discard
There are lots of interesting and delicious ways to use your sourdough discard instead of tossing it in the bin. Here are 17+ uses that will ensure your sourdough starter is never wasted.
Dry Your Sourdough Discard
There are so many uses for dried sourdough starter discard, many of which you probably haven't thought of. Now remember discard is unfed starter that you are removing from the jar when you go to feed it.
Take your discard and smear it onto some baking paper and let it dry on your kitchen bench or even in a dehydrator at a low temperature (it really doesn't take long). Once the discard is completely dry, blitz it in a high powered food processor (I use my Thermomix). Now you've got a nutrient rich, probiotic filled powder that you can use for a variety of purposes:
Use it as "flour" and add to cakes, muffins, pizza - even your bread!
Use it as a crunchy topping for salads, pasta or soup
Add it to your breadcrumbs for crumbing chicken or fish
Use it as a delicious crunchy topping for roast potatoes
Mix it with some nutritional yeast to make vegan parmesan
Make a Sourdough Discard Batter
Traditional batter is just flour and water ... and isn't that what sourdough discard is? So it makes sense to use your discard as a batter! There are a few ways you can jazz it up.
To use your sourdough starter as batter, add ¼ teaspoon of baking soda to 100g of discard. Give it a mix and add any flavourings you might like - then coat your food and fry. If you want to make your batter go a little further, you can add a little soda water and extra flour - whisk with a fork until it's like runny pancake batter.
You could add a little curry powder to some batter and fry fish. A little cinnamon and fry some banana. Paprika could be a good addition to chicken.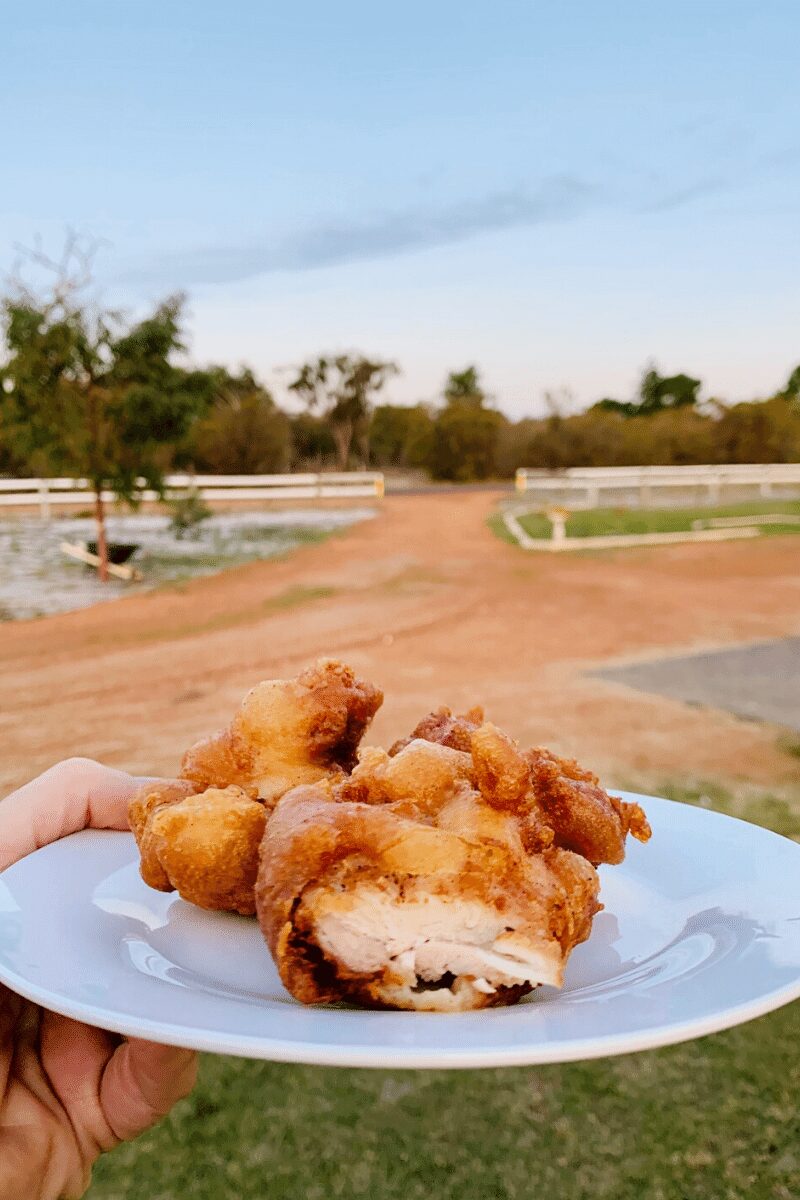 Try These Delicious Sourdough Zucchini Fritters
These sourdough zucchini fritters use up 100g of sourdough discard and are a great way to use up those excess zucchini from the vegetable patch! Simple, easy and green!
Make Sourdough Discard Cookies
Sourdough discard cookies are such a delicious way to use your discard - especially if you add lots of chocolate chips! You'll find my go to recipe for sourdough cookies here, along with my favorite flavor variations.
Cheese & Bacon Popovers
These cheese and bacon popovers will become a firm family favourite - they are absolutely delicious and so easy! They are great as a snack or in the kids' lunchboxes. You'll find the recipe here.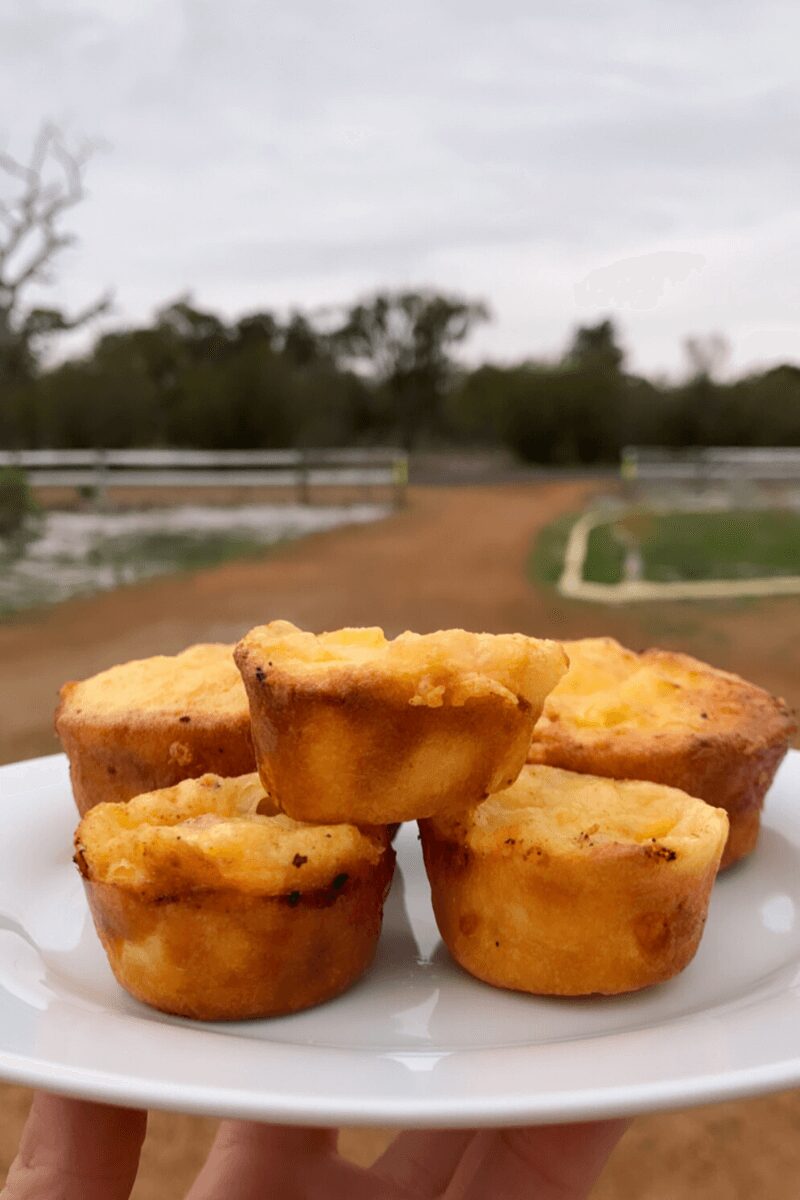 Try These Delicious Sourdough Garlic Bread Bites
You can make a batch of these delicious sourdough garlic bread bites using discard - you'll find the full instructions here.
Sourdough Discard Crackers
There are so many different crackers you can make with sourdough discard. Honestly, you're only limited by your imagination!
But if you need some suggestions ... try some of these ideas!
Make Sourdough Béchamel Sauce
Once you start thinking about the things you add flour to, you will find there are lots of opportunities to use your sourdough discard - which of course is just flour and water!
Béchamel, or white sauce, is of course made up of flour, butter and milk - so you can use your sourdough discard to replace the dry flour in your mix.
You can find an easy recipe for sourdough béchamel here - it's perfect for your next lasagne.
Fluffiest Sourdough Discard Pancakes Ever
These are a firm favourite with my family - I love them because it's a way of getting some extra goodness into my kids before they head off for school.
Plus I can mix the batter the night before, making our mornings super easy!
You'll find the recipe for my sourdough discard pancakes here.
Sourdough Discard Gravy
Yes, you read that right 🙂 Sourdough discard can be used to thicken your gravy - or any sauce really.
It's just flour and water, right?
So add 50 to 100g of discard to your next batch of gravy instead of just dry flour or cornflour. It works, I promise!
Sourdough Discard Tortillas
Tortillas have become a very popular part of many household's everyday cuisine. While they are relatively inexpensive to buy - you seriously cannot top the texture and flavour of making your own, especially when you add some sourdough discard into your dough.
You will not be disappointed!
This is my recipe for Sourdough Flat Breads. You can swap active starter for discard and add a pinch of yeast to get things going.
Fresh Pasta Made From Sourdough Discard
Another less known way to ensure you have zero waste sourdough discard is to make wholesome fresh pasta with it.
You'll need 215g 00 flour, 1 large egg & 2 large egg yolks and around 175g discard.
You can either roll the pasta dough out by hand or use a pasta machine.
Make your pasta as per normal, incorporating the eggs and discard into the dry flour. If it's too wet, just add a little more flour.
This is a delicious and slightly unusual way to use your discard.
You can even dry your pasta for later use.
Sourdough Discard Bread
There are lots of different names for this bread - some people call it a "cheat's sourdough" others discard bread.
I just call it delicious!
It's super easy and enables you to get a loaf of bread on the table FAST, while still utilising your starter.
You'll need to add a little commercial yeast to get this bread bubbling, but don't be disheartened, it's going to make you come back for seconds, I promise! You'll find the recipe for sourdough discard bread here.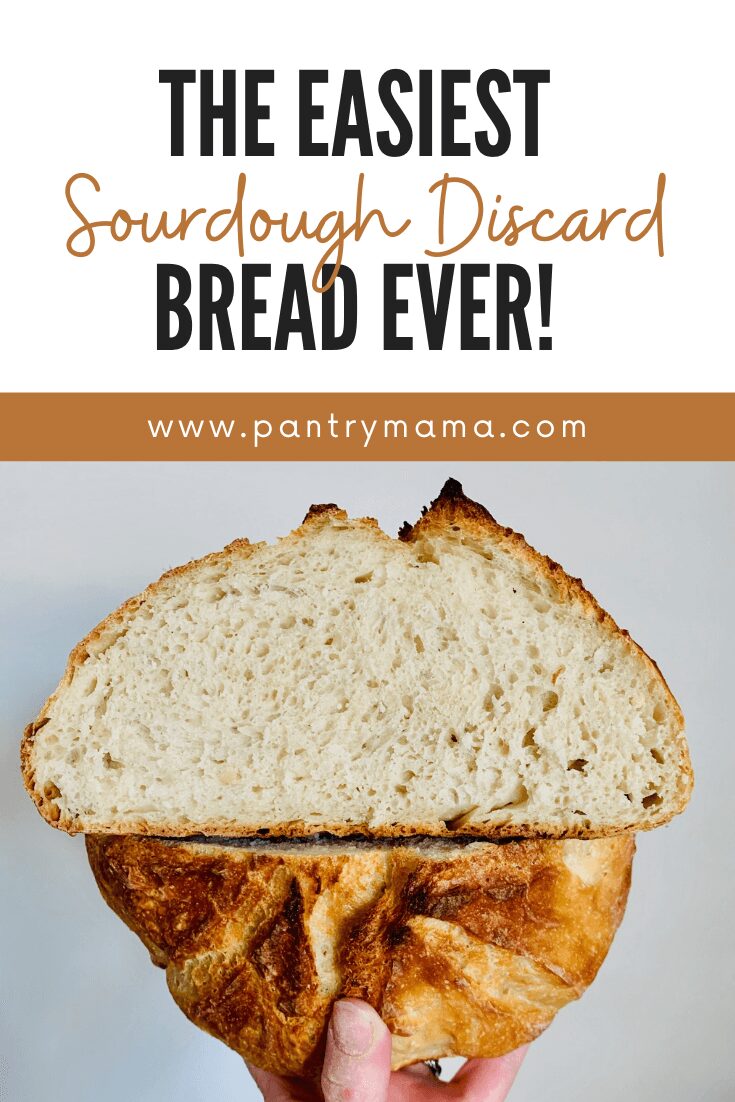 Sourdough Discard Sandwich Loaf
If you are looking for a delicious sandwich bread that also uses up your discard, you love this easy sourdough discard sandwich loaf. It uses 100g of discard and can be made very quickly.
You can even make it in a bread maker with these instructions.
Feed Your Sourdough Discard To Your Chickens
If you are lucky enough to have some chickens in your backyard, adding some sourdough discard to their diet is a great idea. Here, you'll find a full guide to feeding your chickens sourdough discard (including how to put together the platter above).
Add Sourdough Discard To Your Compost
While this is essentially tossing it, tossing your discard in your compost means that it's essentially going back into the earth to help create better soil.
And better soil means more nutrient dense food. That cannot be classed as a waste, can it?
Sourdough discard can also be added to your worm farm too.
Further Reading
If you want the low down on sourdough discard, then these are must reads!
Looking for a foolproof method of increasing the amount of starter you have on hand. Head here.