Blueberry + Lemon Sourdough Bread!
Wait til you experience the delicate flavors of this delicious Maple Blueberry & Sweet Lemon Zest Sourdough Bread.
It's a lovely combination of sweet and tangy and will leave your tastebuds dancing!
This flavor combination works so well together! When playing around with these flavors, I tested out a few different ways to include the blueberries and I found that the best way was to use dried blueberries.
They retained their shape when baked and didn't leach too much of their color through the bread.
I also found that using dried berries didn't interfere with the hydration of the bread.
Serving Ideas for Sourdough Bread with Maple Blueberries and Sweet Lemon Zest
Sourdough bread with maple blueberries and sweet lemon zest is amazing served warm with good quality butter.
It's also super tasty toasted and smeared with homemade lemon curd.
My personal favourite is toasting this lemony bread and topping it with ricotta then dusting with a little icing sugar and lemon juice. YUM!
I'm sure you'll find your own way of enjoying this delicious loaf!
Flavor Notes
I don't like to overpower my recipes with dried fruits. I prefer to use less and let them really shine.
As with any recipe, you can adjust the amount of blueberries to suit your personal taste. I like from 25g to 50g of blueberries but you can adjust the amount to suit your taste.
I use the zest of a whole lemon in this recipe - you can certainly increase this if you want to. I peel the lemon and then slice the zest to get as much as I can.
If you want a more intense lemon flavor, you could add some lemon essential oil (please make sure you're using organic oil that is safe to use as food).
Just a few drops in the lemon zest and sugar mixture will be enough.
How to Make Maple Blueberry & Sweet Lemon Zest Sourdough
Soak the blueberries in a mixture of maple syrup and boiling water to ensure that they are plump and juicy. Let them sit while you prepare the dough and then pour the liquid off before adding them to the dough.
The lemon zest and brown sugar combine to make a jammy mixture which is added at the stretch and fold stage, along with the drained blueberries.
Further Reading
If you love this lemon blueberry sourdough bread recipe, you might enjoy these ideas: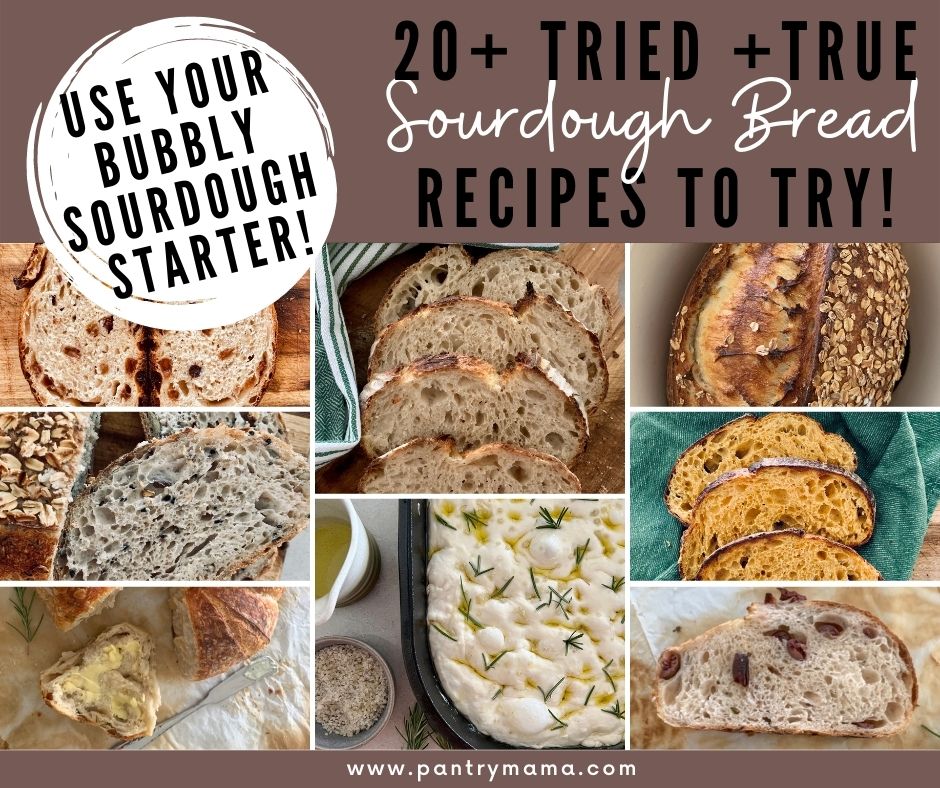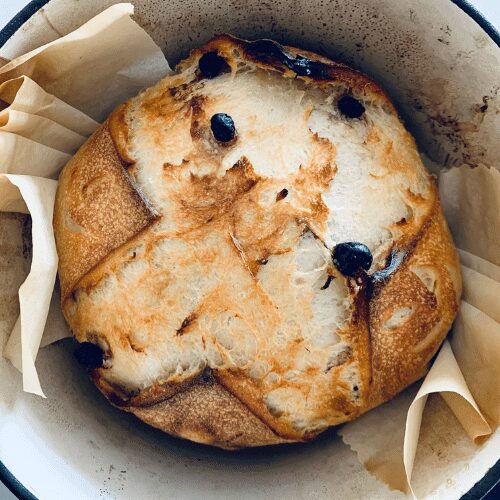 Maple Blueberry & Sweet Lemon Zest Sourdough Bread Recipe
Wait til you experience the delicate flavors of this delicious Maple Blueberry & Sweet Lemon Zest Sourdough Bread. It's a lovely combination of sweet and tangy and will leave your tastebuds dancing!
Equipment
Mixing Bowl

Digital Scales

Banneton

Dutch Oven
Ingredients
75

g

Sourdough Starter

fed and bubbly

350

g

Water

500

g

Bread Flour

10

g

Salt

25

g

Dried Blueberries

you can use up to 50g

10

g

Maple Syrup

Zest of a lemon

20

g

Brown Sugar
Instructions
Before You Start - Prepare the Lemon & Blueberries:

An hour before you start mixing this sourdough, you need to prepare the blueberries and lemon zest. Put your blueberries into a small bowl and cover them with 10g of Maple Syrup and just enough boiling water to cover them. Cover with cling wrap and put aside until you need them (these can be made the day before if you want, but as long as they sit for an hour they will be fine).

Add your lemon zest to the brown sugar. Use a spoon to mash them together a little and then let them sit while you prepare the dough. The sugar will emulsify with the lemon zest and become glossy.

Premix & Autolyse:

Weigh out your sourdough starter and water into a large ceramic or glass bowl. This recipe is based on you having an active starter that you have fed a few hours before starting your bake.

Mix the water and starter together briefly. Then add your flour and salt and mix together with the end of a wooden spoon. The dough will be fairly shaggy and only just brought together.

Cover your bowl with cling film or a damp tea towel and let it sit for around 1 hour. It's ok if it's a little longer.

Forming Up Your Dough:

After the dough has been through autolyse, you need to bring it together into a ball. You'll notice that the dough is fully hydrated after soaking up all the liquid. It will be fairly sticky but as you bring it into a ball, it will become smoother and shinier.6

Work your way around the bowl, grabbing the dough from the outside and stretching it up and over itself until a smooth ball is formed. You shouldn't need more than 20-25 folds to form the ball, you might need less. You just need to let the dough tell you 

Once the dough has formed into a smooth ball, pop the cling film back on and let it rest for around 30 minutes.

Stretch & Folds / Adding Flavors:

Over the next few hours, you need to create some structure for you dough by stretching and folding. Aim to do around 4-6 sets of stretches and folds. For each set, stretch the dough up and over itself 4 times. You'll find it gets easier to do at each set as the gluten in your dough develops.8

Around your second or third set of stretch and folds, add the drained blueberries and sweet lemon zest. Try to incorporate them without disturbing all the beautiful bubbles that will be forming in your dough. I find it's easiest to actually get your dough out of the bowl and pop it on the bench top. Add the flavors on top of the dough and gently stretch and fold the dough around them. Don't worry if they aren't all through your dough on the first add - you'll have them worked through by the last set.

Bulk Ferment:

Once you've finished your stretch and folds, place the cling film or damp tea towel back over your dough and let it rest and ferment.

Shaping Your Dough:

Once your dough has finished its bulk ferment, you need to shape it. I've chosen to shape into a boule for this recipe, but you can use any shape you prefer.

Once you're happy with the shape, place your dough into your banneton or bowl, ensuring that you've liberally floured whatever you are using.

Cold Ferment:

Now your dough is in it's shaping container, cover it loosely with a plastic bag or damp tea towel and place it into the fridge.

Try to leave it for a minimum of 5 hours, up to a maximum of 36 hours. The longer you leave it, the better your bread will be.

Preparing To Bake:

Once you're ready to bake your sourdough, you'll need to preheat your oven to 230C/450F. Place your Dutch Oven into the oven when you turn it on so that it gets hot. Try to preheat for around 1 hour to ensure your oven is super hot - but you know your oven, so just adjust this time if you need to.

Leave the dough in the fridge until the very last minute.

Time To Bake!

When your oven is at temperature, take your sourdough out of the fridge. Gently place it onto a piece of baking paper or parchment paper.

Gently score your bread with a lame, clean razor blade or knife. A cross is sufficient, but you can get as artistic as you like.

Carefully take your Dutch Oven out of the oven. Place the sourdough into the pot using the baking paper as a handle. Put the lid on and place into the hot oven. If you want you can spritz your dough with extra water before you put the lid on.

BAKE TIME:Bake your sourdough for 30 minutes with the lid on at 230C/450F plus12-15 minutes with the lid off at around 200C/390F.

Keep an eye on your bread at this stage - because it has blueberries and sugar in it, the sugar can make the top go very dark, very quickly.

I tend to turn my oven back to 200C for the last 10-15 minutes with the lid off as I don't want to caramelise the crust too much on this one. I find a lighter crust works better with the delicate lemon flavor.

Once the time has elapsed, remove your sourdough from your Dutch Oven. Turn off your oven and place the sourdough back into the oven, directly on your oven rack. Let it cool in here with the door ajar for 1-2 hours.
Notes
Notes on Sourdough Starter
This recipe is based on you having an active starter that you have fed a few hours before starting your bake. For information on whether your starter is ready,

go here

.
Notes on Stretch & Folds
If you are going to do the stretch & folds on your bench top, spray your surface with water mist rather than using flour.
Notes on Bulk Fermentation:
If your home is warm then your dough will ferment a lot faster and could be done in as little as a few hours. If it's colder, it will take longer, possibly overnight. I would recommend that you try to do your first few bulk ferments during daylight hours so that you can watch your dough closely.
Once you're more familiar with the process - and the temperature of your home - you will be able to do overnight ferments.
You will know your dough is ready to move to the next stage when it has *just* doubled in size. It will be fairly wobbly and full of bubbles. You should be able to see large air bubbles under the surface of the dough.
You don't want to let it go any further than doubled as it will be over fermented. If you want to do an overnight ferment, but your home is warm, consider using a little less starter (ie 25g).
Less starter means your dough will take longer to ferment and you will reduce the risk of over fermenting your dough. You'll find more information on these topics here:



When is my bulk ferment finished?

What is the difference between cold ferment and bulk ferment?

Why does the amount of starter matter?




Notes on Baking
If you're worried about the base of your bread burning, place a baking sheet on shelf underneath your Dutch Oven - it works!

If you're worried about your bread not being cooked all the way through, turn the oven off and place your dough straight onto the oven rack.

Leave the door ajar and let your bread rest there for a few hours.

Remember not to cut into your loaf too soon - you'll need to let it cool for at least a few hours (4-6 is best).
Nutrition
Calories:
2064
kcal
Carbohydrates:
423
g
Protein:
63
g
Fat:
9
g
Saturated Fat:
1
g
Sodium:
3917
mg
Potassium:
737
mg
Fiber:
16
g
Sugar:
40
g
Vitamin A:
10
IU
Calcium:
128
mg
Iron:
5
mg