Overnight sourdough waffles are a great breakfast option if you are able to plan them out the night before.
Despite needing to mix part of the batter the night before, these waffles are really simple to prepare and the actual hands on time is minimal.
Letting the sourdough waffle batter sit overnight allows the starter to do it's job and ferment the flour - making them much easier to digest.
You'll also find these overnight sourdough waffles have a deep and complex flavor profile - perfect if you love that sourdough tang!
If you don't have a waffle iron - you can use the batter to make sourdough pancakes. They cook up beautifully fluffy!
Can't wait? If you need sourdough waffles now, these No Wait Sourdough Waffles are for you ... and if you love all things pumpkin, try these Sourdough Pumpkin Waffles! And for the ultimate comfort food, what about these sourdough biscuits!
How To Make Overnight Sourdough Waffles
While these waffles are an overnight recipe, they really are very easy with minimal hands on time.
The most time is just allowing the sourdough starter to ferment down the flour, milk and sugar before you add the other ingredients.
It's easiest to do this overnight so you can wake up, take 5 minutes to add the other ingredients and then cook your long fermented sourdough waffles.
Here's how to make Overnight Sourdough Waffles:
Before You Go To Bed:
In a large mixing bowl add sourdough starter, flour, milk and sugar. Stir until it forms a thick dough (it will be the consistency of when you first feed your starter.

Cover this mixture and leave it on the counter overnight.
When You're Ready To Cook The Waffles:
When you check the dough in the morning it should have doubled in size and be bubbly and thick - just like when your starter peaks.

To the starter mixture add 2 eggs, salt, melted butter and baking powder.

Stir vigorously until it forms a batter. This can take some muscle to get the eggs worked into the starter mixture - but persevere and it will happen.

Once the batter is mixed, heat up your waffle iron and add the batter in batches to cook your long fermented sourdough waffles.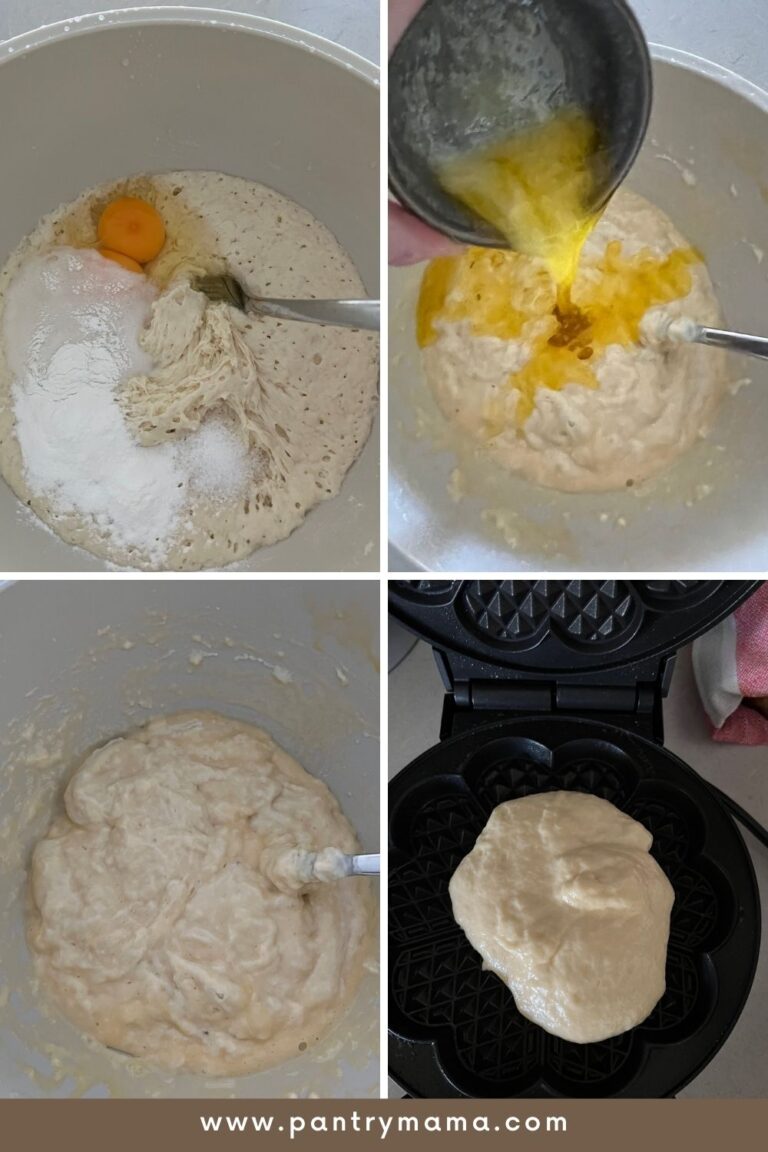 Sweet or Savory Sourdough Waffles?
These waffles contain a little sugar, but because the sugar is added to the starter the night before, they aren't super sweet when cooked.
This means you can use these for both sweet and savory dishes.
They are just as delicious served with maple syrup and vanilla ice cream as they are with bacon and eggs!
I honestly cannot decide how best to eat them because they pair well with both sweet and savory.
If you truly want a sweeter waffle, you could add another 50g of sugar with the eggs. This will make them much sweeter as this sugar will not be fermented by the sourdough starter.
Is It Safe To Leave Sourdough Overnight With Milk In It?
This sourdough waffle batter contains milk.
It is safe to leave this overnight on the counter because the sourdough starter will ferment the milk, along with the sugar and flour and prevent nasty bacteria from forming.
If you are not going to use the starter mixture once it's fermented, you can place it in the fridge for another 12 hours before you use it. This will keep it fresh.
While it's safe to leave the milk mixture out on the counter, if it really concerns you, you can place it in the fridge. It will however take much longer to ferment in the fridge.
If you love long fermented sourdough treats - try these overnight sourdough blueberry muffins.
Should You Use Discard or Fed Starter in Waffles?
For these long fermented waffles it doesn't matter whether you use some discard you need to use up or 50g of bubbly starter.
Because you are basically feeding the starter when you add it to the milk, sugar and flour. So it will double and bubble and be ready to cook with the next morning.
You can use your starter in these waffles from around day 7, as long as it is doubling. You'll get a better, more complex sourdough flavor if you use a more mature sourdough starter.
Want More Sourdough Breakfast Recipes?
If you are loving these overnight sourdough waffles, why not try some of these popular breakfast favorites: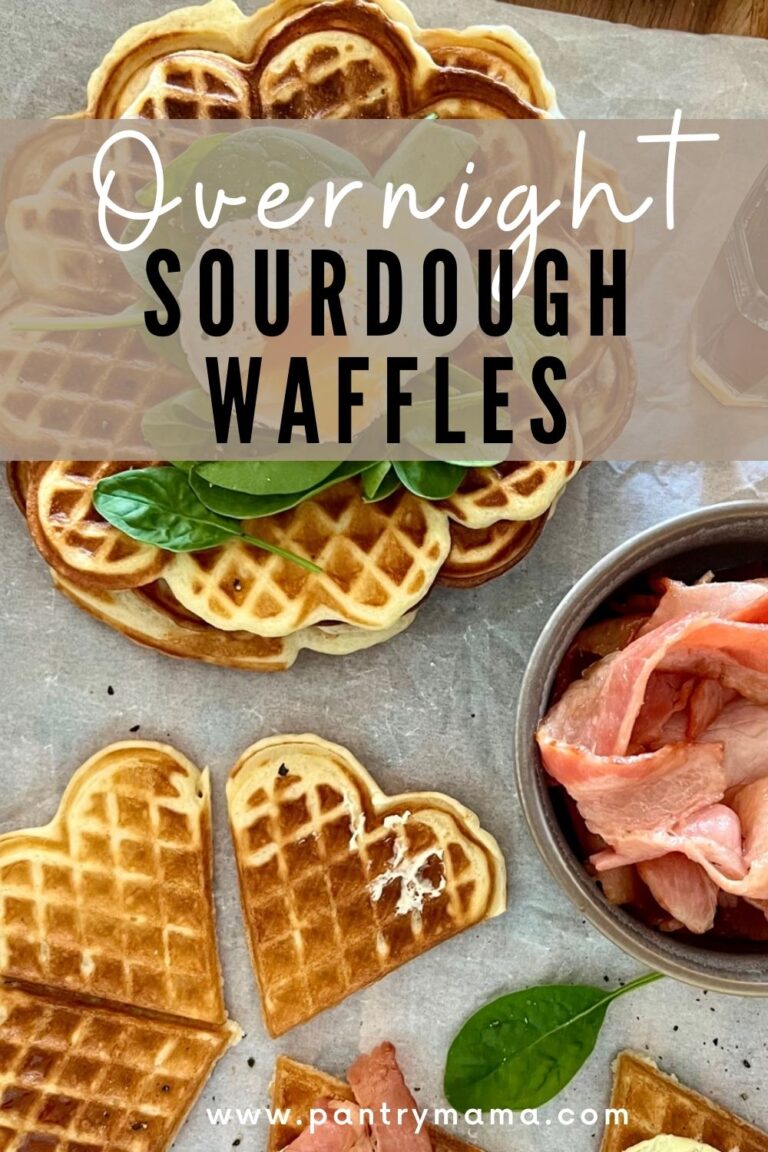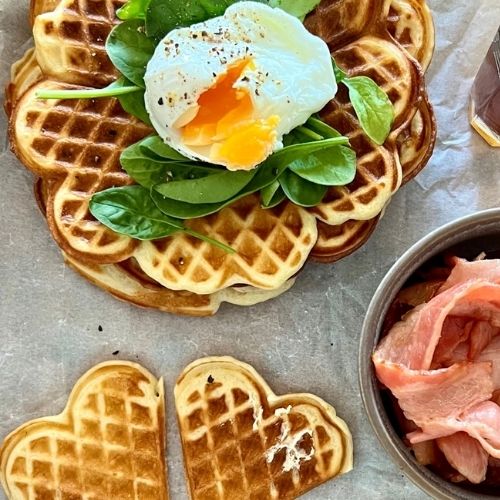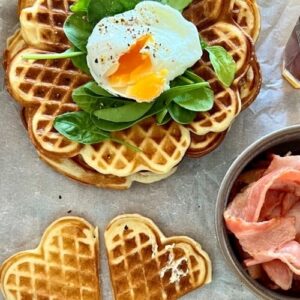 Overnight Sourdough Waffles
These delicious sourdough waffles are fermented overnight to give you all the benefits of long fermented sourdough in this classic breakfast treat! Make them sweet or savory!
Equipment
Waffle Iron

Cast Iron or Electric
Ingredients
50

g

Sourdough Starter

discard or fed and bubbly

180

g

Whole Milk

can substitute butter milk if you prefer

200

g

All Purpose Flour

50

g

Sugar

2

Eggs

50

g

Butter

Melted

12

g

Baking Powder

2 teaspoons

5

g

Salt

½ teaspoon
Instructions
In a large mixing bowl, mix together sourdough starter, milk, flour and sugar. Mix until it forms a stodgy dough. It will seem like a really thick sourdough starter.

Cover the sourdough mixture and leave on the counter overnight (up to 12 hours).

When you want to make the waffles the next morning, take the cover off the sourdough starter mixture. It should have grown and be bubbly and alive!

Add 2 eggs, melted butter, salt and baking powder to the sourdough starter mixture and whisk until the mixture forms a batter.

Because the starter has fermented overnight, the mixture will be quite stretchy compared to a regular waffle batter.

Heat up your waffle iron and spoon mixture into the iron. Cook to your liking (these waffles are delicious soft or crispy).

The waffles will brown up beautifully! Serve with toppings and condiments of your choice.
Nutrition
Calories:
152
kcal
Carbohydrates:
22
g
Protein:
4
g
Fat:
6
g
Saturated Fat:
3
g
Polyunsaturated Fat:
1
g
Monounsaturated Fat:
2
g
Trans Fat:
1
g
Cholesterol:
45
mg
Sodium:
378
mg
Potassium:
54
mg
Fiber:
1
g
Sugar:
6
g
Vitamin A:
202
IU
Calcium:
99
mg
Iron:
1
mg