Honey is a popular alternative to sugar - but can you put honey in sourdough bread?
And if you do add honey, how does it affect your sourdough?
The truth is, honey can be added to sourdough bread in a number of ways - in fact it can be used as a substitute to sugar.
This blog will explain how to add honey to sourdough bread and the effect that the honey will have.
Can You Put Honey In Sourdough?
Yes, honey can be added to sourdough bread.
We all know how delicious is can be when spread on top of our bread, but how do we actually add it into our sourdough?
Ideally you want to add it with the water at the beginning of the process.
However, some recipes may instruct for it to be added during the stretch and fold process.
If adding honey at the beginning of your mix (so autolyse with honey) you can just proceed as normal.
If you want to add honey after the autolyse, I would recommend using a stand mixer because it makes it much less messy!
This is a good idea if you're making a sandwich loaf which is typically mixed in a stand mixer.
What Happens When You Add Honey To Sourdough Bread?
Honey is a high fructose sweetner, albeit naturally occuring.
When added to sourdough bread it will provide the sourdough microbes with a source of sugar.
Normally these microbes must break down the starches in the flour to get their sugar fix.
While honey provides a "fast food" for your sourdough, it doesn't provide the protein the microbes require to grow and reproduce.
How Much Honey To Add to Sourdough Bread?
While honey can be added to sourdough bread, one thing you do need to be mindful of is that it is a liquid.
Adding extra liquid to your sourdough can change the hydration of your bread and in some cases make it too wet and sticky to shape.
I recommend adding no more than 50g of honey to a loaf with 500g of flour.
If you add more than this, you may need to increase the amount of flour to compensate for the extra liquid.
Why Add Honey to Sourdough Bread?
Honey can be used as a natural sweetener when added to your sourdough.
Some of the benefits to adding honey to sourdough are:
reduce sour flavor in the bread
decrease time of bulk ferment
improved texture and more tender crumb
improved browning of crust
One of the benefits to adding honey to sourdough is that it can reduce the sour flavor of the bread. This could also be a disadvantage if you really enjoy that tang!
Much like sugar, honey will feed the yeast in a very fast manner, meaning that it can increase the rise of your sourdough. This can be advantageous, but be aware that it can cause over fermentation and over proofing.
Honey added to pizza dough will give your crust a gorgeous golden hue when baked.
Should I Add Honey To My Sourdough Starter?
You really don't need to add honey to your sourdough starter (unless you are converting your liquid sourdough starter to a Pasta Madre).
All you need to make a thriving sourdough starter is flour and water.
If you do want to add honey to your sourdough starter, the best way to do this is the create an offshoot or levain from your healthy sourdough starter.
Creating a levain means that you won't contaminate your healthy mother culture with the honey.
This, along with some dehydrated sourdough starter, should mean that you never damage your actual sourdough starter.
Natural, raw, unprocessed honey also contains yeast because it hasn't been pasturised.
For this reason, it can be said that adding it to your sourdough starter at the beginning will speed up the sourdough starter process.
But the truth is, a sourdough starter is created from the yeast in the flour you use and the air around you - you don't need to add honey!
And in fact, you want your starter to be able to break down the starches in the flour for its food, not get used to having a "fast food" source.
If you want to give your sourdough starter a boost, try these ideas for strengthening your starter.
Can You Substitute Honey for Sugar in Sourdough Bread?
Yes you can substitute honey for sugar in sourdough bread.
However, as mentioned above, honey is a liquid and sugar is a solid, so you do need to be careful when substituting.
If you add too much honey, it can change the hydration of your sourdough bread.
Honey is higher in fructose than sugar making it much sweeter.
For this reason, when substituting, you'll need to reduce the amount of sugar you use to three quarters (¾) or even half (½) of the amount of honey used.
For example, if your recipe called for 50g of sugar, you'd use between 25g and 37.5g of honey.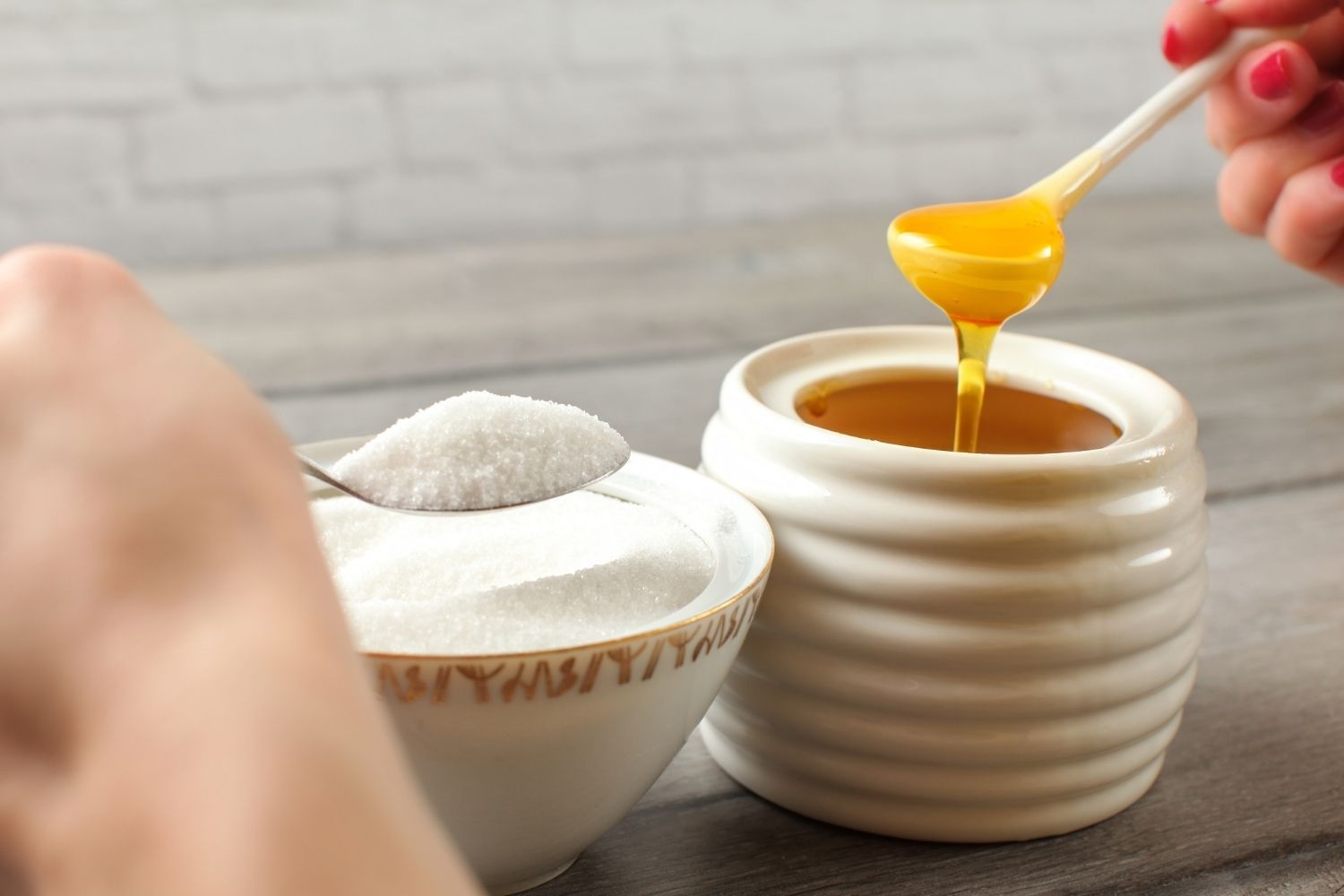 Best Sourdough Recipes Using Honey
If you'd like to try some sourdough recipes using honey, here are some popular ideas. Each recipe states how much honey to add.
If you would like a more pronounced honey flavor, you can of course increase this amount, taking note of the changes to hydration as stated above.
Vegan Substitutes for Honey in Sourdough
If you are vegan and do not eat honey you can use the following alternatives to honey in sourdough bread.
These alternatives are also good if you are preparing bread that will be eaten by an infant (honey is not recommended for infants under 1 year of age).
Maple Syrup
Black Strap Molasses
Brown Rice Syrup
Date Syrup
Agave Nectar
Golden Syrup
You will need to consider how sweet each of these substitutes are when adding them to ensure you don't add too much (or too little).
Further Reading
If you've enjoyed reading about adding honey to sourdough bread, you might also enjoy these ideas: